Tynee Board is a brand that focuses on delivering the best value for the price. Granted, this can be said for most Chinese brands, but Tynee had a lot of success in doing so. For one, the Tynee Mini 2, is one of our favorite mini boards for its power and specs.
Interested to know why Tynee Mini 2 is our all-time favorite mini board? Click here.
Mid 2022, Tynee releases their first all-terrain electric skateboard — the Tynee Explorer at $1199. While this is considered an 'entry-level price' for an all-terrain electric skateboard, it has a top-notch polish with specs that exceed what most people need. Here's a rundown of Tynee Board Explorer's build and specs!
Tynee Board Explorer Build and Specs
Deck: Flexible bamboo and fiberglass; double-drop and subtle wide concave
Electronic Speed Controller: Customizable 12s Hobbywing ESC – smart turn-on, can change speed, torque, and braking power from the remote
Batteries: 21700 Molicel P42A, 12s4p configuration
Marketed Range: 31 miles (50 km)
Motors: 35000W 6374 belt motors
Marketed Top Speed: 31 mph (50 km/h)
Wheels: 150mm pneumatic all-terrain wheels
Trucks: Traditional Kingpin (can add $50 for Double Kingpin Trucks)
Just by looking at the deck, you can already see that its appearance is quote-unquote 'heavily inspired by Evolve Bamboo GTR.' The transparent grip tape showcasing the beautiful bamboo deck is classic. The deck has a lot of flex thanks to the bamboo and fiberglass materials.
Dedicated to the 'Evolve' formula, Tynee Explorer uses a double-drop deck to reduce the riding height. Combined with the subtle wide concave, this makes riding on the Explorer quite comfortable. It helps us know where our feet are and keep them secure during a ride.
New Hobbywing ESC – Allows Speed Control Customization
While the Hobbywing electronic speed controller is very widely used, Tynee Explorer's Hobbywing ESC had something special to it. This Tynee Explorer's Hobbywing ESC allows riders to customize speed control right from the remote. The speed, torque, and braking power can all be adjusted individually in different riding modes.Unlike other Hobbywing ESC that comes with customization function (e.g. Exway), this customization function does not come with an app, which can either be a plus point or a minus point depending on who you ask.
What's universally loved, however, is the forward and reverse switch on the side of the remote. It makes changing directions easier and less prone to unintentional press.
And, obviously, there is the smart turn on feature, where the board power-on upon turning on the remote.
Competitive Battery Spec Against Middle to High-End Eskates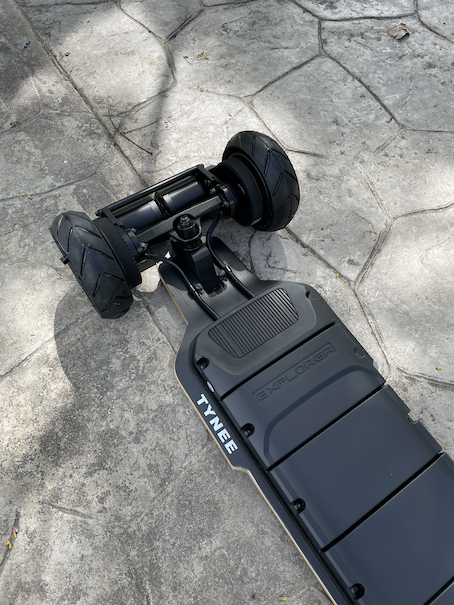 Next, powering the ESC is a pack of 21700 Molicel P42A cells in a 12s4p configuration. This brings us to a total of 725.8-watt hours and a marketed range of 31 miles or 50 km. This is a competitive battery spec that most middle to high-end electric skateboards share.
For context, Evolve Carbon Hadean, Exway Atlas, and Meepo Hurricane all come with a 12s4p battery pack. And, Molicel is a great battery cell, so this isn't the case of 'using cheap cells to pad up the specs'.
With aggressive riding, our 155 lbs test rider managed to get 28 miles (42 km) out of a single charge. We're really happy with this result, especially considering that we were riding fast. Obviously, changing to Cloudwheels should extend the range further, around 44 miles (70 km).
In a nutshell, the batteries are good. So, let's talk about the motors!
Powering the board is a set of 3500w 6374 belt motors. These are indeed powerful motors and it does translate to a strong ride. Riding uphill will definitely be easy no matter how heavy the rider may be.
With this setup, the board's marketed top speed is 31 mph(50 km/h). While we didn't manage to hit that, we did get pretty close. Our personal best was 29 mp(48 km/h). It's a respectable top speed, but obviously, nothing to write home about considering there are scarier boards out there.
Fancy a scary board? Read our Tynee Board Ultra Review here.
Chill Ride With Pneumatic AT Wheels
Tynee Board Explorer comes with 150 mm pneumatic all-terrain wheels. These 6-inch wheels are plenty capable of absorbing road vibrations on poorly paved roads. Big wheels plus the flexible bamboo deck are great combinations to smoothen out bumps on the road.
We have terrible roads where we ride, and the Explorer keeps it comfortable. It's pretty chill even when going off-road. Granted, it would've been better if they went with even bigger wheels at 175 mm, but, this is definitely good enough for most situations.
As for the trucks, the Tynee Explorer comes in default with traditional kingpin trucks. There's an available option to go with Double Kingpin trucks for an extra $50.
In general, Double Kingpin Trucks are much more turn-ey and allow a tighter turning radius. Although, this pair of traditional kingpin trucks on Tynee Board Explorer is really good. There is little reason to go for double kingpin trucks. We'll talk more about the riding experience on these trucks later.
All in all, the whole package weighs around 30.4 lbs or 13.8kg. The board is also rated IP67 waterproof. We never took the waterproof claims on electric skateboards seriously, regardless of the brand, and we suggest you don't go riding in the rain with any eskate.
Here's an experience of why we have major trust issues with waterproof ratings — check out our Propel Endeavor Pro review.
Tynee Board Explorer Riding Experience
Finally, let's talk about the riding experience on the Tynee Explorer.
The riding experience is really pleasant. It's very relaxing, maybe even a tad bit conservative, and it's easy to see why.
First, the 12s Hobbywing ESC, while strong, is super smooth in both acceleration and braking. On the highest speed mode, the board is plenty powerful but Tynee clearly had configured the board to prioritize smoothness over power.
You see, most of the higher-end boards now come with crazy acceleration when throttled, and we didn't feel that from the Explorer. This is something that the Explorer clearly should be capable of given the specs. That being said, we enjoy how the speed control was configured. The power is more than enough anyways, and we appreciate the easy ride.
Stable at 25 Mph
Besides the electronics, the skateboard part of the Explorer comes together well, too. Using a double drop deck, the board adds stability with a low riding height. The drop-down deck also gave our feet a place to push against while going up or downhill.
The board felt so stable and we would often find ourselves going 25 mph without realizing it. Seasoned riders would be able to ride at top speed with ease. Opting out of the dual kingpin truck set-up, at least for the default option, certainly made the board much more stable.
Traditional Kingpin Trucks Are Surprisingly Great
Lately, traditional kingpin trucks have become more popular among electric skateboards, particularly all-terrain eskates. Many all-terrain electric skateboards now offer options between double kingpin trucks and traditional kingpin trucks. Initially, we thought that the stock set-up using traditional kingpin trucks is going to be difficult to turn and terrible for carving, but we are happy to say that we were proven wrong!
This pair of traditional kingpin trucks really hits the sweet spot. It's stable at high speed and still pretty awesome for turning and carving. In our opinion, it's as good as any double kingpin truck in terms of carving, and we've tested a lot of them. However, double kingpin trucks do still allow a much tighter turn with a much smaller turning radius. With that said, we still much prefer the added stability of the traditional kingpin trucks and don't think there is a need to pay extra for the double kingpin trucks.
Tynee Board Explorer VERDICT — Should Be Named Tynee Board Vacation?!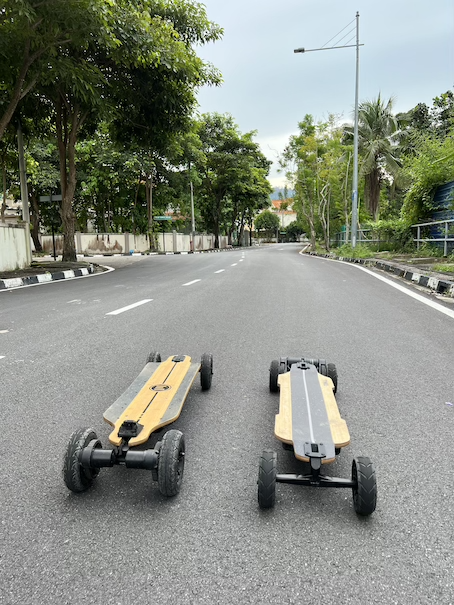 So, here's our verdict on the Tynee Board Explorer.
Well, the Tynee Board Explorer is an easy board to ride and an easy board to recommend.
While Tynee Explorer isn't the cheapest entry-level all-terrain board out there, Tynee Explorer is stronger and more polished than any of its lower-priced competitors.
Ironically, while the name 'Explorer' suggests an adrenaline-filled experience, the Tynee Board Explorer is actually more relaxing than thrilling.
Relaxing, smooth, and easy is how we would describe the Explorer. Well, I guess naming it Tynee Board Vacation just wouldn't have the same ring to it.
So, for beginners in search of good all-terrain boards that are relaxing to ride, Tynee Explorer is one of the better choices. For advanced riders looking for thrills, you guys might want to look elsewhere, as this beast might just be too easy for you to tame.
If you are interested in buying the Tynee, be sure to check out our affiliate discount link here and use code: "ESKATEHQ" to receive $15 off during checkout.
It will help you get a small monetary discount and help us out too. On top of that, you'll be tagged as an Electric Skateboard HQ customer and probably be treated better. Cheers!