"WINboard? Never heard of it" was what I told my editor when I was told I would be reviewing a new full-carbon fiber eskate a month ago. He quickly educated me that WINboard is a company that has been around for a while and actually has a history in the eskating game, helping to produce parts for boards like the Predator Banshee, Haloboard, and Louboard for a couple of years now.
"Alright, I am a sucker for carbon fiber, send it along." was my response, and then a week or so later, I was greeted by this crazy little guy at my doorstep, I knew almost instantly that we would be friends.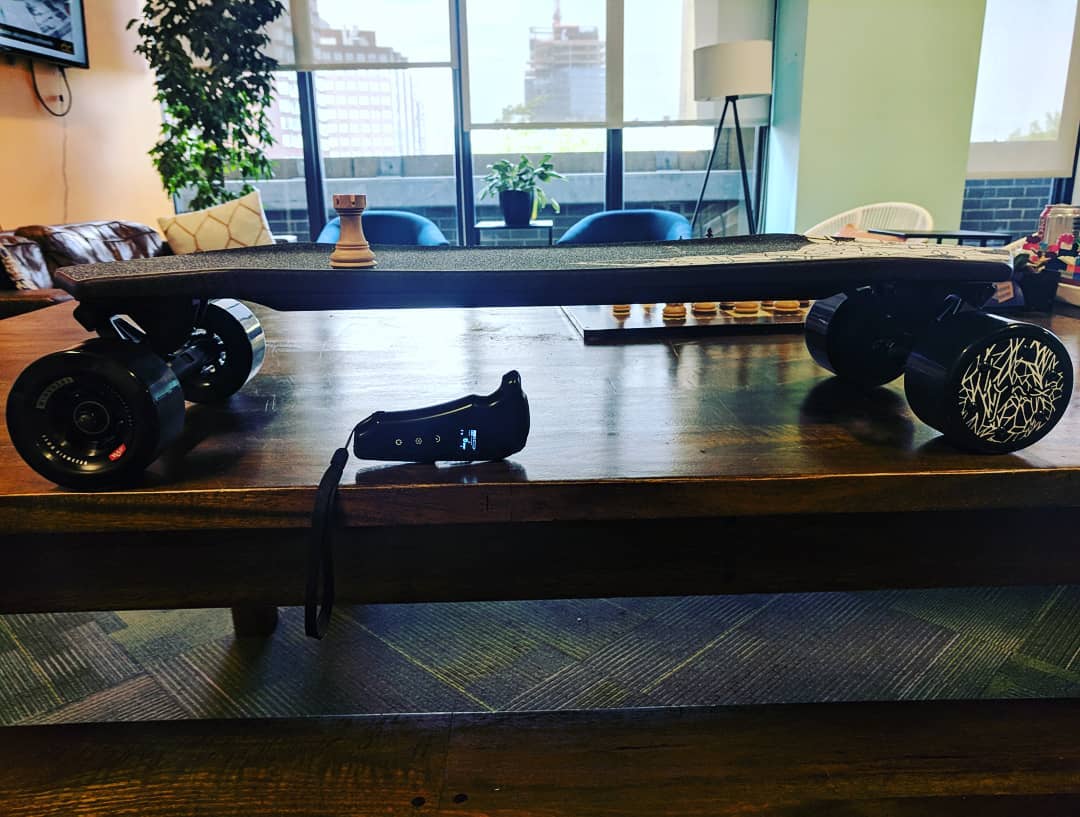 EskateHQ readers, meet the Lynx Challenge. The faster, big-brother of a new lineup of eskates being released by WINboard this month.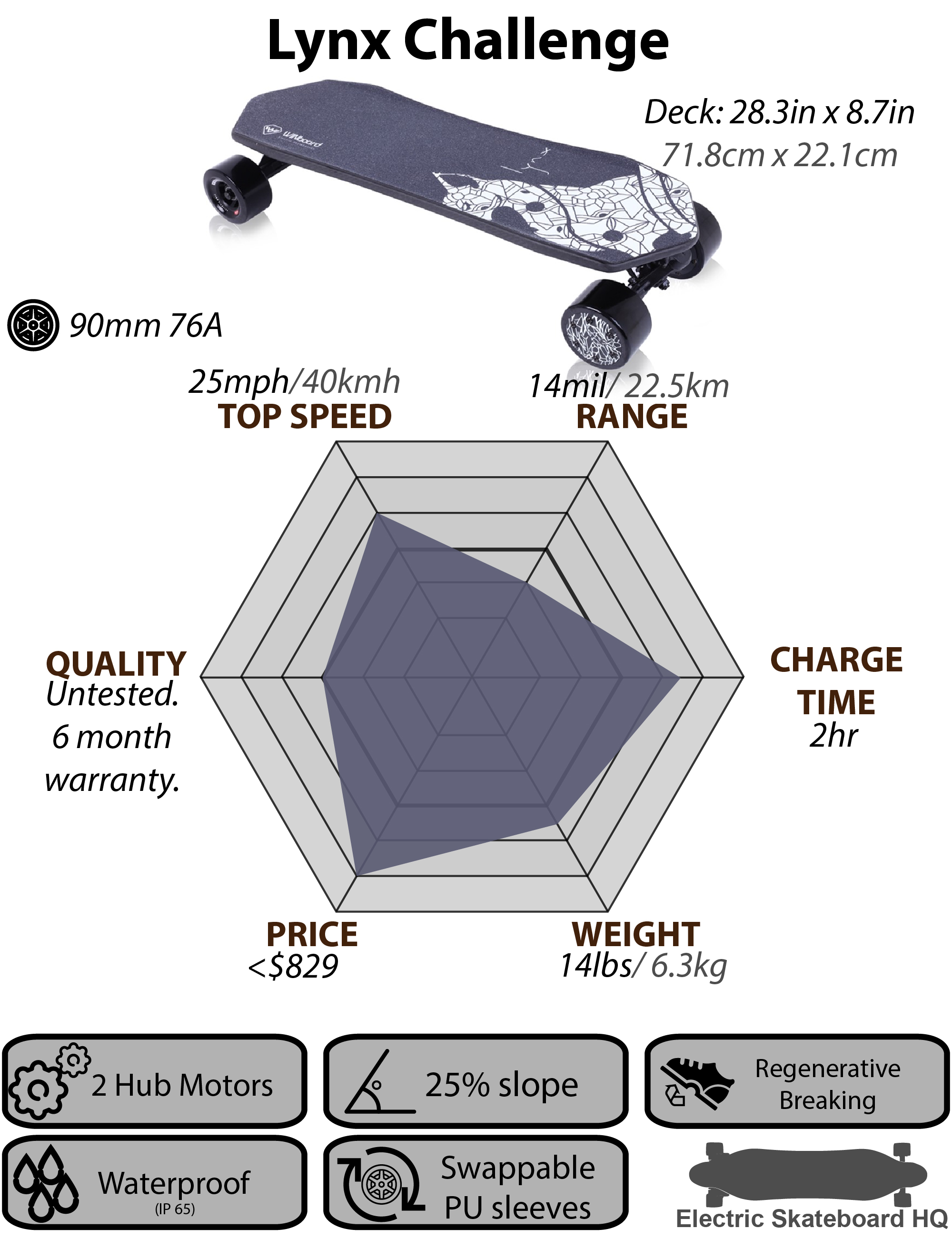 The Looks:
The Lynx has perhaps the sexiest look of any eskate that I have had the pleasure of reviewing. The unibody carbon fibre deck is a sight to behold, and the stylized covers on the in-hub motors, along with the gorgeous grip tape has made this board stand out from the pack. I have even had reactions from non-skaters who are quick to call out what a sexy hunk of carbon fiber this board is.
(WINboard also sent me a gorgeous second option for grip-tape that featured a lot more purple. I am saving it for when I ruin my first roll.)
The short, rigid deck, set up on 90mm stealth-black wheels truly makes the Lynx look unlike any other board out there. And while this particular setup has its drawbacks, it is surprisingly rideable as a high-speed city commuter.
The full carbon fibre deck also makes this board very light, and extremely easy to bring on board the bus or train. I was able to commute to the train and then simply pop the board between my legs and stand over it, even in a packed rush-hour car load of people. The Lynx is an ideal size and weight for a city commuter who is always on the go.
The Remote:
The remote is light and feels very cheap in the hand, but allows for good control and has a ton of useful information right on the tiny screen. After riding the Lynx for a couple of week, my remote is not too broken up, but I have had the wrist strap slide right out of the little notch, which appears to not connect all the way through. These are all acceptable problems for a budget board to have, but would also be an easy fix for WINboard.
The coolest thing about the remote (besides the dope display) is the fact that it has a forward/reverse toggle. I may be newer to the eskate game, but I had a ton of fun shooting the board away from me and then shifting it into reverse and having it come running back. Kind of a stupid feature, I know, but still something that a potential buyer should know!
The Performance:
This board has some POWER. Two 1500 Watts is a lot of power, and bolting these two powerful hub motors onto a small, rigid deck really puts that power into perspective. I was able to take the board up to 27 mph (44 kph) pretty regularly over the time I spent testing it and it still felt solid as a rock. We are used to seeing companies over-promise when it comes to top speed and range on their boards, but in WINboard's case, they have underestimated what their board is capable of by listing its top speed as 25 mph.
This power was difficult to manage at lower speeds however, as the board was a little jerky in starting and stopping. I have most of my riding experience with Boosted boards and One Wheels, so I know that I am a bit spoiled in regards to smooth acceleration and deceleration, but it took me a couple of days to really get used to (and brace for) the power that the Lynx puts out when you push on the throttle.
The remote has 4 riding modes that you can toggle on-the-fly:
My brand-new friends enjoyed learning the board on S and then would graduate to M after a couple of rides. My mode of choice was mode H which gave me access to all of the speed that the board had to offer, but calmed down the crazy accel and decel that the Lynx was capable of.
The H+ mode was like letting a rabid cat out of its cage. It "thrusted" very quickly from a stop or slow push and was a challenge to stay on under partial throttle or hard braking. More veteran eskaters might be able to handle it, but it has the same top speed as H, so why risk it? As a rider, flow is very important to me, and running my board in a mode that ruins that flow, just so I can have more power on-hand, is counter-productive.
It should be said that setting up this board for deep carves and tight turns is nearly impossible. Due to the nature of the 90mm wheels mounted over the short sop-mounted deck, it is very easy to get wheel-bite. WINboard has taken this into effect and shipped the board with a very rigid setup that does not bite, but after taking the board into my laboratory and attempting to replace the trucks and bushings to get some lean out of the damn thing, I found myself getting wheel-bite almost immediately.
(In the end, I ended up swapping out the bushings and front truck for a Paris 180mm, also adding some Shredlights (use discount code "EskateHQ" for 25% off!) to decrease some of our "Stealth" factor during night riding.)
I would recommend that inexperienced skateboard builders keep the board in its stock, not-turny, setup unless you are willing to dance with death every now and then and know how to avoid biting on hard turns (I still have not mastered this and ate total shit on a sidewalk in Boston at 1 AM….such is life as a skater).
The Stats:
For the price, this board's stats are insane:
With a higher top speed and the same range as a Boosted Stealth for around half of the price, the Lynx is an amazing eskate for the money. Add to that the awesome form factor of the small size and light-weight, and you have one amazing deal. It is also worth noting that the board is IP65 waterproof (I took mine out in the rain a lot!) and perfectly shaped to keep the rider dry above-deck.
As with all untested brands, time will tell on the quality of the Lynx, but based on my couple of weeks riding, and beating the hell out of mine, it should stand the test of time. The board has all of the indicators of a manufacturer who cares about quality, from the redundant waterproofing measures on the battery wires, to the spacers used in the wheels.
The one concerning feature I noticed when taking my review copy apart was the fact that the front truck was not quite symmetrical. I found myself unable to get the provided skate tool around the mounting bolt on the underside of the front truck because it was closer to the center than the other bolts.
This indicates that the QA for the trucks might not be the best, and while we have had a recent spate of truck failures in the eskate community this concerning, but the rest of the board appeared rock-solid.
Conclusion:
If you are looking for an eskate that out-performs a boosted board at nearly half of the cost and can deal with slightly less-smooth starting and stopping, this is the board for you. The carbon fiber looks amazing, the speed and range are some of the best-in-class and its small enough to fit in a locker. I am honestly considering buying another so that I can teach more people how accessible and fun eskating is.
The entire Lynx line goes on sale from WINboardUSA on August 18th, and the boards will be on sale at launch for $829 with an extended 1-year warranty (if purchased on launch date)! Definitely worth a pickup if you need a fast, sexy little commuter. Be sure to use coupon code "EskateHQ" at checkout to get a free grip tape eraser, extra roll of grip tape and extra red bones bearings. Additionally, 5% of all orders on launch day will get their boards for free (I have no idea how this works, but it sounds really cool so I wanted to include it here.)
Wanna learn more about the other Winboards?
Lynx Infinity Review – By Samuel James