Huger Tech, a new startup company launched an Indiegogo campaign back in July 2017 bringing us not one, not two but three new electric skateboards.
Introducing the Huger Trio
Huger Classic – A $499 budget friendly E-skate that still provides decent speed and range. It also has the skateboard kick tail – Hence 'Classic'.
Huger Classic is $349 for Indiegogo backer.
Huger Travel – A $899 e-skateboard that sits somewhere between cheaper Huger Classic and pricier Huger Racer. Calling it Huger Travel is a misnomer because it weighs 14.5lbs (6.5kg). A heavy board for such a small body – Most likely you aren't going to travel anywhere with it.
Huger Racer is $699 for Indiegogo backer.
Huger Racer – A $1199 e-longboard that provides good specs. It's going to compete with the top dogs such as Boosted, Evolve and Inboard.
Huger Racer has a huge discount for Indiegogo backers at $899.
Huger is looking to deliver all three of them by October 2017 – a short timeline.
I don't think they can make it for all three of the boards.
It will be clear why I thought so by the end.
Overview
The first thing that struck me when seeing a Huger boards for the first time is how good the finishing is.
Actually, everything that Huger Tech does looks pretty. The board's finishing, the packaging and well, the advertisements are all very well done.
They are just some beautiful, beautiful boards.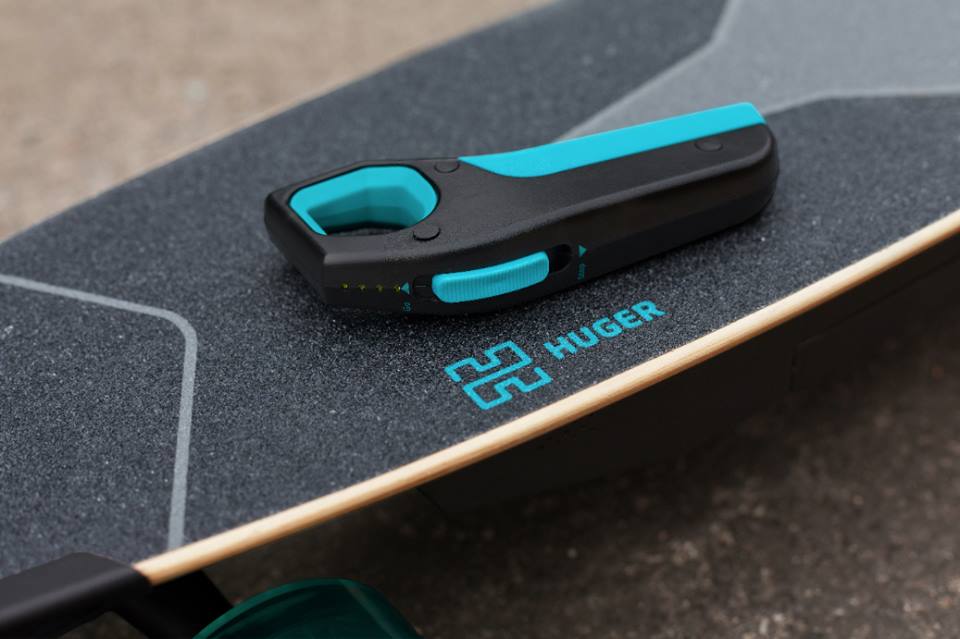 It also looks like Huger Tech is trying to distinguish their boards by packing in lots of features.
A horn that is controlled by the remote?
Swappable battery for Huger Travel and Racer?
LED lights that include brake light and turn light?
No other board in the market are fancy like that.
Huger also undercuts the competitor of similar specs in term of pricing, aiming to be the first consideration for every price range.
Watch out, Acton! A new company is coming to eat your cake!
Huger Classic
Huger Classic is a skateboard size electric skateboard that comes with a good price.
($499 retail price, $349 Indiegogo backer price)
An easy way to think about Huger Classic is, a nicer Acton Blink Lite.
On paper, it has the specs of Acton Blink S but in reality, it seems to be only as strong as the Blink Lite.
The board itself doesn't provide much torque and kick-push from a stand still is needed to get the board starts rolling.
Range(6mil/9.6km) and speed(15mph/24kmh) are on par with the electric skateboard this size and this price.
And Huger Classic is really light.
At 8.6lbs/ 3.9kg, Huger Classic is more travel-friendly than most e-skate, and the Huger Travel.

Reviewers consensus for the Huger Classic has been mostly positive.
Well let's be honest, you can't be too critical for a board at this price.
Overall,
it is a budget electric skateboard that also looks very nice.
Huger Classic should fit nicely for someone on a budget, wants an E-skate that is light and with a small deck and doesn't have much needs for the power, speed, and range.
Competitors: (Skateboard/Penny Board that are cheap)
One thing for sure though,
if Huger Classic can deliver what it promised, there would be little to no reason left to buy an Acton Blink S or Blink S Lite.
Huger Travel
Huger Travel is made to be the filler between budget Huger Classic and the higher end Huger Racer.
$699 for Indiegogo backers and retail @ $899, the board has the specs of Acton Qu4tro (minus the torque)!
However, with the current design, the testers hate this little board.
The riding-experience-sucked!
Top speed of the board is 20mph/32kmh but trying to go that fast on Huger Travel is asking for trouble.
Every Youtuber that tried on Huger Travel complaint that the wheel base is too narrow, making it dangerous to balance on.
The Huger Travel also seems to be disappointing in torque despite the on paper specs and the top speed.
At the end of the day, riding experience is more important than any specs.
Huger Tech may and may not be able to change the design at this stage of development.
And if nothing was changed, Huger Travel is a bad bad board.
If you are looking for a budget electric skateboard with good speed and range, looks elsewhere.
Competitors: (Skateboards of the similar price range)
Huger Racer
Huger Racer is how Huger Tech plans to challenge the top dogs of E-skate world.
Can Huger Racer beat the likes of Boosted, Evolve, Inboard and the Metroboard?
For $1199, it is already a few hundred bucks cheaper than the big names.
And you can get it at $899 if you back them at Indiegogo.
Better yet, Huger Racer often came out on top when it comes to specs and features.
25mph/ 40kmh top speed with 20miles/ 32.2km range is on par with Evolve Bamboo GTX, Enertion Raptor 2 and Acton Qu4tro and totally blew Boosted dual out of the water.
Usually, you will be looking at a China Boards such as Backfire G2 or Koowheel if you want this kind of spec on the cheap. (Here is my comprehensive guide on the China Boards.)
To put the icing on the cake, Huger Racer is armed with features up to the teeth.
Waterproof, swappable battery, smartphone apps are the usual suspect.
LED lights that include brake lights and turn lights are gimmicky but nevertheless fun to have.
And that remotely controlled horn? That's just a cute and funny feature that stuck with me.
The deck is not as flexible and the riding experience definitely won't be as nice as the flexible deck of Boosted boards, but reviewers opinions on the Huger Racer are mostly positive.
To sum it up, Huger Racer positioned itself quite nicely.
If you are wallet conscious but still want a board with a great top speed with great range (and you don't want a China Board) – then Huger Racer might be the board for you.
Competitors:( Longboards that are cheap/ top of the line.)
Huger the Company
The company behind the product is definitely as important as the product itself especially when it comes to electric skateboard.
Boards have to be maintained, broken parts have to be repaired so chances are you will definitely require some kind of assistance from the company down the road.
It is unsure what kind of E-skate company Huger will turn out to be.
Best case scenario, they follow the lead of Boosted, Evolve and Inboard to be great in both in selling and caring for their customers.
On the flip side, the worst thing Huger Tech can be is to become a company like Acton – poor communication with customers, repeatedly break promises, and just simply inconsiderate at times.
There is not much out there to judge what company Huger Tech will be but there are some warning signs that make me uncomfortable.
1) Huger Tech doesn't seem like a by E-skater for E-skater company, but a company run only by businessmen.
None of the marketing material put out by Huger mentioned any about why they got into this market.
The team member of Huger doesn't seem to be skaters, they are designers, marketers, and campaigners.
What's more, the company emphasized that it is based on Orange County US while tries to avoid mentioning the parent company IDT International which is based in Hong Kong.
Just look at the about page of Huger Tech and the Indiegogo Campaign page and ask yourself how you feel about the company.
Logically, this should not be a concern.
The motive of the company shouldn't matters, what matters is how good the product is, and how well the after-sale services are. Right?However, in the E-Skate world, a company that prioritizes on profit often makes questionable product decisions.
I would hope so.However, in the E-Skate world, a company that prioritizes on profit often makes questionable product decisions.
However, in the E-Skate world, a company that prioritizes on profit often makes questionable product decisions.
They cheap out on quality, use customers as guinea pigs, making false claims and provide horrible post-sale services.
On the flip side, E- skater's company always tried to do their best to perfect the board and the result speaks for itself.
Sanjay Dastoor of the Boosted, Ilan Sabar of the Metroboard, Jason of the Enertion Raptor, the Arc Board team, DIYelectricskateboard, Unik and my pal Kieran of the Meepo Board are all good examples. They see their board as their pride.
Try telling Jason his Raptor 2 suck and wait for his reaction, it's clearly not just about profit.
2) The noises coming from Youtube.
If you ever searched 'Electric Skateboard' in Google, you definitely know how active Huger Tech has been in advertising.
It is the only ad I see on Youtube and Facebook through Huger's campaign month.
Huger Tech also has been busy sending YouTubers such as Big Kids, Press Reset, Dylan Kowalski, FabTrav its board for 'their input to help improve the end product'.
And the result is confusing.
We see the board couldn't brake going downhill (Regenerative braking overcharging the battery again perhaps?), LED lights malfunctioning and almost everyone spotted the same problem: Huger Travel has too small of a wheel base to be safe.
Everyone but people from the Huger Tech.
It really begs the question: Does anyone in Huger Tech rides their own board?
And, could they even change the truck placement this late in the production?
They seem to have electronics in the deck where the truck should move to so can it be done?
If they are changing the design, could they make the Indiegogo date of delivery?
If they are not, what does it say about the company?
And also, according to the Indiegogo timeline, this is supposed to be the final testing stage, why are the board still having this much of a problem?
Wasn't this kind of review and testing suppose to be done behind closed door and problems sorted out before the board is being marketed?
If Huger Tech dare to send problematic boards to the influencers, what can regular folk expect to get?
3) Bad PR
I like to feel the personality of a company to better understand the electric skateboards they put out.
It has been difficult trying to get to know Huger.
The official site www.HugerTech.com is basically the extension of their Indiegogo campaign.
Not much info there.
And when I came across the representative of Huger in the forum, they always came across as sale-sy when promoting and dodgy when tough questions were asked.
The best part? I reached out to Huger Tech through email and after some back and forth, I was promised an interview with someone from team Huger and then never saw an email reply to finalize the date.
I reached out to Huger Tech through email and after some back and forth, I was promised an interview with someone from team Huger and then never saw a reply again to finalize the date.
Verdict:
Even though I am shorting Huger Tech as a company, some objective suggestion can be made.
Huger has the help of its parental company – IDT International and hence manufacturing and delivering the Huger boards should not be a problem, as evident by the quality of their packaging and finishing. They should have no problem delivering to their IndieGoGo backers on time barring design changes.
Meaning, they should have no problem delivering Huger Classic and even Huger Racer on their Indiegogo delivery date.
However, it's hard to see how Huger is able to change the design of Huger Travel and meet the October 2017 deadline at the same time.
My recommendation:
Huger Classic, a board rated well by consensus is a recommendable board if it suits your need.
However, a $349 Indiegogo price is not a huge discount from the $499 retail price and hence you could just play safe and buy when it's out.
Huger Racer has garnered good review too and the discount from $1199 to $899 is reasonably tempting. If you like what you see from Huger Racer and is comfortable with Huger Tech, well, go for it.
Avoid Huger Travel.
References:
www.HugerTech.com – Official site.
HugerTech Indiegogo page.
Youtube preview/review:
by Press Reset: Huger Classic – Positive. Huger Travel – Negative unless design change. Huger Racer – It's okay. Also mentioned that Huger did reiterate the board according to feedback.
by Dylan Kowalski: Huger Racer- Positive. "Nothing bad can be said for Huger Racer."
by FabTrav: Huger Travel: Negative. Notice downhill braking problem. Narrow wheel base. Not enough torque. Huger Racer – Braking problem. otherwise okay. Boards too high.
by Big Kids: Huger Racer – Positive.
by Tech on a Budget: Huger Classic – Positive
Reddit:
https://www.reddit.com/r/ElectricSkateboarding/comments/6k4uak/hugertech_eskateboards_introduction/
https://www.reddit.com/r/ElectricSkateboarding/comments/6o79qi/due_diligence_huger_tech_indiegogo/