Backfire is one of the most well-known Chinese Electric Skateboard brand in the market.
It is a brand that I'm very familiar with. (I wrote about them in my Comprehensive Guide for China Boards and also when they launched their ill-fated Kickstarter campaign for Backfire G2.)
Long story short, I've been approached by Backfire to do a hands-on review on their new Backfire Galaxy, and this is it.
On the rare chance that you aren't familiar with who Backfire or what Backfire Galaxy is, let me catch you up to speed.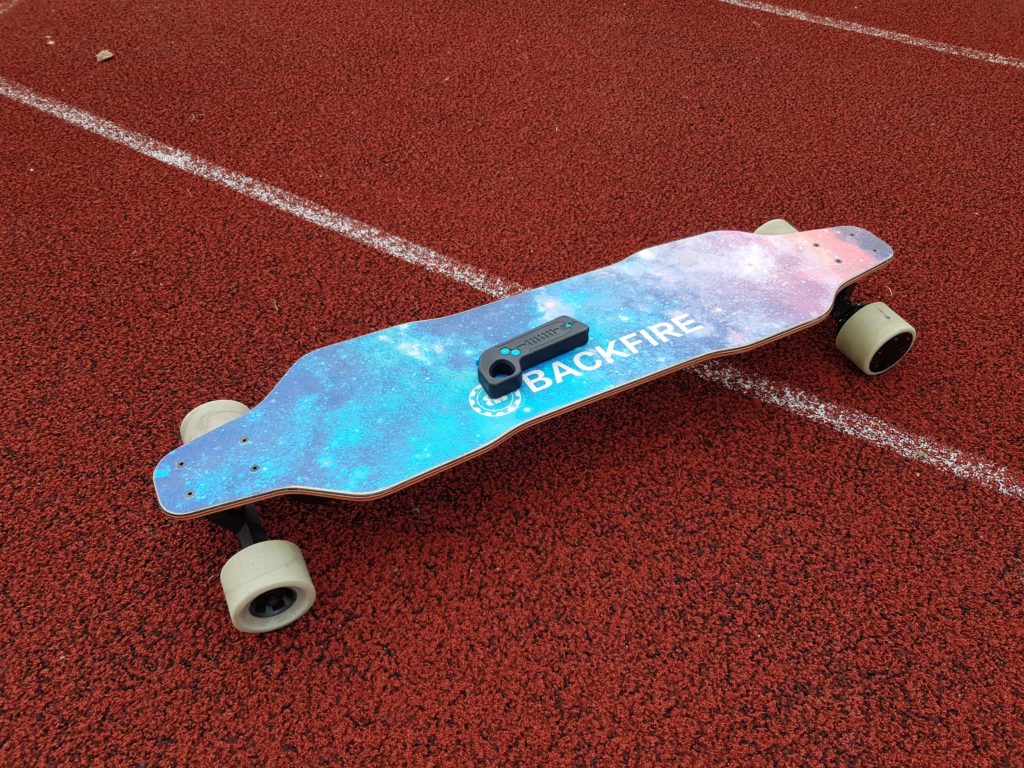 Backfire – Background
History
Backfire is one of the most well-known Chinese electric skateboard brand.
It is a brand by Shanghai So-Fun or Helloskate.
Backfire release their first Backfire Board at around 2013.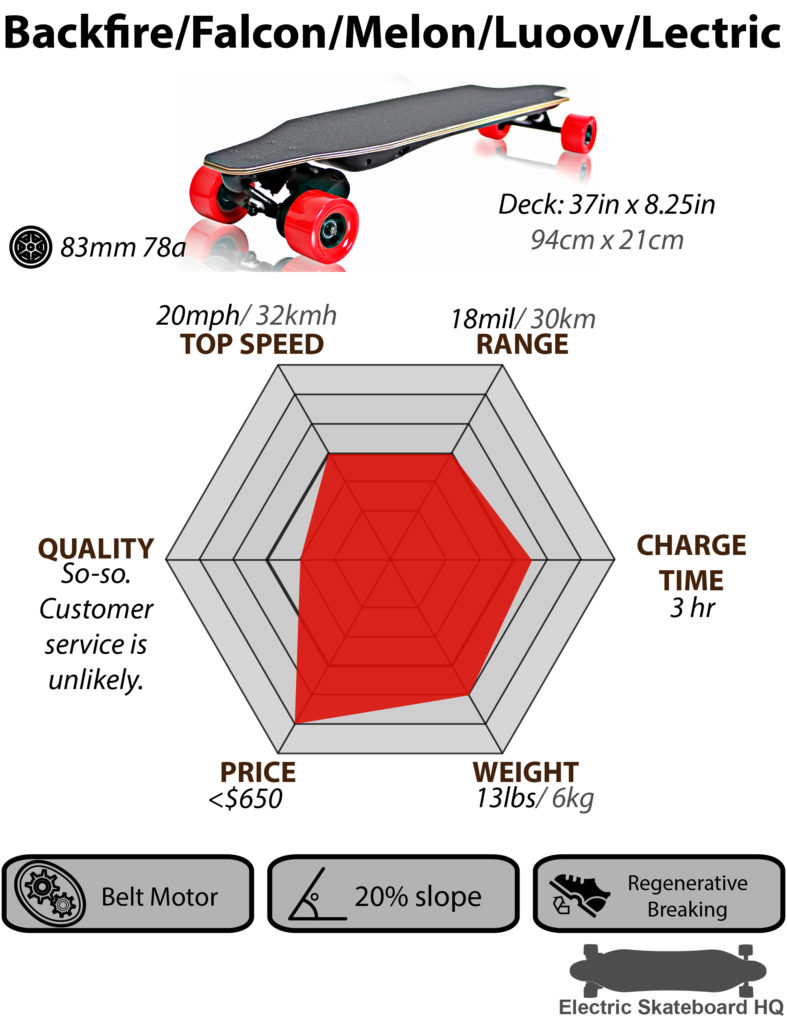 With good specs on a good price tag, Backfire Board was very popular both inside and outside China market. In fact, it has been cloned into multiple brands such as Falcon, Luuov, Melon and Lectric.
Considering the China Market and how many of its clones have been sold from Amazon and Aliexpress, Backfire might actually be the most sold electric skateboard on earth.
Backfire Galaxy or Backfire Gen 2
So at the end of June 2017, Backfire went to Kickstarter with its new Backfire Generation 2 or Backfire Galaxy.
It was a controversial move as many suspects that Backfire G2 was already available and ready to be purchased by that time, and the Kickstarter campaign was just a marketing ploy.
The Kickstarter campaign ends up being unsuccessful and the backers were converted into pre-orders. But it nevertheless got people's attention.
So, is the $500 electric skateboard with an eccentric grip tape worth buying?
Backfire Galaxy Review
 
China Boards always comes with amazing specs with an amazing price.
Backfire Galaxy is no exception:
Top Speed: 25mph (40kmh)
Range: 18.5mil (30km)
Weight: 13.6lbs (6.2kg)
Charge Time: 3hrs
Features: 2 hub motors, waterproof, Regenerative braking, handles up to 25% slope.
Price: Around 500 USD
Riding Experience:
Overall
There are worries that boards with pretty specs sheet and even prettier price tag translate poorly into riding experience.
This is definitely NOT TRUE in the case of Backfire Galaxy.
The riding experience of Backfire Galaxy truly stands out from other budgets electric skateboard and one of the big reason is the deck.
Backfire Galaxy has a long and flexible 8 ply Canadian Maple deck that makes riding on it a very enjoyable experience.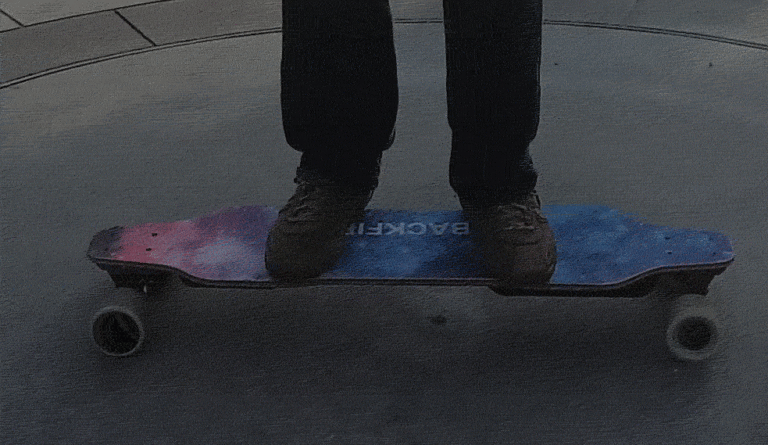 To quote Preston from Press Reset(Youtube):
"This board rides like a longboard. (and the other electric skateboard in this price range doesn't)",
and riding on my Backfire Galaxy I feel what he meant.
The board felt low, stable and very easy to carve around in.
Riding on it is just a very relaxing and enjoyable experience.
Acceleration and Deceleration
The acceleration and deceleration on Backfire Galaxy are very gentle in slow mode.
You can go 100% full throttle from a standstill and not be thrown off the board.
You can also apply 100% brakes when going around 12mph (20kmh) and almost not be thrown off the board.
Backfire Galaxy will try to be gentle in braking even when you are reckless.
Braking on high speed, however, is another story.
Somehow, when going at the speed of fast mode (>12mph or 20kmh), the braking becomes very dramatic.
I tried applying slightly more brake when going around 20mph or 35kmh and was surprised when the brake bite more than I prepared for.
The braking jolt threw me off the board and gave me some road rashes.
I then never re-attempt that again.
Wheels
80mm PU wheels on Backfire Galaxy handle bumps and cracks fairly decently.
I really wish there were >90mm though.
Obstacles like water pipes that my 90mm wheels boards can roll through safely are not as safe for these 80mm wheels.
and I knew the cobblestone path would be that much less rattling if Backfire Galaxy's awesome flexible deck is paired with bigger wheels.
Remote
Backfire use a 2.4GHz radio control remote controller.
There were no disconnection and no delay for me.
It works like it should. Forward, reverse, fast mode slow mode.
The remote felt cheap, but no issue with it.


In short:
I love the riding on the Backfire Galaxy.
Built Quality:
Backfire Galaxy looks like a good quality product and it rides like a good quality electric skateboard.
The finishing is done well, the trucks look beefy and confidence inspiring, the PU wheels well… looks like PU wheels.
I couldn't tell if the internals is from good quality parts, but from the outside, the quality of the board definitely felt good.
The only thing that is and felt cheap is the rather generic remote.
But it works as it should, so all was forgiven.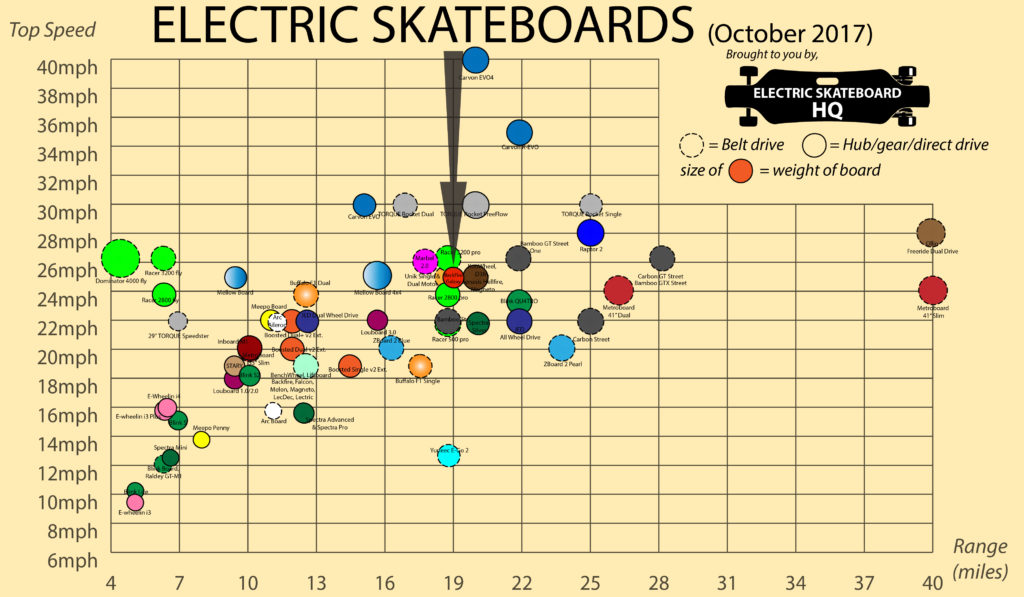 Backfire Galaxy's range and top speed amongst all boards. (Click to enlarge)
Range:
The range on Backfire Galaxy is CRAZY.
The marketed range is 18.6mi or 30km, surely an inflated stats right? Wrong!
8miles or 14km later I still have 3 out of 4 bars of battery left.
The board definitely can go 18 miles if you stay on slow mode.
Speed:
The spec that I care least about is the top speed.
The highest speed that I felt comfortable riding on is around 20mph (30kmh) anyways and I reach there on fast mode easily with a lot of holding back.
The Backfire Galaxy can go 21mph (34kmh) according to Eskate community members that own Backfire and actually dare to throttle to the max.
(Thanks, ArmanTamzarian)
I for one is content with slow mode and no injury. Thank you very much.
Torque:
Backfire Galaxy advertised 20% hill climb. That is an 11.31 degrees upward slope.
To put that to test, I went to the multistorey car park of my condominium.
The incline ramp is around 14% or 7.8 degrees.
Riding the Backfire Galaxy over the ramp is of course not a challenge.
So what I did was to do a stop and go in the middle of the climb, and see if Backfire Galaxy can climb the slope from a standstill.
Answer: Yes it can, in slow mode nonetheless.
I think it is safe to say the Backfire Galaxy can handle most of the hill that you dare to climb.
Because it actually gets scary beyond 15%
Customer Service:
I couldn't vouch for Backfire's customer service.
However, it is safe to say that Backfire's customer service is better than other no-name electric skateboards from China.
In fact, Backfire now have a service center in Hamburger Germany for Europe market and Richmond USA for USA market.
Customers from Europe and USA can easily have their issue sorted out without needing to have their board sent to China.
This is definitely a good step forward.
On the downside, there are issues that may shake your confidence in the board and the company.
The early batches of Backfire have problems with the battery. (serial number 730-770)
Some of the battery can't absorb the voltage immediately causing it to disconnect, some board couldn't charge, some have spark on charging.
The problem was said to be fixed and regular customers wouldn't encounter it but I would still prefer an electric skateboard company to test their board super rigorously before attempting to put it on the market, considering it could be dangerous if something went wrong. (And things did go wrong, more on that later.)
Due to the battery issue, the delivery date of the board has been delayed up to 45 days for some of the buyers. The buyers also may or may not need to pay extra-import tax on top of that.
Then there is also mixed message coming out from different reps from Backfire. Some rep told the customer that they can pay extra to get the board air-shipped to them right now, at the same time another told the same customer that they couldn't do that.This result in some of the buyers to cancel their order in rage.
This confusion in communication and tax issue results in some of the buyers to cancel their order in rage.
[I spoke to Randy the CEO from Backfire, they are shipping every order by air now without extra pay.
Kickstarter orders have been sent and all order numbers before #240. All orders from their website will be shipped on 15th Oct.] 
On a more serious note, there was one experience rider Bahman Afsardir that has been seriously injured when going downhill.
It was said that the brake suddenly stopped working.
It was still not clear if it was caused by disconnection or battery overcharge.
Backfire did reach out to Bahman Afsardir after the incident.
The PR and handling of the case, however, is not the prettiest.
At the end of the day, pre and post sales service of Backfire is at least present.
If you have a problem with Backfire Galaxy after the purchase, Backfire will likely to be there to help you work through it.
You may not feel as if Backfire have your best interest in mind but they do at least try to fulfill their responsibility toward their customers.
Other Features:
Not much bells and whistle for Backfire Galaxy.
The urethane on the wheels can be changed, it is IP55 waterproof and that's pretty much it.
(Don't ride on wet ground. The wheel is not meant to handle wet surface. I know because my buttock is still hurting.)
Issues:
The board won't brakes if you go downhill on a full battery.
This is the problem that all electric skateboard with regenerative braking has.
Including Backfire Galaxy.
It won't.
Be careful.
[Update: Backfire informed me that their new board with new battery & BMS has solved this issue.
Validation from buyers are still needed to confirm this claim.]
Verdict:
Is Backfire Galaxy worth $500?
Sure it does, the riding experience of Backfire Galaxy is so good it is on par with the premium board such as the Boosted board.
I would say Backfire Galaxy is the perfect board for someone that use it for leisure riding.
If you are going for a more dangerous speed, I would advise spending more for something premium such as the Enertion Raptor 2 for a better acceleration and deceleration control in high speed and for the peace of mind.
On the other end of the spectrum, there is always the Meepo Board – the current reigning champion of the budget electric skateboard.
Comparing to Meepo Board,
Backfire Galaxy has a better deck (but too bad doesn't have the handle) that made the riding experience better, and also have the changeable urethane for a motor wheel that Meepo doesn't offer.
Meepo Board, on the other hand, has bigger wheels, is more modular (you can disassemble it for replacement or upgrade very easily) and is under $400 after tax and shipping (for most people) and has a more personable approach to customer service.
At the end of the day,
Backfire Galaxy offers great riding experience, awesome range with an affordable price tag.
You will love the purchase once you are carving on the Backfire Galaxy – provided if you can get your hands on one.
Update 1: Backfire now is now rocking a smaller battery, It is said to have more stable voltage output. The new range is said to be around 9 miles or 14km.
Update 2: Backfire is now launching an Indiegogo campaign from now until 30th November. Estimated time of delivery would be January 2018.