When it comes to electric skateboard bags, we've had the opportunity to try a few of them. Today, we will be reviewing the Atsabag, a bag by a brand from Singapore. One thing you should know about Atsabags is that they are expensive. Priced at $219 it's half of the price of a good entry-level electric skateboard! This eskate hobby isn't cheap eh. With that said, let's see if the money is put to good use.
Appearances
When I unboxed the bag, my first reaction was, "Wow! This thing looks pretty!"; and my second reaction was "gosh this is going to be a complicated bag to review."
Let me explain. The workmanship of Atsa bag is like nothing I've seen before. I'm not one that buys or owns any luxury bags, so I'm by no means an expert when it comes to fabrics, but I will describe the material used in an Atsa bag as – it looks beautiful, felt sturdy, and great in the hand, and perfectly sewn together.
Atsa says the bag is waterproof, and looking at the design, I have no doubts about that claim. I got another vanity boost when I took this bag to work and my colleague's first reaction to seeing the bag was "Wow, cool bag, looks expensive" – well, it certainly has looks that match the price!
Functionality
70% for eskate, 30% for the office
Speaking of carrying the bag to work, I think the Atsa bag was designed specifically to be the perfect bag for your commute to work. The bag is packed full of useful features, including a laptop sleeve, which will be redundant if you are not planning to pack in a laptop or tablet. It used to be removable, well, not anymore 😢.
There are also elastic bands included for cable management, again, something for the office and not the skate park.
Atsabag's 2 main compartments
The bag has 2 compartments, the back compartment where you carry your skate; and the big rucksack-like front compartment which itself has multiple pouches and is obviously where the once removable laptop sleeve goes. The rucksack-like front compartment can be accessed via the top or the front.
This is a thoughtful design, as top access would be difficult once you have strapped in the board.
Eskate carrying capability
But first and foremost, let's talk about the board carrying capability of the bag. Atsabags have a very competent system designed to carry boards and hold them snuggly. Even monsters like the Trampa can go in it, but I imagine carrying such a huge board will never be comfortable. I also love how right off the bat, Atsa gave us 2 raincover sizes, for either longboards or shortboards. The rain cover also comes with its own pouches. Neat!
The helmet bag and carrying system are also built into the bag, which is convenient and 100% functional. Again, a neat feature! While carrying a big eskate around is never going to be comfortable, Atsabag did make it as comfortable as possible with the padded shoulder straps. Chest straps and hip straps can be used if you are looking to jump with this thing.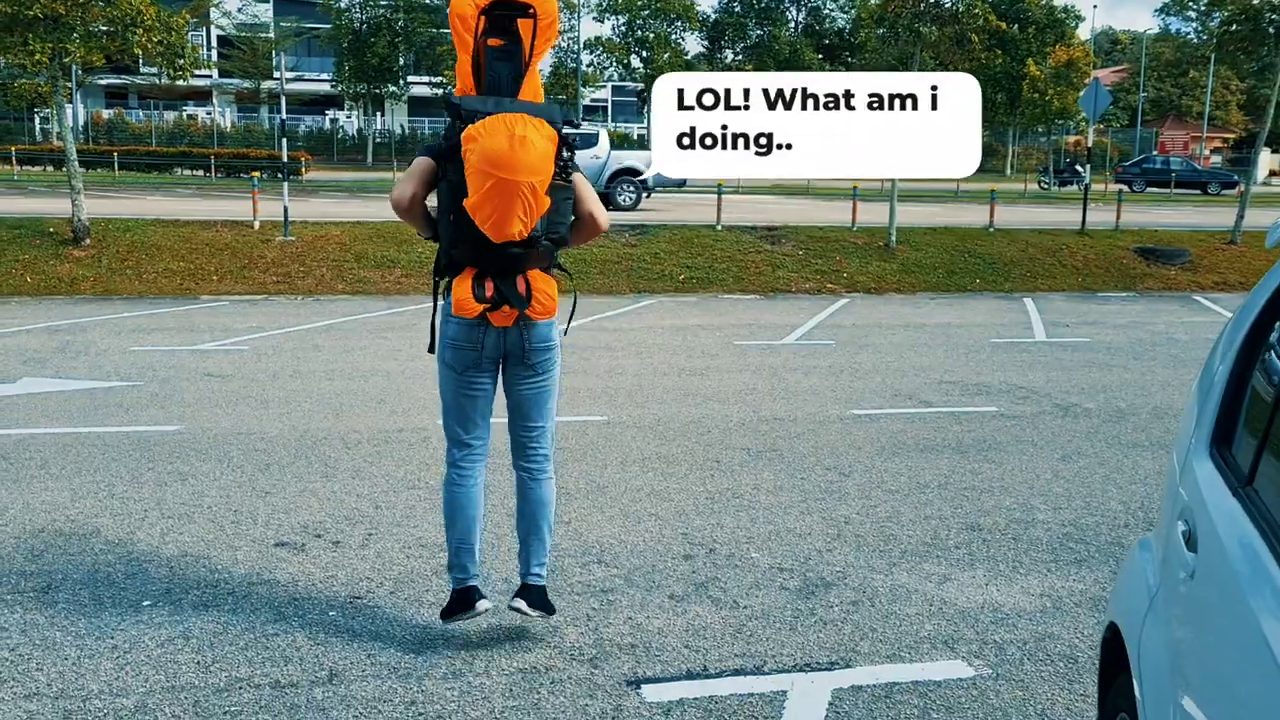 I would say that for carrying an Eskate, it can't get any more comfortable than this.
Using the Atsabag
So, the ideal use case for an Atsabag is probably skating to and from work, a cafe, or on a grocery run. I imagine pairing an Atsabag with an electric shortboard such as the Meepo Mini 2 would be comfortable enough that you can tolerate an hour's grocery run while carrying the board on your bag.
Other bells and whistles
Now back to the bag, besides the board carrying capabilities, the bag also has plenty of other features that I love to show off to everyone around me, especially the magnets.
First, there are magnetic buckles that automatically clasp; second, the once removable 17" laptop sleeve that has a magnetic opening to close itself and keep itself closed, then, there is another magnetic snap to lock the laptop sleeve inside the Atsabag; and obviously the top access opening also has a magnetic lining around it to keep it closed too.
Atsabag has about as many magnets as it has pouches, to the point where I have trouble utilizing them all. I especially don't know what to do with the secret side pocket and the holder for the selfie stick designed for a 360 camera. I don't have a 360 camera and I mount my GoPro on my helmet.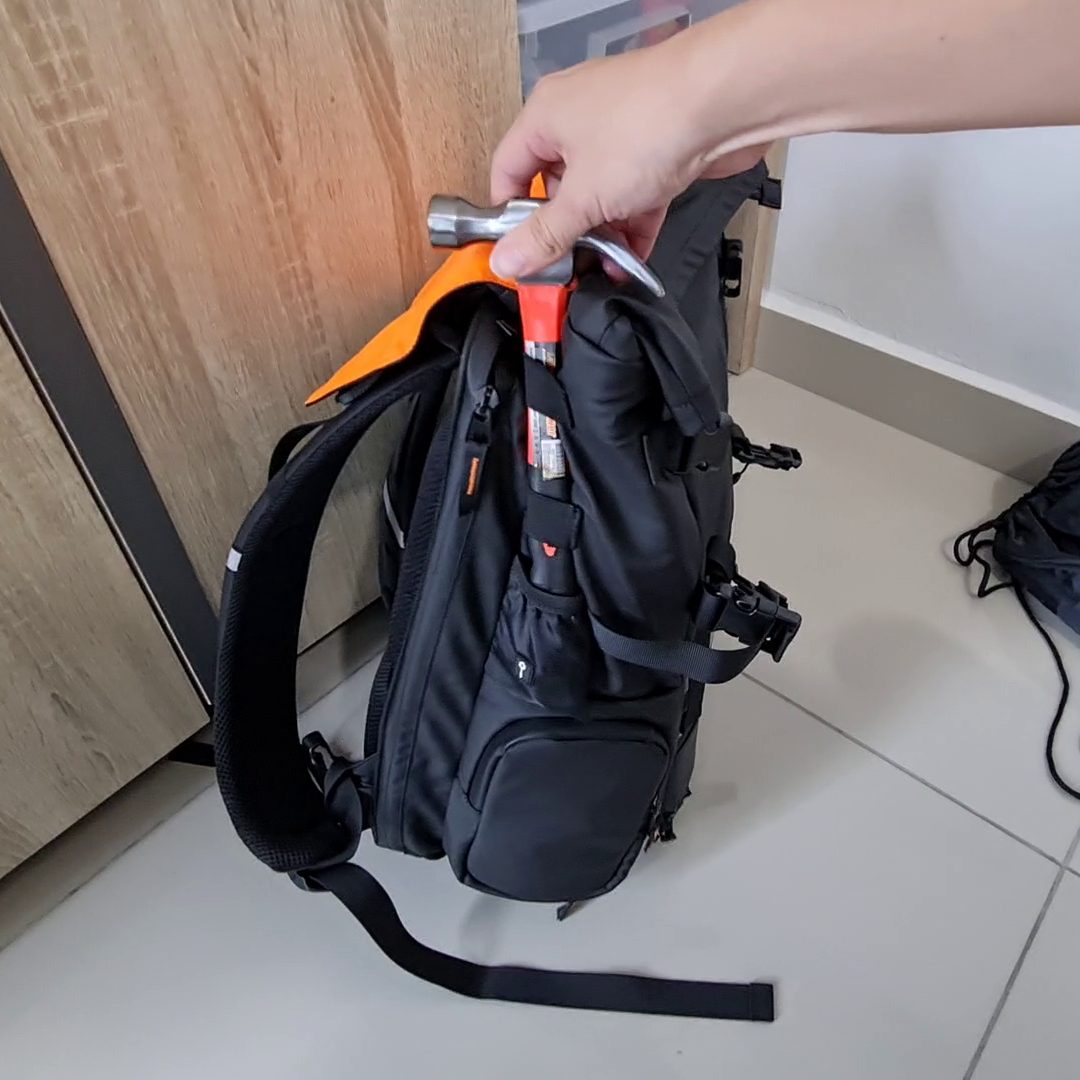 Summary:
So, after using this bag for a while, here are my thoughts:
If you are looking for a bag to carry your eskate during your commute to and from work, Starbucks, the shopping mall etc., Atsabag is perfectly designed for that. If you just want a bag to carry your board to and from your skate location, the Atsabag is again perfect for it but could be overkill, as you will likely only be using 70% of its full functionality; and if you just want a bag that looks really expensive to show off, Atsabag certainly has the look to do that for you as well. It is, after all, one of the most premium electric skateboards carry bags you can get out there.
Thanks, Atsa, for letting me review this! Now I know how the ladies feel when carrying around their LV bag.
If you are interested in buying an Atsabag, be sure to check out our affiliate discount link here and uses code: "ESKATEHQ" during checkout. It will help you get $20 off and helps us out too.

On top of that, you'll be tagged as an Electric Skateboard HQ customer and probably be treated better. Cheers!