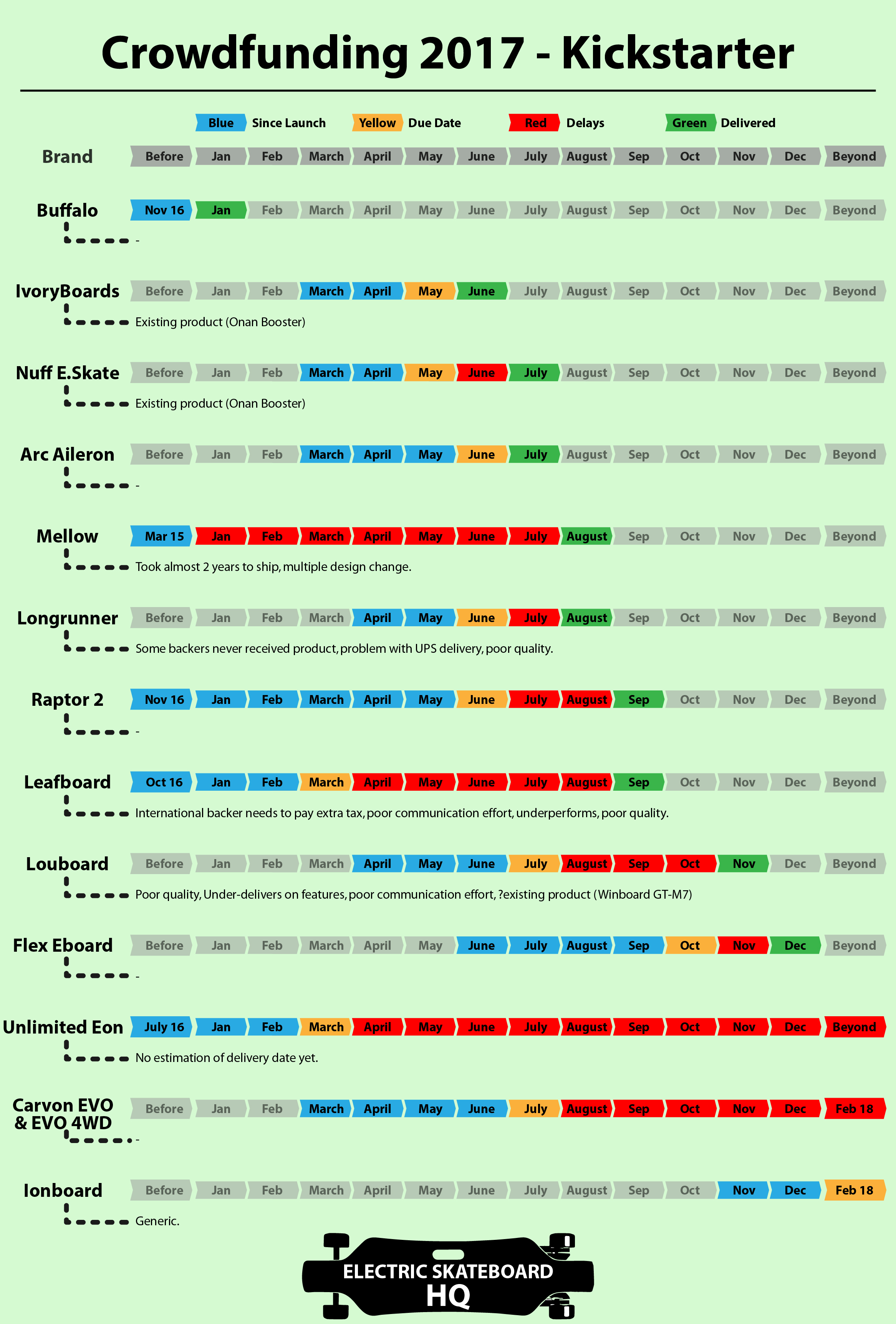 2017 is the year of electric skateboard crowdfunding.
Around 34 products were crowdfunded in either Kickstarter or Indiegogo.
However, there is a saying – Back an Eskate crowdfunding campaign only if you believe in Unicorn.
The pessimism is warranted as crowdfunding campaigns for electric skateboards have always been ridden with problems.
For starters, delays are the rule rather than the exception while overstating the performance is just too common.
As if that is not bad enough, there were outright scams! Anyone remembers Tinboard?
Here are the most common problems in Eskate crowd fundings.
Delays
Delays are the rules rather than the exception when it comes to eskate crowdfunding.
20 out of 30 boards had their delivery delayed for more than 1 month.
That is 66%!
And if you counted out 4 of those boards which were existing products (Ivory, Nuff, Maxfind C, Backfire G2), the statistic of delays would be 19 out of 26 boards, 73%!
If you are not willing to wait an extra 6 months, don't back an eskate crowdfunding campaign.
Offenders: Most of the campaigns.
Overstating the performance
Eskate crowdfunding campaign is like a box of chocolates. You never know what you're gonna get.
The price is too good, you think.
This must be due to an early bird discount, you think.
But more likely it is because the board is just a POS and the marketed specs straight-up lies.
Influencers may be influenced or did not give the board a rigorous test.
Even if they did, what's stopping the company to produce something weaker than the prototypes?
Offenders: Buffalo, Leafboard, LouBoards, Enskate FiBoard.
Poor Quality
On the other hand, even if a board could hit all the numbers, but broke the very next day, what is the use?
Too many boards end up having disappointing quality.
Offenders: Longrunner, Leafboard, LouBoards, Acton Blinks, Enskate Fiboard.
Problem with import custom and delivery
Electric skateboards are very difficult to ship mainly due to the batteries they carry.
A lot of campaigners underestimated the difficulty when it comes to getting their products to the customer's doorstep.
There are delivery companies that failed to deliver, or outright refuse to deliver the electric skateboards, which in turns leads to an unexpected increase in both the delivery cost and the duration it takes.
Be extra wary if you are not from the States because international delivery are often problematics.
Offenders: Mellow, Leafboard, Acton Blinks, Elwing, Juiced (can't post overseas), Linky,  Enskate Fiboard
Need to top up cash
Besides underestimating the complexity of delivering the board, many campaigners underestimated the import tax or shipping cost.
They either end up requiring the backers to shell out extra or leave the backer in shock when their custom inform them to pay a significant amount to have their board to have clearance.
Offenders: Acton Blinks, Walnutt Spectra ($19), Backfire G2 (Initially asked for it, then decided not to), Leafboard.
Did not deliver
Some campaigner straight up never delivers.
Sometimes, some backer receives their boards while others did not.
This might also be something to do with the delivery company.
Offenders: Longrunner, Leafboard, Kuickwheel (went missing before delivery).
Poor post-sale service
Nothing is going to stop a new company to just disappear after delivering the boards.
They delivered the board as promised, and now there are nowhere to be found.
Luckily, not all of the offenders went MIA. Most just straight-up suck in post-sales service.
Offenders: Buffalo, Longrunner, Leafboard, LouBoards, Elwing,  Enskate Fiboard, Huger Boards
Spec or design change
Spec changes are not always bad, but it is often unexpected.
How do you feel if the board doesn't come with the deck that you ordered?
Or if the range was sacrificed in favor of more stable voltage output?
Design changes often come with good reason, but it might not be "your" reason.
Offenders: Acton Blink, Backfire G2.
Obsolete Specs
The board that we chose to back is most often state-of-the-art, top-of-the-line new tech that came with an unbelievable price.
However, after waiting 4 months for the due date we were hit by another 3 months of delay.
By the time the board reaches our hand, it has lost its edge in specs and pricing to the latest set of new boards in the market.
New boards are always better, and this industry moves fast.
Notable board coming out from Crowdfunding
With all that said. There are actually a few great electric skateboards that came out of 2017 crowdfunding campaigns.
Mellow
Mellow only took almost 2 years and multiple design changes to finally deliver.
Costing somewhere around $1800, Mellow is super pricey, but those who have it absolutely love it.
2 years back, Mellow is state of the art. By the time it delivers on 2017, the competition definitely has caught up.
In particular, Onan took the concept of the electric booster and ran with it.
By the time Mellow was released, Onan was already in its third iteration.
My review of Onan X2 is here.
Though as pessimistic as I may sound, the proud owners of Mellows are mostly very satisfied with their purchase.
Why wouldn't they, Mellow is powerful, packed with useful features and most important of all, of great quality.
For those who are flying with their boards, Mellow is also considered the best travel board ever, as you can just remove the battery and introduce it as your XXL power bank.
Arc Aileron
Arc Aileron is one of the few crowdfunding projects that delivers somewhat on time.
It also marks the second time Arc team has successfully delivered Kickstarter project, both times with flying colors. (After their first project, Arc Board)
Arc Aileron made it on my list for being the best portable shortboard available.
It only weighs 9.5lbs(4.3kg).
Equipped with VESC, the acceleration and deceleration on Arc Aileron are very smooth.
It uses small 70mm wheels, so in exchange for a responsive and agile feel, the board has problems handling rough roads.
By the way, Arc team has just teased about their new project, Arc Finix.
Nothing much has been revealed about Finix yet but if they choose to go to Kickstarter with it again, I definitely feel safe recommending it.
Raptor 2
Raptor 2 needs no further introduction.
Although it has seen some delays, the final product did not disappoint.
In fact, Raptor 2 has made into many blogger's lists as the best electric skateboard of 2017, that is how good it is.
It is good all around! Quality, range, torque, speed, you name it!
Michael Gatti has the best review for the Raptor 2.
My affiliate discount (200 AUD off) for Raptor 2 is here. 
Linky
Linky is an interesting board.
It is an electric skateboard with a foldable deck.
It also has a swappable <99wh battery.
The combination of these 2 features makes Linky the most portable travel board on my list.
Well, I just mentioned others say Mellow is the best travel board but well, I guess everyone has their own favorite. (Read: I am poor) 
Anyways I digress.
Linky is still new and not much user feedback has surfaced, so the quality and riding experiences are still largely unknown.
Linky nonetheless brought a new concept to the electric skateboard market and wasn't that the whole purpose of crowdfunding? To support innovation?
Bad fails of Crowdfunding
Leafboard
Leafboard was a Kickstarter darling when it launch.
Cute size, good price and crazy powerful (marketing specs).
Well, not many people are still expecting Leafboard to deliver after they stop responding to Kickstarter comments and shut off their webpage.
They were, however, still somewhat active in their Facebook group with updates now and then, and,
finally, to most of our surprise, Leafboard delivered in September 2017.
Too bad the woes didn't stop there. It starts with complaints of backer getting hit by surprised import charges. Then there were complaints of how the boards under-performs and felt cheap in quality.
Well…What a shame.
LouBoard
Turns out Louboards are not a real deal.
After a few months of delay, backers who received the boards were largely unimpressed.
The final product under-performs it's marketing specs and break easily.
There were also multiple complaints about SoFlow's customer services.
Turns out a misogynistic company wasn't that trustworthy after all.
(Much like a misogynistic politician.)
Acton Blink Series
For Acton, the first clue of troubles was when the Indiegogo campaign ends with a 2651% funding.
How are they going to produce that many boards?
Initially, I was one of those who applauded Acton for setting a new standard for affordable high performing electric skateboards.
Their Indiegogo pricing for Blink S, S2 and Qu4tro all undercuts the competitions in value for price.
Then the Acton starts to announce delays, that was to be expected.
What was not cool was how Acton straight up lie about the delivery dates.
It frustrated the backers when Acton told them that they are shipping the very next month -failed to do so, then proceed to give the same promised for the following month and then repeats.
International backers have it worse as they have to wait another few extra months (like 3 months) for the board to finally arrive.
To add insult to injury, at one point Acton's site listed Blink S as having ready stock for purchase while their international backers still waiting to receive their board.
Blink S and S2 are meant to be the best affordable boards.
However, it took so long for Acton to deliver that, by the time they were out, better budget options like the Meepo and Backfire G2 were already roaming the streets.
It is even more disappointing if you consider that Acton already had a Kickstarter experience (which they somewhat screw up too) under their belt.
Speaking of not learning from experience.
Final Thoughts:
Backing a crowdfunding campaign can be a very tricky ordeal.
Considering the risk mentioned above, most of the time, it is not worth the risk.
However, a successful crowdfunding campaign usually has a few characteristic.
 The company/ team had done it successfully before.
Arc, Enertion
The founders are reputable in the Eskate community
Enertion, Riptide
The product already somewhat exist.
Backfire G2, All those Onan clones
It's not Acton