It was over a year ago when I wrote about my findings after diving deep into the realm of Chinese Electric Skateboards. A lot has changed since then, and yet a lot also remains the same.
In 2019, anyone who is looking for a sub $500 entry level electric skateboard will find that segment of the market being dominated by new Chinese brands which provide the best value to money preposition.
Just to prove my point, try naming to me an electric skateboard under $500 that's not made from a Chinese company.
… Acton Blink S?
Okay fine, maybe one. But Acton Blink S is just another Chinese manufactured product behind an American logo that has customer service that isn't significantly better than that of established Chinese brands.
But where should you look? There are so many of them on the market. Anyone who is not already in the loop might find trouble separating the rubbish from the legit and the gem.
Lots of options for example, on Aliexpress.
Inclusion Criteria and Method
It's a long process trying to get a grip on this market. I've reached out to all of the more reputable players in this market to request review units.
The criteria to be included is quite simple:
Is an electric longboard
Priced under $500
Can be trusted in Post-sales services
The brands that look to fulfil that criteria are:
Meepo Classic
Backfire G2 2019
Wowgo 2s
Ownboard W1s
Verreal F1
Teamgee H5, H6 and H9 (often under $500 after discount)
Yeeplay M2S, H2B
AEBoard AE1
Teemo boards
Jackzoom
Panther x3s
Harvoo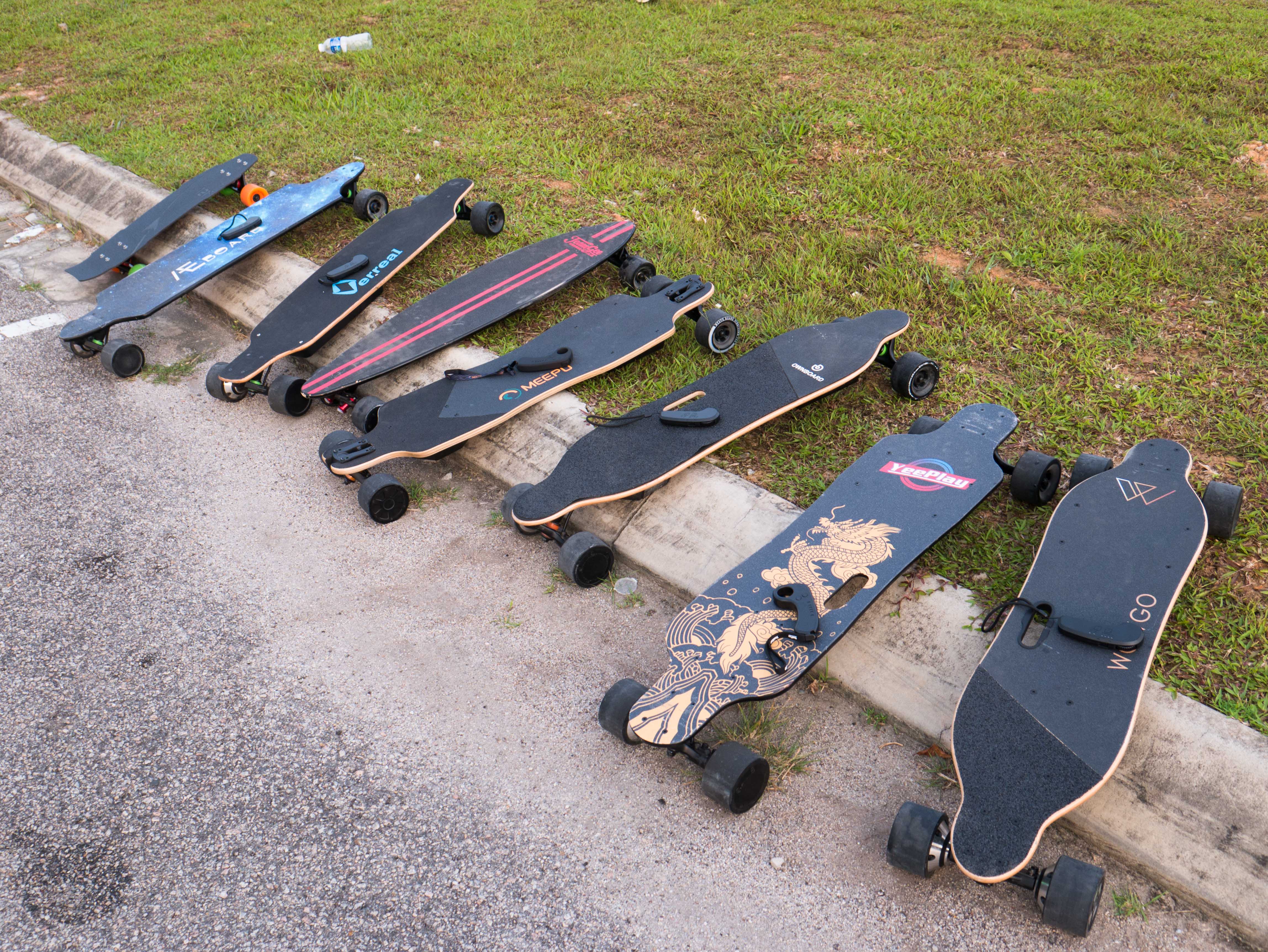 Notable exclusions of this criteria:
Backfire G2 (Because it has been discontinued, and the G2s and G2T are above the cut off price) (Andddd it's back!)
Koowheels (Although I don't have a high opinion of the Koowheels, but the reason of exclusion is the cut off price)
I-Wonder – More of a manufacturer, I am unsure of it's 1 to 1 post-sales service quality.
Winboard's- Big OEM manufacturer attempted to get into retail. Their retail line-ups are all priced above the cut-off $500 price tag.
Maxfinds – not a brand that's known for quality. Performance is pretty lacking.
How did it go? Well, most of the included brands agreed to have their boards reviewed.
Teemo stopped replying to emails after a few to and fro, which is fair.
Jackzoom, Panther x3s and Harvoo never replied to my initial and the follow-up 'hellos'.
I think it's pretty safe to say that if they don't even bother to reply to a blogger, they won't reply to regular customers – and hence failed criteria number 3.
So here is the summary of the selection:
Before we began
It is helpful to recognize that most of the Chinese vendors at this segment are aggregators who assembles parts available in the market to build their own product.
This results in many of these boards riding or even looking very similar.
This is not any more obvious and impactful than the choice of ESC. As this directly effects how the board controls.
At this point in time, all the boards in this list use one of these two: ESC -'LingYi' ESC or Hobbywing ESC.
LingYi ESC vs Hobbywing ESC
LiYing ESC

Hobbywing ESC
LingYi ESC has the biggest market share at this point in time.
A lot of big manufacturers will have LingYi in its ESC, tuned and tinkered to their liking of course.
Generally speaking, the profile of the LingYi ESC is a harsher acceleration and stronger braking. But it is very difficult to assume a boards behavior just by knowing it's using the LingYi ESC, as brands do tinker it to suit their idea of good speed control. In doing so, this will change them quite a bit.
Eg, Winboards introduces an aggressive speed ramp in the control, making it less difficult for absolute beginners, but may frustrate those who like a precise control.
Meepo use of LingYi is mainly to maximise on the acceleration and braking, in order to make a more aggressive and thrilling ride.
For the last year, many brands have moved away from LingYi ESC to the HobbyWing ESC.
The notable brands that use a variation of LingYi ESC currently are: Meepo NLS, Yeeplay M2s, Original Backfire G2, Winboard, Teamgee.
---
Some will tell you the rise of HobbyWing ESC is the best thing that has happened to budget electric skateboards.
HobbyWing ESC saw its first international debut when Wowgo 2s started using it. (Or did Ownboard do it first? Man… these things are hard to keep track of.)
If a board uses this remote… then you know you have Hobbywing ESC.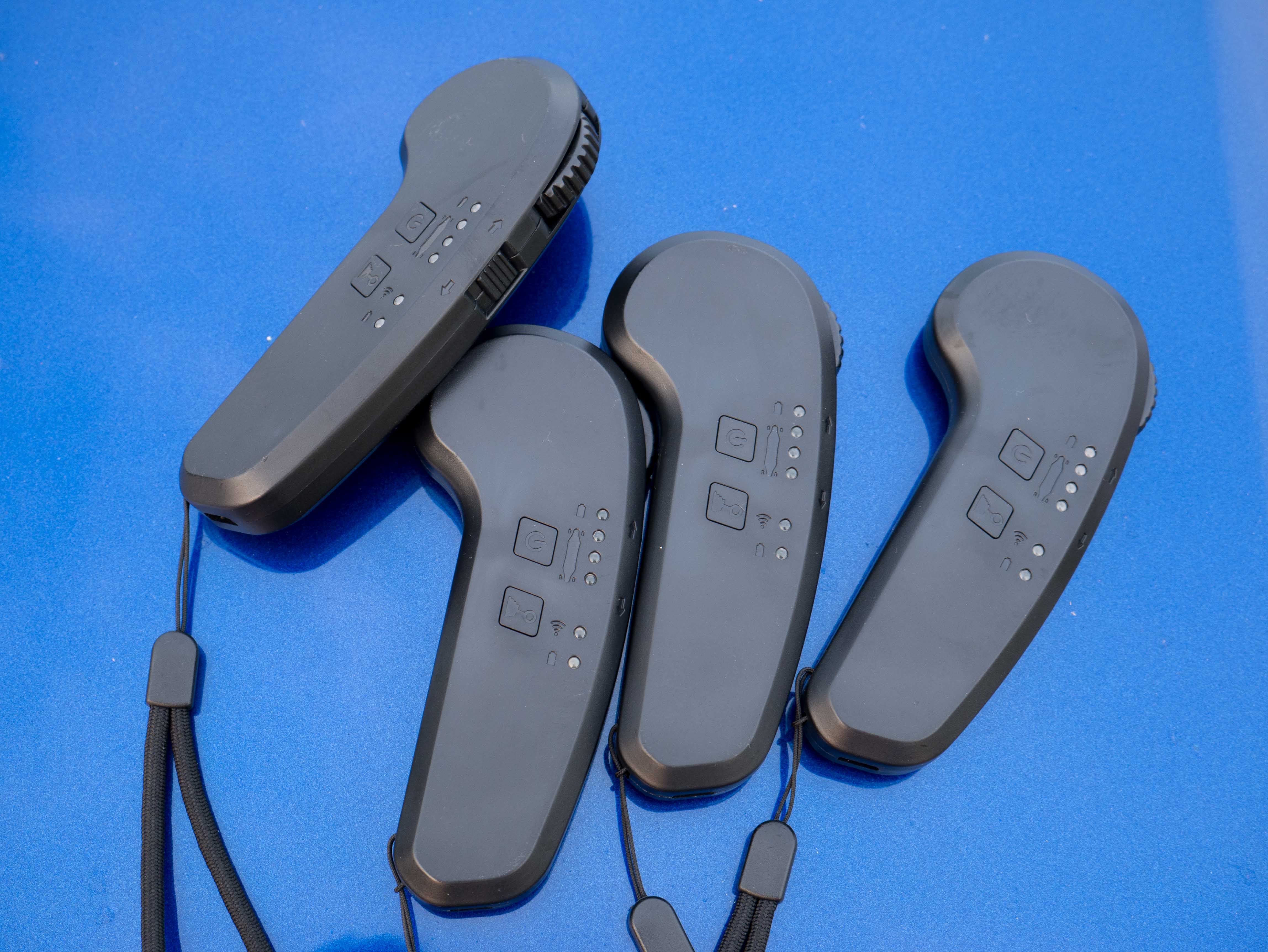 Hobbywing ESC gains a quick popularity for its amazing performance. It's smooth in both acceleration and braking, the control is precise, there are no latency issues and the control behavior is consistent throughout different speeds.
Some say it is even better than the Boosted board… that's how good it is.
Some companies tune the Hobbywing ESC to get the most out of their board, but we generally can expect similar behavior on the Hobbywing ESC.
The notable brands that use a variation of Hobbywing ESC currently are – Meepo Classic, Backfire G2s, Wowgo, Ownboard, Verreal, AEBoards and higher end stuff like Exway X1 are using a custom version of it too.
But I digress, now the boards.
I've reviewed most of the boards. Now this will be the summarized thoughts about them and how well they fare against each other.
If you would like to learn more about them, there are always the in-depth full reviews that I've published.
The list is in random order (maybe).
PS: ElectricSkateboardHQ do have discount codes for most of the boards below in the discount code page.
However, it's advisable to check if there is any ongoing promotion available before using our codes as special festive promotions will often offer steeper discounts than that of our discount codes.
Meepo Classic
Obviously the newer stuff is going to fare better than a dated product.
For those who don't know, Meepo is the current leading budget brand that pioneered the Chinese budget board movement. Since its debut in 2017, MeepoBoard is now a mature brand that has refined its product. Their customer service, though not award winning, is reasonably good and serviceable.
Meepo Classic just came out in early 2019, it aims to replace the last gen Meepo V2, and it's my favorite budget electric skateboard right now.
I think Meepo picked all the right parts when putting together the Meepo Classic.
This slideshow requires JavaScript.
I especially love the gorgeous double-drop deck which allows a very comfortable, stable low ride. Meepo's shredder truck provides a good balance between maneuvrebility and stability and is another strong point for the board too.
With all of that said, the best move the Classic made undoubtedly is the switch to HobbyWing ESC. Though some people will miss the aggressive ride of the old LingYi ESC, most people will find a relaxing, smooth ride of HobbyWing ESC. This is a welcoming change – especially for beginners who are looking for their first board.
Click here to read full review of the Meepo Classic.
Use our promo code "ESHQ" to get 15 USD off your Meepo purchase.
Backfire G2 2019
While I was working on this post, Backfire updated the Backfire G2.
While I never tried the newer version of the G2, I do have the G2T and the original G2. And I would say the updated Backfire G2 2019 is probably one of the best budget board money can buy.
Compare to most budget boards, the new Backfire G2 has the advantage of having bigger 5AH battery, and much better polish. The deck Backfire uses, in my opinion, are inferior to Meepo V2/ Meepo Classics but much better than the flat deck that Wowgo 2S and Ownboard W1S uses.
It also uses the Hobbywing which promises smooth acceleration and braking. Sadly, unlike its pricier siblings, G2 won't come with the caliber trucks.
Smaller 83mm wheels might be a deal-breaker for those who have to dealt with poor and bumpy road. Although you can technically put on the bigger 96mm hub sleeve on G2's hubs, the width of its truck wasn't long enough and you will risk wheel bites. You can solve that by swapping in the longer Caliber II trucks, but at that point, you would be better off by paying extra 200$ and go for the G2T.
Affiliated discount link for Backfire Boards (no discount for G2 though)
Verreal F1
Verreal is one of the newer brands that tried to mimic the success of MeepoBoard, and it is doing quite well at that.
Verreal has a good track record in customer service and continue to offer good price to value.
Its latest product and current flagship, Verreal F1, is one of the better takes on a budget board.
Its use of a micro-drop deck and Hobbywing ESC results in a very responsive, agile, and zippy ride. It's a lot of people's favorite budget board and after putting it through the paces myself, it's easy to understand why.
The low-light of the Verreal F1 is that the board's polish and finishing is still leaving a lot to be desired. F1 also does cheap out a little bit on small parts, such as the bearings.
Though in exchange, the board usually is asking a bit less… especially after discounts as compared to other boards on the list!
Click here to read the full review of the Verreal F1.
Use code 'EskateHQ' to get $45 off
Ownboard W1S
As an OEM manufacturer that joined the retail game, Ownboard has a huge advantage right from the get go.
Almost from the get go, Ownboard built with higher quality parts and used good polish. Its customer service is generally considered good.
Ownboard W1S is one of the better iterations of the 'typical' budget board. It uses Hobbywing ESC which allows great control and it uses Paris-cloned trucks that offer great maneuverability. Ceramic bearings and its special foam-padded 'EVA grip tape' are the other highlights of the board.
This slideshow requires JavaScript.
The only weak point of this board would probably be the flat deck. The 6 ply maple +2 ply bamboo deck offer a fair amount of flex, but a little bit of concave would make it a lot better.
What makes Ownboard W1S a good deal is the option to go with 6AH Samsung 30Q battery – for just US$457.00.
If by any chance a flat deck is what you are looking for (wut?), or you are going to deck swap any time down the line, Ownboard W1s is a very good choice.
Click here to read full review of the Ownboard W1S
Use code 'OWNBOARDHQ' to get 5% off
Wowgo 2S
Wowgo is the first competitor of Meepo and made Chinese budget brands a thing.
It has successfully shook the earlier image of a scrappy brand with weird taste in marketing and established itself as a major player in the budget board segment.
Product quality, polish and customer service of Wowgo are all good now.
The Wowgo 2S is especially significant, being the product that elevated the budget segment to another level. Being the first to make the Hobbywing ESC famous, Wowgo 2s was dubbed the Boosted killer for its comfortable control that rivals the top brands.
Today, it is still among the best budget boards on the market. But unfortunately, one-upped by its doppleganger Ownboard W1s that uses slightly better parts in the deck, bearings and trucks.
The differences are not all that significant and Wowgo 2S is still a good choice if you can get it at a better price.
Click here to read full review of the Wowgo 2s
Use code 'WOWGOHQ' to get 10% off
Yeeplay M2S, H2B
Yeeplay M2S
Yeeplay M2S is another new brand coming out from the same mold of Meepo, Wowgo and Ownboard. Heck, even its products look like it came out of the same mold as the original Meepo, Wowgo and Ownboards.
The company is still very young, and there is still much speculation as to how it will handle post-sale service. The good thing is – there aren't any complaints heard about this brand so far – and as usual, the earlier customers would usually be treated royally.
Yeeplay M2S itself is a valid option of a budget board. It uses one of the broader decks with good concave, making it a very comfortable ride. The use of Paris-cloned trucks allow the board to be maneuvreble and turny.
This slideshow requires JavaScript.
However it opted for 'LiYing' ESC, which has a more aggressive control. This caters better to specific crowds, but beginners are unlikely to favor it much. And hence making other boards on this list better alternatives.
Yeeplay recently released a belt drive 'H2B', which could be the only option for someone looking for a budget belt drive board.
I did not review the board, but performance could be postulated through the part used.
LiYing ESC promised a more aggressive acceleration and braking. Using the same deck as Ownboard W1S means enough flex, but too bad no concave.
Yeeplay H2B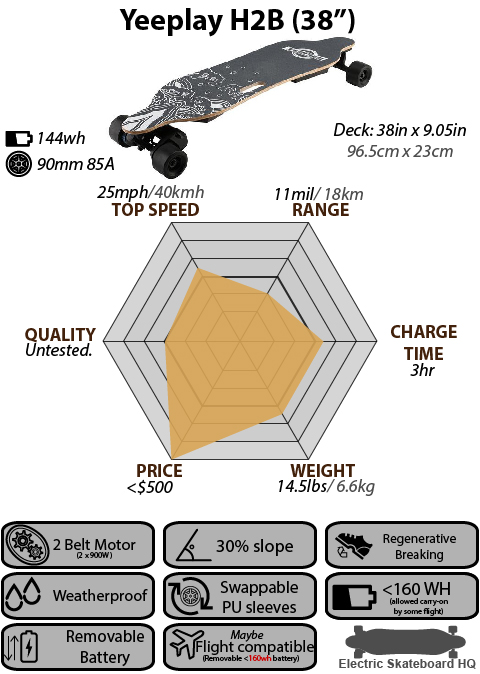 The belt drive H2B should provide better torque than hub boards, but likely will handicap on the range.
Refer to our short guide on drive train to learn more about belt vs hub.
If you are planning to buy a Yeeplay, perhaps you are digging that exotic grip tape. Just be informed that the priced listed on the website at this point in time is not inclusive of a delivery fee.
Click here to read full review of the Yeeplay M2S.
Use code YeeplayHQ for 25USD off
AEBoard AE1/ AE2/ AF
AEBoard made a splash entry in to the market with boards that offer a lot of batteries for the price that it's asking.
As it is the case for Yeeplay, AEBoard too is very new to the scene. No precedent can be known on how they handle customer complaints. Recently, however, I was able to help an unhappy customer get his purchase refunded, so I at least know my readers will be taken care of.
AEBoard AE1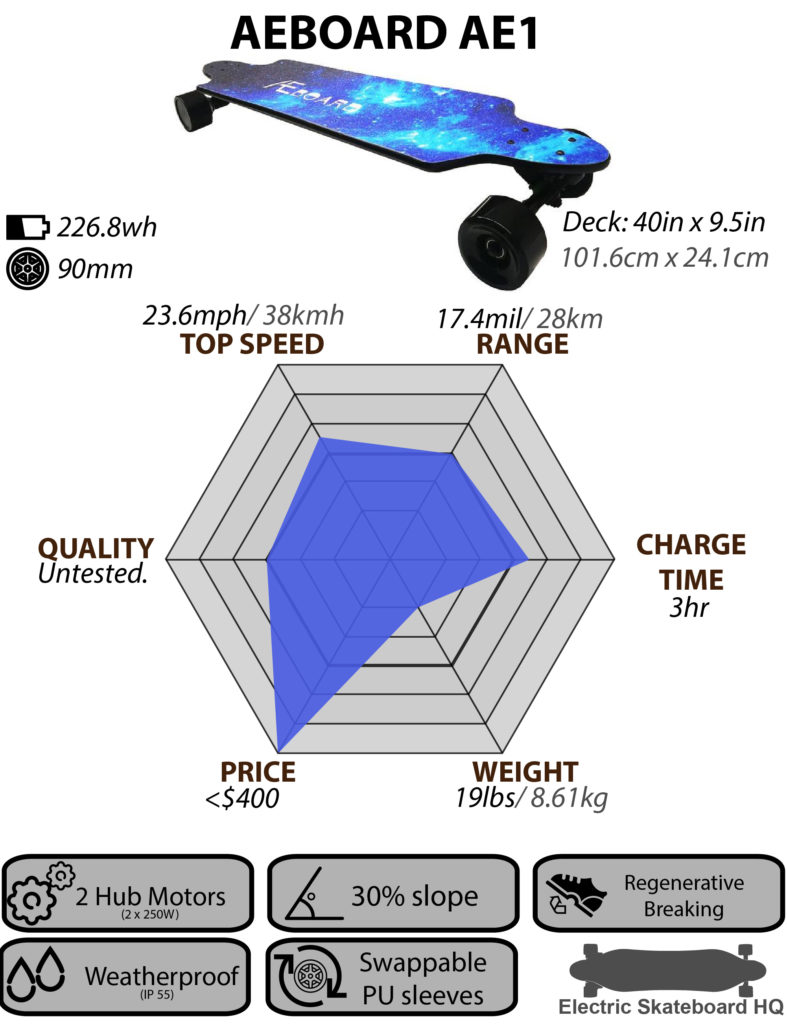 The AE1 basically tries to offer as much value as possible while asking for as little as possible. The biggest 'Wow' factor here is the use of 10s3p battery while only asking for the entry level $430.
This slideshow requires JavaScript.
The use of broad micro-drop deck with good concave – plus the use of Hobbywing ESC – makes AE1 a very comfortable ride.
The base level 10s3p 20R Samsung battery is less impressive as initially assumed though. Basically, it's performance is only equal to the $457 Ownboard W1S with a 10S2p Samsung 30Q battery – same performance with the extra weight of 10 batteries.
However, the biggest downside of all would definitely be the stiffness of the deck reinforced by the board length aluminium enclosure below the deck. It has zero gives. You know you are stepping on steel immediately as you step onto the board. This result in god-awful vibration when riding on a less than perfect road.
And, being a new company, the packaging and finishing of AEBoard is pretty raw.
All in all, AE1 has the most amount of battery to for the price it's asking and is definitely a good base for future DIY tinkering. For someone who doesn't mind extra-steel-like-stiff deck (it's REALLY STIFF), and is looking for range, AE1 should be the board to check out. You can even upgrade the battery to a Panasonic 9.6AH battery for 25mile (40km) range (or Sanyo for even more range.)
Click here to read full review of the AEboard AE1.
Click to receive 9.99USD off AEBOARD (Affiliated)
While I was working on this piece, AEBoard launched a few new boards which is creatively named AE2 and AF. (Chinese market move so fast, I can barely catch up).
While AE2 seems to be a Wowgo 2S/ Ownboard W1S clone, AF is worth paying attention to as it has some very practical features
AEBoard AF
While I have not personally reviewed AF, I certain would suggest anyone looking for a budget board to consider it.
Reason? While most of the parts used in AF are old news, it is the only budget board in this list that allows hot swappable battery. On top of that, the battery that it's carrying has the standard 4AH, 144wh capacity.
The advantage of hot swappable battery over bigger battery pack is, obviously, is the weight – You don't need to carry the batteries that you don't plan to use.
Plus, this definitely solves the ultra-super-stiff deck complaints that I have on the AE1. Basically, I think of it as Wowgo 2s with concave deck plus hot-swappable battery. AF is definitely worth considering over AE2, Wowgo 2s, and the W1s.
Click to receive 9.99USD off AEBOARD (Affiliated)
Teamgee H5, H6, H9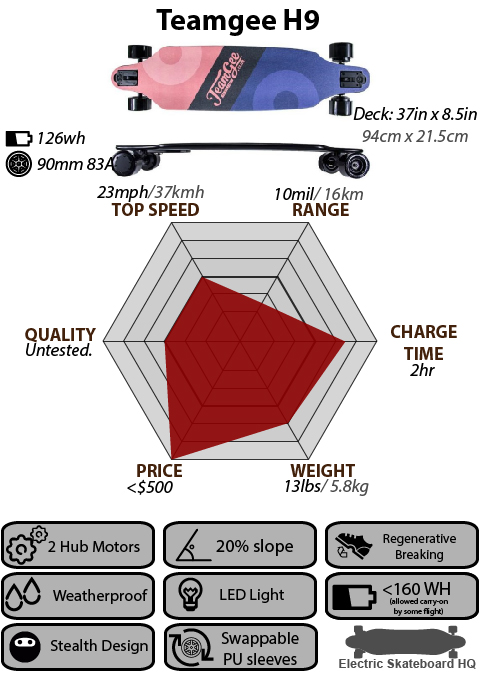 Similar to Ownboard, Teamgee is another manufacturer turned retailer.
Just like the Ownboard, Teamgee maintains a certain standard in their products and customers care since day 1. That said, Teamgee is still young in the international scene and though there has been no bad news about the customer service so far, we are yet to see how well its' post-sale service stands when some serious complaint comes in.
Unlike Ownboard however, Teamgee is not a follower of the generic Chinese budget board trend. It has a slim body design that hides all of the electronics inside the decks.
As a result, the board looks very much like a regular long board to non-prying eyes.
This slideshow requires JavaScript.
To cater to beginners, Teamgee also introduced heavy filtering to control input. This is done to soften the speed changes, however it also causes a noticeable delay between control input and the boards reactions.
This is done to cater to beginner crowd, who might find precise or zappy control intimidating. Many people will, however, be frustrated with the lag and the weaker acceleration.
Both the H5 and H6 are beautifully designed and give a reasonably good skating experience. H6 with the pintail deck has a very surfy feel and H5 with the broad dropdown deck has a stable ride.
Just be informed that stiff deck, relatively weak performance and voltage sags are what you have to be able to put up with when dropping $500 on these boards.
One more thing, their price on Amazon is somehow cheaper.
Click here to read full review of the Teamgee H6.
Click here to read full review of the Teamgee H5 by Samuel James.
In the end: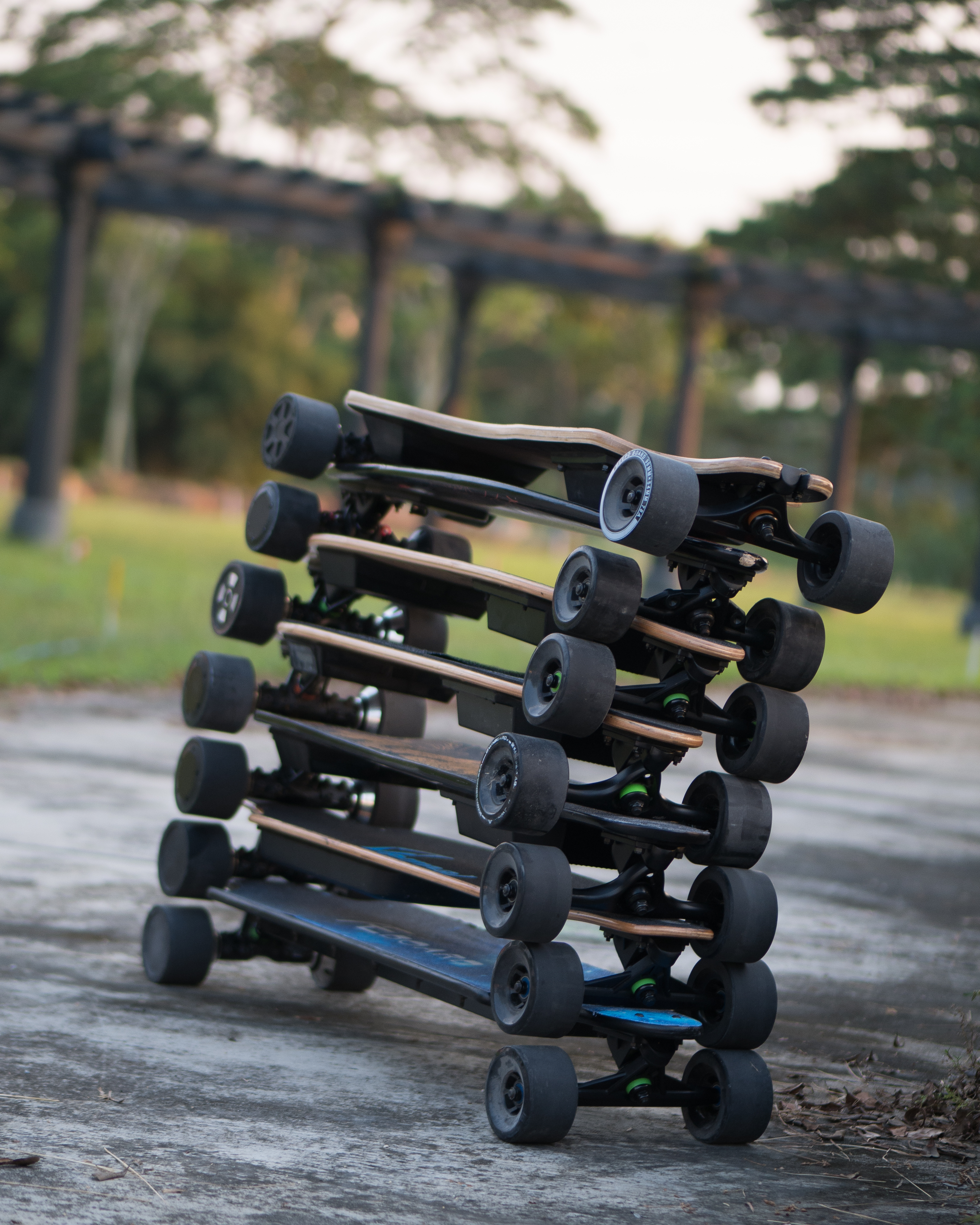 Even after trying the boards back to back to back, it is sometimes hard to tell the differences between two boards.
As a reviewer, my recommendations are based on the average taste of an average eskater but as any other personal purchase, personal preference often trumps everything else.
Hopefully with all of the information provided here, and the vetting done to screen out questionable brands, this can help you with your purchasing decision.
PS: If you are looking for boards beyond the $500 price range, we also have a list of recommended electric skateboards at all price range.
For those who are from a European country, you can choose to shop from a local dealer – Speedio. Speedio is an Electric Skateboard re-seller based in the Czech Republic. While you do pay a little premium, they offer a 2-year warranty, local support, and fast 2-5 days shipping.