Follow the discussion on Reddit here
Forward
A few months ago, I reviewed the Evolve Bamboo GTR. If you haven't read that review, check it out here. The GTR marked Evolve's move to fix all the performance issues of the GT series that's plagued the company for as long as the GT series existed. I concluded that the GTR series did seem to fix commonly discussed issues with the implementation of new battery and wireless technology, and that if you were considering an Evolve board, the GTR series would be the one to get.
The issue with the GTR series, however, is the fact that they're heavy. The lithium ion cells that Evolve now uses are heavier than the lithium polymer prismatic pouches that Evolve used to use assuming equivalent capacities, forged trucks are heavier than the old cast trucks, and both the new carbon and bamboo deck constructions, while definitely more solid and confidence inspiring, are also heavier. The boards are also very long. They're not easy to stash in tight spaces, and they're ungainly to carry around.
This is all well and good for a long range cruiser carver, but what happens when you want a board just for running errands? For that quick jaunt down to your favorite watering hole? For your super short commute that you really don't wanna lug around a whole longboard for?
A derivative, not alternative
This review will be a branch off my previous GTR review, so if you haven't read that, again, I highly suggest you read it here. That previous review goes over what I think about Evolve's next generation hardware and electronics. This piece will be solely about my experiences so far with the Stoke with a focus on the form factor and hardware differences with regards to its bigger sister.
So let's go over the differences
Of course, the most obvious difference is the new, shorter deck. I wouldn't necessarily go so far as to call the Stoke a shortboard at 33.5 inches (850.9mm if you're not in Americaland), but it is a shorter board. The 4ply bamboo, 2ply fiberglass deck layup is nice, if only slightly lacking in concave, but I didn't really have a huge problem with that. The deck is a fair bit stiffer than the Bamboo GTR deck, so don't expect the same sort of cushy ride that you would get there. However, that's not to say the ride isn't comfortable. It is. Quite. I did not have a single issue riding this board on rough streets.
The Stoke has a kicktail. This is good news for some who enjoy having one, but there's EVA foam on the tail, which honestly sort of made the tail more slippery than it probably should have been. However, it made resting part of my foot on the kicktail while riding quite comfortable. Sort of a give and take then I suppose, so my own personal jury is still out on whether I'll be using the tail a whole lot, but I look forward to trying out some sick manuals and shit.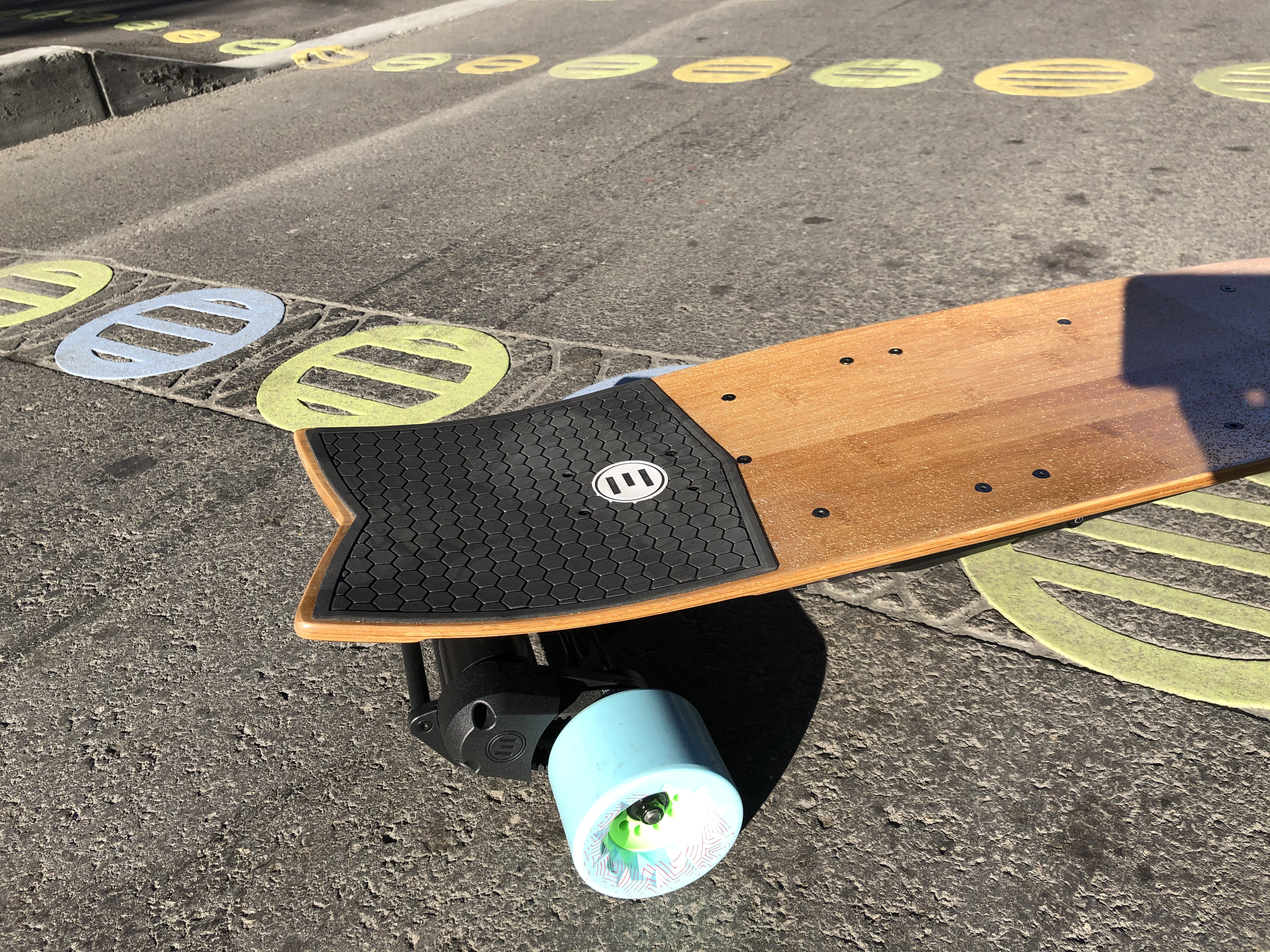 Oh, one other note about the kicktail. As many keen eyed observers have noticed, the motor mounts on the Stoke are rear facing, so there were concerns about the actual usability of the kicktail and long term durability of the board. I think the concerns are well founded and valid, and in my testing, the rear facing mounts do hinder the full use of the kicktail.
However, the hinderance ended up to be minor, I found. You can still use the kicktail to tic tac in everyday riding, and a friend was able to do a kickflip on it (sad I didn't think to get this on video). The mounts are also thicc, and come with crossbars that are even more thiccc (three c's so you know it's serious), so I'm not worried about long term durability.
The Stoke comes stock with 85mm Orangatang wheels with your choice of durometer. Honestly, I really like these wheels. Otang's Happy Thane never fails to impress and gives a nice, grippy ride. The catch with the Stoke, however, is you can't go larger than 85mm on your wheels. Anything larger may induce wheel bite, which is when your deck touches your wheel during a turn or carve. Of course, this means you're limited in your wheel choice.
To be honest I didn't really have a problem with this. As anybody who knows me will attest to, I ride all my trucks super loose. As the saying goes, loose trucks save lives. But all terrain lovers may be slightly miffed about the inability to swap larger wheels onto the board.
Evolve fitted the Stoke with their travel battery. This is a 10S2P pack made up of Sony VTC4 cells. These cells have a rather high discharge, rated at 20A at low temperatures, allowing for a higher current draw from the pack. However, they have a lower capacity, at 2100mAh. This means it's it's not really "half the range of the standard battery" as I've heard many people say, it's really a bit less than that. In my testing, I get a fair 8-10 miles of real world hard hilly riding in Pro mode. And as in the GTR series, the battery meter ticks down nicely and accurately with full power 'till the very end.
So what's it like all put together?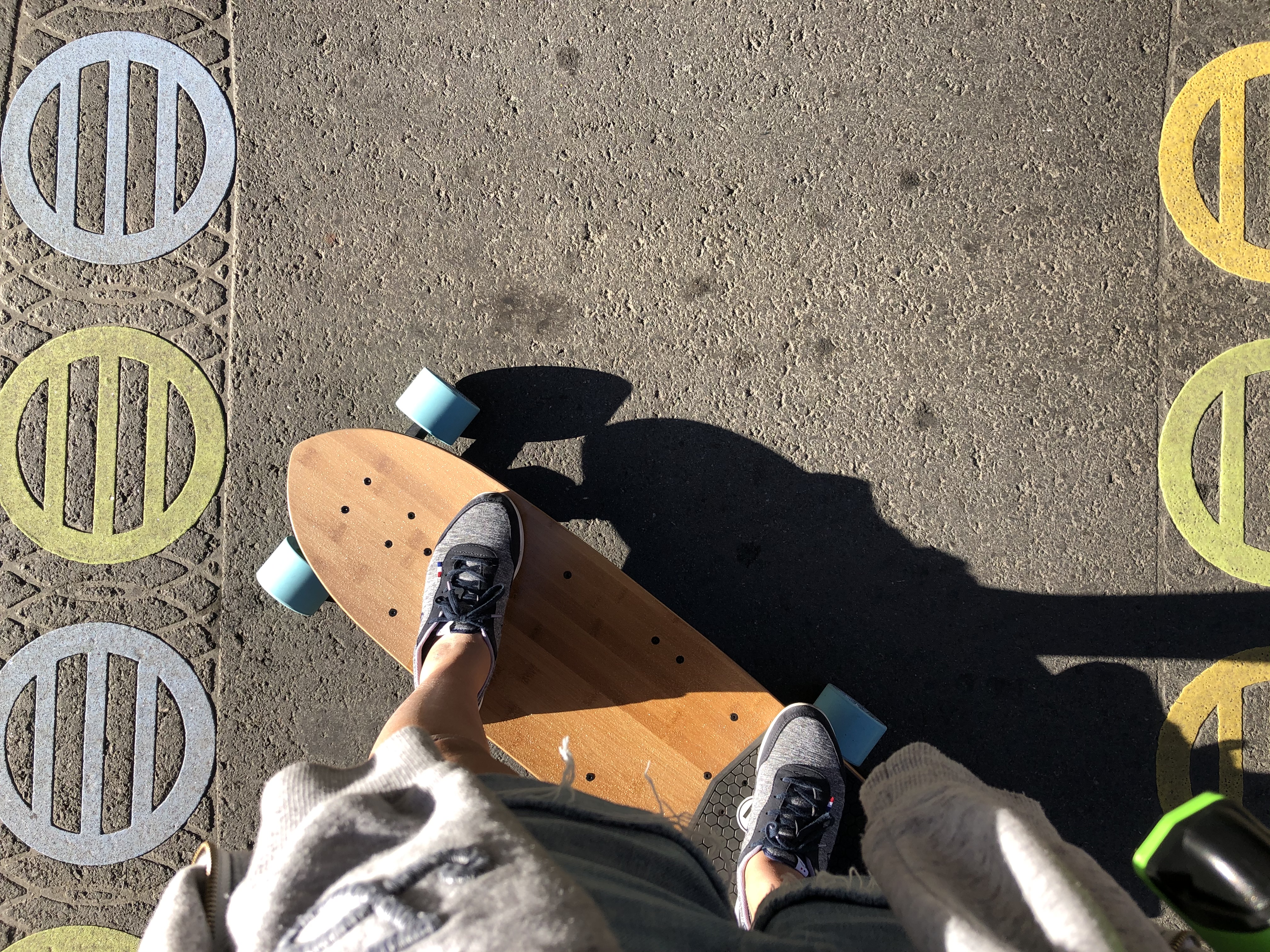 Honestly it's a pretty good ride. My daily commuter and errand runner is the Exway X1 Pro which I reviewed here. I use that board as my every day driver in large part because of its portability and maneuverability. When I started testing the Stoke, I replaced the Exway with it as my daily driver.
…And I'm glad to say that I didn't have to change any part of my routine! The Stoke simply fit right in and remained just as portable and maneuverable as the Exway. To be honest, I'm surprised that this is the case. The Stoke is quite a bit larger and heavier, so naturally one would think it would be more cumbersome. Not so. I really enjoyed it as my daily, and look forward to keep on trying it in new use cases. I'm traveling East soon, and since the board uses Evolve's flight battery, I wanna try and bring it with me. Will the Stoke fly? We'll find out!
Overall, it's a good package. For those who are looking for it, the Stoke provides simplicity and portability. I'm "stoked" to be able to try it out and take it around town (you know I had to do it).