Some people said that this was just another Propel, which is true—Propel isn't a bad eskate brand to be associated with—but is this really just another standard carbon fiber electric longboard for all-terrain riding?
We will be reviewing the Calvary from On My Way EV, a new brand of board, today. Fresh out of the oven, the OMW Calvary was released on November 17 for $1,599 at launch. The OMW Calvary is a board that adheres to what we refer to as the "Evolve Formula," which consists of a double drop deck, double kingpin trucks, and convertible wheels that can be used for both street and all-terrain riding. Though there are many boards with designs that are comparable, the OMW Calvary is definitely one of a kind.
OMW Calvary Specifications:
| | |
| --- | --- |
| Price | $1599 |
| Battery | 21700 Samsung 50S 12S4P 20Ah 864Wh |
| Controller | Hobbywing 9028 |
| Top Speed | 37.2mph (60 kmh) |
| Range | 34 miles(55 km​) |
| Deck | 44.5*12.7*6.9" Carbon Fiber and Fiberglass Composite |
| Motor | 6374 * 2, 165kv Belt motors |
| Net Weight | 38.5lbs (17.5kg) |
Deck: 44.5*12.7*6.9" Carbon Fiber and Fiberglass
At first, we were led to believe that this would be a Trampa-style deck because I had been informed that there would be flex and the technical diagram I was staring at looked quite similar to the Trampa-style deck that the Evolve Renegade and the Acedeck Nyx are rocking.
As it happens, the Calvary is actually just a standard double-drop deck made out of fiberglass and carbon fiber composite, more like the Meepo Hurricane Vader or the Evolve Carbon than the Trampa. Still, it's incredible that they were able to make it flexible. OMW gave us three options for the deck's flexibility, and we chose the most flexible. And that was a wise decision as the flexibility is only moderate, not extremely flexible, even with the softest deck. Furthermore, it appears that most of the flex occurs at the deck's neck on both ends.
While the deck still isn't as flexible as a bamboo deck, we are still pretty happy about it since it's quite rare to find a carbon fiber deck that has some flexibility.
The deck also has a nice concave. I think this is my favorite carbon fiber deck right now.
Trucks: 9" Forged Double Kingpin Trucks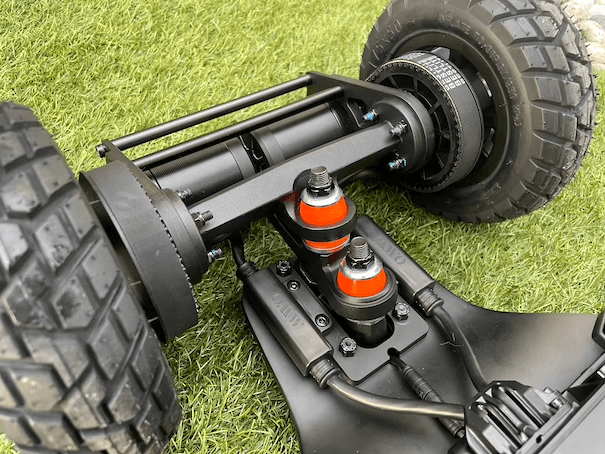 Moving on to the trucks, OMW selected 9″ Forged Double Kingpin Trucks for the Calvary, which came with a set of 96A bushings in addition to strong 106A bushings. This makes this large board easier to turn than a standard Reverse Kingpin truck, and its forged trucks add to its durability. Additionally, there's a handlebar that can be mounted on the front of the board making it easier to pull it around.
Wheels: 7 inch, 6 inch, and 97mm street wheels.
There are three different wheel options: 97mm street wheels, 6-inch street wheels, and 7-inch street wheels. Although having options is always wonderful, choosing 7-inch wheels is probably the best course of action because riding height isn't an issue, and the largest wheels give you the highest top speed and ride over aggressive bumps in the road.
Battery: 21700 Samsung 50S 12S4P
Next, 21700 Samsung 50S 12S4P configuration batteries with a combined capacity of up to 20Ah or 864Wh power the OMW Calvary. The Samsung 50S is a good battery cell for eskate use by many premium electric skateboards, and the majority of high-end AT boards these days use the 12s4p standard. For instance, the $999 Propel GT and the $2,499 Evolve Renegade both use similar battery setups, and the $1,499 Meepo Hurricane Vader meanwhile boasts 12s4p but uses a Molicel P42A. What I meant to say is that this is a good, or at least, a reasonable battery size for the price.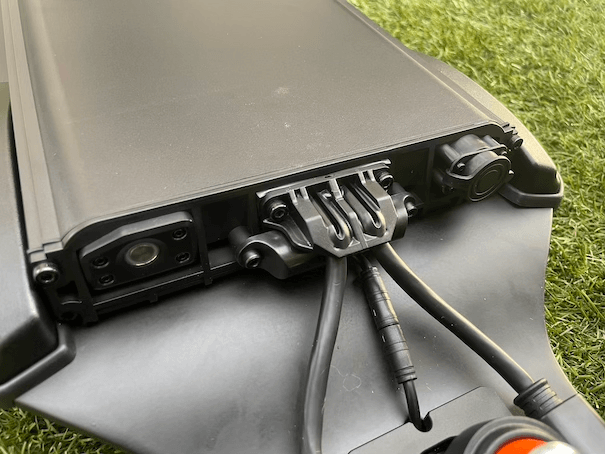 You can read our review of the Meepo Hurricane Vader here.
It has a marketed range of 34 miles or 55 km, and in our tests, we were able to reach the 20 miles or 32 km mark with a heavyweight rider weighing 200 lbs or 95 kg for the first 70% of the test and our 70 kg rider for the latter 30%.
ESC: Hobbywing 9028
For the ESC, OMW went with the tried and true Hobbywing ESC, which comes with four-speed settings. And like all Hobbywing ESCs, it has a smart turn-on feature, meaning the board powers on automatically when the remote is turned on. It's paired with the standard Hobbywing remote, but there's also a mobile app where you can customize the ride profile.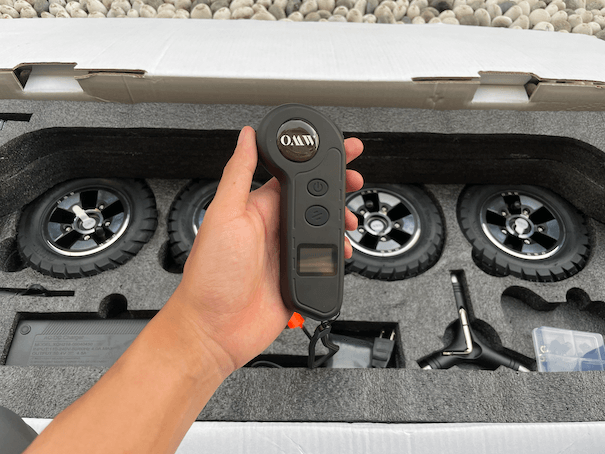 By the way, should you choose to purchase the add-on front light kit, you can turn it on and off by double-pressing the power button, which is indeed very convenient. There is also a red LED brake light that blinks much like a car, which comes standard without costing extra.
Motor: 165 kV 3500W 6374 dual belt motors
As for the motors, The Calvary has very powerful 165 kV 3500W 6374 dual belt motors. 3500W is about the power that most all-terrain electric skateboard goes with, (eg, Hurricane Vader, one of the AT board known for aggressive power, uses 3500W gear motors), so you can expect a good dose of power from these bad boys.
These motors can reach a top speed of 38 mph or 60 km/h when they are used with 7″ wheels; during our tests, we were only able to reach 34 mph or 55 km/h. With the 97mm wheels, we were able to reach speeds of up to 30 mph or 50 km/h.
By the way, even with only 30% of the battery remaining, we are still able to reach the top speed of 31 mph or 50 km/h.
Specs Summary:
To sum it up, this $1,599 2-in-1 board with a double-drop carbon fiber deck, dual kingpin trucks, and a 12-s4p battery is nothing new and wasn't particularly revolutionary in terms of design or value.
Even while the OMW Calvary is extremely well-made and polished, it still lacks some of the extra bells and whistles that some ultra-premium manufacturers might include on their boards, including a motorguard, mudguard, and specifically designed remote. The design of the grip tape didn't exactly win us over, either.
The flexible carbon fiber deck, however, is what makes a significant difference. While everyone thinks carbon fiber decks are gorgeous, they hate the vibration that results from having a rigid deck. For example, Propel attempted, but failed, to increase the flexibility of their carbon fiber deck with their Pivot's BVR deck. The deck on OMW Calvary, on the other hand, is actually flexible and, spoiler alert, does, in fact, reduce vibration from the road.

You can read our review of the Propel Pivot S here.
Riding Experience on the OMW Calvary
OMW Calvary is a board that wants to go fast and wants to go straight.
The double kingpin trucks that the Calvary uses came out of stock biased towards being stable and not very easy to turn. We did manage to find a sweet spot after loosening the trucks, though. After some tweaking, the trucks became much more responsive and easy to turn. They were still not as good as most double kingpin trucks, but they were good enough for us. The forged truck also felt very precise and had zero slope.
And we have to admit, this may be the most comfortable fast-riding board we've ever reviewed.
First, as you can see, the Hobbywing ESC smoothly accelerates to its maximum speed.
Also, the Cavalry boasts a broad deck with a solid concave that aids in stabilizing our foot placement. During speed changes, I really enjoy placing my foot on the notch at the drop deck, so I have something to push against.
The moderate flex on the deck was enough to take away harsh road vibrations but not too much to jeopardize its stability at high speed. Along with the added stability of the larger 7″ wheels, the lower riding height also gives you peace of mind that an occasional stone or stick won't cause a wipeout. Additionally, these wheels are pretty special because they have more traction than the majority of all-terrain wheels. Maybe it's due to the tread pattern. They stick to the tarmac like glue, again, not only adding to stability but also making it fun to do hard carving on.
Together, these factors made OMW a board that is incredibly comfortable for fast riding. We often found ourselves accelerating to 28 mph or 45 km h without realizing it. And getting to the 34 mph or 55 km h top speed wasn't a scary ordeal on the Calvary.
Also, it appeared that the Calvary was configured for greater top speed rather than torque. Meepo Hurricane Vader, which has a lower maximum speed but an insane torque that takes off from a standstill, is a nice counter-example. Instead of being thrilling, Calvary was more comfortable, with a gentle, smooth start followed by an equally comfortable acceleration up to the top speed.
It goes without saying that changing to 6″ wheels or even street wheels will increase torque while lowering the peak speed. Plus, using smaller wheels will make carving more enjoyable and the board more responsive.
Verdict of the OMW Calvary:
The OMW Calvary is a high-end, two-in-one carbon fiber electric skateboard that performed brilliantly overall. It was built incredibly well, has excellent specs for the price, and has a fantastic ride that emphasizes comfortability at high speeds.
We would suggest the OMW Calvary as the board for you if you're looking for the most comfortable carbon fiber 2-in-1 for fast riding. Yes, it could have a nicer-looking grip tape design, and yes, it wasn't groundbreaking in value proposition. But other than that, everything about Calvary is pretty perfect. It matches any of its competitors in specs while delivering a riding experience that's smoother and comfortable, thanks in no small part to the flexible carbon fiber deck.
As long as you aren't looking for adrenaline rushes, you will love this board.
If you are interested in buying the OMW Calvary, be sure to check out our affiliate discount link here and use code: "ESKATEHQ" to receive $30 off during checkout.
It will help you get a small monetary discount and help us out too. On top of that, you'll be tagged as an Electric Skateboard HQ customer and probably be treated better. Cheers!