Foreword
In the electric skateboard world, the budget board segment definitely sees the toughest competition. Brands from China are always trying to out-compete each other through upgrades, price, and customer support.
MeepoBoards, the company that ignited the affordable eskate market definitely has not stayed idle. Meepo refreshed its lineup just like the Boosted, and gave all its boards the 2.0 update – which includes improved remote, trucks, ESC, motors and of course – looks.
While these improvements have helped to maintain Meepo's position as the leading affordable brand in the eskate market, the most interesting news that comes with the update is the revival of the Meepo Campus in the form of the Meepo Campus 2.0.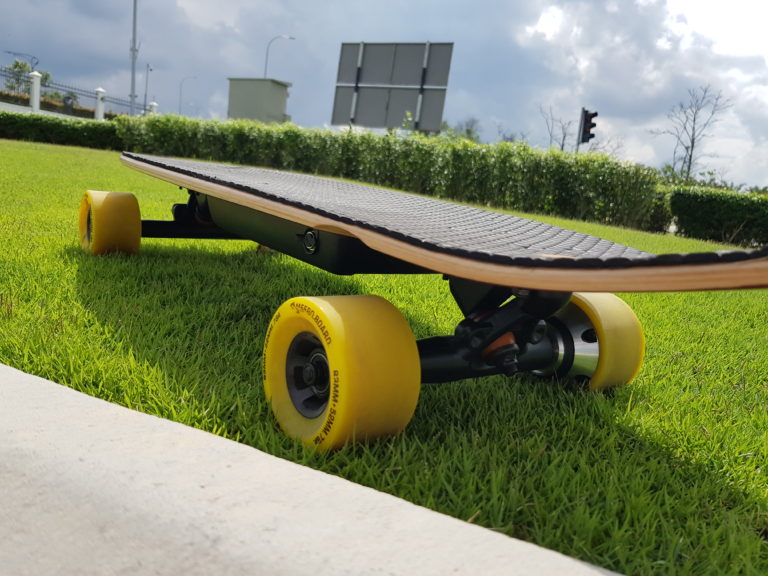 This is the board we will be reviewing today.
Introduction to MeepoBoard
MeepoBoard's story is something that many of us are very familiar with, but for the sake of those who aren't, it is worth retelling.
MeepoBoard is undoubtedly the most popular budget board brand in the market right now, but the story of how the eskate giant came to be, surprisingly, is a Cinderella story.
The founder of MeepoBoard, Kieran, was a young engineer who worked sales in an electric skateboard company. Disagreeing with the company's focus on pushing sales while disregarding quality, Kieran decided to try his luck in selling a self-assembled board on Youtube. After a few successful sales, he decided to set up his own eskate brand with a focus on affordability, practicality and customer satisfaction.
In a world where any electric skateboard under $700 was either a toy or thrash, Kieran's Meepo was asking for half of that price while delivering decent performance. Kieran figured with word of mouth , existing customers vouching for the quality of the Meepo and his post-sales service, MeepoBoard could break the hesitance of international buyers towards cheap Chinese Boards.
True enough, a dozen positive customer reviews on Redditt and a featured interview post with us later, the floodgate was opened. With weekly orders in the hundreds and customers lining up – willing to wait for months to get their Meepo, MeepoBoard has not only established itself but also set up the affordable eskate market as we know it.
With the meteoric rise of the MeepoBoard, other Chinese electric skateboard manufacturers have moved into the niche and "Meepo-clones" have become a thing.
And now, thanks to the affordable electric skateboard movement that Meepo created, anyone can own an electric skateboard.
Meepo Campus
The last generation of the Meepo Campus was a nickel board series known as the Meepo Penny.
It was never supposed to be the focal point of MeepoBoard, but many still seek out this lesser known little brother of the Meepo for its form factor and price.
The Meepo Penny later received some upgrades to become Meepo Campus, which was often sought after for the same reasons.
Because the Meepo Penny and the Meepo Campus weren't very powerful boards, Kieran thought that the board might not be right for a lot of people and chose not to market it heavily.
Hence, when the 30" Meepo Board became available, the Campus was quietly discontinued.
Well, that didn't last long!
To Meepo fans delight, the Campus board has been brought back to life with the 2.0 update.
Is it any good though? read on.
Meepo Campus 2.0 Review
So how did the Meepo Campus 2.0 come to be?
Well, apparently the Campus 2.0 was designed by Kieran for his wife's commute.  Aimed to be lighter, tamer and beginner friendly, the Campus 2.0 kept the portable mindset that the Campus series was known for with tons of other improvements.
Meepo Campus 2.0 Specs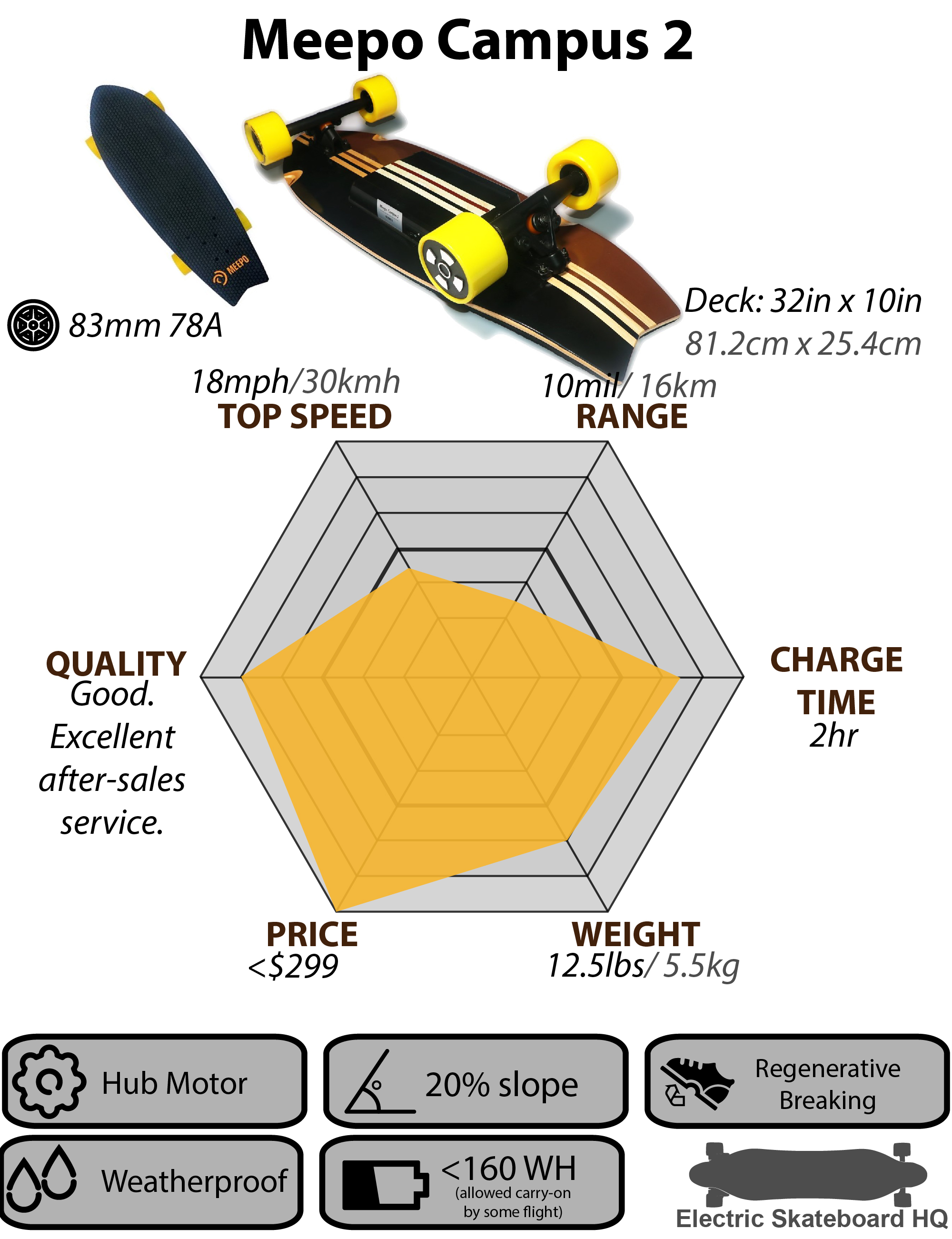 The Meepo Campus 2 saw lots of improvement in specs but also gained some weight.
Top Speed:

18mph (30kmh)

Range

: 10mil (16km)

Weight:

12.5lbs (5.5kg)

Charge Time:

2 Hours

Features:

Weatherproof, Regenerative Braking.

Price: 299 USD.
Build Quality
This is 2018 and cheap Chinese Boards are not cheap in quality anymore.
From the packaging to the finishing, 2nd Gen Meepo is evolving from its garage-made origin.
From the carrying handle of the box to the fitting cut out from the protective foam, the Meepo Campus 2.0 looks good right off the bat.
While the makeshift A4 printed instruction manual and the lack of design on the instruction booklet were two dead give-aways of Meepo's garage-made origin, they also remind us that Meepo's priority has always been affordability and practicality with polish being something extra.
Deck
The Campus 2 come with a broad 32" Canadian maple deck with a kicktail.
It has a slight concave to it and feels good underfoot.
Instead of a regular grip tape, the Campus 2.0 uses a non-abrasive foam tape.
I am sure there are skaters who would prefer a regular grip tape but this foam tape worked for me (and my pants, my car seat, my skateboard carrying bag – they all hate the regular sandpaper grip tape).
The foam tape definitely wears faster than regular grip tapes, but its a tradeoff I am willing to make.
I wonder if it makes doing tricks harder though?
Wheels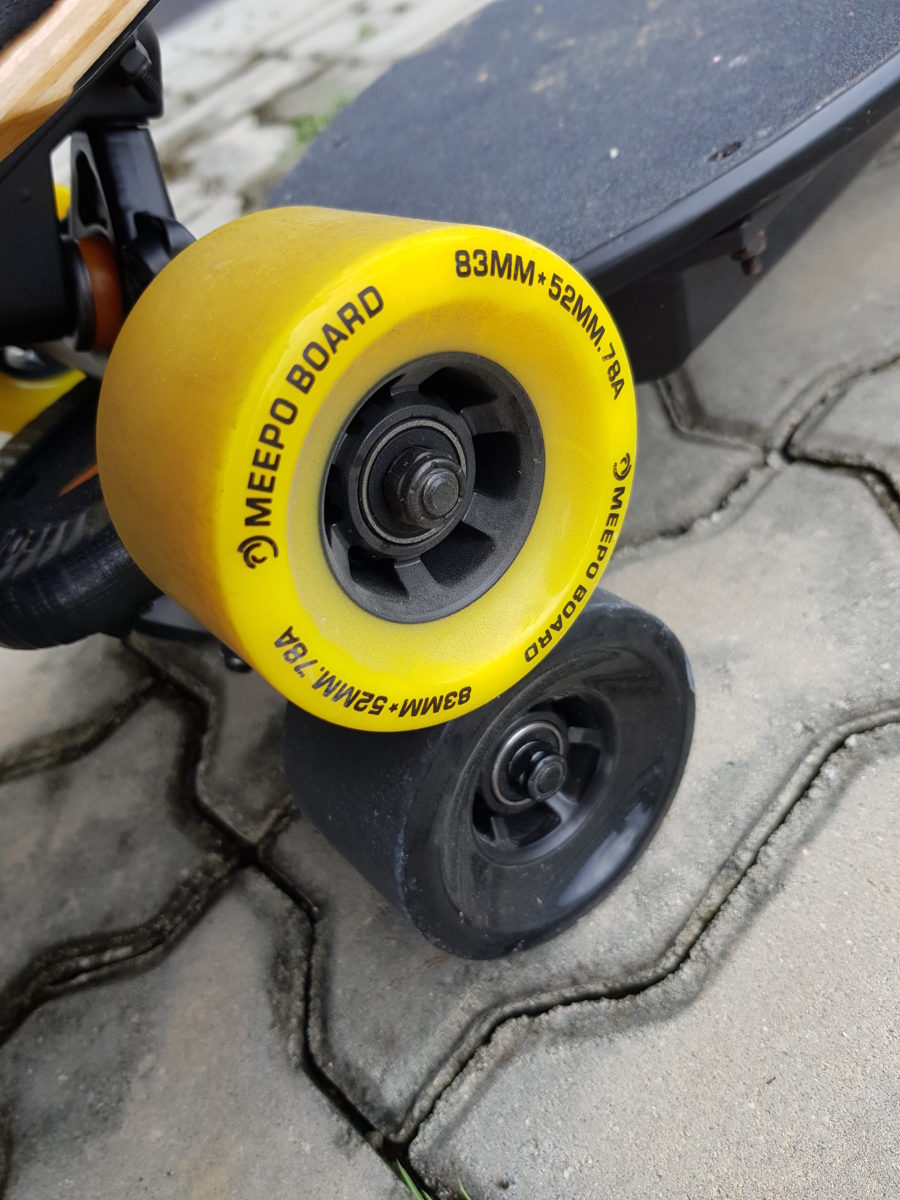 The 83MM 78a wheels were great. They're soft, big (for a skateboard this size anyway), and all yellow.
(not sure how I feel about the color though.)
Trucks
The 2nd generation Meepo boards have upgraded trucks. The Campus 2.0 trucks are now beefier compare to the 1st gen Meepo.
Time to put rest to the thought that Meepo doesn't have good trucks.
ESC
With an updated ESC, the Meepo Campus retained the popular smart turn on feature (board turns on when pushed). The board will also turn itself off if left idle with the remote off, and I really love this power switch button.
Summary of Build Quality
The Meepo Campus 2.0 is a beautiful product.
The finish is great, the parts look good, and everything was put together solidly.
By looking at it, you wouldn't believe that this puppy costs under $300 bucks. Impressive!
Riding Experience:
Acceleration and Deceleration
All of the 2nd Gen Meepo boards come with 4 riding mode, Beginner, Eco, Expert and Pro.
But to be honest, the Meepo Campus 2.0 probably doesn't need them.
The Meepo Campus 2.0 has only one hub motor and a single hub motor can only do so much for acceleration and braking.
All of the riding modes come with gentle acceleration and deceleration, and only the pro-mode has a little kick during acceleration.
This is definitely a beginner's board. The acceleration is very gentle, even in pro-mode – too weak for someone who likes the thrill of a fast start, but good for someone who wants absolutely no risk of falling.
Kick pushing to start is definitely a good idea.
Braking is definitely gentle and butter smooth, say goodbye to the braking jerk of the previous gen Meepos. The downside? It is weak. Takes a long time to brake to a full stop and full braking down a hill is not possible, it can only slow you down to a safe speed so that you can walk off the board.
Again, single hub motor has its limitation.
Vibration & Stability
Single hub motor = three 83mm 78a soft skateboard wheels = better vibration dampening and more comfortable ride.
However, you will definitely be standing on top of the truck so your legs will feel every vibration.
Riding it on cobblestone and poorer road surfaces feels… acceptable, but definitely not as good as most larger electric longboards.
The Campus 2.0 has a broad deck and feels stabler than most longboards once you tighten the trucks. You can't go fast enough to become very unstable anyway.
Tight maneuvers are what the Campus 2.0 does best.
With the short wheelbase, the turning radius is great, perfect to navigate around tight spaces.
What's more, there is a kicktail for kick turns.
There is, however, a risk of wheel bite. The board has wheel wells but unfortunately, at the tightest turn, the wheels will still bite. I decided to tighten the trucks, sacrifice maneuverability for safety and sure enough, after the truck have been tightened, I can't get the wheels to bite anymore.
*I have contacted Kieran on this and was informed that they are now using a harder bushing to prevent wheel bite. They are also installing a higher riser and making a bigger wheel well .
Remote Control
The remote is definitely more ergometric and better looking.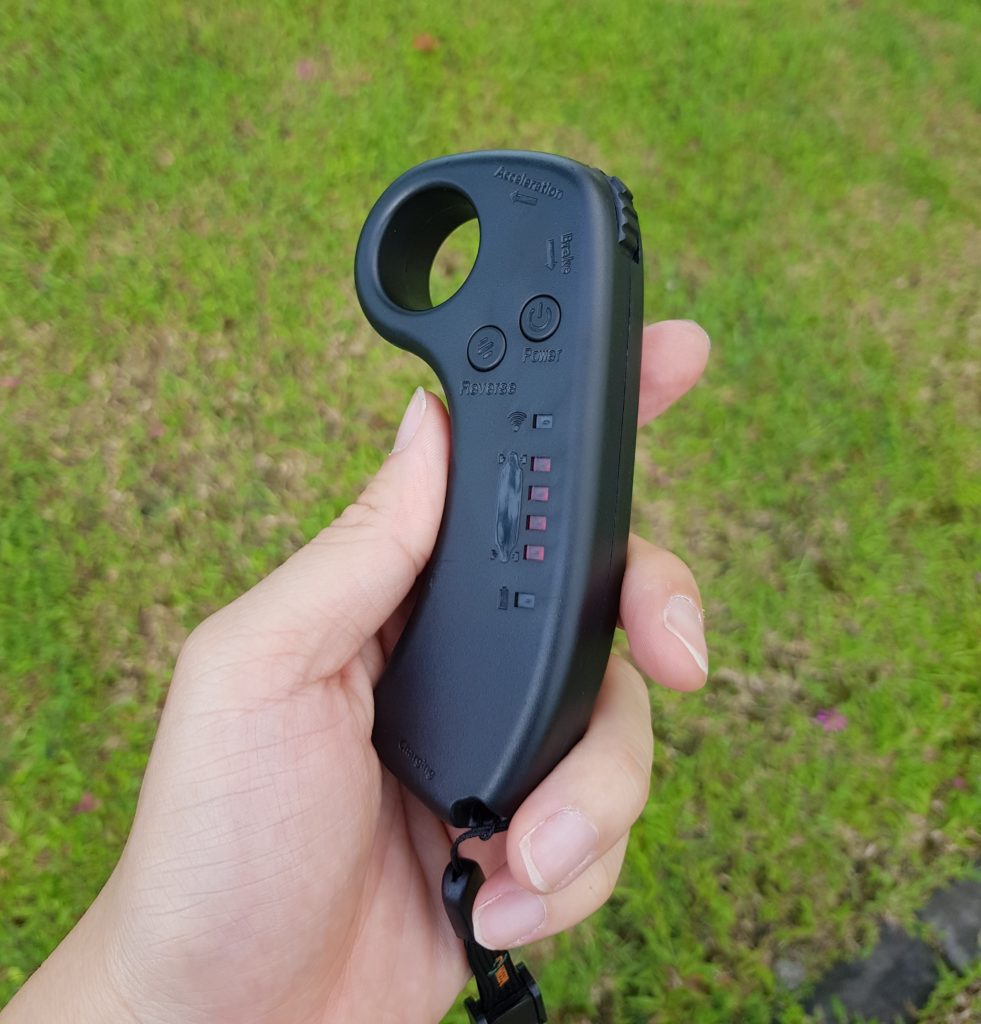 It uses a dial to allow finer acceleration control.
As I mentioned, there are 4 riding modes. Changing the riding modes mid-ride is even possible!
The remote also features an LED indicator showing the board and remote battery as well as a reverse button.
Nothing too fancy and of course, no disconnection issues.
Summary of Riding Experience
With smooth acceleration and braking, soft bushings, good maneuverability, the Meepo Campus is both fun to ride and practical as a mobility device.
It cannot provide the thrill of a high-speed ride but the campus 2.0 is definitely good enough for a leisurely slow ride.
If I am being totally honest, the lack of adrenaline rush is what makes the Campus 2.0 my current personal favorite Eskate – I have a peace of mind when I am on it.

Beginners and non-skaters would definitely appreciate the configuration.
Capability
Range
Can't be a good last mile option if it can't go many miles, can it?
The Meepo Campus 2.0 is using a 4AH, Sanyo 10S1P, 144wh battery and
is advertised with a serviceable 10mile(16km) range.
My personal range test, running on a flat surface between 9 to 15 mph (15-25kmh) lasted me around
13miles(22km) before the battery went dry. There is almost no voltage sag either!
(my weight 165lbs/ 75kg)
The range is definitely an upgrade from the original Meepo Campus.

Speed
Speed is definitely not the priority for Campus 2.0.
That said, it can still get up to 18mph(30kmh). (Full speed tuck, with a little help from the wind.)
Even then, as the acceleration is slow, you will definitely still get dusted if you choose to take the Campus 2.0 to a group ride.
But considering what its made for, sidewalks, and within building compounds, the top speed is definitely sufficient.
Torque
Its called Meepo Campus and campuses are supposed to be flat.
The Meepo Campus is definitely torque-challenged and could not perform a stop and go on a multistorey car park ramp. To my surprise, it did manage to hold the board to a stop and not continue rolling.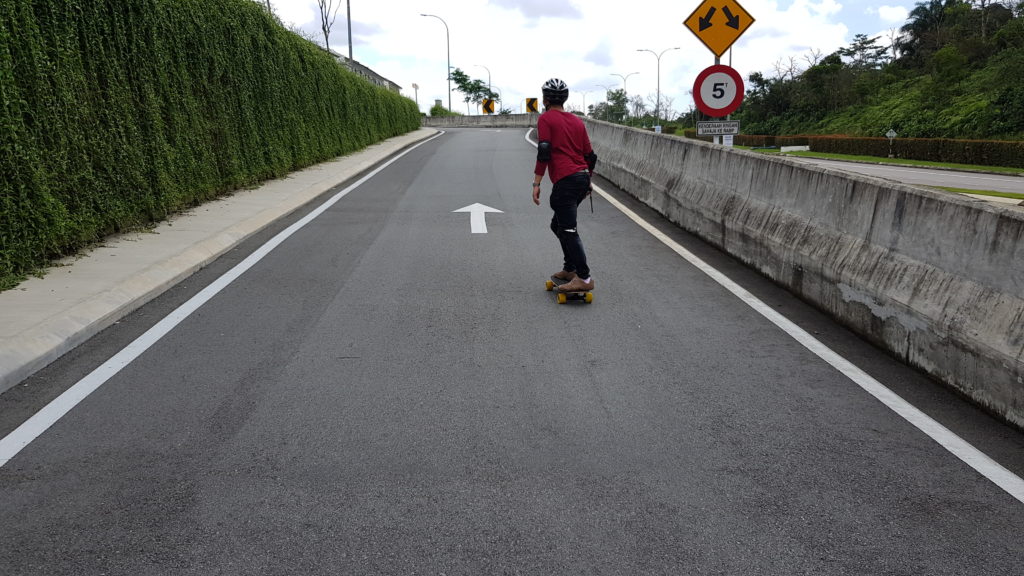 Riding modes affect the torque as well. If you are facing any incline, any at all, you should be using only the expert or pro mode. Other modes handicap the Campus 2 so much that it can't start from an imperceptible incline with you on it.
Honestly, I was expecting a far worse performance from a single hub motor board but I actually find the results acceptable.
With that being said, torque is definitely the biggest limitation of the Campus 2.0, and I wouldn't recommend it to anyone heavy or who lives in hilly areas.

Customer Service
Customer service doesn't come with a board at this price, unless it has a Meepo logo on it.
Product quality and post-sale service are what separates an affordable electric skateboard from a toy that you use for a single weekend then store away in the garage, never to see daylight again.
Simply put, the Meepo Campus 2.0 is the cheapest electric skateboard on the market that meets the customer service requirement, and hence the only electric skateboard I can recommend at this price point.
Other Features
It has smart turn on. Auto shut-off.
Has a non-abrasive grip tape and that's pretty much it.
Nothing fancy, all the budget probably went into making the core part of the electric skateboard.
Verdict
Meepo makes eskates that allow everyone to ride, and the Meepo Campus 2.0 is the epitome of that, pushing the affordability to the extreme.
The Campus 2 is an easy recommendation. With good value and an insane price, the value per dollar ratio is just through the roof.
Not to take away the fact that the board is pretty good but with this price tag, you won't do too bad even if you just buy the board to salvage its parts – and per usual, tinkering and upgrades are always easy with the Meepos.
It is perfect for beginners, for children and for someone who just wants to experience eskating.
It's also perfect for someone who doesn't need torque and doesn't care about top speed.
For the above reasons, the Meepo Campus 2 is at the moment, my favorite board. Its performance is enough for me in most situations and its portability and ease of handling (that non-abrasive grip tape makes a difference) make it my go-to choice for last-mile commuting and rides within building compounds.
(Well, technically my favorite board at the moment is Arc Aileron V2 but it costs 3x more.)
With that said, it is important for me to make it clear that Meepo Campus 2.0 is definitely NOT a beast. It's a tame puppy. It fetches your newspaper and makes life fun and won't hurt you, but don't ever expect it to outperform any big dogs. At least not without some tinkering.
$299 used to get you a toy, well, not anymore.
Wanna hear bad news? It is only available in the USA.
P.S: You can even get it from Amazon!
To know more about MeepoBoards, click here.
For those who are from a European country, you can choose to shop from a local dealer – Speedio.
Speedio is an Electric Skateboard re-seller based in the Czech Republic. While you do pay a little premium, they offer a 2-year warranty, local support, and fast 2-5 days shipping.