Foreword
It's almost impossible to run out of new Chinese budget board to review, so here is another one.
In this very crowded budget board market, there are many dodgy brands that don't last long. Even the established brands offer rather generic and boring products that are merely clones or tweaks of existing products.
With that said, AEboard, one of the youngest brands from the Chinese market, is full of potential and looking to stay by offering some very aggressive products.
AEboard took the proposition of maximizing performance per dollar and took it to the extreme by slapping on a huge 10s3p battery, all while keeping the price tag at the entry level.
Combined with a different design, they created a series of boards that, though not groundbreaking, are a lot different than the looks of the Meepo, Wowgo, and Ownboard that we are so bored with.
And that, of course, comes with different strengths and weakness.
Introduction to AEBoards

Recently founded in August 2018, AEboard is one of the youngest vendors in the market.
The founder, Ben, is a technician who worked in logistics for an eskate company. After receiving an Eskate as a gift from his client, he inevitably fell in love with the sport and ventured out to start his own brand.
As of right now, this is still a small, scrappy company with only 8 team members. But we all know how quickly a company in China can grow once the ball starts rolling downhill.
AEBoard AE1 Review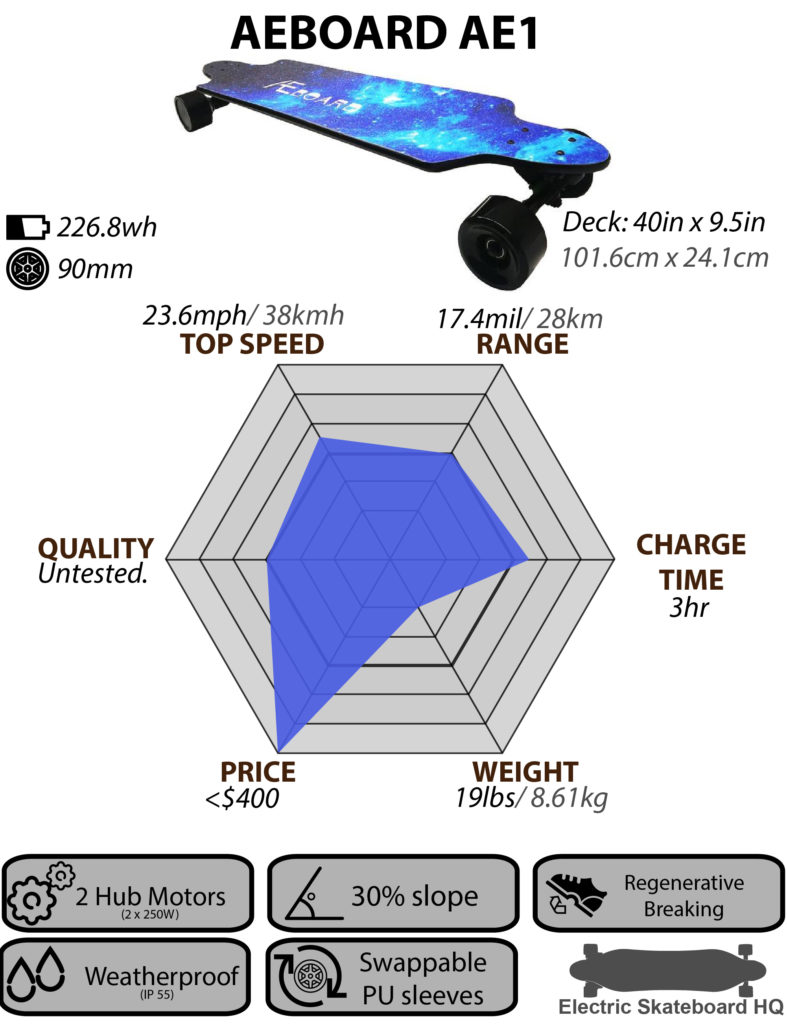 While most of its specs are quite typical, the AEboard AE1 rocks a bigger battery pack and therefore has a significantly longer range in comparison to other budget boards:
Top Speed: 25mph (40kmh)
Range: 17.4mil (28km)
Weight: 19lbs (8.6kg)
Charge Time: 3 Hours
Features: Regenerative Braking, Swappable PU Sleeves.
Price: around $429 USD (after shipping fee).
Build Quality
Packaging
The theme of AEboard AE1 is raw and utilitarian. And this starts with the packaging.
AEboard AE1 came in a very simple box.
The packaging inside the box is simple too- just some foam padding to keep everything in place and undamaged.
The board doesn't come with much. Included is the charger, the remote, a micro-USB cable, a T-tool and that's pretty much it.
Nothing fancy. The whole unboxing experience reminds me of the very first Meepo board back in the day or how Verreal was when just starting out.
Nothing fancy- very practical- just the product and nothing else.
Deck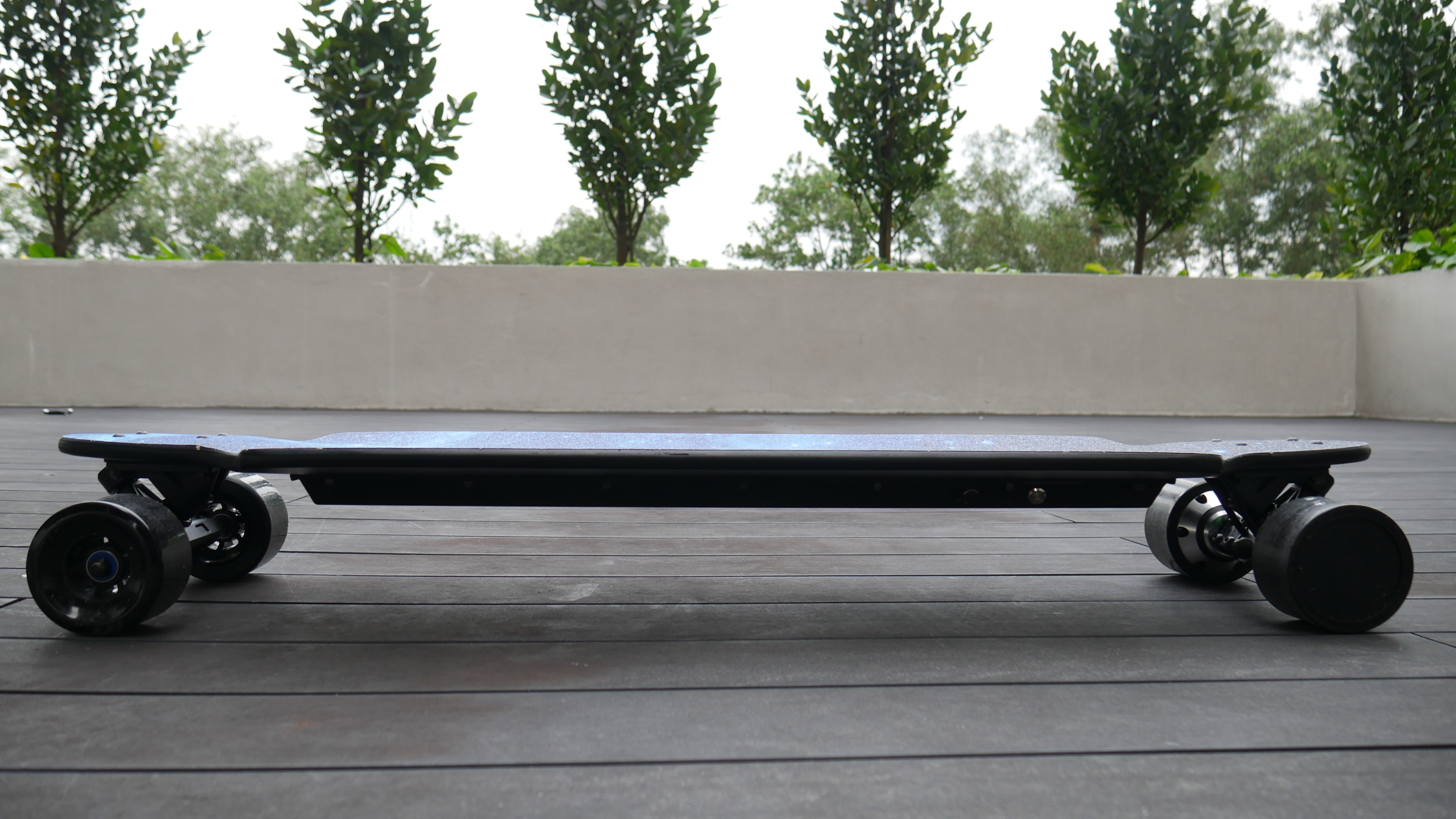 There are things that I love a lot about the AE1 deck… and there are things that I absolutely hate.
The 7 ply Canadian maple deck has a small drop to it. This allows the ride to be lower. Technically, drop deck will have a lesser truck response. However, I always paradoxically find that improving with dropped deck, perhaps due to it allowing the trucks to be set looser?
The healthy concave on the deck also makes standing and moving about on the deck very comfortable.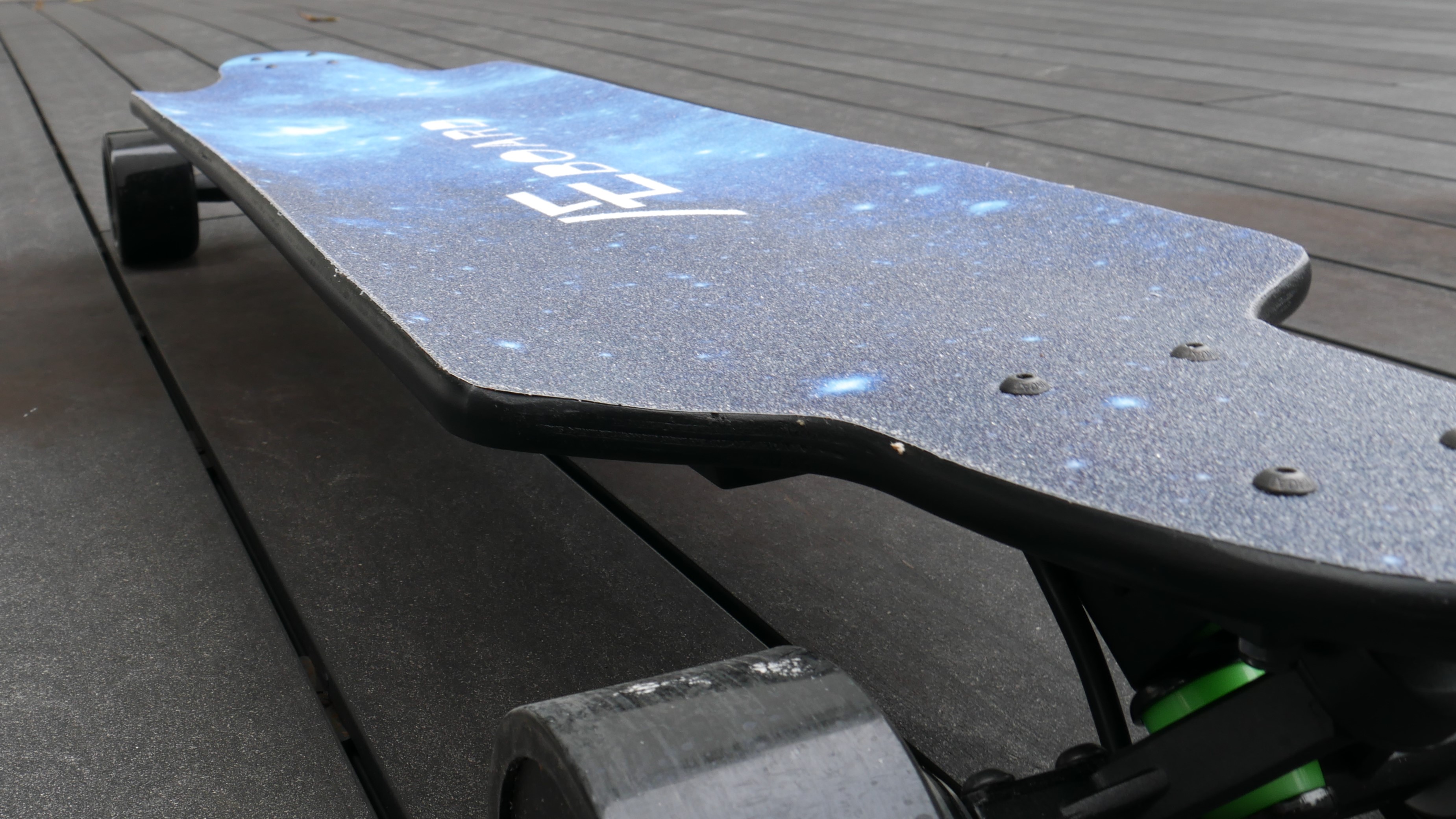 And the thing about the deck that I hate? The stiffness of the deck. This thing has the stiffest deck you can find on any eskate.
The thing has zero gives!
The stiff deck, in combination with the single-piece board length aluminum enclosure that runs along the bottom of the deck, make sure that the board rides like a steel plate. Absolute nightmare to ride on anything but the smoothest of roads.
The grip tape itself is also one of the most abrasive I've ever encountered. 
That blue thing is not fabric or skin-friendly at all.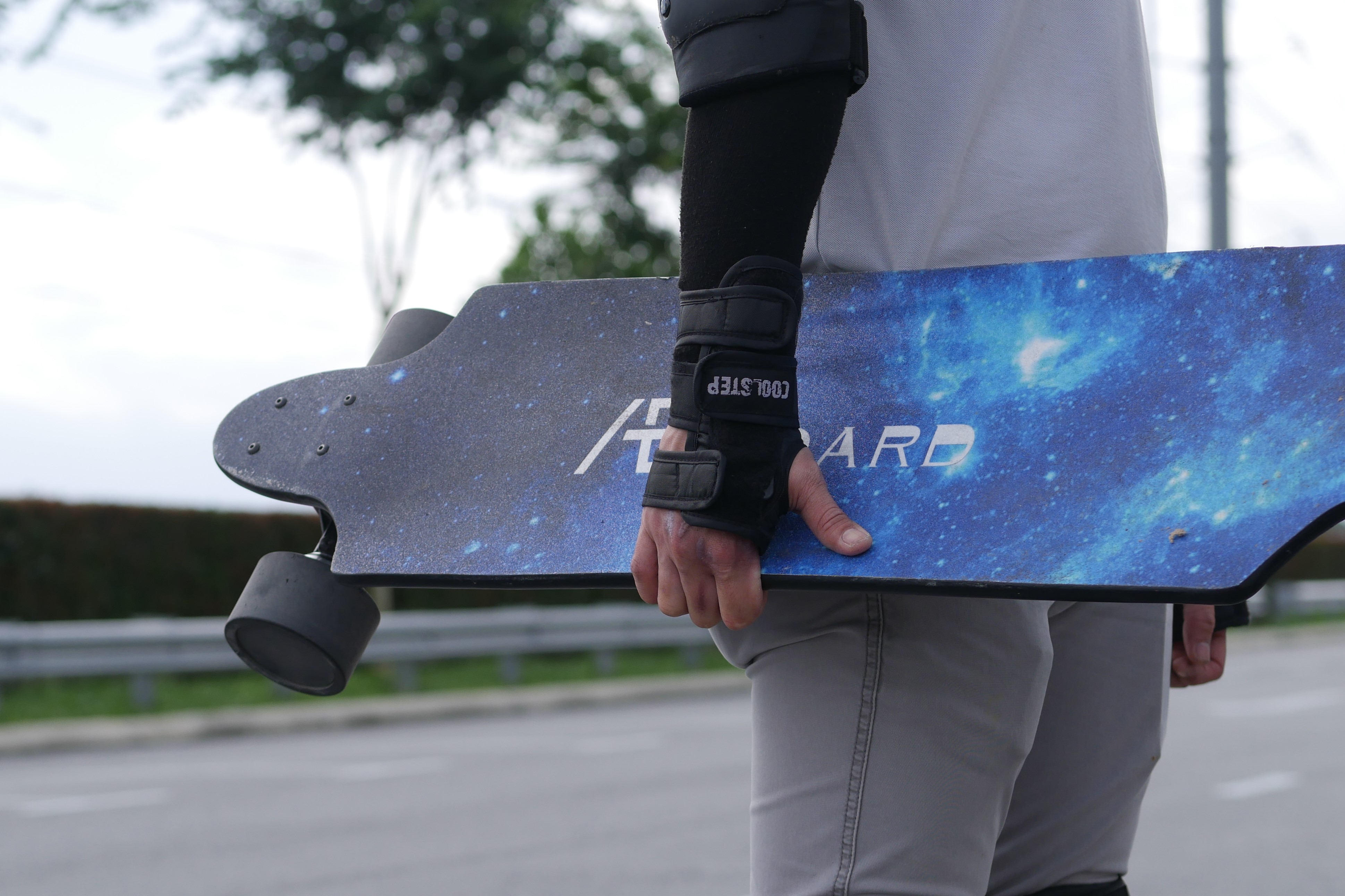 Component Enclosures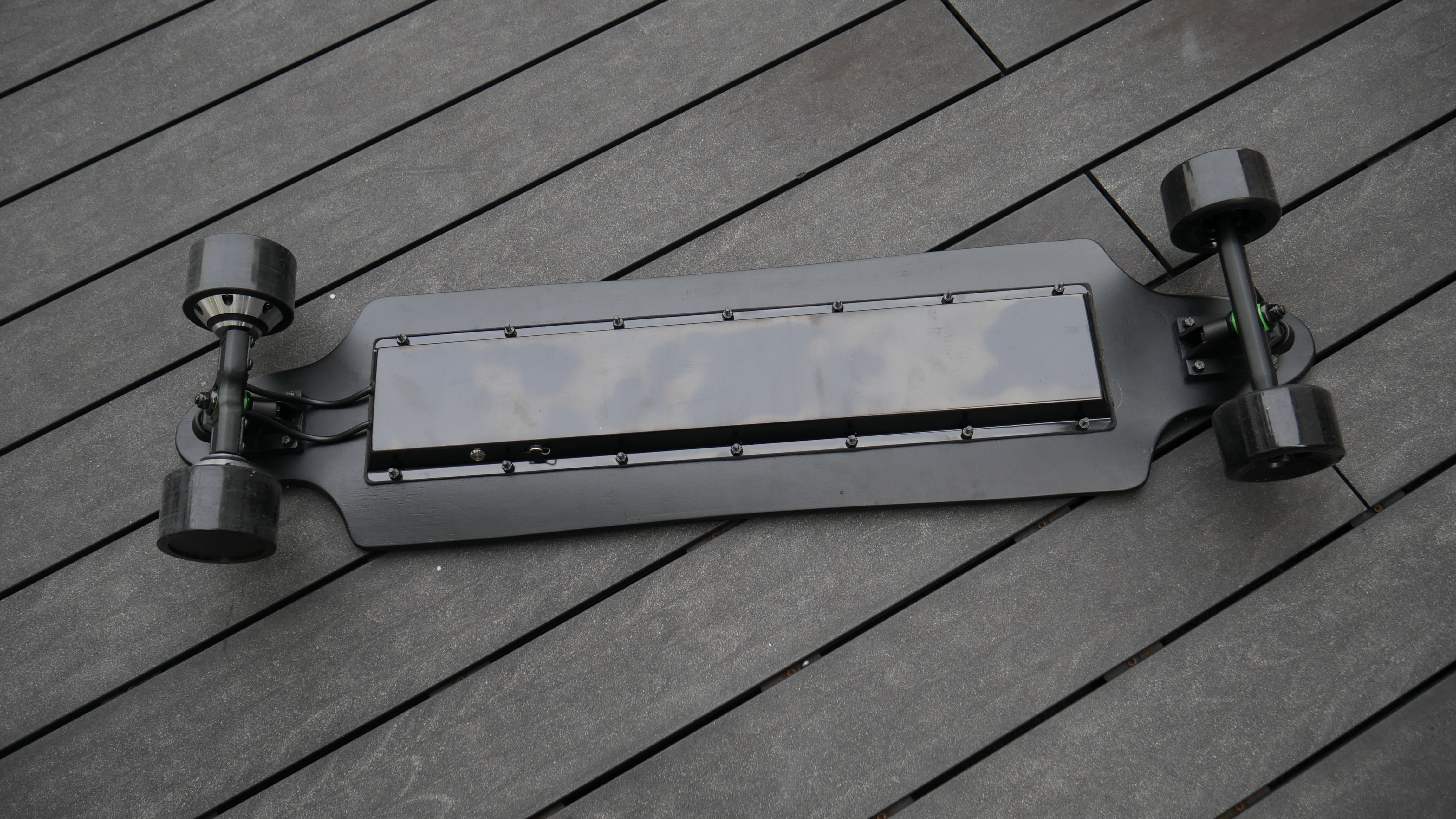 AE 1's again, op for a simple single piece aluminum enclosure that runs the length of the board.
Mine has no graphic on it but shortly after I received mine, they started to place their AEboard logo on it. Nothing to write home about though.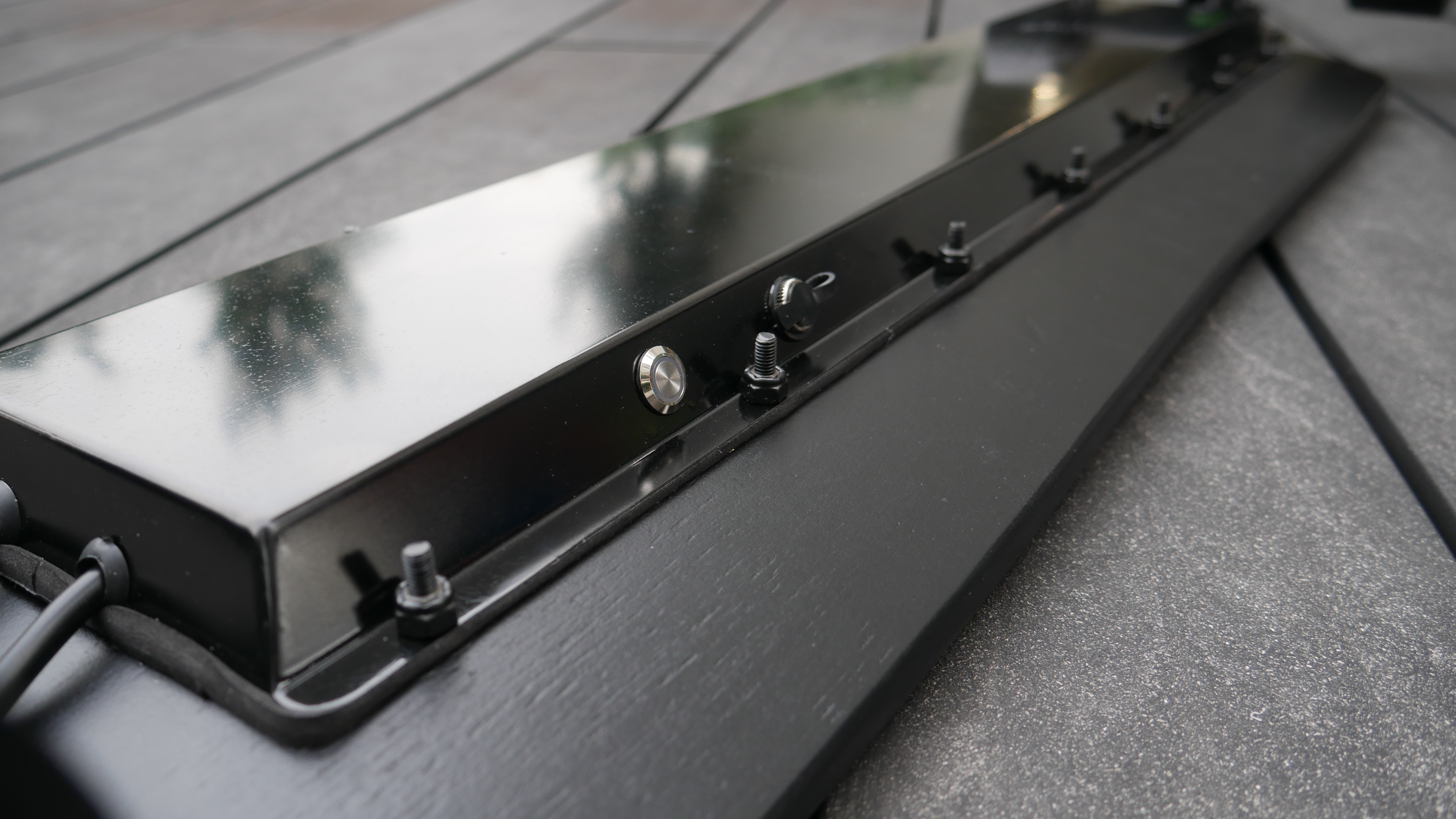 I can tell that the enclosure is made out of good material and should be able to hold up against abuses, but it still doesn't make up for the fact that this is a very bad idea because it makes the board completely stiff.
At least you can be sure that this thing will never crack.
Wheels and Motors
As for the wheels- AE1 is rocking the standard 90mm wheels.
The hubs are dual 250W motor, which is a pretty generic tool. They are known to perform well, so no complaints there.
AEboard AE1 is using the same kind of swappable PU wheels as the Verreal F1, where the outer motor housing is replaced as a unit.
It also costs $44.99 per hub.
These hubs work well for me. I didn't notice any weird noises or any unusual experiences.
The bearings on the wheels are generic too, which isn't the most important thing in the world.. when we are not kick-pushing anyways.
Trucks
As for the trucks, AE1 goes with the ubiquitous generic trucks that are shared by Wowgo 2S and Verreal F1 to name a few.
Although I had made a fuss about how these pair of trucks won't turn when put on Wowgo 2S, I always find it matches really well with drop decks. It works for the Verreal F1 and it's no surprise that it works well for AE1 too.
It uses the same soft 90A bushing for both.
This set up is exactly the same as the Wowgo 2s, but it really works better with this drop deck.

Riding Experience: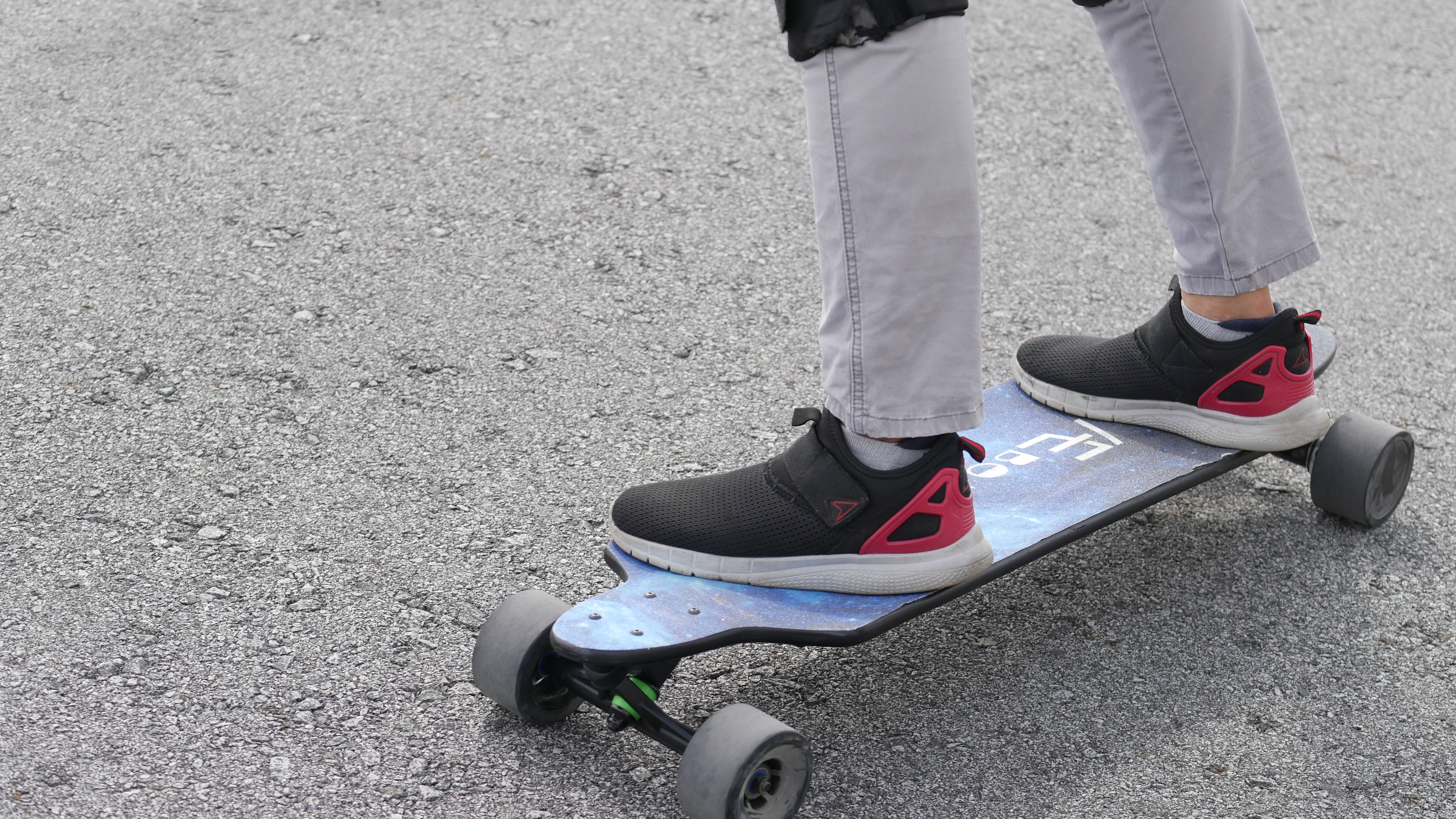 Acceleration and Deceleration
I love how I can just lift some text from my previous reviews for boards that share the same Electronic Speed Controller, as they have the same behavior in speed control.
The advertised top speed for AEboard in different speed modes are similar too.
There are 3 ride modes:
Slow mode with a top speed of 11mph/18kmh
Middle mode with a top speed of 17mph/ 28kmh
Fast mode with a top speed of 23mph/ 38kmh
If given a long runway, I can push the board up to 24.5mph/ 40kmh with a full battery. So AE1 definitely hits its advertised top speed.
I weigh 165lbs(75kg) by the way.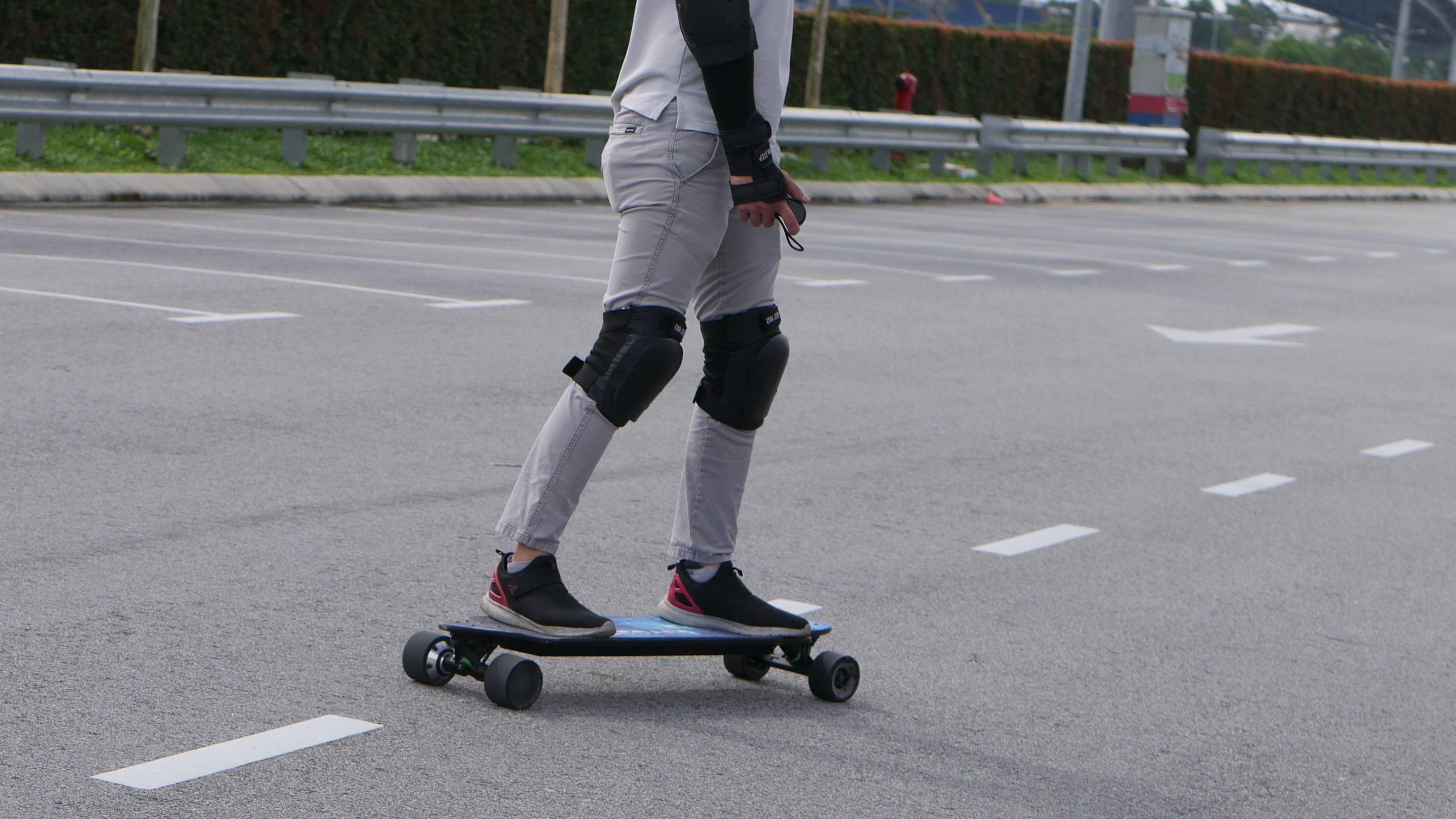 Now lets talk about the speed control.
You can usually know what kind of control you get by looking at what Electronic Speed Controller(ESC) the board uses. There are two very widely used ESC in the Chinese eskate market.
HobbyWing ESC – The one used by Ownboard, Wowgo and Verreal.
'LingYi' ESC – the one used by Meepo V2P and the Yeeplay.
And when two board share the same ESC, you can bet the acceleration and braking profile is gonna be the same.
W1S uses the HobbyWing ESC and this ESC is known to have the smoothest control.
Some say it offers controls that are even smoother than the Boosted ESC.
This electric speed controller gives the AE1 a very precise, low latency, and consistent control, which makes for a comfortable ride.
The precision and lack of lag are what makes HobbyWing ESC special.
You can have the board accelerate as fast as you want or as gentle as you want by controlling the throttle. The board will react instantly and precisely.
This makes speed change less scary when riding at top speed.
However, if you are an absolute beginner that has poor throttle control, you might be very intimidated by the zippiness of this control. Your thumb is the only thing stopping your board from zipping off so nothing is going to stop you from pushing down too hard on the throttle and falling.
This is because, by the virtue of no lag and precise control, this ESC doesn't introduce speed ramping to smooth out speed change.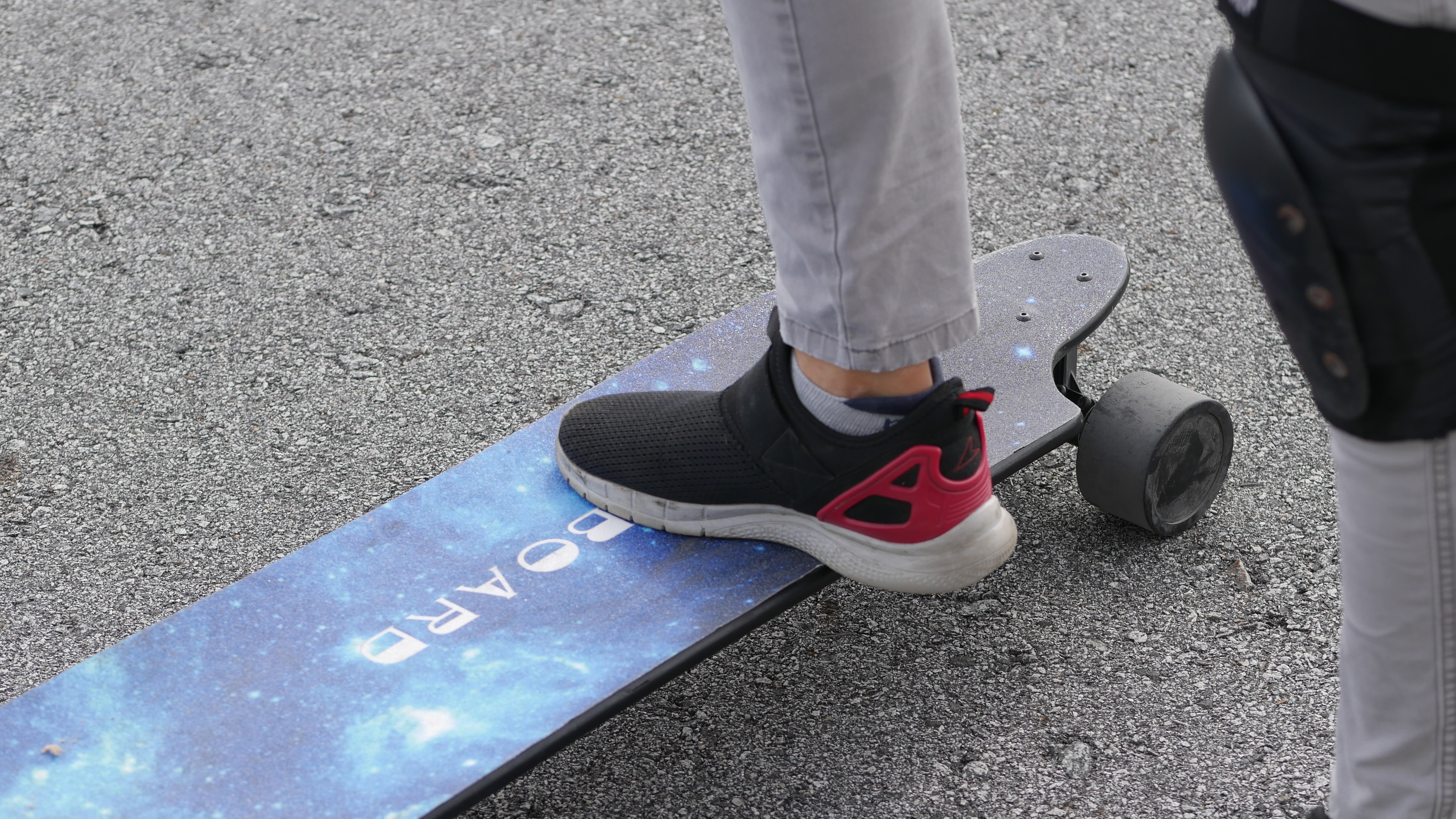 Even with that said, the majority of Eskaters end up preferring this type of control in the long run. It may just take some getting used to in the very very beginning.
Braking on the Hobbywing ESC is also one of the smoothest, with the caveat of possibly being too weak for some, and it can't brake to a stop when going down an incline.
Generally speaking, most skaters prefer this kind of smooth gentle braking but it's a 'bummer' when you really need an emergency stop. I recommend all skaters learn to footbrake in order to not rely solely on electronic braking.
Stability & Maneuverability
I haven't come across any board with a drop deck that doesn't do well in stability and maneuverability. 
AE1 didn't break that trend.
Broad deck, good concave, low riding height, and heavy ride feel are all a recipe for a stable ride.
The board might have given me a false sense of improved maneuverability just because it is so low and stable that I feel comfortable to lean harder and do a bit of monkey toe.
It definitely is not for close quarter maneuvering though.
Vibration
Real BAD.
You need to know that you are riding on an aluminum fixed deck and it is as stiff as it can be. The stiffest deck I have every put my feet on.
You can practically feel the 'aluminium plate' beneath the deck as you stand on the board.
Your feet and knee will be able to read every minor grain from the road like a braille. It tired my leg out quickly on a new smooth pavement, and it's absolutely unbearable on a less than perfect road.
If you are going to use this board for the long term, you might want to do something about the vibration.
Such as swapping to soft Orangatang wheels, swapping to better soft riser/shock pad, regrip it with shock absorbing grip tape, or wearing shoes with a thick sole and wearing thicker socks.
Or just swap out the enclosure to something flexible like the one on Evolve. That should do the trick.
Remote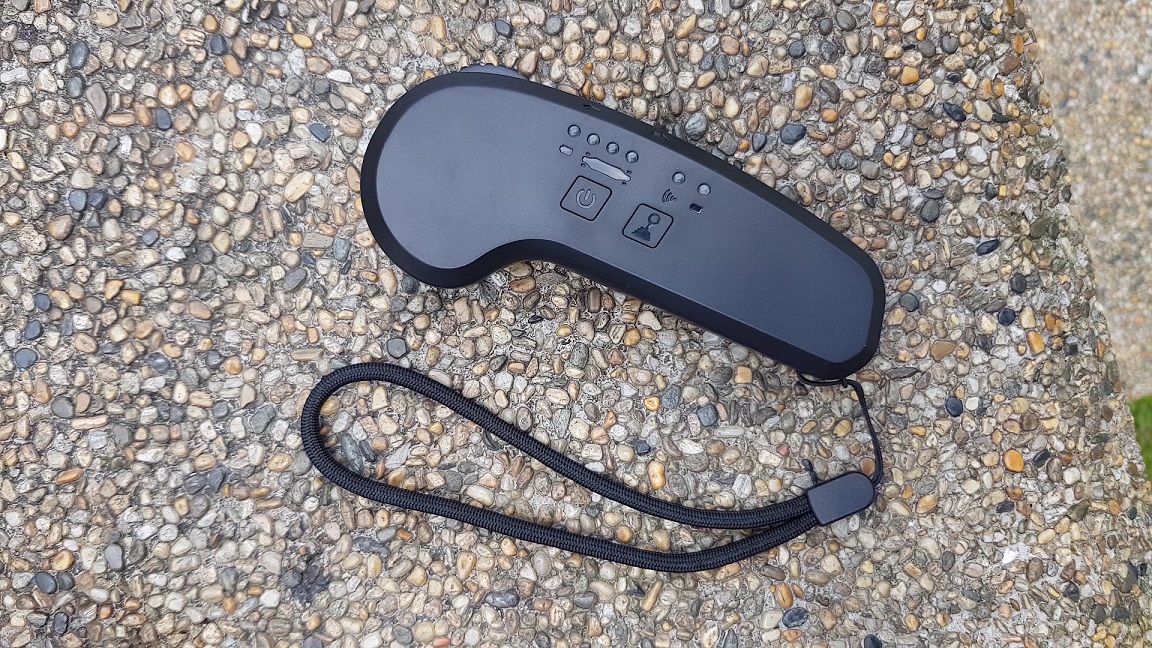 This is the standard remote that pairs with the Hobbywing ESC.
Everybody uses it cause it is pretty good.
It's ergonomic and fits nicely in the hand.
The dial is springy with a good amount of resistance for better control and it has a reasonable amount of travel.
The reverse switch at the side is a sliding switch so there is no way of accidentally triggering it, as opposed to some other remotes which use a button.
It is a simple remote without many bells and whistles and of course, no disconnection issues so far.
Riding Experience Summary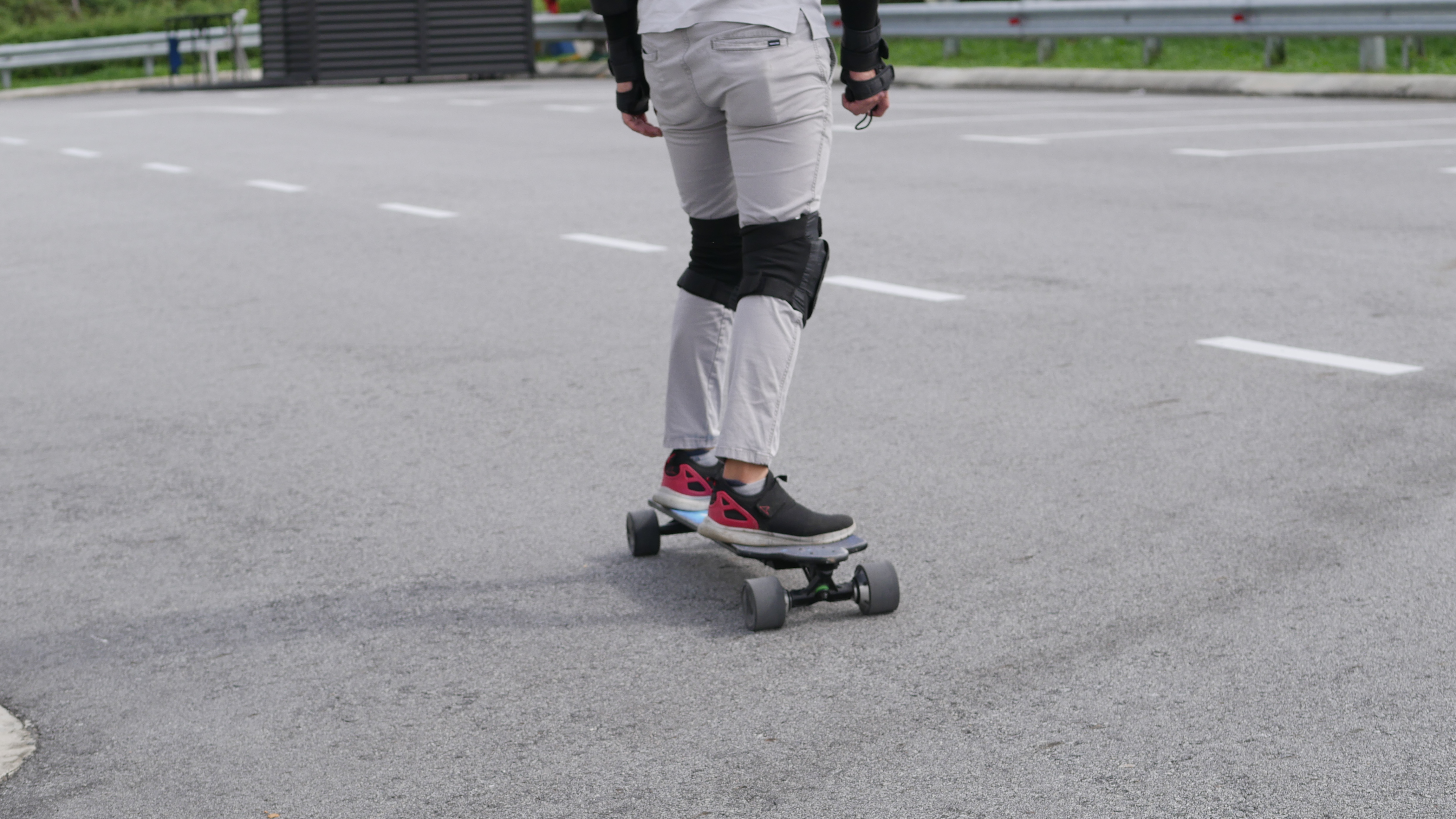 For me, it really depends on what kind of surface I am riding on that day.
When I am riding in an indoor carpark or a newly paved road, AE1 is really comfortable to ride.
It is one of the boards that I feel comfortable pushing all the way to top speed, thanks to the stable design and the smoothness of the control.
Carving on it is really fun and surf-y thanks to the broad drop deck and the concave that it has.
I will however, immediately step off the board when the road gets rough.
It is just unbearable and I don't want to have my knees replaced when I am still in my twenties.
Hey team AEboard, do something about that vibrations and this board will be awesome!
Capability
AE1 is trying to fill the specs sheet beyond what we usually can expect from a budget board.
Range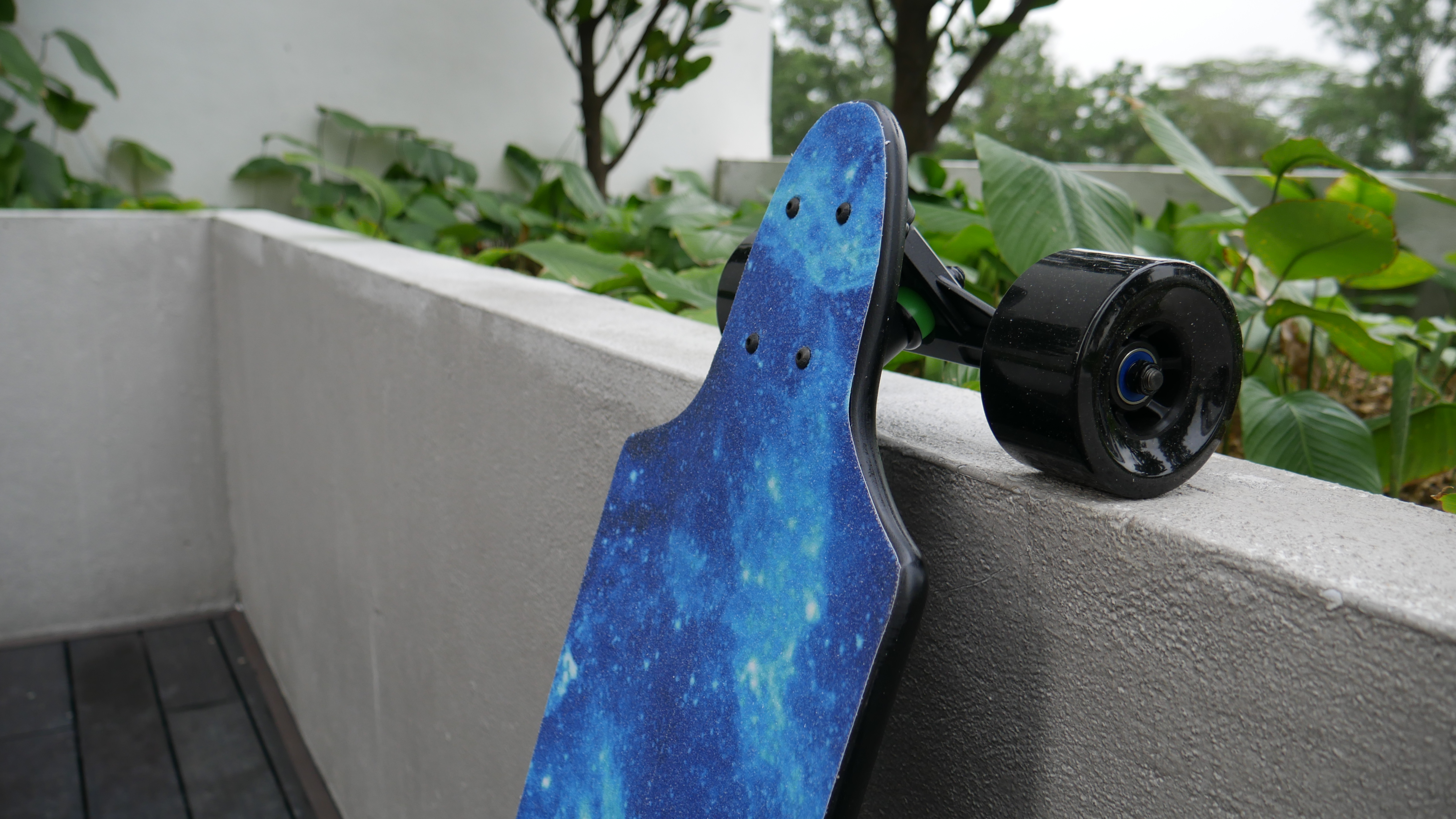 There are three battery options for AEboards.
6.0AH, Samsung 20R(213wh) -13-17miles/ 21-28km range ($429.99)
9.6AH Panasonic NCR18650G(345.6wh) – 20-24.8miles/ 33-40km range ($529.99)
12.6AH Sanyo 20700B (453.6wh) – 27-32miles/ 45-52km range ($689.99)
The board that I reviewed is the base version with 6.0AH Standard battery.
I get 13miles (22km) with a lot of stopping. I usually kept my speed at around 17mph(28kmh) or so.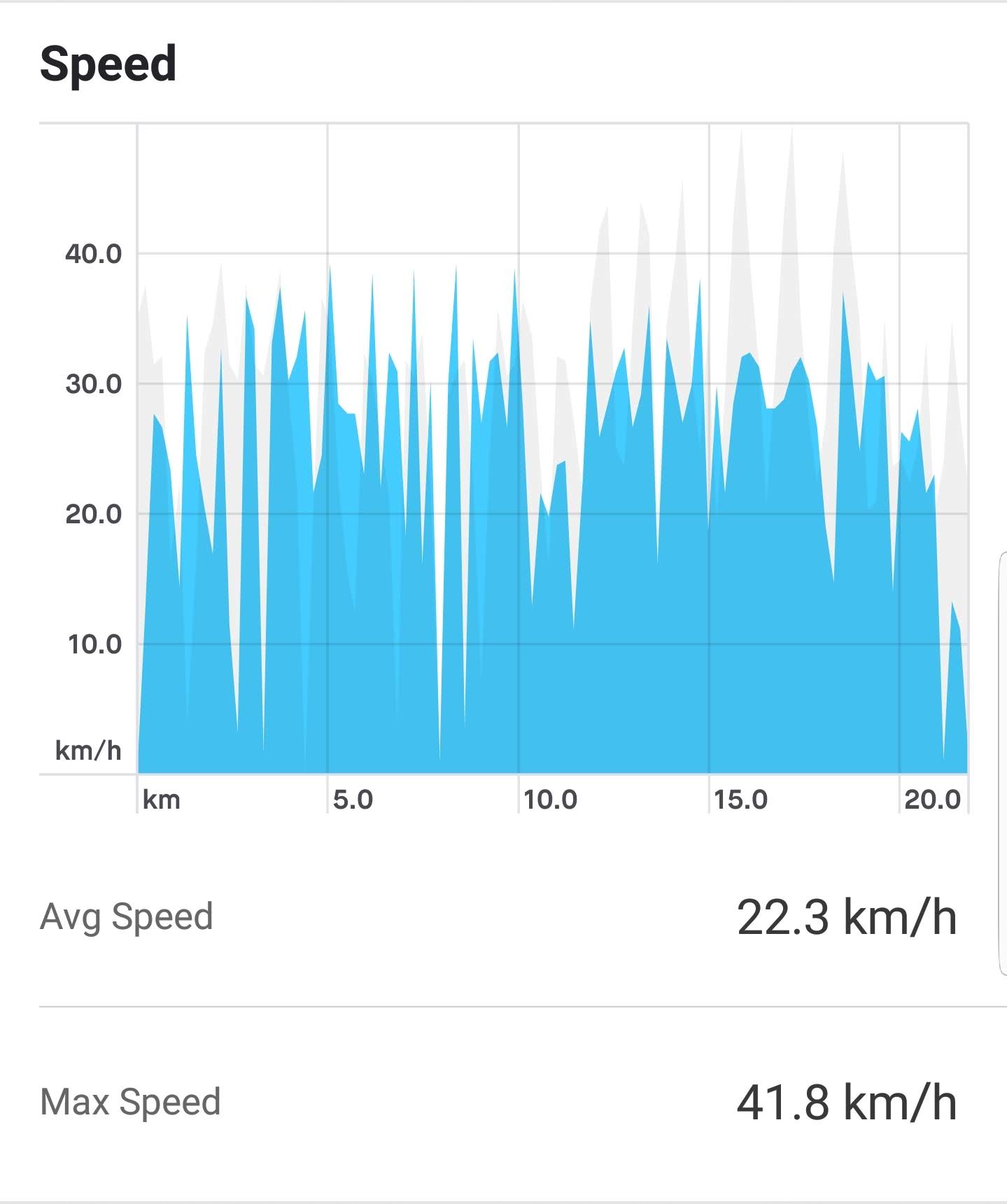 To put this into the context, AE1's 10s3p Samsung 20R battery perform just the same as Ownboard W1S 10S2p Samsung 30Q.
10 extra batteries= extra bulk = extra weight but didn't result in extra range. Sad.
Well actually, I should have expected them to perform similarly. They are both rated at 6.0AH and similar watthours after all.
Voltage sag is not really significant in these high-quality Samsung 30Q batteries. The real slow down happens at the last bar or around the last mile(1.5km) where the board slows to a running speed before eventually stopping.
PS2: As a rule of thumb in estimating range, use the formula -> watt hour/10 = expected range in km.
*I weigh around 165lbs (75kg) and was riding in a mostly flat area in a warm climate.
Speed
I can go beyond the marketed top speed and hit 25mph/40kmh on a full charge.
When the battery wasn't full, the top speed is still a healthy
22mph/ 37kmh.
Voltage sags only appear at the very last mile, where the top speed drops to 15mph(25km), and then gradually slow down.
Torque
The AE1's dual 250W hub motors work about the same as the other Chinese budget boards.
It can handle most incline, and our standard stop and go test, on a 15% graded incline and it poses no challenge to it.
Customer Service
Well this is something tricky to comment on.
AEboard is a very young company, so young in fact that we have yet to hear how they handle customer complaints, cause they aren't any yet.
Marie would be the person taking care of customer satisfaction, and she has been very responsive, helpful and courteous in our previous dealing, which is a good surrogate measure on how good the customer service will be.
(It's something basic, but you would be surprised how many vendors can't even do that.)
With that being said, I can vouch for this young vendor. 
(Keep me in the loop if you have any trouble with them though!
My vendor customer service ratings rely heavily on buyers feedback and I might even help to mediate some of the dispute too!)
Verdict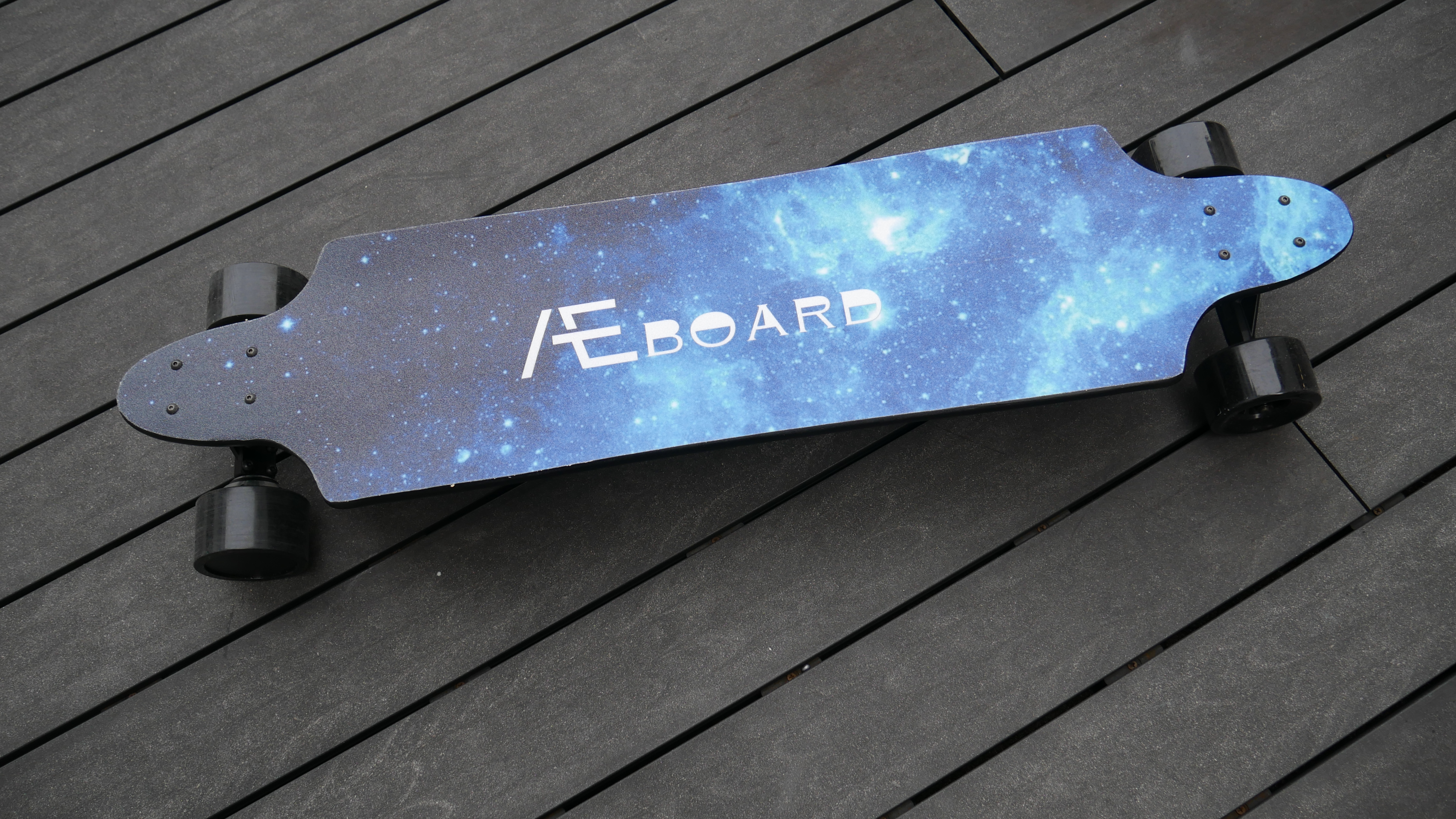 So, should you buy an AE1?
I don't know, really!
The board has a personality, and it certainly isn't just another boring Chinese budget board!
The broad deck with the slight drop is really the star here, and it's a 6.0AH board asking for a 4.0AH price.
How the stiff aluminium enclosure eliminates any flex might be a deal-breaker for anyone who rides on less than perfect pavement.
With that said, a simple enclosure swap might fix this outright.
So, my verdict:
If you are looking for a budget board with a small range boost and don't mind a stiff deck, AE1 is a great choice.
If you can't stand an extra stiff deck, but can mod your eskate, AE1 still provides a good base for a DIY.
If you can't stand an extra stiff deck, and don't want to do any modding, don't buy this.
9.99USD off AEBOARD
Visit AEBoard @ www.aeboarder.com