Foreword
Meepo has decided to end 2018 strong by releasing the 4th generation of their base line-up, Meepo Classic.
After staying with the old standard look for the past 3 generation, Meepo finally decided to switch things up and give us something much different in terms of looks, feels and fun.
Introduction to MeepoBoards
Honestly, I do not think MeepoBoards needs any further introductions.
It is the brand that ignited the budget board market back in August 2017.
It is also the leading electric skateboard brand coming out of the China market.
Through this one short year, Kieran, the founder, has grown MeepoBoard from a small 3 person team to a full-fledged electric skateboard powerhouse.
Hey, we actually interviewed his 3 person operation back when he was just starting out with his original Meepo!
Meepo Classic Review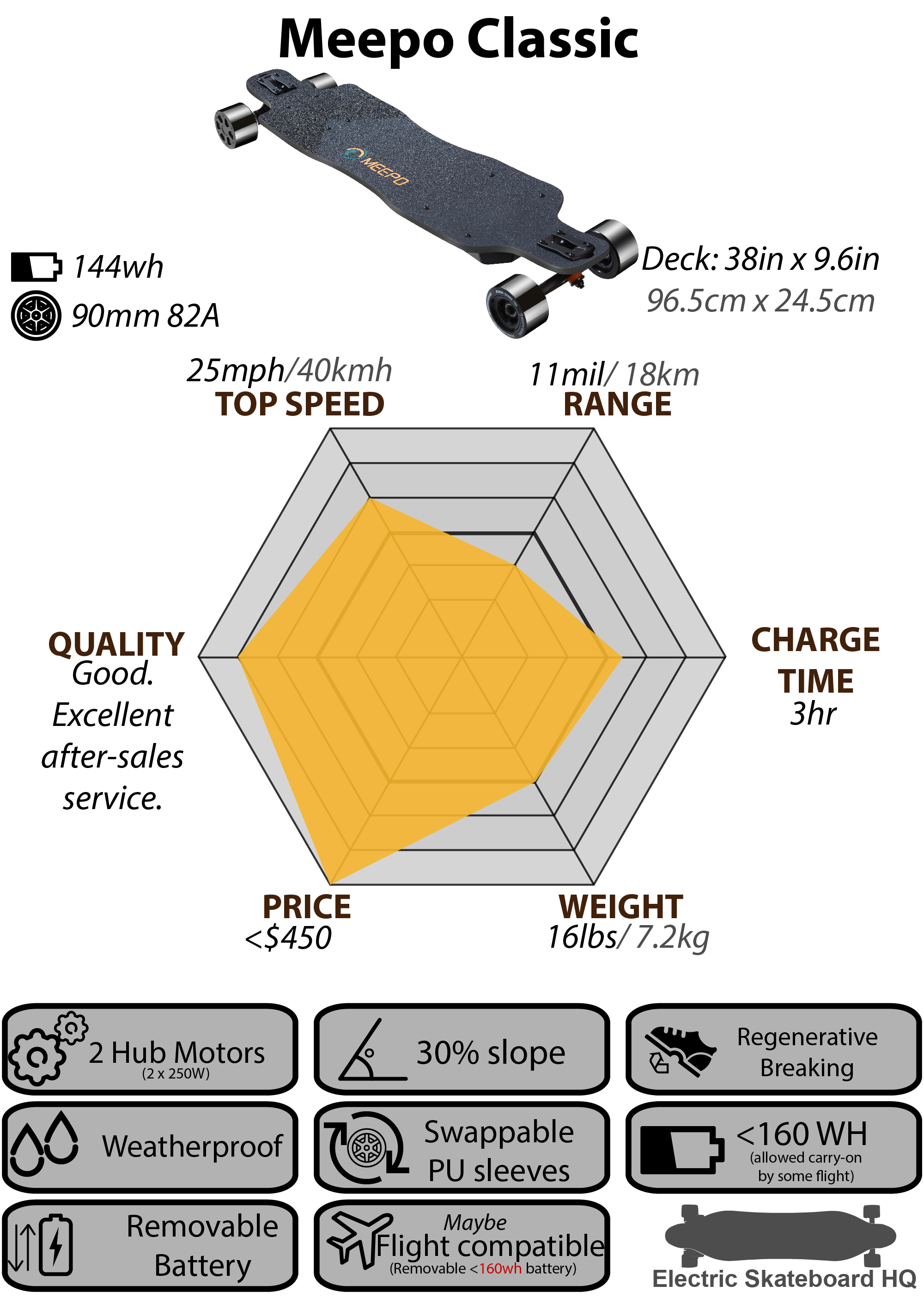 Meepo Classic stays true to its principle on delivery of a huge value for the price tag:
Top Speed: 25mph (40kmh)
Range: 11mil (18km)
Weight: 16lbs (7.2kg)
Charge Time: 3hrs
Features: 2 hub motors, weatherproof, Regenerative braking, handles up to 30% slope.
Price: less than 450 USD with shipping included.
Build Quality
Packaging
The elephant in the room will be how Meepo cloned the box design from the Enertion Raptor.
Well.. bad Meepo.
So they have a really pretty box now. That's a fact now.
The unboxing experience is actually awesome and that's not something I say often about a Chinese budget board.
The inside of the box is pretty neat. It comes packed with appropriate use of an adequate amount of foam padding to keep the board protected.
The board also comes with T-Tool, an Allan key, a wrist band, some stickers, some name cards and- as per tradition- some extra foam padding for deck swap which I don't think you should be using because spoiler alert… the deck is awesome.
Deck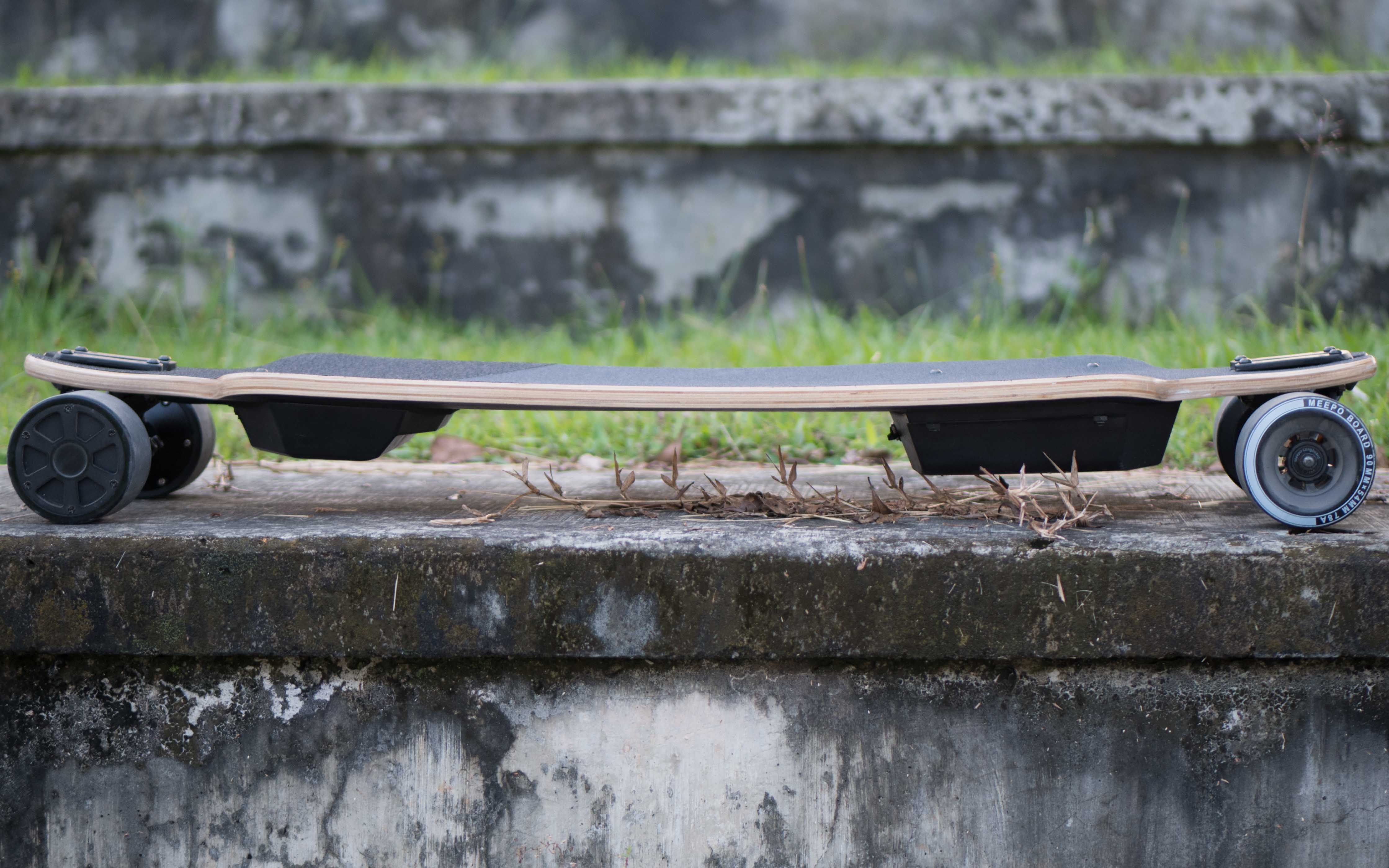 I love this 9 ply maple deck that Meepo Classic is using. It's easily the best quality deck on any budget board.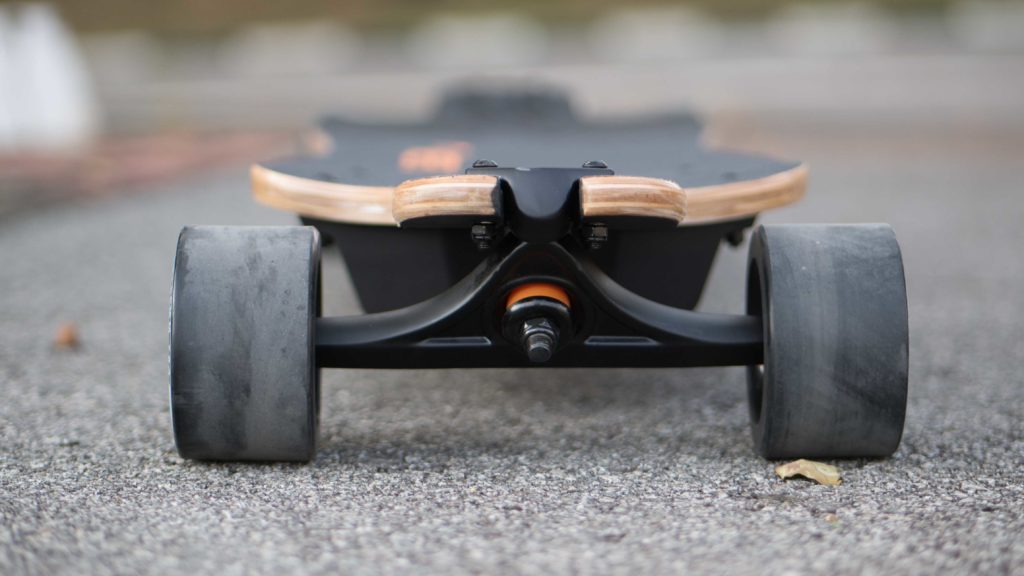 It's a gorgeous drop-through deck with a rocker and a nice concave. Standing and controlling the board is so comfortable with the low ride height and the concave on the board.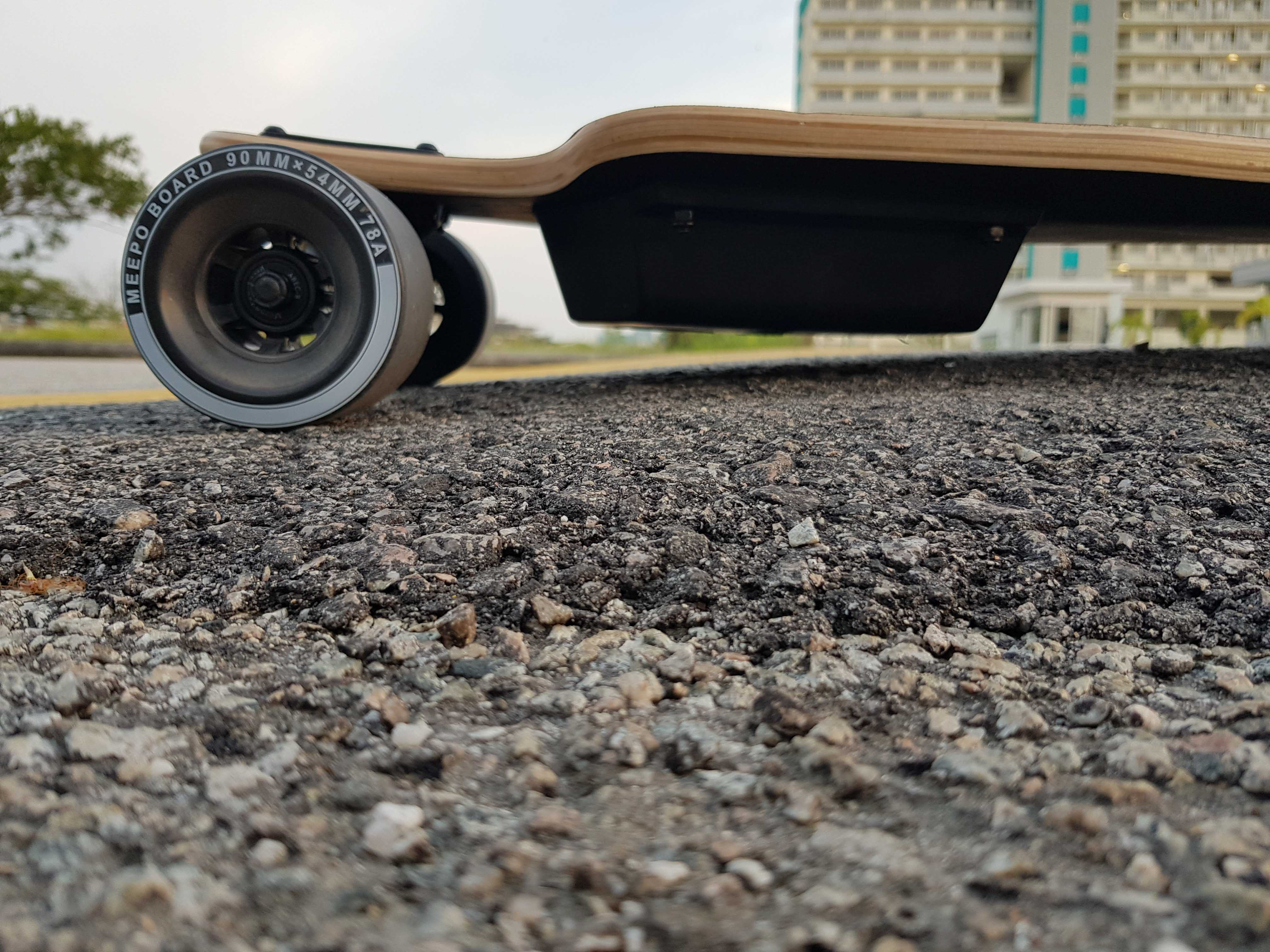 It does have some flex to it, but understandably not very much, as it's already so close to the ground.
The grip tape is nice too- not too harsh on skin or fabric.
Love it, love it.
Component Enclosures and ESC
Meepo Classic stayed with the classic plastic enclosure.
This is supposed to be lighter but I would prefer them swapping over to the steel enclosure because plastics do crack over time and getting hit to the ground repeatedly is just going to accelerate that.
This is a drop-through deck with a rocker that gave only 1cm ground clearance after all.
After the first production run with LiYing ESC, Meepo decided to permanently switch to the Hobbywing ESC, which is the world's favorite affordable ESC right now. We will get into its performance later in the riding experience section.
Old LiYing ESC

New Hobbywing ESC
Wheels
Meepo Classic continues to use the same 90mm size hub and wheels, which is the industry norm right now.
The front wheel is 78A, and is as good as any stock wheel can get.
The hub motors has received an upgrade over the V2. It was said to be improved from the last version in quality and power. The PU sleeves is swappable, and the PU sleeves will only set you back 19USD(shipped) per sleeves to replace.
Although the bearing on the Meepo wasn't branded, on a side by side comparison it rolls better than most generic boards. The bearing is manufactured by C&U Group, a name that might mean something to somebody else, not to me though.
Trucks
For the trucks, the Meepo Classic uses the Shredder trucks, which is a clone of Bear Kodiak trucks. (Of course, it's not a forged truck like the bears truck is.)
Shredder trucks are practically my favorite budget trucks right now. It allows the use of tall barrel bushing. I find even in stock setting, Shredder trucks gave a better return to the center and are more springy than any non-branded trucks.
In fact, I would consider swapping all of my budget board electric skateboards to shredder trucks… that's the extent of how much I like them.
Riding Experience:
Acceleration and Deceleration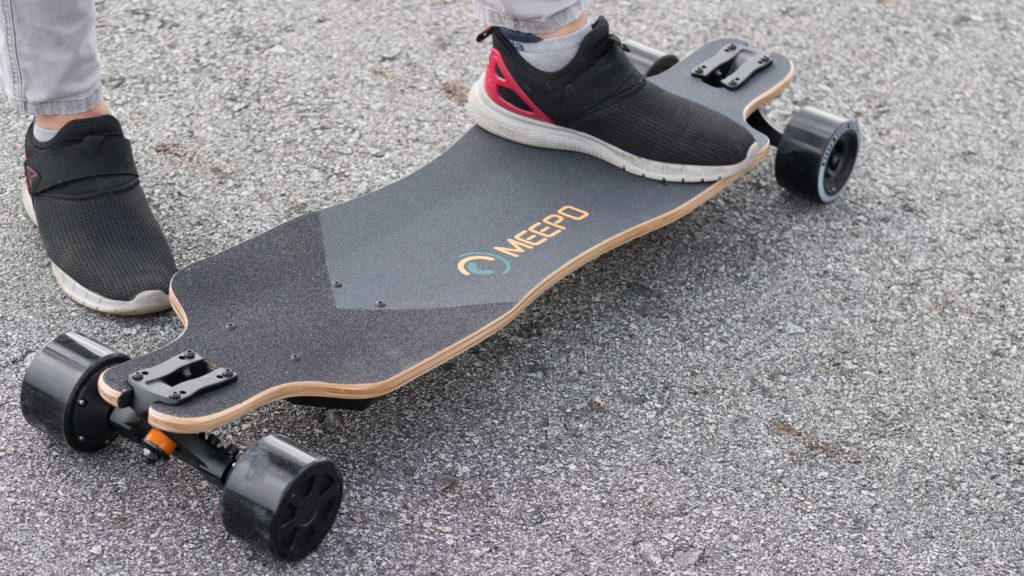 There are 3 ride modes:
Slow mode with a top speed of 12.4mph/20kmh
Medium mode with a top speed of 18.6mph/ 30kmh
Fast mode with a top speed of 25mph/ 40kmh
After adamantly sticking to the 'LingYi' ESC for so long, Meepo made a last minute change and transitioned to the more popular HobbyWing ESC – at least for the Meepo Classic.
I have reviewed both versions of this board and I would say this is a very welcomed change.
The Hobbywing ESC is famous for its butter smooth speed changes, precise control with no latency and consistent behavior in the whole speed range.
Some say this control is even better than the Boosted, which is the highest praise that can be offered.
This translates to a very comfortable ride. The board behaves precisely as you will let it, much in distinction to the initial 'LingYi' ESC version- which has acceleration come in a delayed "wave" and are more aggressive in both acceleration and deceleration.
It is worth noting that Hobbywing ESC are also known to have smooth and gentle braking that might be a bit too weak for some. I for one have developed a taste for strong, aggressive braking with time and truly miss the initial 'LingYi' version that brakes so strong the wheel almost slides.
The idea of the new Hobbywing ESC being precise and lag-less also means that it doesn't introduce any delay to gradually ramping up the speed when you trigger the throttle. That means, the board has a very zappy nature. A beginner without good throttle control might feel threatened by how the board zaps away if they push the throttle too hard.
But don't worry, the majority of beginner riders learn and love this control in just a few rides.
With all that said, the final version of Meepo Classic with Hobbywing ESC is still the best version of Meepo, catering well to both beginners and most advanced riders.
Stability & Maneuverability
It's no surprise that a drop-through deck makes the most stable ride.
Being inches from the ground really makes keeping balance much easier.
The shredder trucks allow very nice rebound to center when turning. However, stock bushing might be too soft and trucks too loose, to be a top speed machine. Just by tightening the trucks, the board will be more stable for top speed yet carvy enough for turns.
The shredder trucks gave really great turning and carving. Perhaps it is the use of tall barrel bushings or perhaps it's all about the trucks. Either way, the Meepo Classic is fun to carve, easy to turn, and it does that well without compromising on stability.
Vibration
Although the deck doesn't have the most flex in the world, it does have enough of it. That plus the thickness of having 9 plies of Maple deck is thick enough to absorb some of those vibrations.
As a matter of fact, I would give Meepo Classic an A- in vibration handling. It's pretty good, as good as it gets on hubs.
It's by far the most comfortable ride on a poor road amongst all the budget boards I've tested.
Remote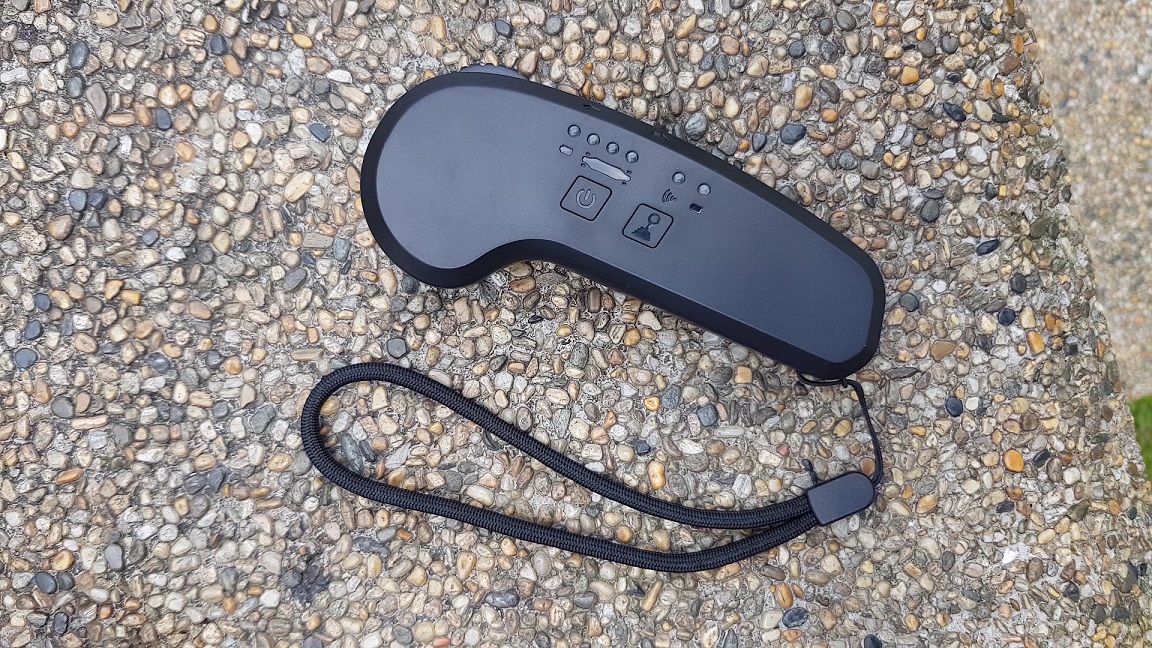 Changing from the 'LingYi' ESC to the HobbyWing ESC means a different remote.
The Meepo Classic will use the standard remote that every other HobbyWing board uses.
I have no complaint though (except now I have to label every one them cause they are the same), cause it is a very good remote.
Looks nice and feels nice in hand.
Good springing dial with a reasonable amount of travel.
Reverse button is at the side so there is no accidental press.
It is a simple remote without many bells and whistles, but importantly without connection issues either.
P.S.: No flashlight, that's NLS.
Riding Experience Summary
Even if you are not a sucker for drop-through deck like me, the ride that you can get on Meepo Classic will likely still impress you.
Deck swapped Backfire G2S on double riser, VS AEboard AE1 with micro-drop deck, vs drop-through + rocker deck of Meepo Classic. See how huge is the difference is!
Smooth acceleration and braking profile, use of a very responsive Shredder Trucks, awesome deck with good concave, Meepo Classic is an enjoyable ride!
For a hub board, it even handles poor riding surfaces fairly well!
Capability
Meepo Classic retained the very competitive states of it's predecessor.
Note: Going with HobbyWing ESC means Meepo Classic will not have the smart turn on (roll to power on the board) features. Sad.
Range
Meepo Classic is rocking a 4.0AH 144Wh battery pack.
My range test gets me 9miles (14.5km) with an average speed of 15miles(24.5km).
Voltage sag is not a huge issue with the top speed maintaining at near 25mph(40kmh) up to the very last 0.5miles (1 kilometer).
By the way, this board pushes until the very end. When the battery starts to beep, it means it's not long before it must stop. Don't push the range if you are not preparing to kick pushes.
PS: As a rule of thumb in estimating range, use the formula -> watt hour/10 = expected range in km.
*I weigh around 165lbs (75kg) and was riding in a mostly flat area in a warm climate.
Speed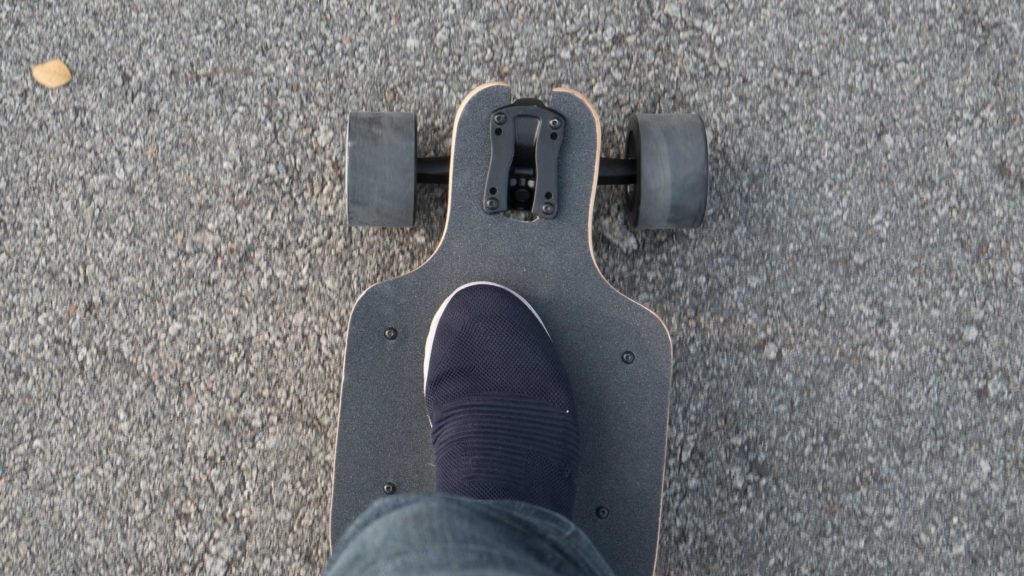 Hitting the marketed top speed 25mph/40kmh is not a problem. You will get there really fast on a full charge, and a bit slower when the battery isn't full, but you will get there.
Voltage sag only appears minutes before the board stops, so that's really awesome.
Torque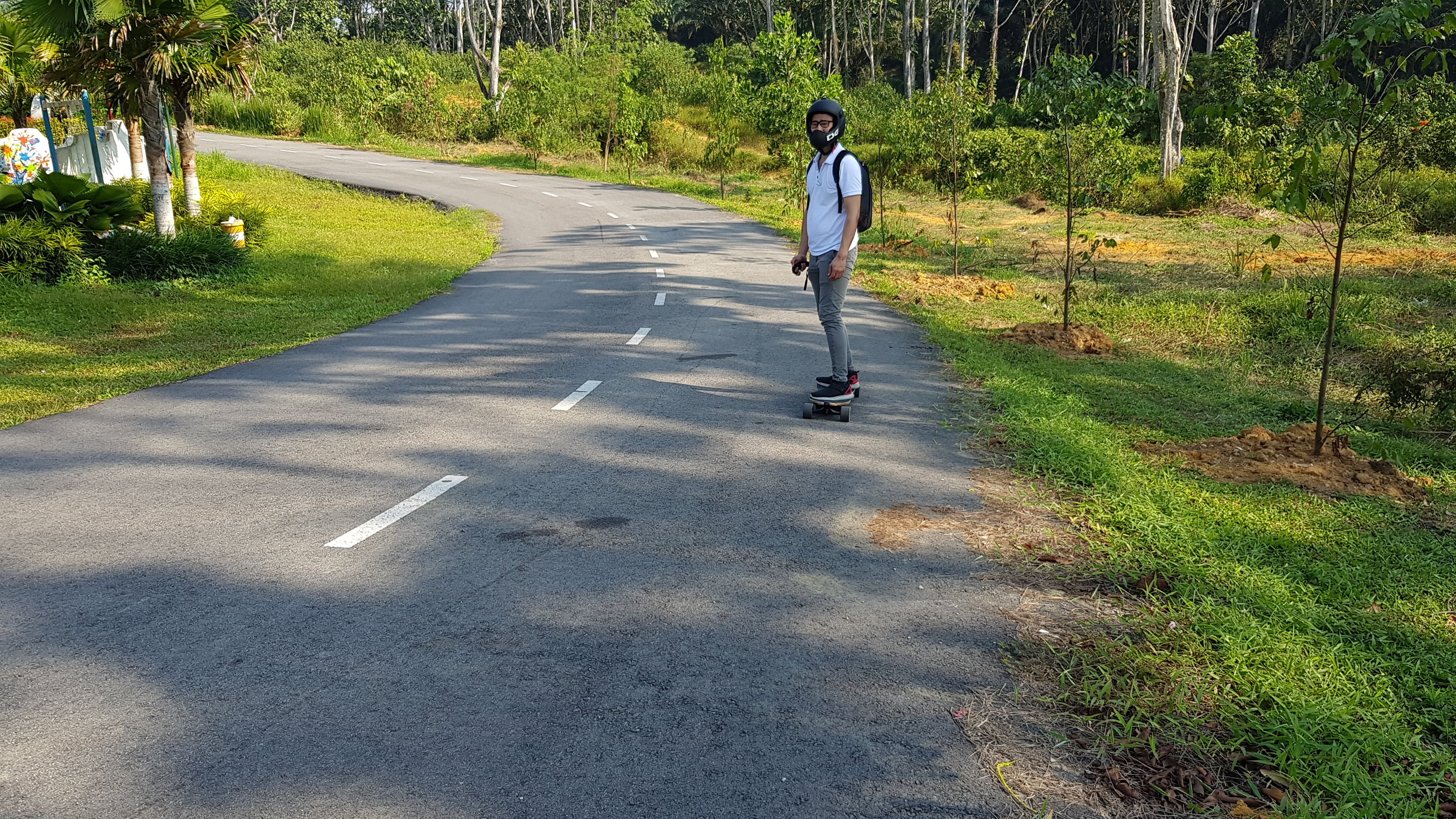 The Meepo Classic's dual 400W hub motors work about the same as the other Chinese budget boards.
It can handle most incline, and our standard stop and go test, on a 15% graded incline and it poses no challenge to it.
Customer Service
Generally speaking, Meepo's has some of the better customer service among the budget brands. You can reach them via Facebook, via Wechat, via mail and there are a few brand ambassadors that can help you solve your problem.
However, being the best selling budget board brand means they have a lot more customers to serve and from time to time experience lapses in their customer service.
But you can eventually get through to them. Even when they reply slow, you can still be assured that they will do the right things by the customers.
The most valuable part about buying the Meepo is the Meepo community. Every potential issue will be exposed and solution found by the community members. Some weird rattling noise? Someone who had that problem knows the exact solution.Want to do some DIY upgrade? Chances are there is already a guide or Facebook post about it.
When you buy a Meepo, you will never be alone.
Verdict
As the Meepo moves away from the 'LingYi' ESC to the HobbyWing ESC, it became very difficult to find anything to nitpick on.
Let me get down to brass tacks, I think Meepo Classic is the best affordable eskate on the market for now, for most people.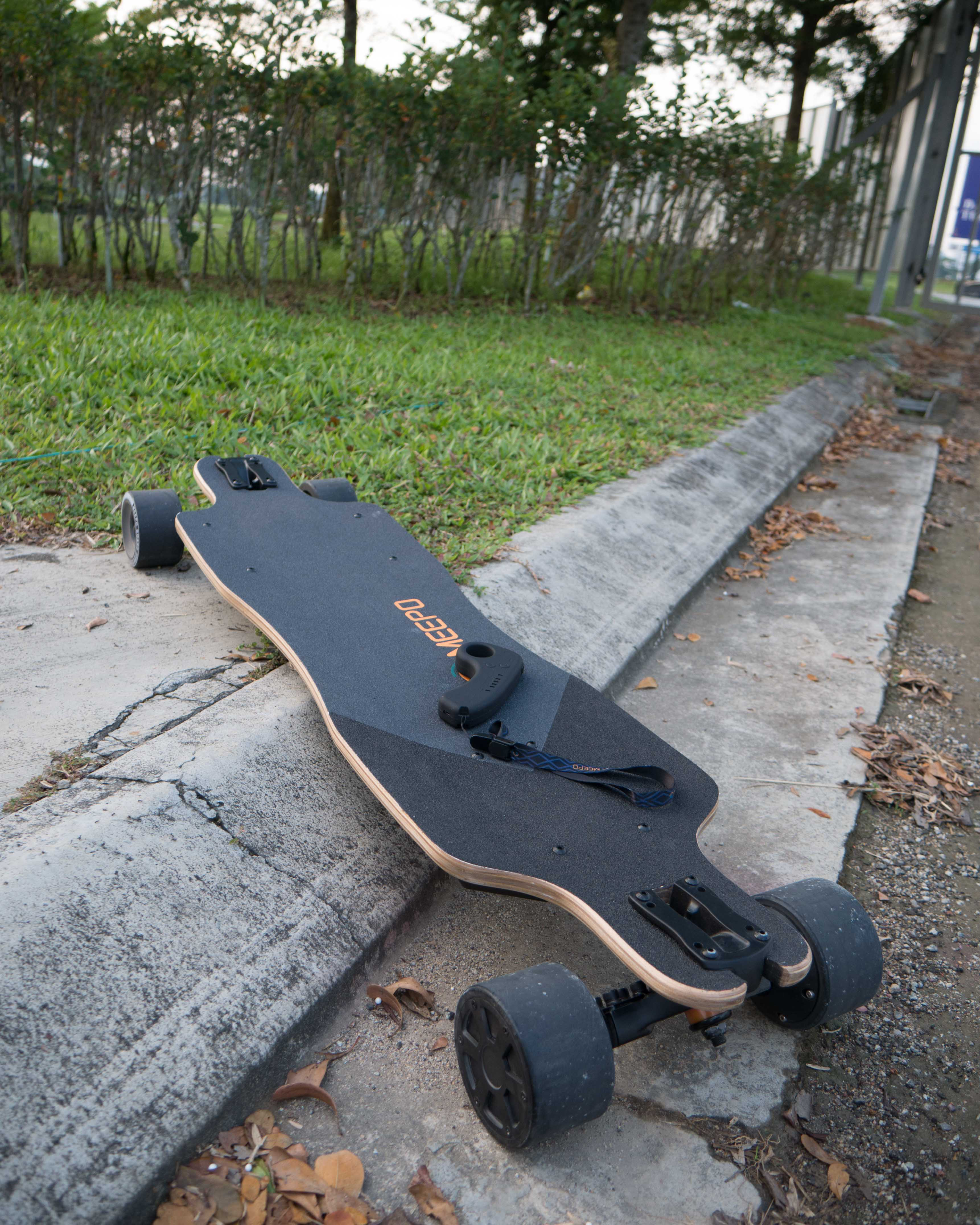 With the Classic, Meepo had really came a long way and learnt from the mistake of its previous product. The result is gonna be a new classic indeed.
Gone are the scrappy packaging and garage quality finishing. Now the whole product is tip-top from the package down to the board itself.
Gone are the harsh aggressive control. As Meepo embraces the popular HobbyWing ESC (at least for the Classic) that are both smoother and more precise.
Gone are the weird convex deck that inspires the deck-swap movement. The Meepo Classic now rocks one of the best deck you can find on a production board.
And this complete package is only asking for the standard $430 entry level budget board price! Crazy!
I have no hesitation in recommending Meepo Classic to anyone looking for an electric skateboard. This board for now, until something better eventually comes along, are the best option for most people and should be the first consideration when looking for a board.
Visit MeepoBoard @ www.meepoboard.com