On November 2022, Backfire released a new $399 electric skateboard, the Backfire ERA 2.
TLDR: Backfire Era 2 ($399) is an entry-level affordable electric skateboard. It has good specs and great polish. If you like or can tolerate stiff decks with hub drives, Backfire Era 2 is an unbeatable choice at this price.
We've to say that we are a little bit embarrassed that the original Backfire Era completely flew under our radar. You see, Backfire has 2 lines of entry-level electric skateboards that are priced at around $400. There is the well-known Backfire G2 series, and then there is this rather new Backfire Era series.
Backfire G2 Black is a more traditional affordable electric skateboard with a mildly flexible deck, and the Backfire Era 2 is… something else.
Beautiful sleek design
While it is unwise to base your buying decision on the looks of a board… Damn! doesn't this board looks good?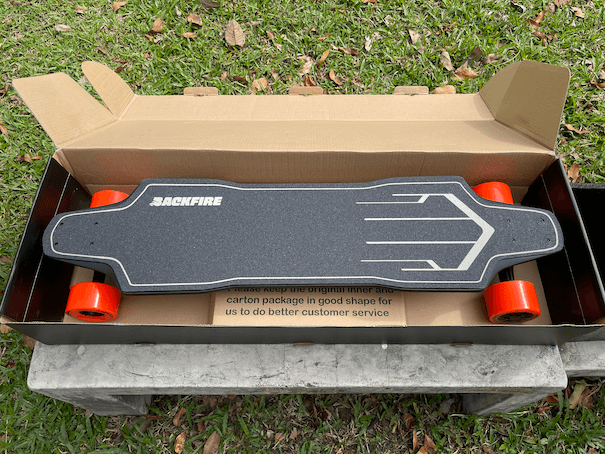 Backfire Era 2 went with a sleek stealthy design first made famous by the old Exway X1. This means no electronic enclosure bulging out from underneath the deck.
Combining this with hub motors that are integrated into the back wheels, the board can pass as an unpowered traditional longboard. Besides looking good, this is especially helpful for those who live somewhere where electric skateboards aren't legal.
(Disclaimer: Electric Skateboard HQ does not encourage or condone law-breaking behavior.)
Backfire Era 2 has current-era specs
While the board was priced at only $399, Backfire Era 2 doesn't skim on the specs.
Deck: 38 inch x8.85 inch (96.5CM x 22.5CM)
Electronic Speed Controller: Hobbywing ESC with smart turn-on
Battery: 5AH; 180Wh LiPo battery
Marketed Range: 12-15miles (19~24 km)
Motors: 2 x 680W hub-motor
Marketed Top Speed: 28mph (46kmh)
Trucks: 7″ aluminum trucks
Wheels: 90mm streets
Weight: 16lbs (7.25kg)
Price: $399
For those who are new to the electric skateboarding scene, here is a really brief introduction to each part.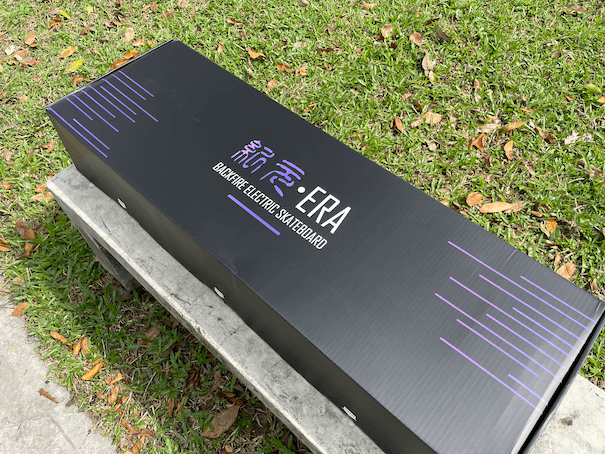 Hobbywing ESC – very smooth and intuitive speed control
Hobbywing ESC has been the gold standard for electronic speed control for more than half a decade now. It provides smooths and intuitive speed control that is loved by beginners and veterans alike. The newer Hobbywing ESC also comes with the "smart turn-on" feature, which means the board will automatically power on when the remote is switched on. This feature doesn't sound like much, but everyone who had it can't imagine living without it.
Battery – 180Wh LiPo battery
To fit batteries inside the sleek deck, the Backfire Era 2 uses lithium polymer batteries pack instead of the more typical lithium-ion batteries. Lithium polymer packs are pound-for-pound, more powerful than lithium-ion batteries. However, they also tend to have more longevity issues. It remains to be seen how Backfire Era 2's battery holds up with time.
When it comes to battery size and range per charge, 5Ah(180Wh) and 12miles (19km) are pretty standard numbers for entry-level electric skateboards. With that said, we were pretty surprised that Backfire manage to pack a good battery while keeping the price below $400, especially when entry-level electric skateboards typically cost between $450-$500, not under $400.
2 x 650W motors are decent. Actually, more than decent.
Backfire Era 2 dual 640W motors are actually above average. For context, the medium motor size for entry-level electric skateboards is around 2 x 540W. When it comes to real-world performance, motor wattage is never the whole story, but having a big number is a good start.
Don't believe me? Do your own research by using our data (most electric skateboards in the market were included)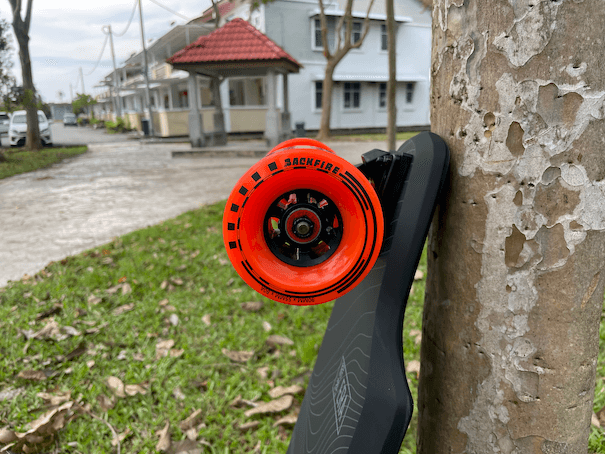 The board has a good top speed of 28mph (46kmh), which is typical of entry to mid-level electric skateboard.
Backfire Era 2 might not be for everyone.
Obviously, a deck with integrated electronic is always going to be stiff. This, combined with stiff hub motors means road vibrations are going to be terrible on that the Backfire Era 2. Thankfully, Backfire uses a shock-absorbing grip tape for the Era 2 to ease road vibration, it should help a little bit.
Also, Era 2 may not be the best board for carving fun. Bouncy decks and soft skateboard wheels are known to add smoothness to the ride that makes carving fun and Backfire Era 2's stiff deck and stiff hub motors are exactly the opposite of that.
What Backfire Era 2 is designed for, however, is a nimble responsive ride.
The sleek design and a biceps-friendly weight of 16 lbs (7.25kg) should make it quite practical for the urban commute. Maybe that's why Backfire went ahead and include a carrying bag for it right out of the box.
Backfire Era 2 may be the best budget electric skateboard right now
With everything said, $399 is an unbeatable price.
Backfire Era 2 has really good specs for its price. It has the polish and the design of boards that we expect from boards twice its price.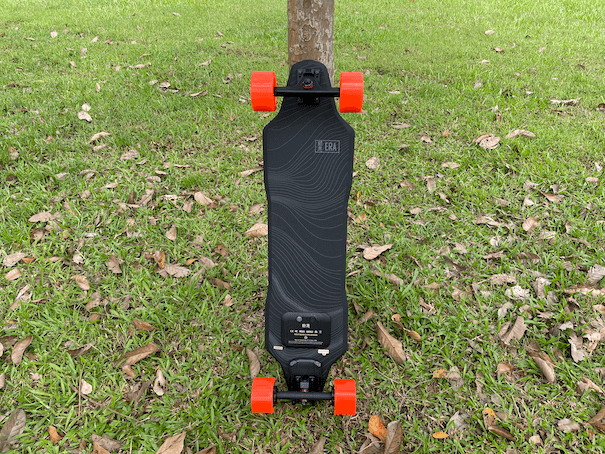 We will give the board a full review soon, but from everything we know now, the Backfire Era 2 is certainly a safe board to pick up right away during Black Friday sales.
If you are interested in buying a Backfire, be sure to check out our affiliate discount link here and use code: "ESKATEHQ" to receive 5% off during checkout.
It will help you get a small monetary discount and help us out too. On top of that, you'll be tagged as an Electric Skateboard HQ customer and probably be treated better. Cheers!