By now, you should have heard about the Evolve Renegade, the $2,499 mountain-style board with Trampa deck and suspension trucks.
But hold your wallet if you are in the market for a carbon fiber board with a Trampa-style deck because there is a new board by a new brand that offers something similar for a lot less.
This new brand is aptly named On My Way EV, and it's on its way with its debut board Cavalry.
Unboxing of the OMW Calvary
OMW Calvary is another premium heavy-duty All-Terrain Board
OMW Calvary is pretty similar to the Evolve Renegade, a premium board designed to have a ton of power and a lot of battery and to handle rough terrains.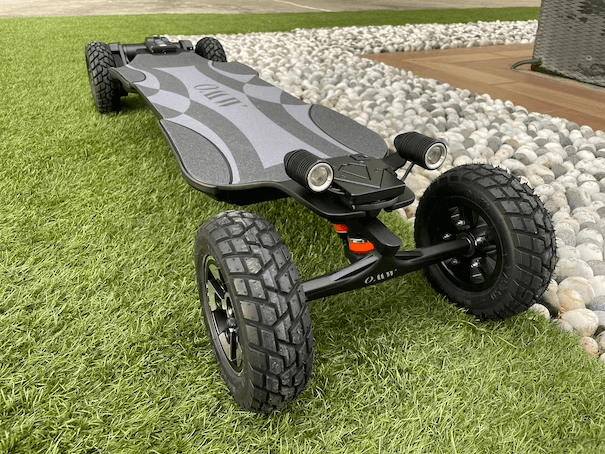 Similarly, it uses a flexible Trampa-style deck.
Similarly, it is rocking 12s4p Samsung 50S battery ( 864WH – 20AH)
Unlike Evolve Renegade, however, the Calvary is using DKP Trucks, meaning it wasn't a hardcore off-road board but instead was designed to be as easy to turn as possible.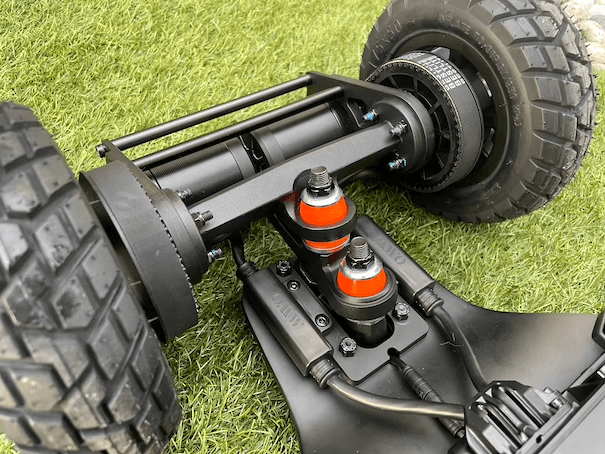 While we are still working to put the Calvary through the paces, it looks very very promising and is an alternative worth considering before pulling the trigger on the pricey $2,499 Evolve.
Plus, OMWEV is a new brand that is eager to prove itself, while Evolve (with all its good and bad) put a premium tax on its board. While both boards have comparable specs, the Calvary is almost $1000 cheaper at $1,599 (launch price).
If you are interested in buying the OMW Calvary be sure to check out our affiliate discount link here and use code: "ESKATEHQ" to receive $30 off during checkout.
It will help you get a small monetary discount and help us out too. On top of that, you'll be tagged as an Electric Skateboard HQ customer and probably be treated better. Cheers!
Comparison Specification of OMW Cavalry vs Evolve Renegade
Feature
OMW Cavalry
Evolve Renegade
Deck Materials
Carbon Fiber and Fiberglass
Carbon fibre
Deck Length
115cm (45.28 inches)
95cm (37.4 inches)
Trucks
9.5″ Forged DKP
Evolve Rengade trucks – Forged/CNC. 310cm
(12.2 inch) width, 8mm axles
Wheels
7-inch or 6-inch or 97mm wheels
Evolve 175mm (7 inch) pneumatic tyres with all-terrain hubs
Motor
6374 * 2, 165kv
Dual 3000w rated 6368 custom brushless sensored motors
ESC
Hobbywing 9028 with APP & Smart ON/OFF
Evolve Custom 50V Dual-Motor Driver with FOC motor commutation and Bluetooth Connection
Battery
21700 Samsung 50S
12S4P 20Ah 864Wh
21700 Samsung 50S
12S4P 20Ah 864Wh
Recharge Time
5 hrs with 4.5A charger
3.5 hrs – 4 hrs
Remote
Hobbywing OLED remote
Evolve Phaze remote with CNC aluminium-reinforced body
Weight
17.5kg (38.5lbs)
15.7 kg (34.6 lbs)
Range
55km/34miles with 7" Pneumatic Tires
(Stock Tire)

52km/32miles with 6" Pneumatic Tires
(Optional)

85km/52miles with PU Wheels
(Optional)
Up to 50km (31 miles)
Top Speed
60km/h (37mph)
42km/h (26 mph)