Update: Time has passed, a lot of things had happened and Backfire G2's Kickstarter campaign has proven to be unsuccessful. I was also sent a review unit of Backfire G2, and here is my review.
Today, Backfire launched their campaign on Kickstarter for their new board, Backfire G2.
The original Backfire launched at 2013 was among the more famous 'China boards' that offers good specs with good price. It has clones all over the market – Luoov, Magneto, Lectric, Lecdec, Melonboard etc…
The compromise, of course, was the quality of the board.

1.Good specs with good price
Backfire's top speed and range are really good for a sub $500 electrics skateboard.
Specification wise, Backfire G2 is right there in the middle of the pack.
See comparison chart at my comparison page.
The specs are better than Boosted/ Inboard M1 (on paper) and right there with the Evolve's boards.
2. Waterproof, exchangeable wheel
Those are good features to have.
Every electric skateboard should be waterproof by now, duh…
But how 'waterproof' is Backfire's waterproof?
Truthfully, I don't have much confidence in the waterproofness but it should be at least more splash-proof than if not marketed as such.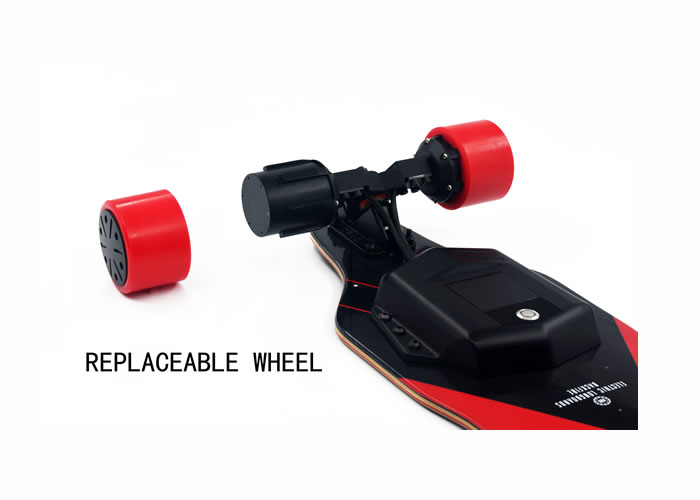 3. Worries
The Tinboard fiasco taught me to be more skeptical toward Kickstarter campaign. Although Backfire is not a new name to the market, it being a 'China Board' raised some concern for me.
a. Original Backfire has some issue with the ESC (Electronic Speed Controller).
Hopefully, this won't be the issue here in Backfire G2, but it goes to prove that Backfire did have some issue with its previous board.
b. Some inconsistency on current Backfire campaign.
i)The board was listed to have 25% climb in the Kickstarter page while 20% on its official website.
ii)The board also was listed as ready to ship in 24hour at $499 on the official site, while Kickstarter campaign schedule to ship the boards in September.
Hell, the board is even available now at $699 at Amazon!
(So I am guessing the Kickstarter campaign is more like a mass-drop campaign instead of a 'mass-funding-needed-to-create-this-product' campaign …
These aren't major issues but it was weird mistakes for Backfire – a veteran e-skate company to make.
It really shakes my confident for Backfire.
Conclusion:
At the end of the day, Backfire G2 is a budget electric skateboard with great specs.
For a person that was on a tight budget and still want great performance out from the board, Backfire G2 is going to be a good choice.
If cheap "China Board" is the type of board for you, Backfire G2 should be at the top of your choice.
Why back their Kickstarter campaign though when you can just buy from their website now, or from Amazon now?
Update 28/6/17: Jason Lee from Backfire G2 reached out to me clarifying that the Backfire G2 is indeed not available yet.
The error was on their website as it is under construction right now. He also clarifies that there is no Backfire G2 in Amazon store right now, and they will remove it from Amazon listing. (Which they already did by now)