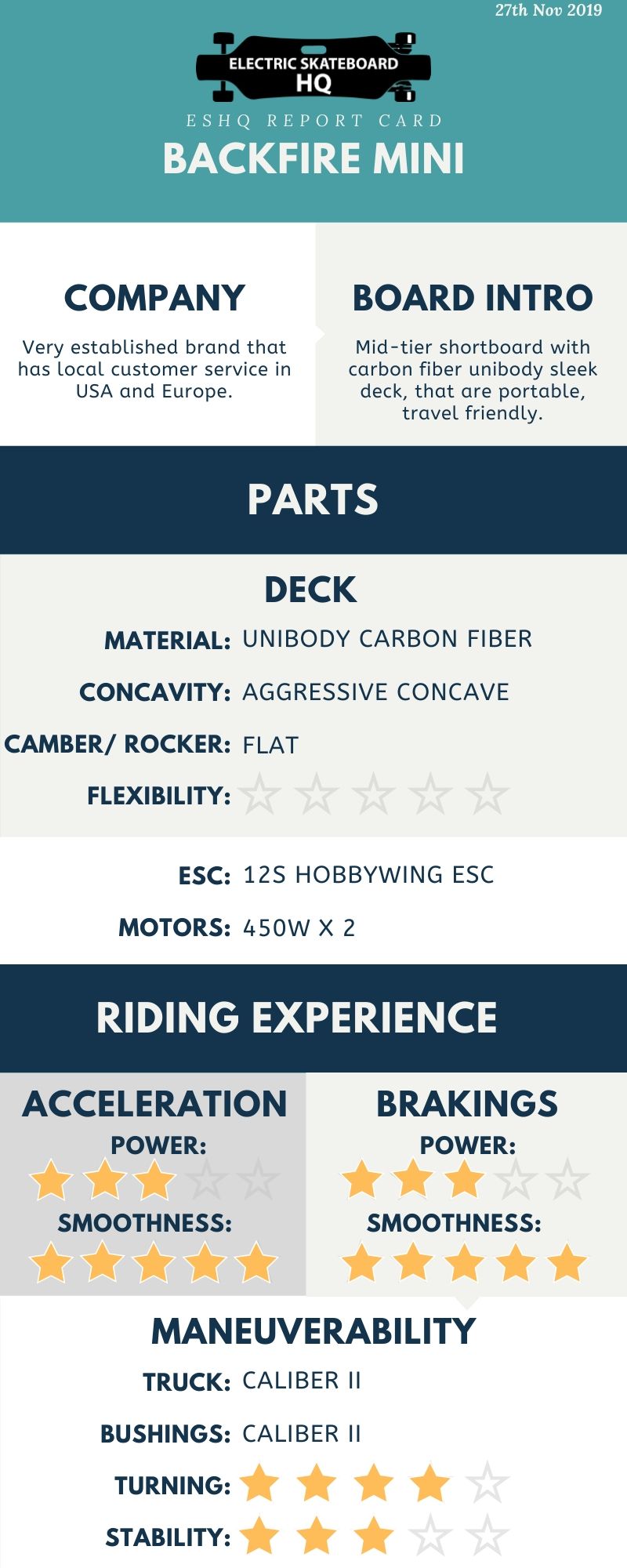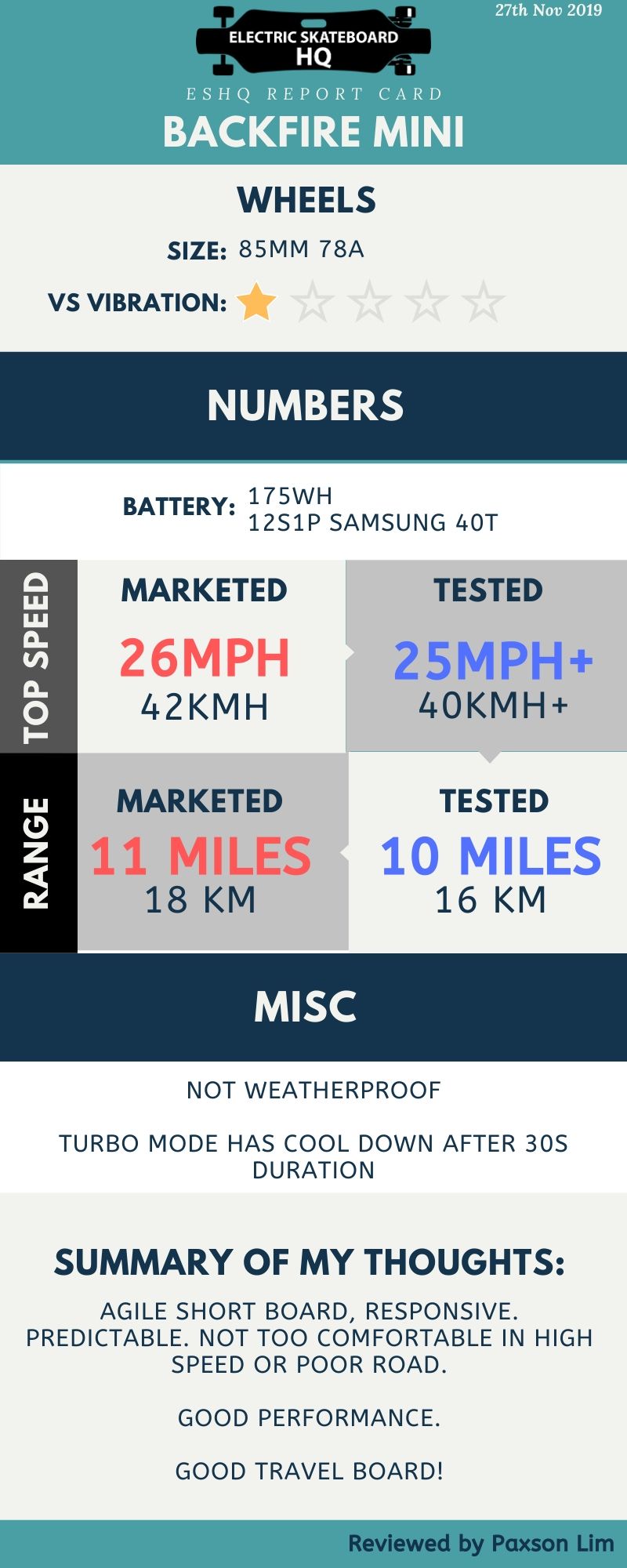 Introduction:
With the release of the Backfire Mini, Backfire has finally completed their line-up with a board for every use case, from portability to All Terrain. For $699, the Backfire Mini boards are undoubtedly attractive, especially given their sleek design, carbon fiber deck, and premium look. It's like a mini Exway to be honest.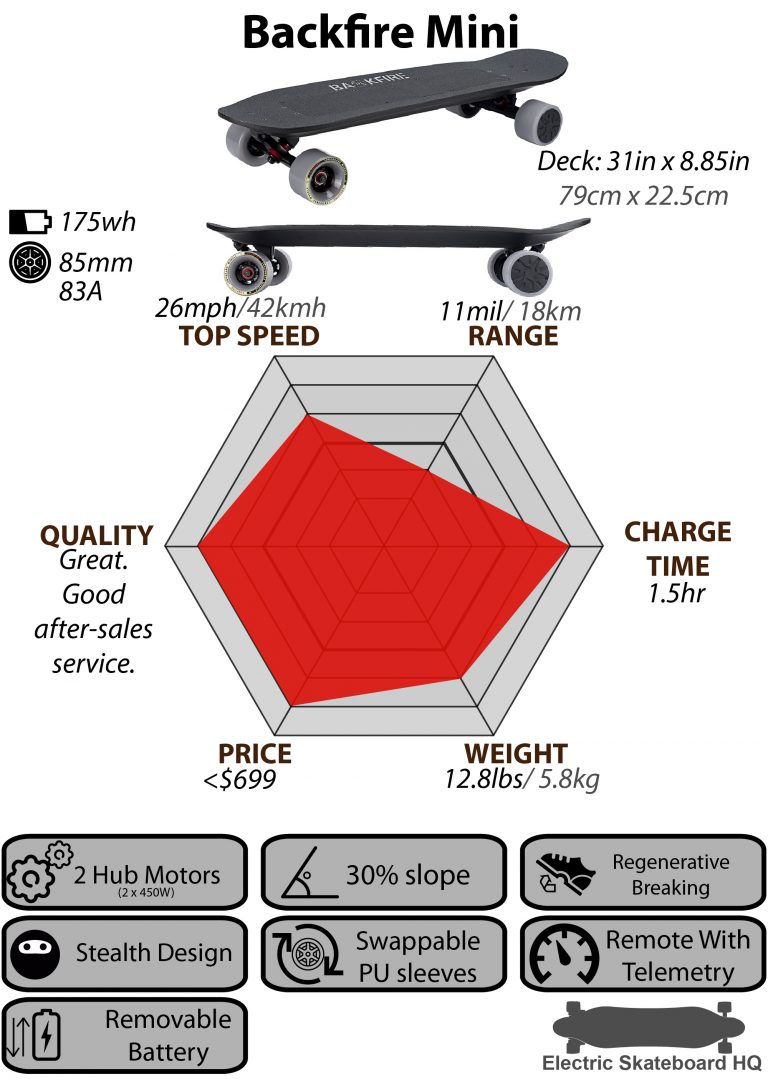 For those who have already glanced through the product page, the main selling point of Backfire Mini is pretty apparent – a light portable electric short board with sleek unibody design and that is air-travel friendly, by allowing the components to be easily accessible.
Appearance: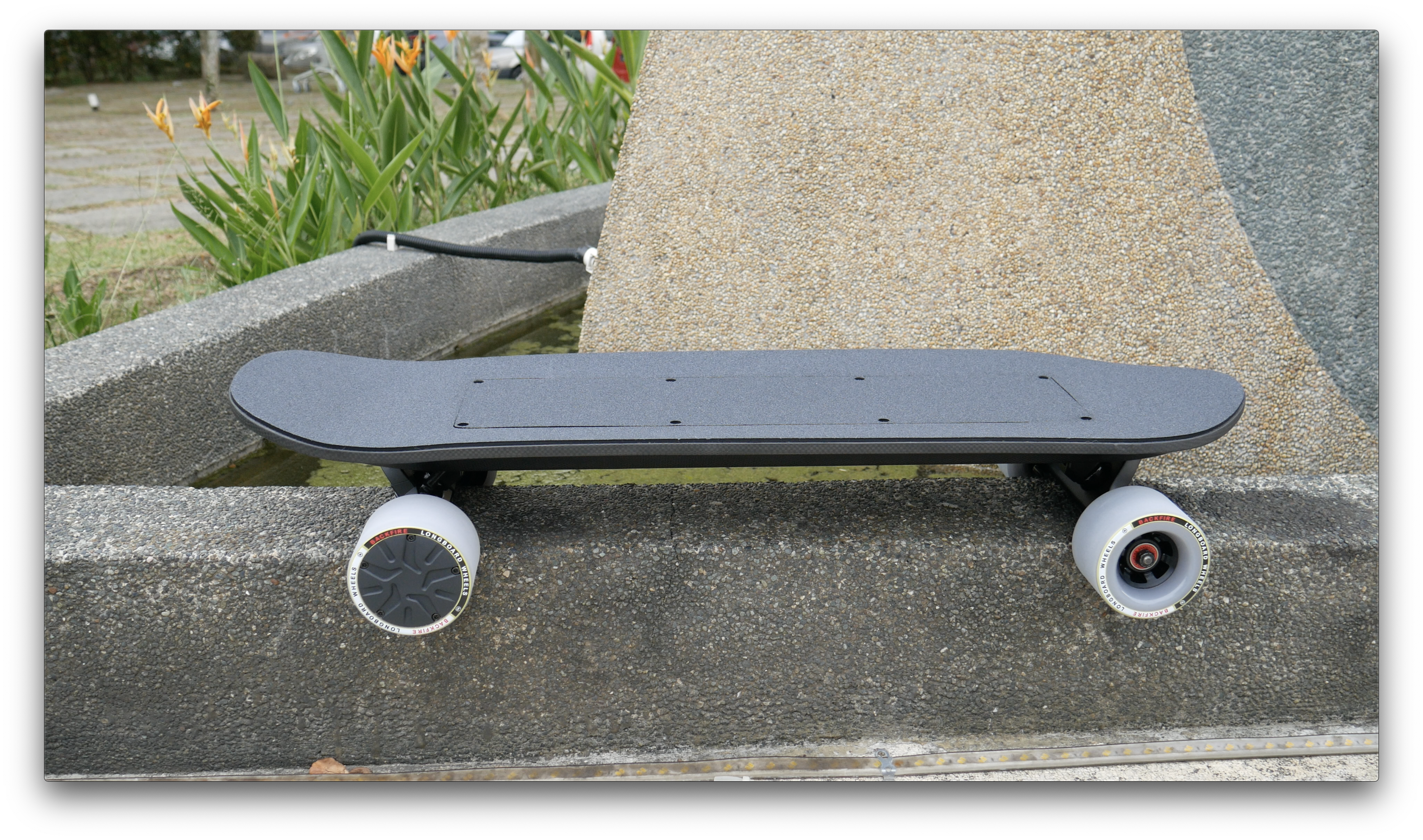 The look of the board speaks for itself. Who doesn't like a full-black carbon fiber design? On top of the tape we have a foam layer to give some marginal improvement in vibration absorption. The sleek stealthy unibody design is a sight to behold. But the design is also practical. There are 8 screws on the deck that you will need to remove to get access to the electrical components. All in all, the Backfire Mini has a very premium look, I would say even more so than a Boosted Mini.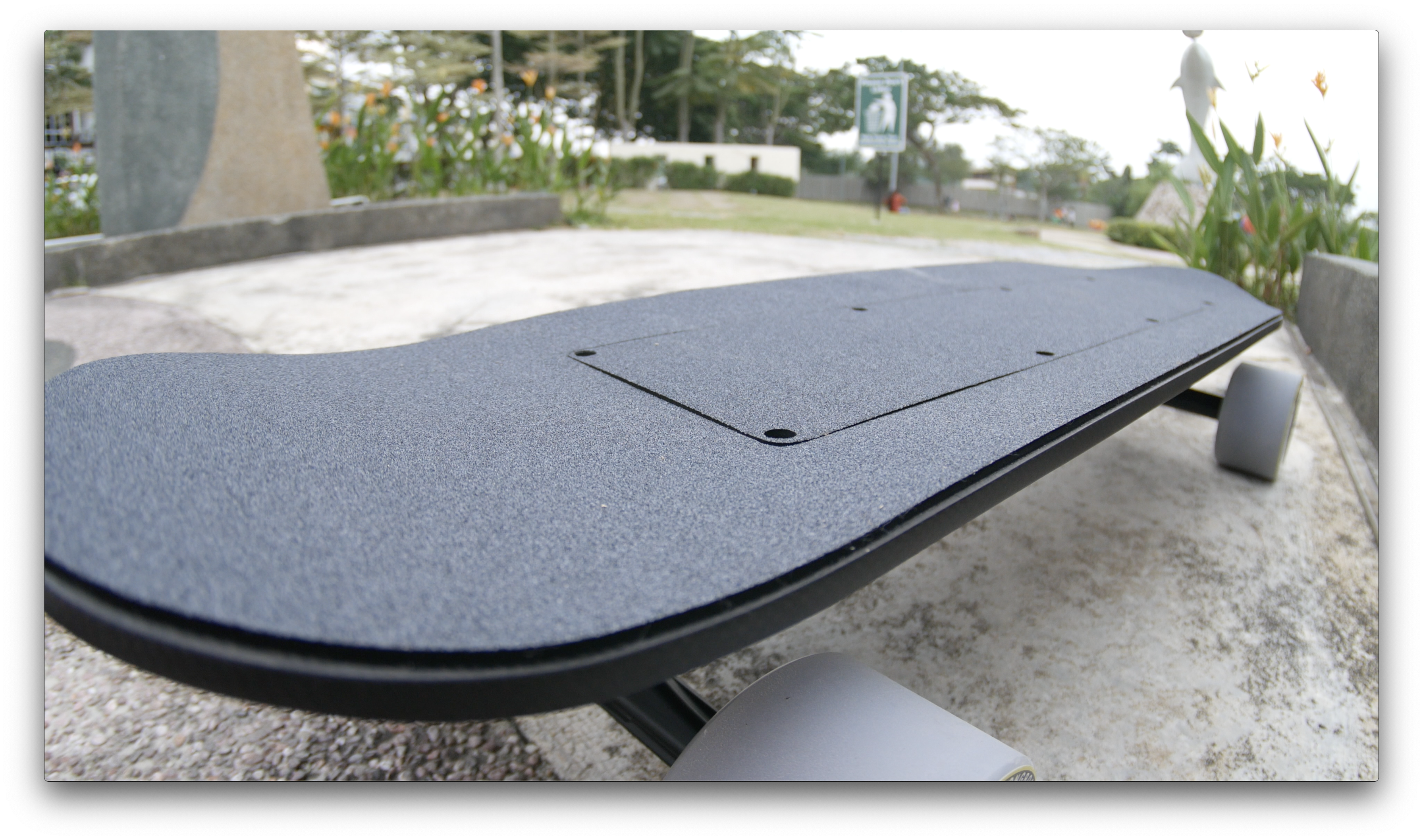 Riding Experience:
But the premium quality of the board doesn't end with the looks. On the riding experience, the Backfire Mini is a small agile board, with its 19.5" or 50cm wheelbase. It is very maneuverable and responsive. The trucks are a pair of Caliber II clones with a 180mm hanger. Besides looking similar, I think they behave with similar performance. They are easy to turn, predictable and comfortable to carve in. And for super tight turns, there is always the kicktails for you to use.
The carbon fiber deck, as expected, is not the broadest and has zero flex. Even so, it is pretty comfortable to ride on and I especially love the nice concave on it. The foam below the grip tape also helped add to the grip, keeping my feet in place. The foam layer was intended to help with road vibration, but in this area the help it gives is negligible.. With a stiff deck, and relatively small 85mm wheels with hub motors, the Backfire Mini is average at best in handling road vibration.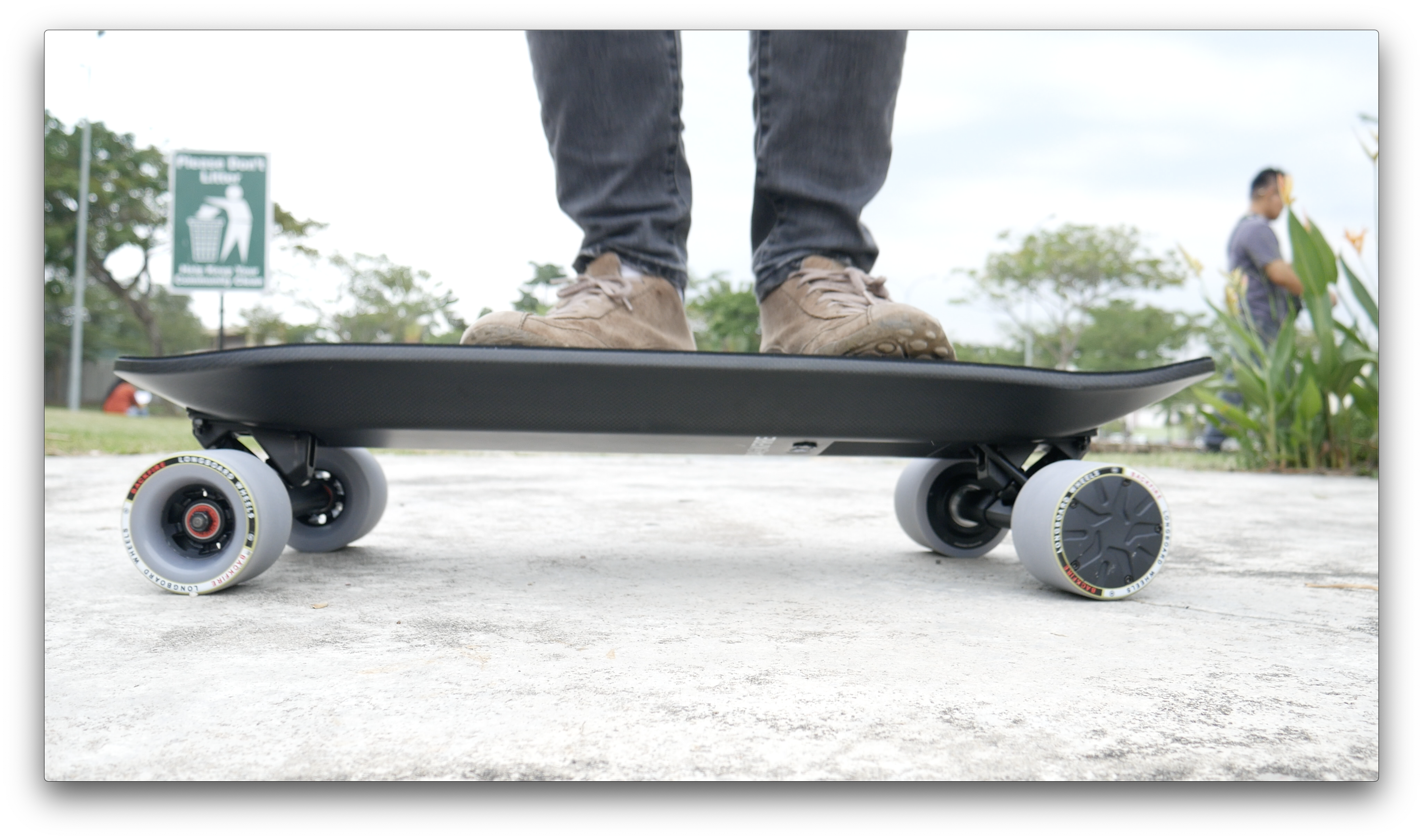 The Hobbywing ESC that Backfire Mini uses, as always, delivers perfectly smooth acceleration and braking, in all 3 ride modes that it comes with. Turbo mode still only lasts 30 seconds with a 30 second cooldown, but the transition out of Turbo mode was now much more smooth and you won't feel a sudden jolt of deceleration when the time runs out.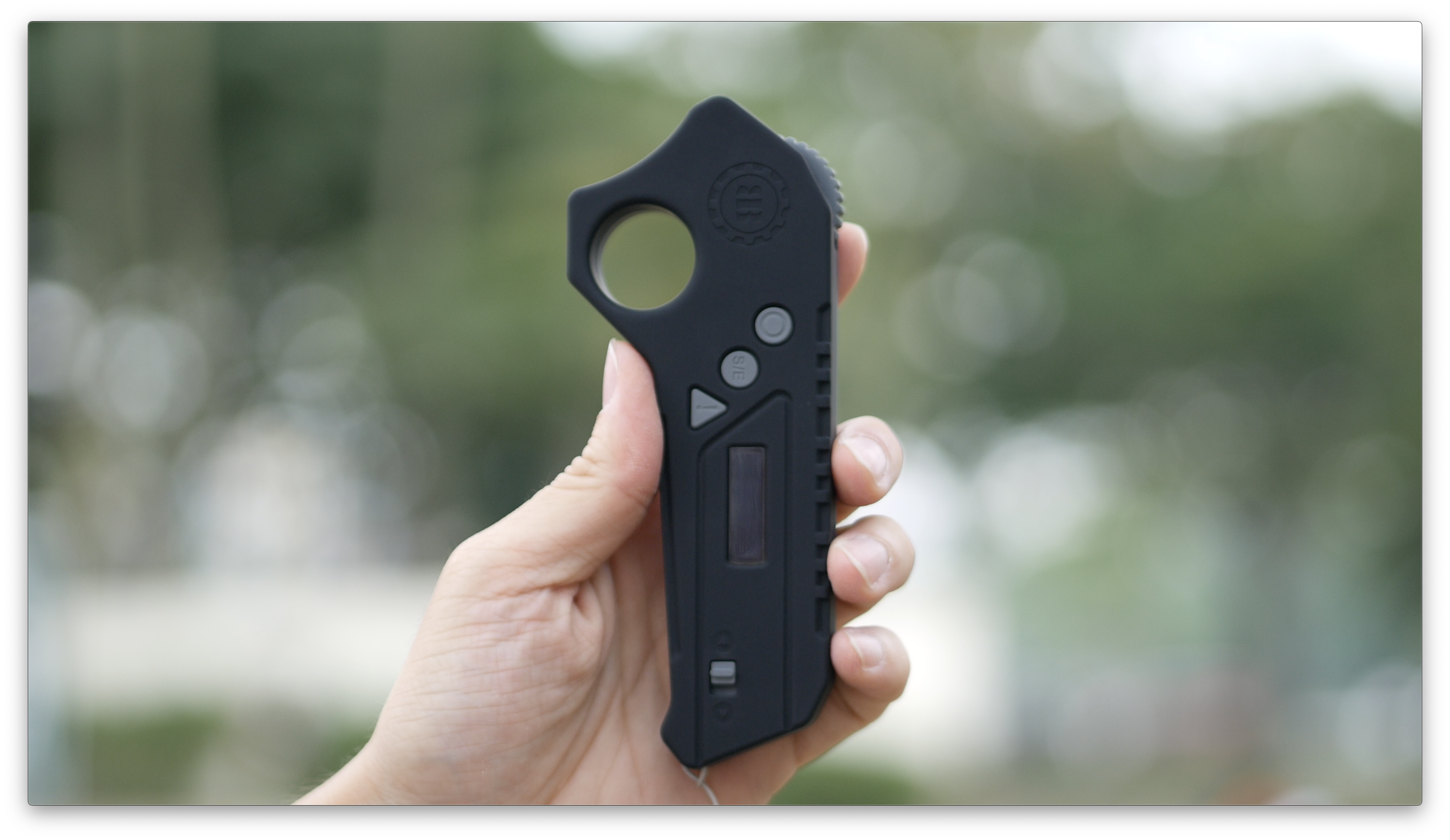 Braking on the Backfire Mini is very smooth, but it does have some flaws. For one, some people will consider the brake power to be a bit soft, but Backfire has been configuring their brakes that way all along, and I always found that a majority of riders prefer it at the current strength. However, braking strongly from high speed seems to cause the two hub wheels to brake at different strengths, right at the very end of the braking. This caused the back of the board to wobble right before it came to a complete stop. Interestingly, it only happens if I'm braking hard from higher speeds, and right before the point where it comes to a halt. After running off the board a few times, I've resorted to easing off the brake a little bit at the tail end of braking to avoid the issue.
In short, I like the way Backfire Mini rides, except the quirks in braking. Next, let's talk about the numbers.
Performance: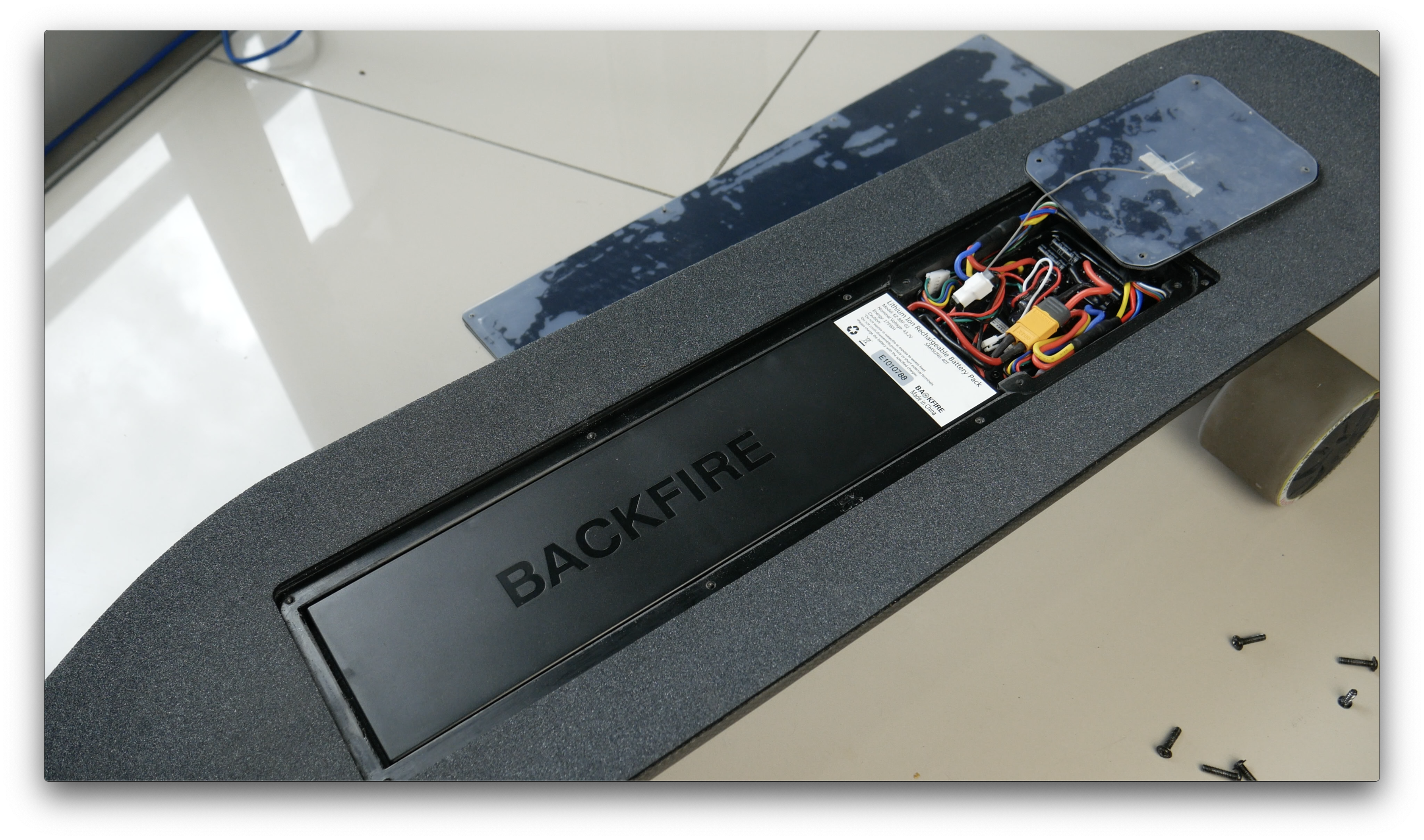 The 12s1p Samsung 40T battery pack that the Backfire Mini uses, has a promised range of up to 11 miles or 18km. The 175wh battery pack yielded me 10miles or 16km of range riding in the standard mode. That's good.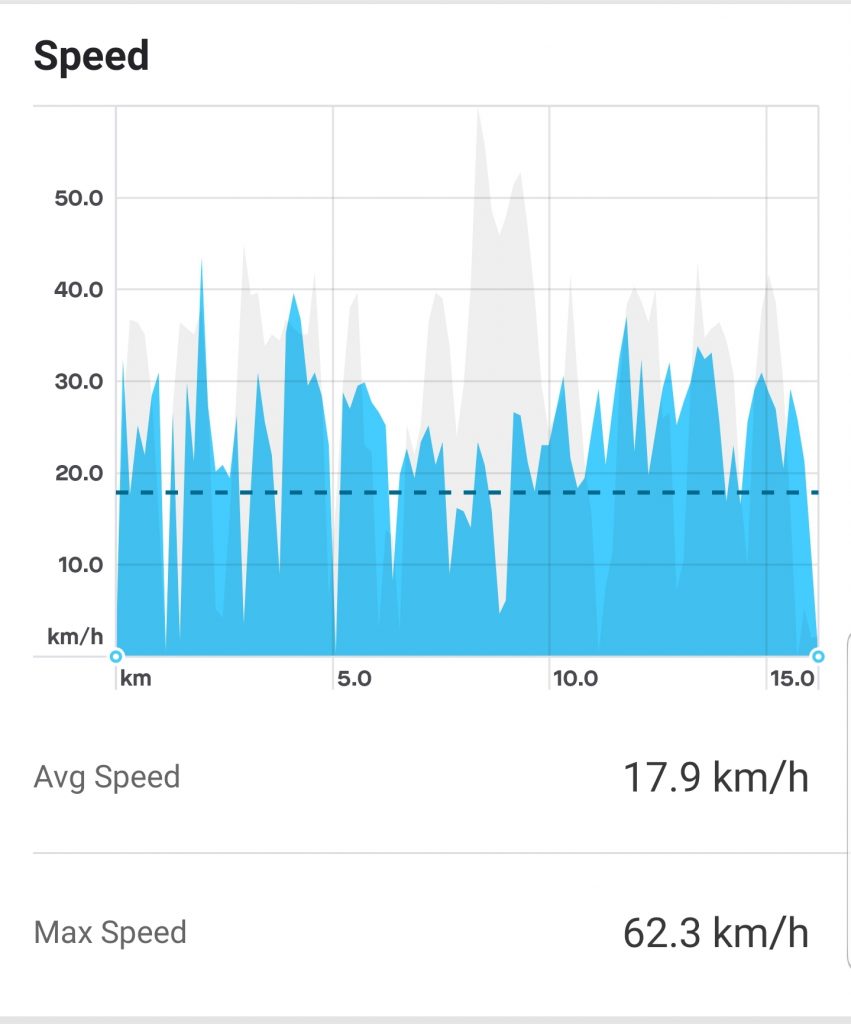 Regarding the top speed, the Backfire's Mini has dual 450W motors, and a marketed top speed of 26mph or 42kmh. And all I can say is it can at the very least hit 25mph or 40kmh, and I did so on my ride, but I was just too afraid to push it any further. If you remember my last review, on the Backfire G3 Plus, I said that I would love my board to be more powerful than I can handle? Well, the Backfire Mini is exactly that. Testing the top speed of this small beast is just too scary for me, and 17mph or 28kmh is about the maximum I can ride without feeling tense. Being light, easily turned, and having a relatively short wheelbase means that the Backfire Mini is not something a regular person would want to ride fast on. Right?
Portability: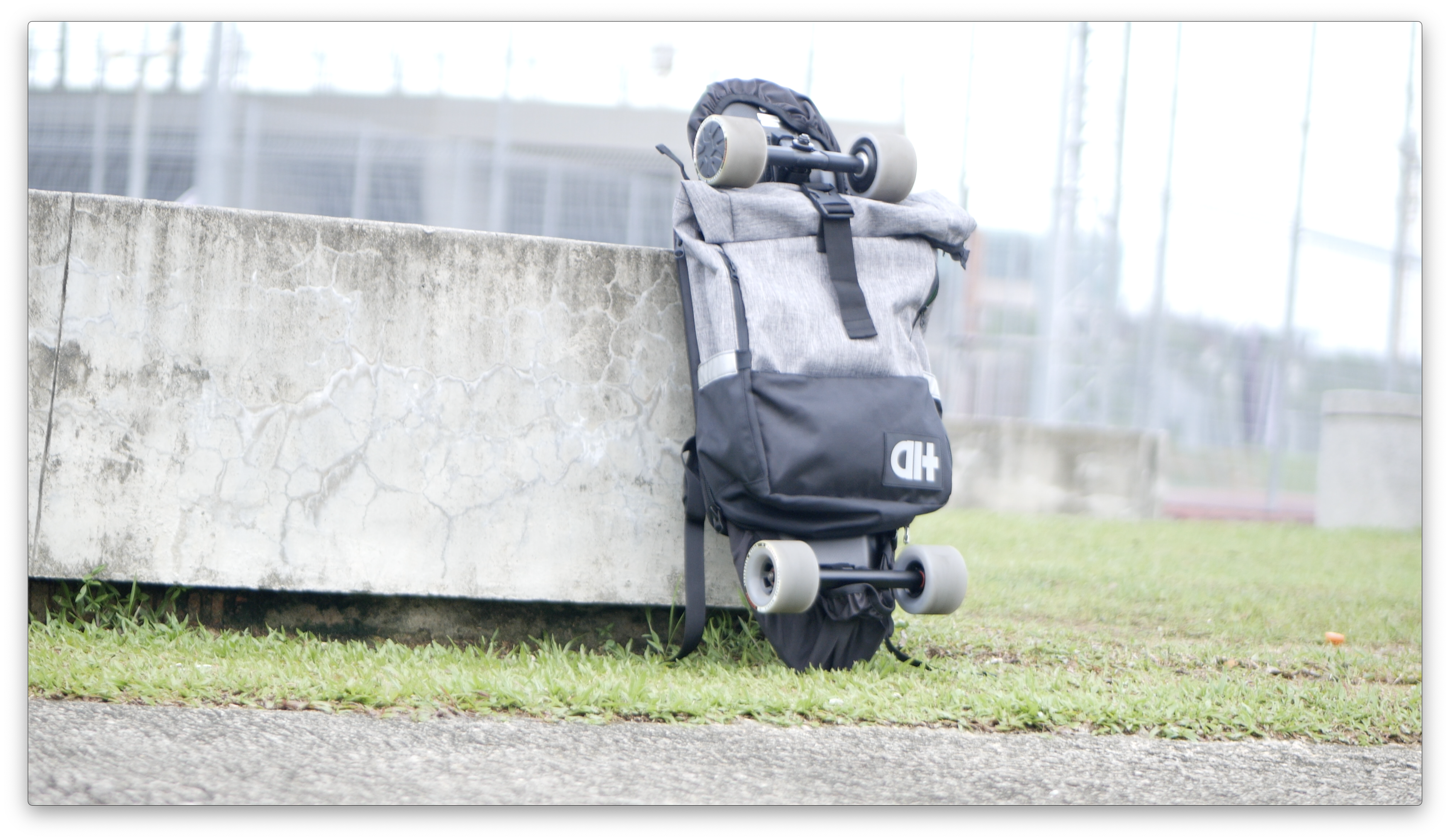 And the last number that we should talk about would be the weight. The Backfire Mini weighs only 12.8lbs or 5.8kg, making it pretty friendly to carry around, especially if you have a well-designed backpack to carry it around in.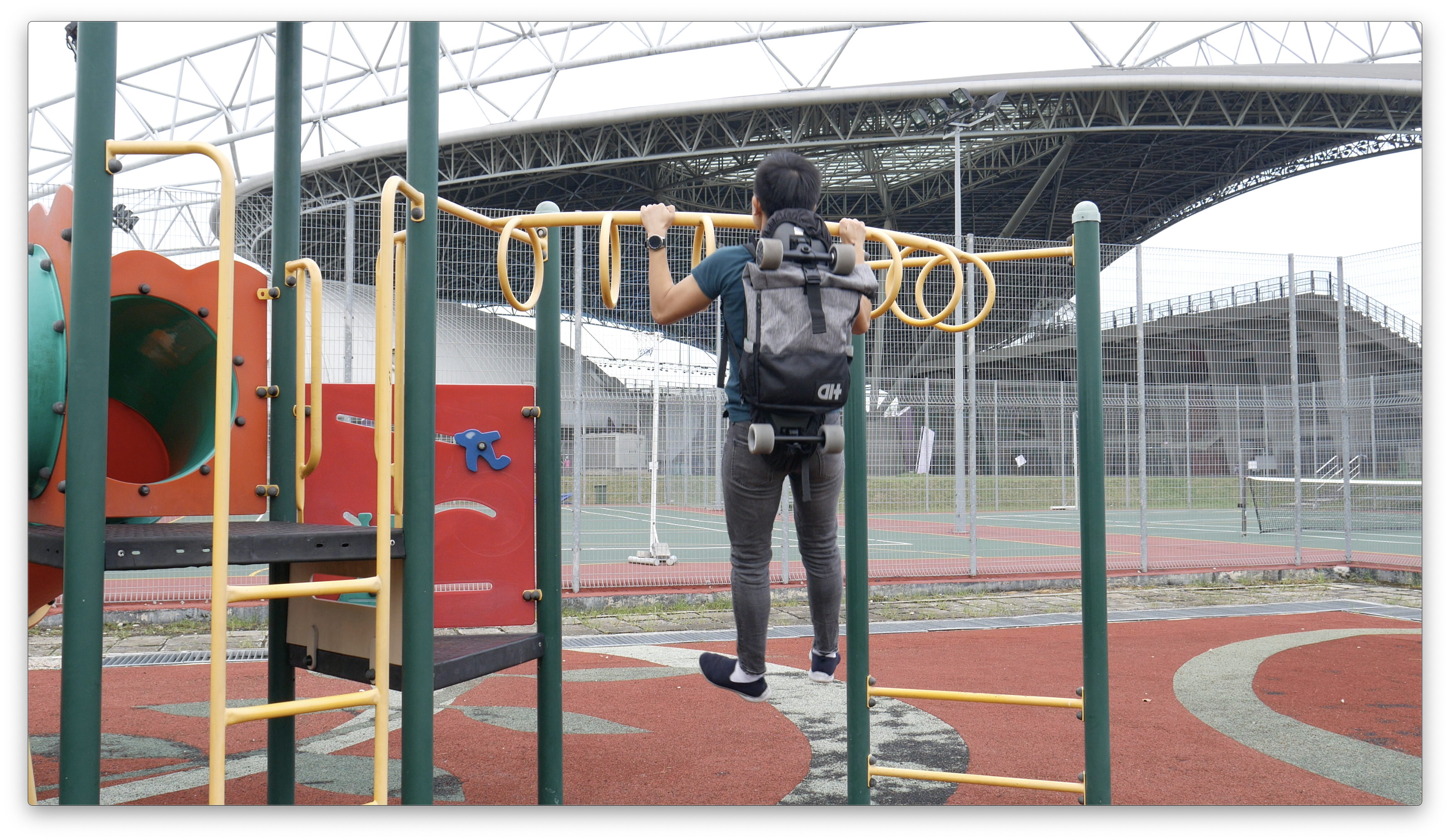 Be warned:
Before we finish up, I think it is important to mention that the Backfire Mini is not waterproof, or even weatherproof. Built-in electronic compartments with top access are always at risk to become a water bucket when it rains, and my simple lab experiment shows that the risk of water getting in is quite high.
Verdict: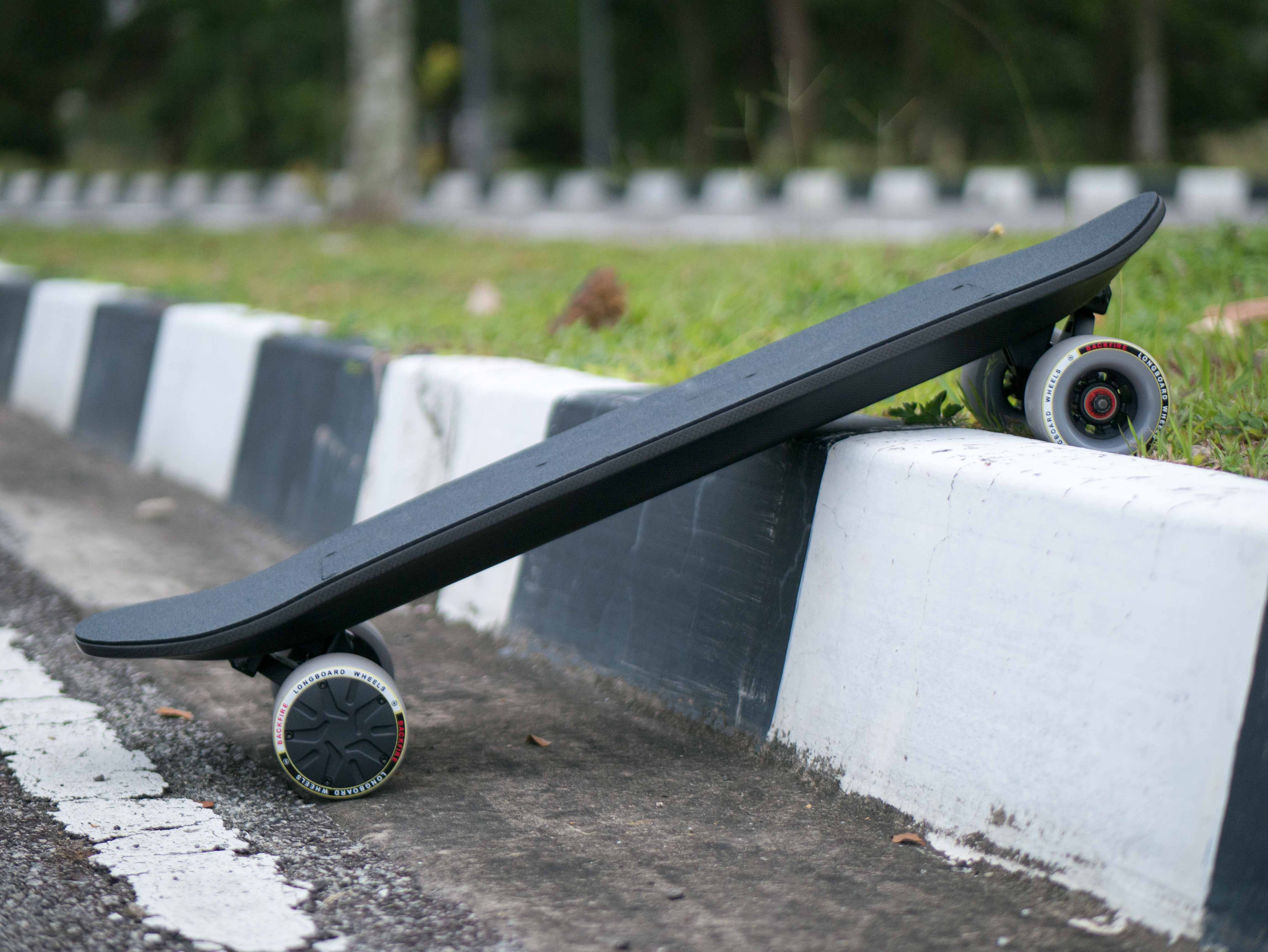 So, what's the verdict? Well, the Backfire Mini is pretty great! It looks nice and performs well as an agile shortboard. It has acceptable numbers, and for its size it is stronger than you will ever need. As for the downsides of the Mini, it's not the most stable board at high speed, it is pretty uncomfortable on poor roads and is not at all weatherproof.
While I couldn't ride fast on the Backfire Mini, and therefore I wouldn't pick it for a group ride; I haven't tried a shortboard that works better than the Backfire Mini as a travel board or for city commutes. The design, the weight, and the control just are perfect for that. Plus, for places that are not the most welcoming to eskate, a stealth design goes a long way.
If you are interested in buying a Backfire board, be sure to check out our affiliate discount link here and uses code: "ESKATEHQ" during check out.
It will help you get a small monetary discount and helps us out too. On top of that, you'll be tagged as an Electric Skateboard HQ customer and probably be treated better.