Follow the discussion on Reddit here
Throwback To Yesteryear
When I last reviewed the Unlimited kit, Unlimited had just started shipping to their Kickstarter backers, the software was still in the early stages, and there were still some issues left to be worked out. Even then, however, Unlimited had the foundations of a good hub drivetrain. The only gripes I really had at the time were related to the software and the urethane quality. Everything else was fairly solid.
That's why I was so happy when I saw that Unlimited had partnered up with Loaded, maker of some of the world's most popular skate decks, parent company of Orangatang, maker of some of the world's most popular wheels and bushings, and worldwide distributor of Paris trucks. From a business perspective, they now officially function as one entity. Unlimited providing the drivetrain, and Loaded providing the rest of the skate hardware. This is exciting in many ways. Finally, a nice, proven drivetrain comes with nice, proven skate hardware.
When Loaded reached out and asked me to review their new collaboration product, of course I said yes. So… how is it you ask
As it turns out, pretty nice.
Quality Hardware Is The First Key
The problem with a lot of eskate completes is that in order to keep the price low, most of them will skimp on parts that "work" and so are deemed "good enough". This usually means low quality trucks, urethane, and bushings. The result is suffering ride quality and handling. This has been a big sticking point for me in past reviews, and in my opinion, is the difference between "motorized four wheel platform" and "electronic skateboard".
I'm happy to report that this complete does not suffer from such issues. Loaded had sent me the Icarus Race Complete for this review, which they say is "furious fast fun", and I can certainly attest to it being fast and fun. The deck feels great under the feet, although a bit too stiff for me in terms of flex. Loaded sent me the Flex 1 version instead of the Flex 2 which would be tailored more to my weight. That being said, I could still pump and carve fairly well if I really put my whole weight into it. The complete ships with Flex 1, but here's what Loaded has to say about that:
Loaded uses the flex 1 Icarus as standard equipment on the Unlimited completes to enhance stability at higher speeds. That said, keep in mind that you can always create your own custom electric complete by purchasing a deck and trucks of your choice from loadedboards.com and an Unlimited kit from unlimitedxloadedusa.com. They'll ship to you separately, and you can assemble the complete yourself using a standard skate tool.
The wheels, Caguamas cast with Otang's trademark Happy Thane, provide great grip and rebound. I like these wheels a lot. What's notable here is that Happy Thane is now used on the hub motors as well, greatly improving the ride from the previous sleeve thane that Unlimited used. Double barrel Nipples bushings were used on the race complete that I received, which, while fairly stiff, complements the other hardware configuration well. You won't be getting speed wobbles anytime soon from this setup.
Good hardware working together is really key for a good skate setup, and that's exactly what's happened here. I'm as pleased as two peas in a pod.
Quality Electronics Is The Second Key
As I mentioned before, Unlimited's software was a bit buggy the last time I tested the drivetrain. Bugs such as not remembering my settings on the remote and weird motor vibrations behavior when I pressed the cruise control button sort of put me on edge about the other potential bugs that may be present in critical areas, such as driving the motors themselves. Mind you, I never encountered such major issues, but the possibility of issues happening was always in the back of my mind.
This time around, those issues seem to have been fixed. Everything seems to work much smoother, there were no more weird behaviors, settings seem to save properly, and general motor control felt more refined. Both the cruise control button (marked "A") and the Nitro button (marked "B") worked seemingly as intended and had no unexpected behaviors. One thing to keep in mind is that the Unlimited drivetrain is unsensored. This means that you must kick off to start instead of simply throttling from a standstill. You don't have to kick particularly hard, but this might be strange for people who are not familiar with kicking off on a board.
Unlimited and Mellow (another company producing a similar bolt on drivetrain) both told me separately that they did this for "beginner safety" when I asked a while ago, but honestly I think it's this way for a more practical reason. I think it's because less things can go wrong. Adding sensors means adding three sensors and a temperature sensor in the motor, and six sensor wires in the main motor cable. More parts increase the chances of things going wrong as well as parts costs, so they just didn't do it. If you really don't like having to kick off, this might be a dealbreaker. However, I will say I didn't really have any problems and I really heavily prefer having sensors.
Aside from the software, the rest of the setup is really ingenious. I really like the modular approach Unlimited took for building their drivetrain. The Unlimited drivetrain itself can mount on any board, and the hub motors on any truck. The hub motors use a friction fit mounting system that's proven to be fairly reliable so far. Unlimited includes instructions and a torque wrench in the box, and warns that you should always use the torque wrench to tighten the hub motors whenever switching trucks, as the motors do have to be torqued down really hard for them to not slip.
Each battery module that comes with the Unlimited kit is 10S1P with its own BMS. They're capable of charging at up to 3A, and are linked parallel when more than one battery module is used at a time. The custom MESC ESCs are modular as well and linked by CANbus for a truly LEGO-like system. This is definitely the most flexible modular system for eskate I've seen yet, and as an added bonus they're IP65 rated and airline compliant.
The remote is small and ergonomic, fitting into my smaller hand nicely. It sports an OLED display that clearly shows convenient statistics such as ride mode, current speed, and battery level. There're a set of menus you can access that allow you to change some basic settings such as ride mode and displayed units. I think a lot of eskate manufacturers don't focus on the remote enough, and I'm glad Unlimited has taken the remote into consideration.
A note about the firmware I was running though, Loaded informed me when they sent me the review unit that my unit would be running a pre-release firmware. Current retail units are running a soft locked version of the firmware with a lower top speed. This is due to an issue Unlimited had found with their software at the highest speeds. My unit with the pre-release firmware has the top speed unlocked, so I tested it with this in mind. At the time of review, this pre-release firmware is said to be released "soon".
Now that we've got the good stuff out of the way
Let's talk about some not so good stuff. I think this is mostly on the drivetrain side, as the actual skate hardware is solid. There are some parts of the Unlimited software that still feels just a little bit underbaked. For example, when you plug the board into charge, the drivetrain turns on to light up the battery indicator which is a big bright Unlimited logo on each battery that also acts as the on/off button. That's totally fine and actually pretty convenient as it allows you to check your battery from the remote as well. What's not so fine is the fact that on a couple occasions after charging up to full and unplugging the charger, the drivetrain didn't actually turn off automatically after some time as one would expect. The first time this happened, I didn't realize that it was staying on and left it overnight, resulting in a 20% drain in the battery.
The accompanying app is also buggy. I had some trouble attempting to connect the drivetrain with the app. However, this may be due to the fact that I'm running a pre-release firmware. Once I got connected however, it was mostly smooth sailing. Also NB: The standard "Pro" speed mode does not actually allow for max acceleration of braking. To unlock it you have to use the app and unlock it in the custom User mode.
There are other very minor issues I have as well, mostly involving the copy displayed in the remote menus and settings. Inconsistent capitalization, punctuation, etc. Again, not major, just details that would really increase the level of polish if improved upon.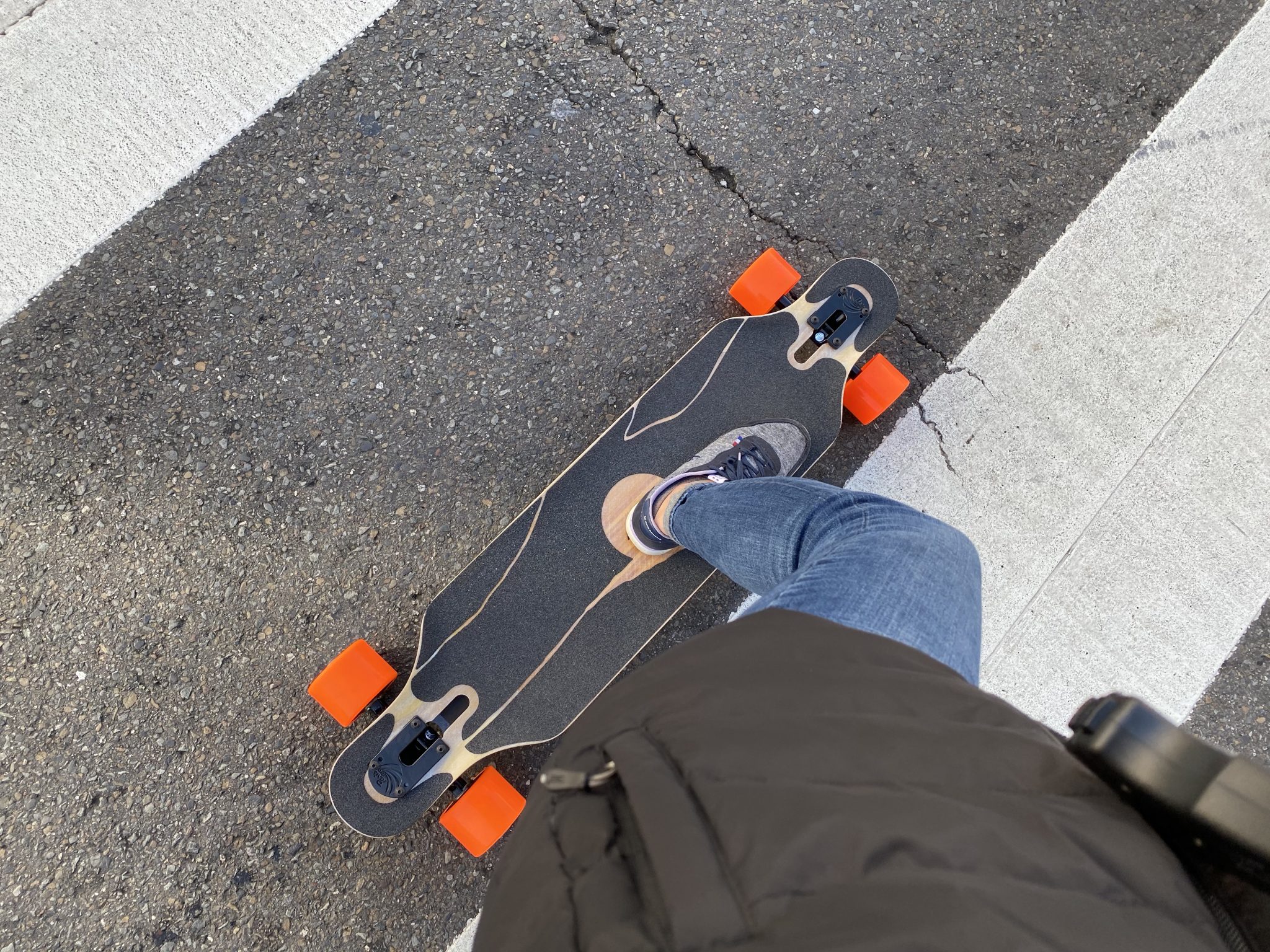 All in all,
I think this is a great piece of kit. Fairly minor issues aside, Loaded and Unlimited have a winner. This setup has enough old school skate DNA to satisfy the skaters while having enough get up and go to appease eskaters as well. That's not an easy balance to strike, but I'm glad somebody's been able to pull it off.