Inboard M1 has a vision: To become the ultimate urban transporter.
At $1399 the M1 place itself in the premium category. However, its all around good speed, good range, good power & great design justified the price.
By consensus, it provides the smoothest ride of any electric skateboard, with smooth acceleration, smooth brake and smooth carving.
Waterproof, easily swappable battery and LED front-back light are important features that put it over the top.
One question remaining is, how good is Inboard will be with their customer service though?
Time will tell.
AKA: The beautiful board
Price: $1399
Built Quality: Awesome
Customer service: Yet to be tested
Size: Longboard (37″[L] x 10.25″[W]

/ 94cm[L] x 26cm[W]

)
Top Speed: Crazy! (24mph/ 38.6kmh).
Acceleration is slower than belt motor boards like the likes of Boosted or Evolve.
Range: Good Enough. (7-10miles

/ 11-16km

)
Charge time: Short! (90min)
Incline: Good. (15%

/ 8.53°

)
Weight: Somewhat Heavy (14.5 lbs

/ 6.57kg

)
Battery: Easily Swappable battery! (43.2v / 97 Wh / Lithium-Ion)
We are supposed to be able to bring battery that are <99wh on an airplane.
Flying guide
Motor: Hub Motor.

No resistance to kick push & No belt to torn!

Brake: Electronic Regenerative braking.
Wheel Size: 79mm
Remote: Cool & Good
Companion app: Yes
Waterproof: 

Yes!
Issues:

Nothing so far!

Unique Strength:

Easily swappable battery! (15 secs is all it takes!)
Most kickable electric skateboard as the hub motor is built in!
Sleek and stealthy design
LED lights in-front & behind the board. (You can switch on & off)
My research conclusion: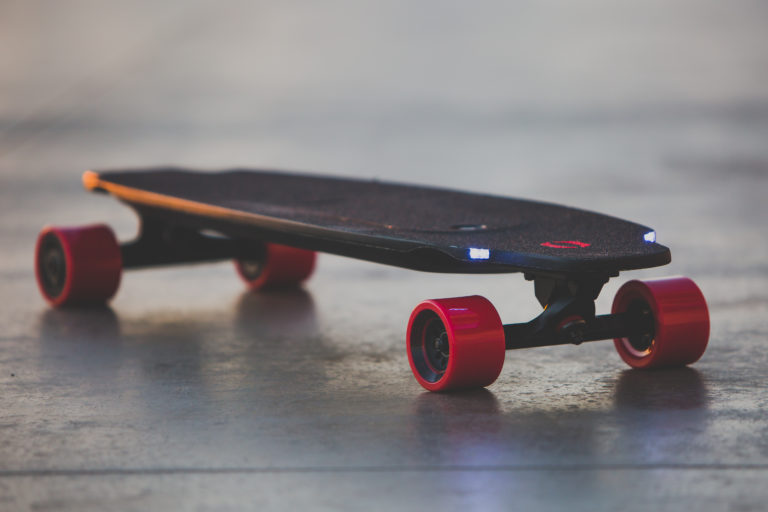 Oh my god! Look at how sexy this board is!
This newcomer has by far the most appealing design of all boards!
Besides being all around great: great speed, great power, good range & awesome board & remote design,
Inboard M1 set itself further from the pack by offering many unique awesome features like: easily swappable battery, waterproof & head tail-light.
Aim to become the best urban transporter, I think Inboard M1 is just that.
This is the Boosted Board killer for me.
Important Stats:
The top speed can kill you. (24mph/ 38.6kmh)
The range is good enough. (7-10miles/ 11-16km)
It can handle any parking lot ramp. (15%/ 8.53°)
It weighs like a heavy grocery bag. (14.5 lbs/ 6.57kg)

Inboard is a newcomer in this market!
After multiple shipment delay, Inboard's first product has finally arrived.
Inboard has a vision: To revolutionize urban commute, as they presented in a rather cringy way in their Shark Tank pitch.
That being said, being a first gen product, Inboard M1 is untested and unproven.
We still don't know how M1 will stand the test of time, and how Inboard will handle product issues, complaints and how they handle their after-sales service.
Many many useful and practical features:
I love swappable battery.
It means I can:
1) Go further by bring along multiple battery
2) Easily switch to a new battery if it the old one loss charges with time
3) When flying, check in the board and carry on the battery.
4) Upgrade to a better battery when better tech comes along.
I think waterproof is important!
Boosted board use to have battery problem because water got into the board causing short circuit.
Its not that I want to use my skateboard as a surf board or ride when it pours (maybe when I'll ride when it drizzles, slowly =P) but I like having a peace of mind!
I love the headlight and tail-light
It doesn't help you see but it certainly helps you to be seen! Safety first!
"Hold ride trigger and tap power button to turn the LEDs on or off"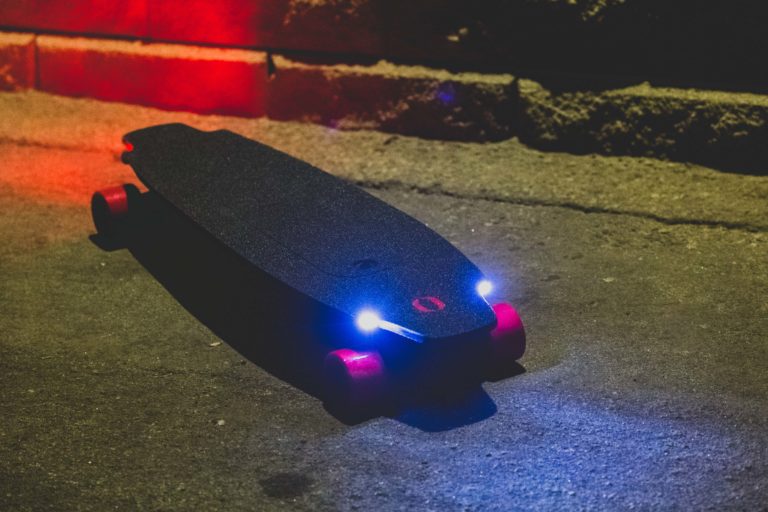 It's modular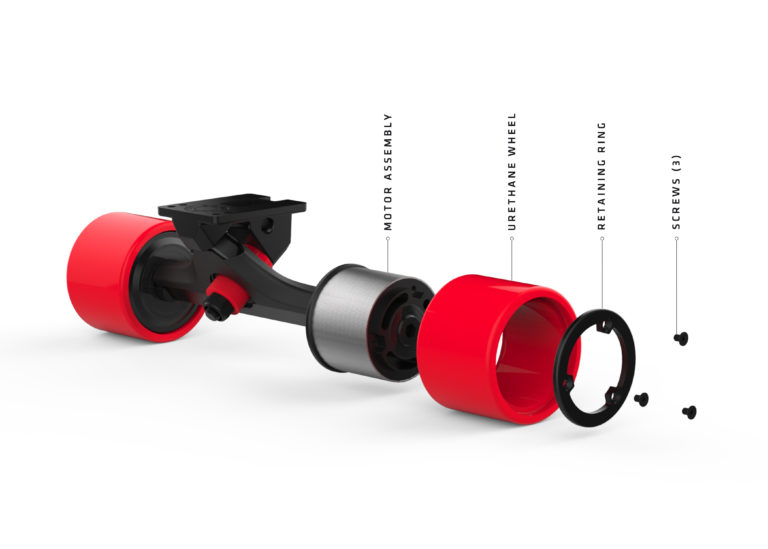 Battery is swappable.
Wheel is swappable.
I think it will be easier to repair on top of being future proof.
More on that here(youtube).
Smoothest ride of all
Many who rode the board felt it carves better than the likes of Boosted & Evolved perhaps because it is using the typical skateboard wheel and has a flexible and smooth deck?
The acceleration is gentle and so was the brake.
The remote was also being said to be the best in design.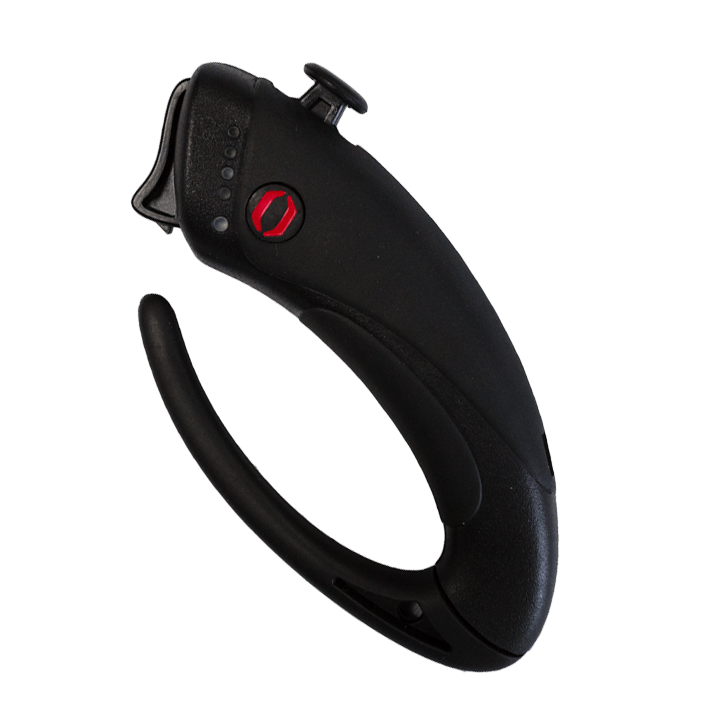 "Ergonomic and never drops signals."
This is the smoothest on board experiences any electric skateboard has to offer.
Setting a standard for future
Swappable battery , hub motor (NO MORE BELTS TO TORN!), modular part, waterproof- These are the features that I hope all of the future electric skateboard will adopt.
Hopefully the M1 will lead the others to that future!
Final Word:
At $1399, Inboard M1 is among the most premium board in the market.
It is still new hence rather untested.
M1 trades raw power of the Boosted Board & Evolve GT to a smooth and comfortable ride without compromising that much on speed.
It was design to be the best urban transporter and I say it achieves just that.
Guys.. guys! this is my dream board right here!
But should we wait and let this 1st gen product get tested by time or should we pull the trigger to buy now?
Get it at: Inboard Homepage