Foreword and Introductions
As we all certainly know, Meepo has been the most dominant force in the budget eskate segment ever since their founding in 2017.
While they are practically unrivaled in the budget segment, their successes are nearly confined to the sub $500 price range.
Meepo tried to break free from this price confinement, when they announced Meepo NLS on January 2019 after lots of teaser and marketing effort leading up to it.
For Meepo, there is a lot of weight riding on the success of NLS.
Though they had sold higher-priced AWD GT to torque-addict, the success of NLS means a lot more to Meepo as it is the product that they designed for mass appeal – and it might just decide if they can break out from the entry-budget level into a higher priced market.
With the strategic importance of the product, a lot of effort is put into the design of the product.
Comparing to all other lines of Meepo products, NLS truly separates itself from looks to rides. Those differences will become evident as we walk you through the board.
Meepo NLS Review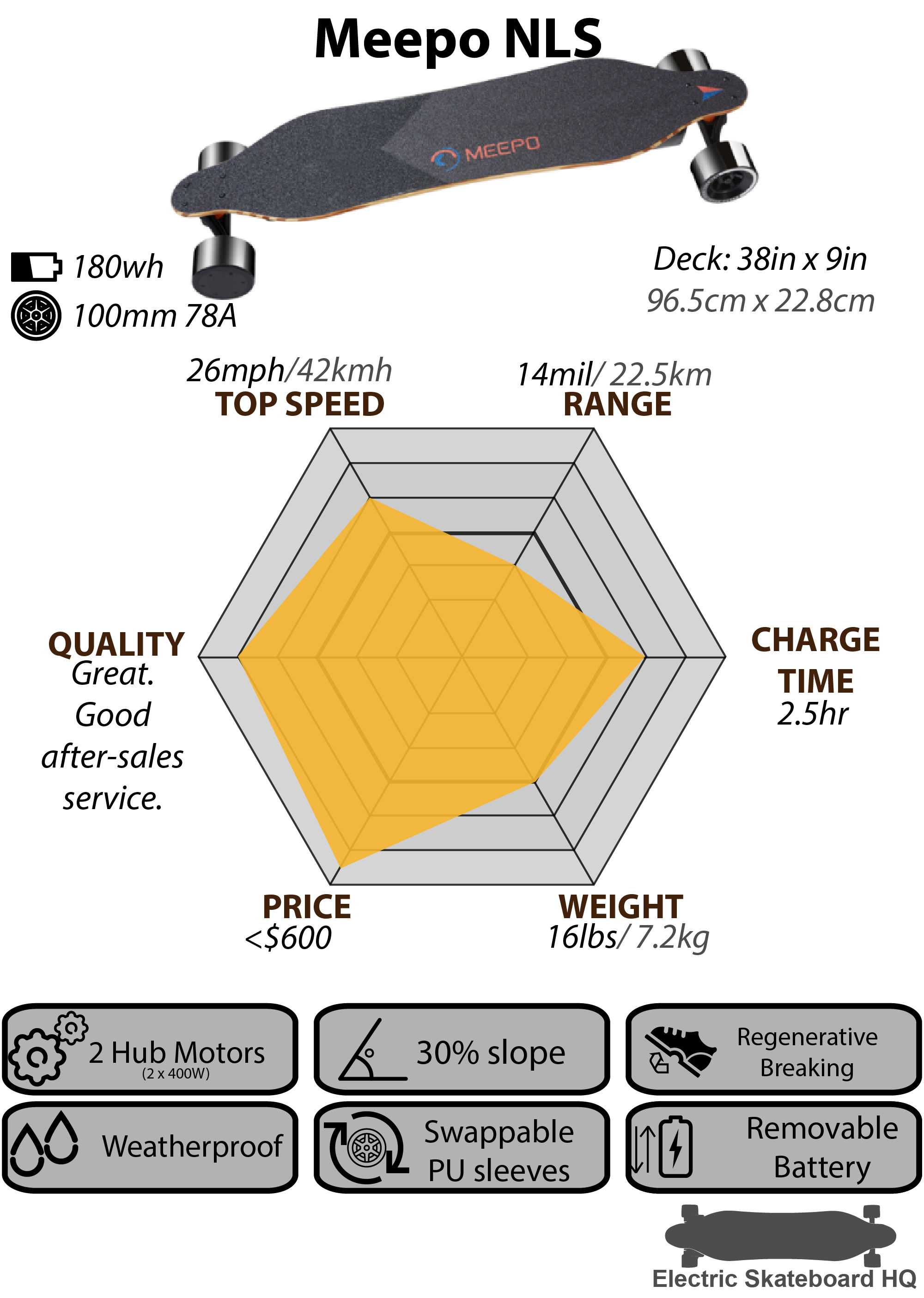 This the marketed specs of Meepo NLS:
Top Speed: 26mph (42kmh)
Range: 14mil (22.5km)
Weight: 16lbs (7.2kg)
Charge Time: 2.5hrs
Features: 2 hub motors, weatherproof, Regenerative braking, handles up to 30% slope.
Price: 599USD with shipping included.
Build Quality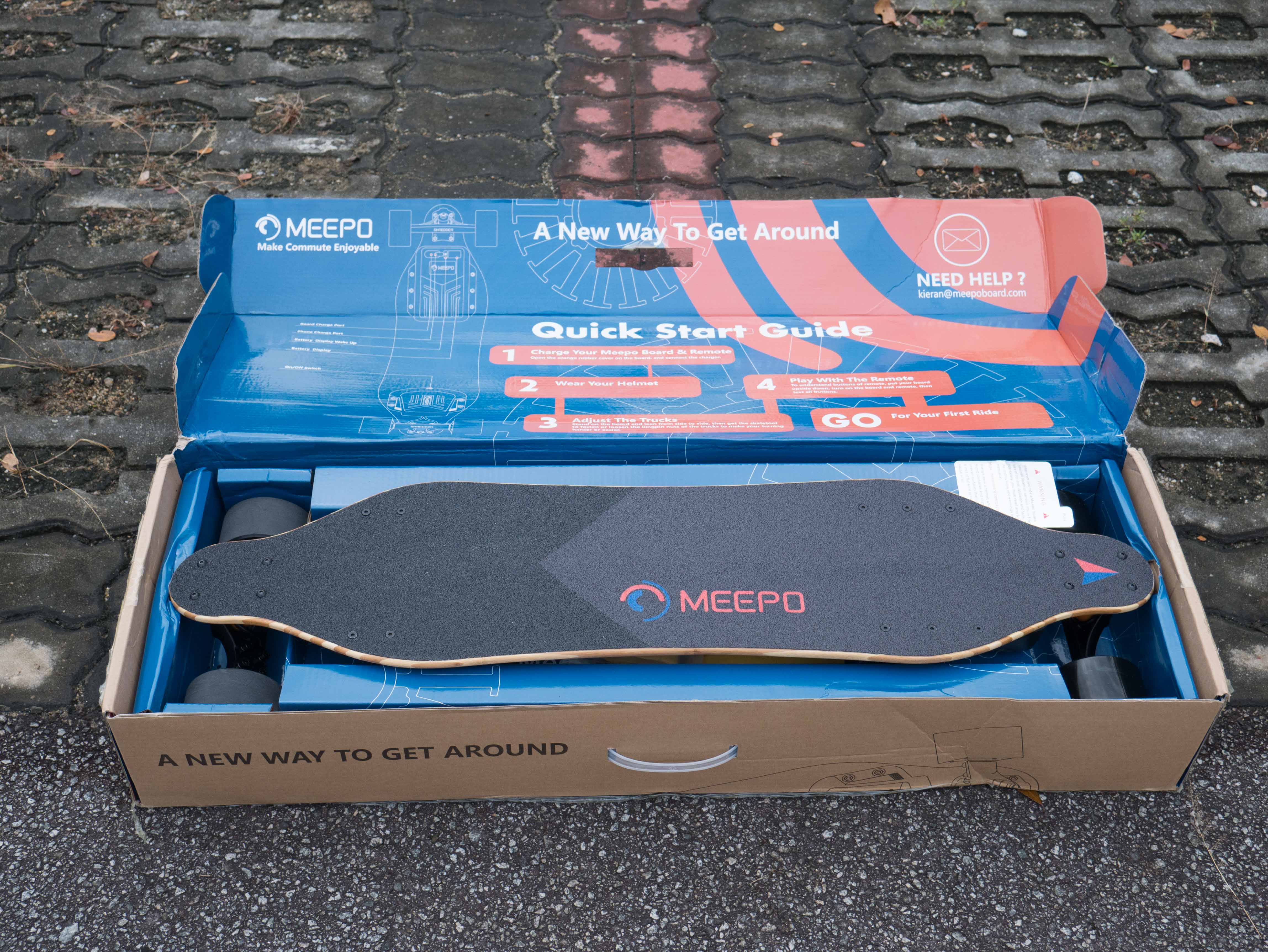 Deck
The most distinctive features that separate Meepo NLS with other board has to be the deck.
Meepo set out to create a super flexible deck, and the bamboo + fiberglass deck deliver just that. You will instantly notice the flex and bounciness when you set your foot on it.
If you are a big fan of the flexible deck, this will suit your taste. It makes a fun ride.
Although, Meepo has chosen to run the cable along the top side of the deck underneath the grip tape. It does not affect the ride in anyways, but you can argue that it is a bit of an eyesore – a blemish on an otherwise excellent and polish product.
Component Enclosures and ESC
Gone are the generic enclosure as Meepo uses a new plastic enclosure. It's pretty and with a heat sink attached.
The best part about this enclosure is the button to show battery percentage; a godsend when you are charging the board.
There is a USB port too, but I bet most of us wouldn't be using our 17lbs Eskate as portable power bank any time soon.
Wheels
Meepo NLS goes experimental by using huge 100mm wheels.
The front wheel is 78A, and they felt pretty good.
The 100mm hub motors have swappable urethane and are not yet listed for sale on the Meepo website.
I clearly can't comment on the long-term durability of the hub, but what I do know is that if you are unlucky, or dumb enough to ride on sharp stones, it can only take the first acceleration and some bad luck to chipped the hub.
I peel that piece off and continue on, and so far, the hub sleeves have held up well.
Trucks
For the trucks, the Meepo NLS uses the Shredder trucks, which is a clone of Bear Kodiak trucks. (Of course, it's not a forged truck like the bears truck is.)
I use to said that Shredder truck is my favorite budget truck, and that still holds true. It allows the use of tall barrel bushing. I find even in stock setting, Shredder truck gave a better return to center and are more springy than any non-branded trucks.
In fact, I would consider swapping all my budget board electric skateboard to shredder truck, that the extent of how much I like it.
Capability
Range
Meepo NLS is rocking a 10s2p 25R battery.
That's a 5.0AH 180Wh battery pack that set to give you 14 miles or 22.5km of range. My range test falls abit short of the mark and just gets me to 11.8miles or 19km.
Good thing is, there is minimum voltage sag and the board stays fun until almost the very end.
PS: As a rule of thumb in estimating range, use the formula -> watt hour/10 = expected range in km.
*I weigh around 165lbs (75kg) and was riding in a mostly flat area in a warm climate.
Speed
Hitting the marketed top speed 26mph/42kmh is not a problem. My top speed on the sports tracker shows a high speed of 27mph (43.6kmh).
I was not comfortable riding at top speed on NLS, so testing the high speed is a bit of a challenge. I will get into that later.
Torque
The Meepo NLS's uses dual 400W hub motors.
Generally, the bigger the wheel, the weaker the torque. NLS can handle most inclines during our standard stop-and-go test; it still passes our standards at a 15% graded incline.
Riding Experience:
Acceleration and Deceleration
The Meepo NLS has four speed modes:
Beginner mode with a top speed of 10mph/16kmh
Eco mode with a top speed of 15mph/ 25kmh
Expert mode with a top speed of 25mph/ 40kmh
Pro mode with a top speed of 25mph/ 40kmh
While some Meepo line-up such as the Classic has begun to switch over to Hobbywing ESC, Meepo NLS still uses the ubiquitous 'LingYi' Electronic Speed Controller that can also be found on the Yeeplay M2s, Panther X3S etc.
The behavior of 'LingYi' ESC is pretty well known, and it has received a minor update as of recent.
Let's talk about the acceleration first.
The acceleration of the first two modes is pretty gentle, catering to the beginners and for those who like casual riding.
The majority of riders will spend their time in the 3rd expert mode. It unlocks the top speed of 25mph(40kmh) but will only slowly accelerate up to that.
As compared to the previous versions, the expert mode seems to be toned down a bit in its aggressiveness.
The 4th pro mode is very aggressive, but yet smoother compares to the last generation. The old pro mode is not for me, too aggressive, but I am comfortable riding on the new pro mode now.
All in all, the behavior of this 'LingYi' ESC can be described as aggressive, reasonably smooth, and thrilling.
The thing I don't like about the acceleration is that there is a latency between your throttle input and the response. The acceleration feels like a wave of force that 'arrives' after you call for it with your remote.
It gives a sudden initial big push that felt 'fast' yet in a drag race; it doesn't transform to a faster pick up as the initial torque is not sustained.
Some like the thrilling start, but most don't.
How about the braking?
The unique part of this updated 'LingYi' ESC is the ability for you to adjust braking power.
I've developed a taste for strong braking recently, and Meepo's braking is where I want it to be. However, the braking curve is more abrupt, unlike the smoothness of the newest Hobbywing ESC or a VESC.
The strongest braking is really powerful, almost as if you are engaging the ABS braking system on a car. It feels like the wheel is going to stop to a slide, but it doesn't. This certainly cuts down the stopping distance.
If you are not up for strong braking, you can switch to a weaker braking mode by holding the brake and pressing on the power button.
In summary, with 'LiYing ESC' the control of Meepo NLS is, at best, a B+. It is still miles ahead of some last generation control, but with the newest generation Hobbywing ESC (those with Turbo mode) behaving outstanding in everything from torque, to smoothness, to braking, 'LiYing ESC' can't help but feeling half generation behind.
Stability & Maneuverability
Meepo NLS is fun in slow cruising. The maneuvrability is as good as expected with the use of shredder truck.
Carving on NLS is fun.
You will have less worry going through huge bumps as the 100mm wheels roll over everything. Stability however, is not a strong suit for the NLS.
100mm wheels mean you are riding pretty high off the ground. That plus a bouncy deck, soft stock bushing means the NLS felt a bit wobbly and unstable in top speed.
I don't think this is an over-the-top, top-speed board, even when 26mph (42kmh) felt too fast and unsafe on NLS. Things improved dramatically; however once swapping over to a harder and shorter bushing. As shredder bushing are extra tall (20mm) to allow trucks to lean and turn more, it adds to the instability and wobbliness in high speed.
Changing those back to a shorter Orangatang Nipple works wonder for me and allows me to ride comfortably at top speed. I strongly suggest everyone do the same unless you weigh like a feather.
Vibration
The best-selling point for Meepo NLS is undoubtedly its ability to handle poor roads. 100mm wheels with thick urethane sleeves plus flexy deck create an amazing vibration dampening system.
It definitely scores an A+ here, even better than some belt-driven boards!
For those who are wary of road condition, NLS got your back. Be it cobblestone, poorly paved road, cracks or those tactile paving on footpaths, 100mm means Hakuna Matata.
It can even go over rough speed bumps!
Remote
NLS purchase came with an NR remote. I don't have one with me so that I can't comment on that. While it looks funny, it is pretty practical with the flashlight attached on the tip.
For those who don't like the NR remote, rest assure that NLS does still come with the familiar V2 remote.
It has an ergonomic design and is comfortable in hand.
The soft touch plastic gave the remote a premium feel.
You can change between speed mode by a short press on the power button and can similarly change the braking settings by a quick press on the power button while holding the brake.
Ultimately, there were no disconnection issues and is overall, a pretty decent remote.
Customer Service
Before we get into the final verdict, let's talk about Meepo's customer service.
Generally speaking, Meepo's has one of the better customer service teams among the budget brands. You can reach them via Facebook, Wechat, or email and even some of their brand ambassadors can help you solve your problem.
However, being the best-selling budget board brands means they have a lot more customers to serve and from time to time experience lapses in their customer service.
Most of the time, people who need help eventually get through to them, and even when they reply slow. They always try to do the right things by the customers.
The most valuable part about buying the Meepo is the Meepo community. Every potential issue will be exposed, and a solution found by its community members. Some weird rattling noise? Someone who had that problem knows the exact solution. Want to do some DIY upgrade? Chances are there is already a guide or Facebook post about it.
That's why I have no trouble recommending Meepo as a brand.
Verdict
Meepo NLS is the most interesting Meepo product so far.
Breaking away from generic parts and general riding experience, NLS is trying something different with super flexible deck, giant 100mm hubs, and quirky but hopefully practical remote.
With NLS, Meepo has reached a level where it is overall a really good board; therefore, what is lacking will definitely stand out. A better ESC or even better, a VESC would have perfected both the control and the performance of the board. And more thoughts on the riding experience would see the board shipped with a shorter bushing as the default setting.
I know it as fact, as my Flipsky 4.20 plus VESC equipped Meepo NLS with purple nipples is freaking perfect.
Good effort Meepo, maybe do a Gen 2 soon!
Check out NLS at MeepoBoard site by clicking here.
If you do decide to buy a Meepo, use our promo code "ESHQ" to get 15 USD off. Not only will it help us, but it will tag your purchase as an ESHQ customer and may even get you some preferential treatment in the process! =P