Foreword/Introduction
It seems like Meepo releases a new budget board every half year. We have the Original Meepoboard, Meepo 1.5, Meepo V2 &V2P and finally, in 2019, Meepo V3. Seeing that Meepo refreshes their product lines very frequently, we were pretty surprised that the V3 is still here to stay as of March 2020! Meepo, however, makes the Meepo V3 an even more appetizing deal now that there is a sea-shipping option that slashes the price down to $379 (as long as you are willing to wait a month for it to arrive.)
Meepo V3
Top Speed: 28mph/ 45kmh
Range: 11mil/ 18km
Weight: 16lbs/ 7.2kg
Charge Time: 3hrs
Price: 429USD with shipping included.
Features: 2 hub motors, regenerative braking, handles up to 30% slope, MR remote (with telemetry), swappable PU.
Unboxing
This time around, we are happy to say that Meepo has continued to improve in terms of packaging and design compared to their previous packaging styles. The Meepo V3 was nicely packaged in a smooth black 'shoe-box' with professional graphic design details. It's good to see that they're constantly improving, especially in the little things that we pay attention to.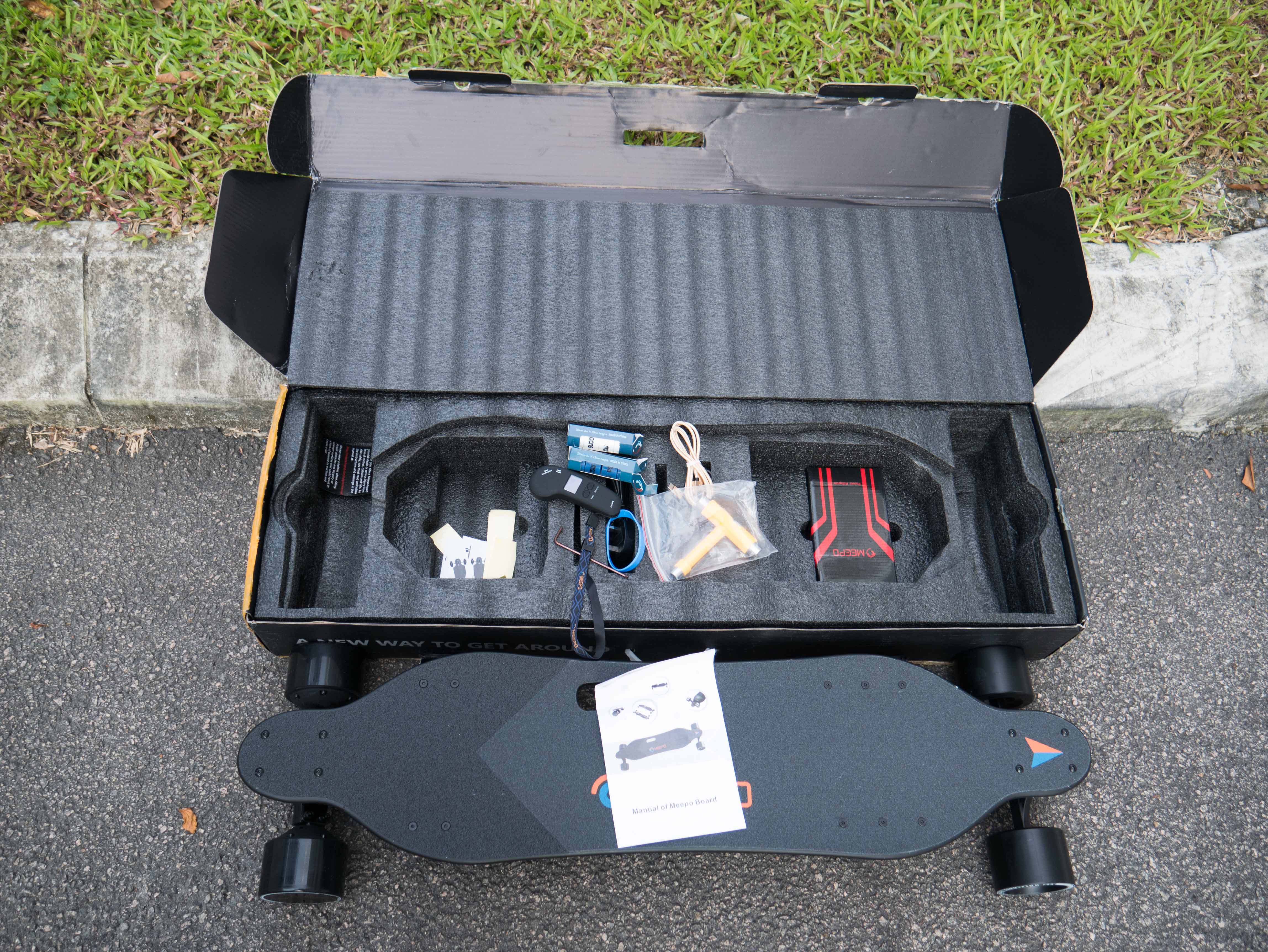 As for what's inside the box, the Meepo V3 comes with a handheld remote control with a screen (MR remote), 2 different sets of bushings – softer 83A (white) and harder 96A (blue) – that you can swap easily for your pleasure which is a great move (the one installed are 90A in yellow), T-tools, a board charger, and a bunch of cool stickers for the deck.
Riding Experience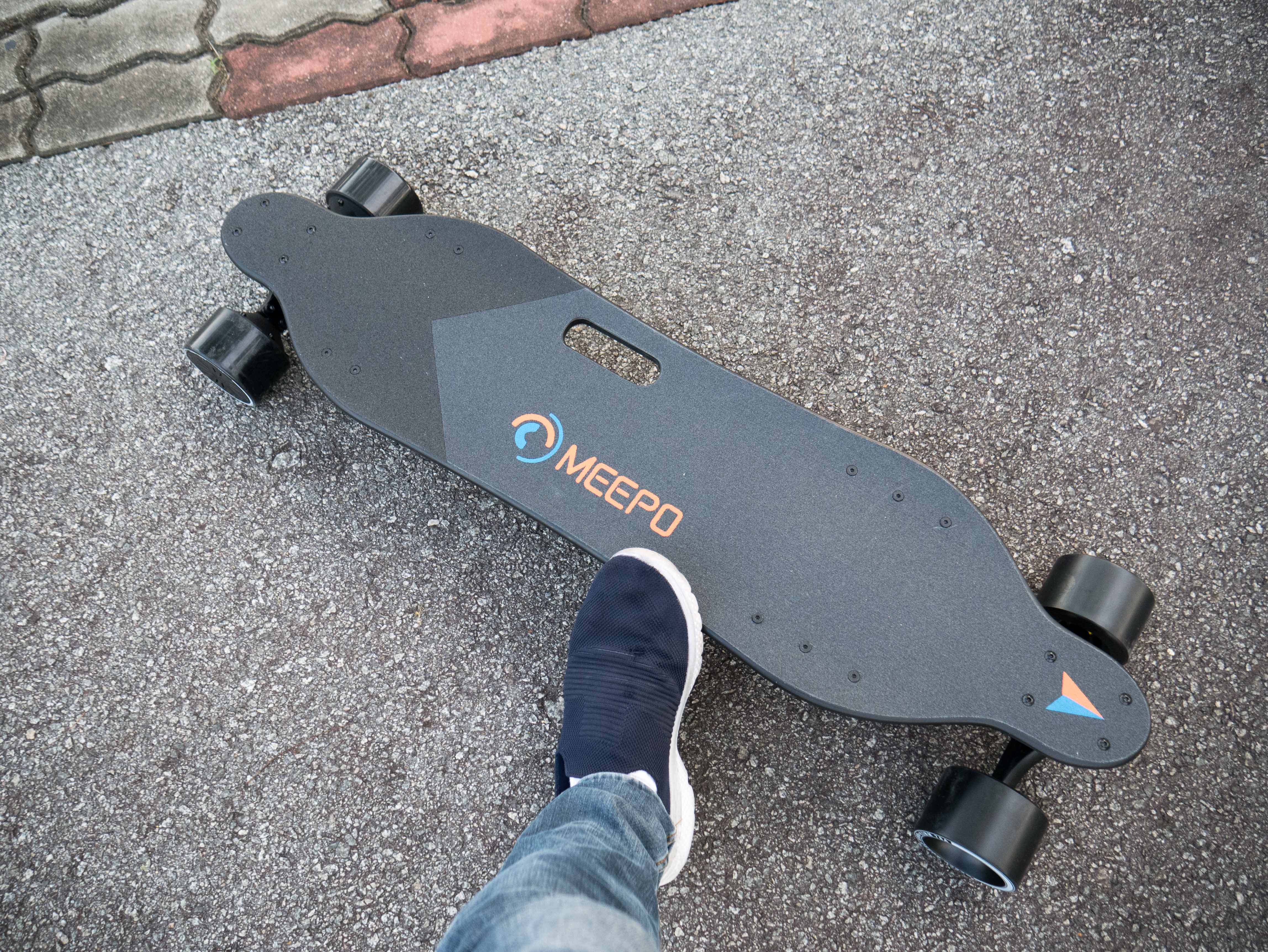 Acceleration and Braking
In the realm of budget electric skateboards, LingYi ESC has always been lagging behind Hobbywing ESC when it comes to perfect control smoothness. Hence, we were very sceptical when Meepo announced that they would be sticking to LingYi ESC on the Meepo V3, especially when some of their lineups have moved on to Hobbywing ESC and they were well received too.
Although they promised that this latest iteration of LingYi ESC would be as smooth as Hobbywing's, we weren't that convinced initially. Some of the other boards we tested that still uses the LingYi ESC were pretty subpar so our expectations were low.
Surprise, surprise. Turns out, this latest iteration of LingYi ESC that the Meepo V3 uses is as good as promised and it's the most pleasant surprise we've received from the V3 yet.
The acceleration is almost as smooth as the Hobbywing ESC in the first 3 speed modes, while the pro mode offers a much punchier acceleration, intended for those with more 'extreme' tastes. Not something that I use much but still appreciated. Side by side comparison with Hobbywing ESC will have the LingYi ESC felt a little bit 'less refine' than the Hobbwing ESC.
Update: Kieran (Meepo's creator) later point out that the lack of 'refinement in smoothness' is mainly due to how LingYi ESC performs when the board re-accelerate from cruising – it usually accelerated more abruptly. A yet newer LingYi iteration released in July 2019 addressed the issue via a firmware update name "Flux". So, I expect the Meepo V3 after July 2019 to have acceleration as refined as those of Hobbywing ESC.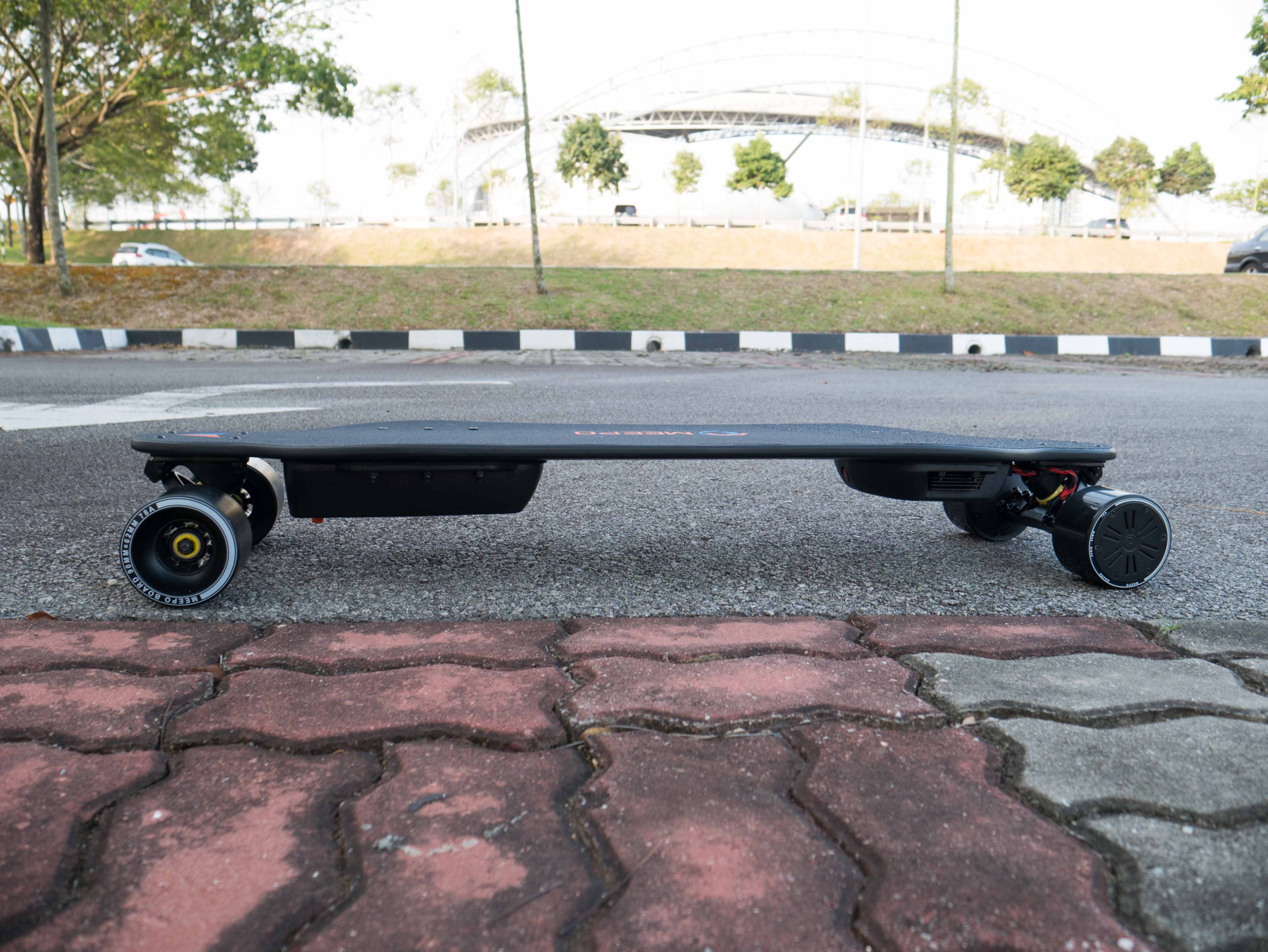 The braking, which traditionally was the Achilles heel of LingYi ESC, is now more than perfect too. It's gradual and strong, stronger than any Hobbywing variation but still perfectly smooth and under control which is great for riders.
The Meepo V3 is designed to be the first one that takes off from the line and in pro mode, the acceleration is indeed very punchy and thrilling. The board boasts a 0 to 30km in 4.5 seconds, which almost halves the time of what it took for the V2. We didn't actually objectively test this out, but the acceleration indeed felt very powerful.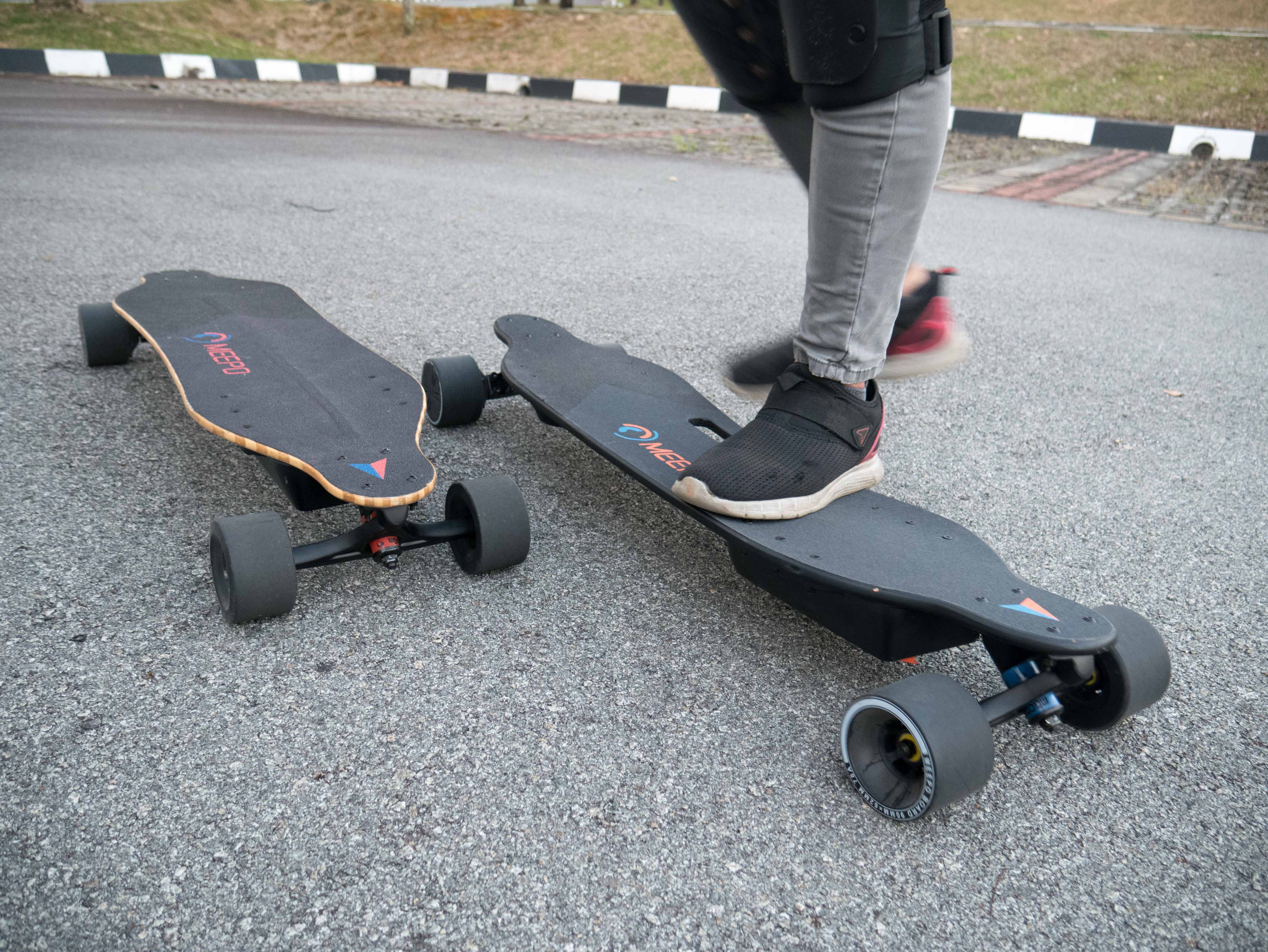 To test out the difference between the latest iteration of Hobbywing ESC vs this latest iteration of LingYi ESC, we tested V3 (LingYi ESC) side by side with the NLS Pro in 90mm wheels (Hobbywing ESC) and the result is pretty surprising.
We expect V3 to outperform NLS Pro in a drag race, as LingYi ESC felt punchier, however, that didn't happen. Though V3 felt punchier, it actually only accelerated just as fast as an NLS Pro in 90mm hub. Our conclusion is, on acceleration, the slight sacrifice of smoothness of V3 doesn't translate to better acceleration. Sad.
Honestly, part of me actually prefers this LingYi ESC over Hobbywing ESC as I like strong brakes and LingYi ESC still has the smart turn-on features that Hobbywing ESC doesn't. And the difference between smoothness is almost negligible now. I think many would share the same preference so finally and for once, Hobbywing ESC doesn't reign supreme anymore.
Stability and Maneuverability
All in all, the shredder trucks and double tall barrel bushing that Meepo always uses are pretty nice. You can change the bushings according to your preference and your weight to have a setup that suits you the best, I suggest most people try out the 96A blue as for a 150lbs (68kg) me the yellow felt too soft.
Carving on the Meepo V3 is fun thanks to the flexible deck and it's pretty stable for me. For instance, I can keep near the top speed quite comfortably once I switch to a harder bushing. We are also able to hit the top speed of 28mph(45kmh). (our sports tracker record 28.3mph/ 45.7kmh as the top speed!].
Vibration
Unfortunately, vibration is where the V3 is weak.
The V3's priority is torque and power, and this leads to choosing the biggest hub. But a bigger hub motor also means there's only a very thin layer of urethane between the motor and the ground so the vibration dampening ability is pretty poor.
Despite using a fairly flexible deck, the Meepo V3 is not the most comfortable board when riding in less than perfect roads, which is quite unfortunate given that its siblings from Classic to NLS Pro all did quite well in this aspect.
Thankfully, there's the option of buying and switching to 100mm hubs sleeve and wheels which would really improve this feature but in terms of the on-stock version 90mm, the Meepo V3 gets a B-/C+ from me when it comes to vibration handling.
Range
The Meepo V3 uses a 10S2P Battery Pack with a 20R cell which gets me 18.9km, about the range the base model Meepos aim to achieve. It's not too bad as it's sufficient for most people and more than most belt-driven electric skateboards as hub motors are much more energy efficient.
A closer look at the parts
Deck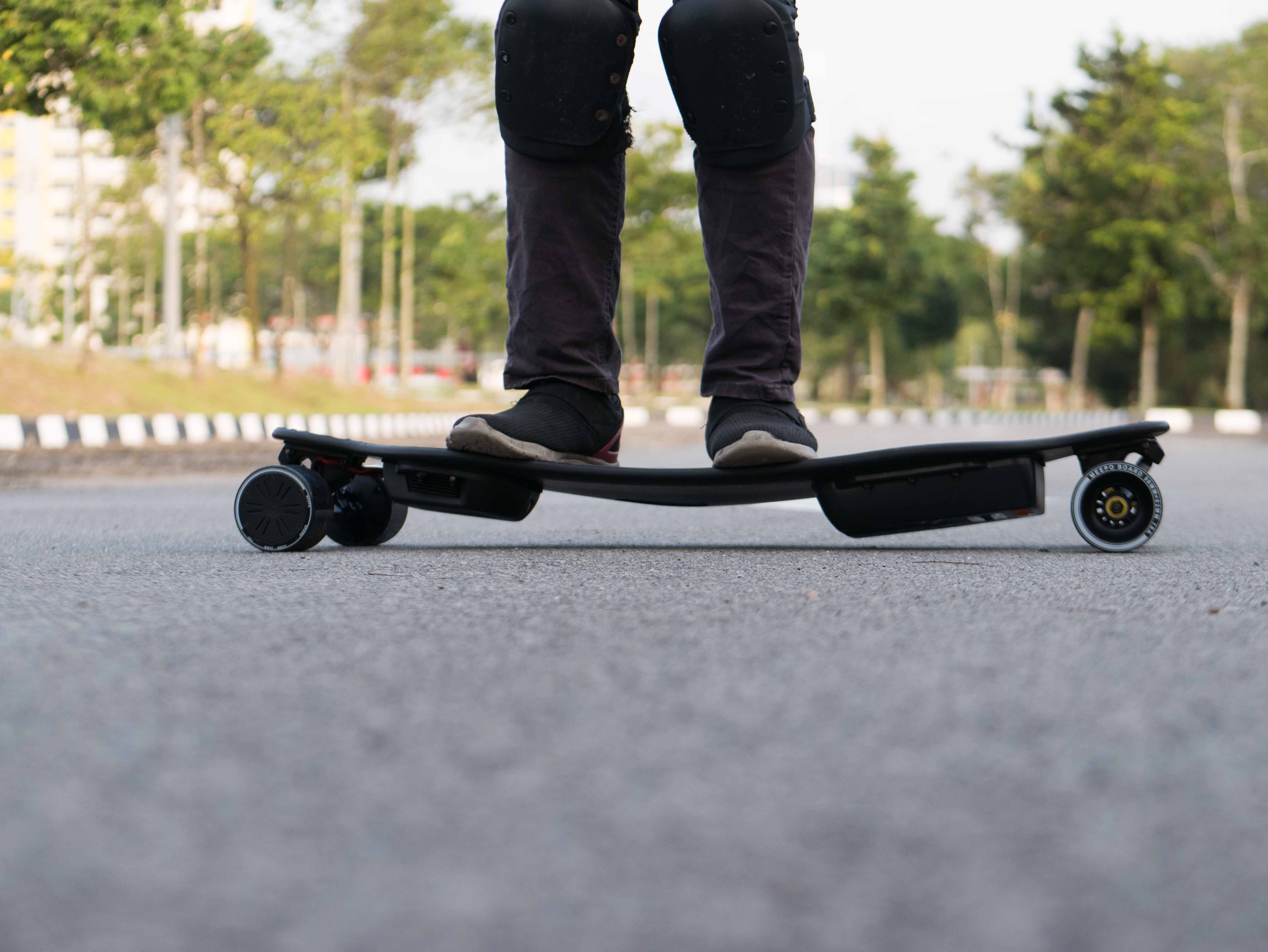 The Meepo V3 uses 7 layers of true Canadian maple which are pretty flexible, but not as flexible as the deck on the NLS. Although with a deck this flexible, you can actually smash the enclosure to the ground if you jump on the deck.
With that though, it's still a Vanguard clone as it has the same design as the previous gen. There's a very subtle concave to help your feet feel comfortable on it, and the handle cut out might turn some people off but those who have used it before would know how practical it is.
Component Enclosures and ESC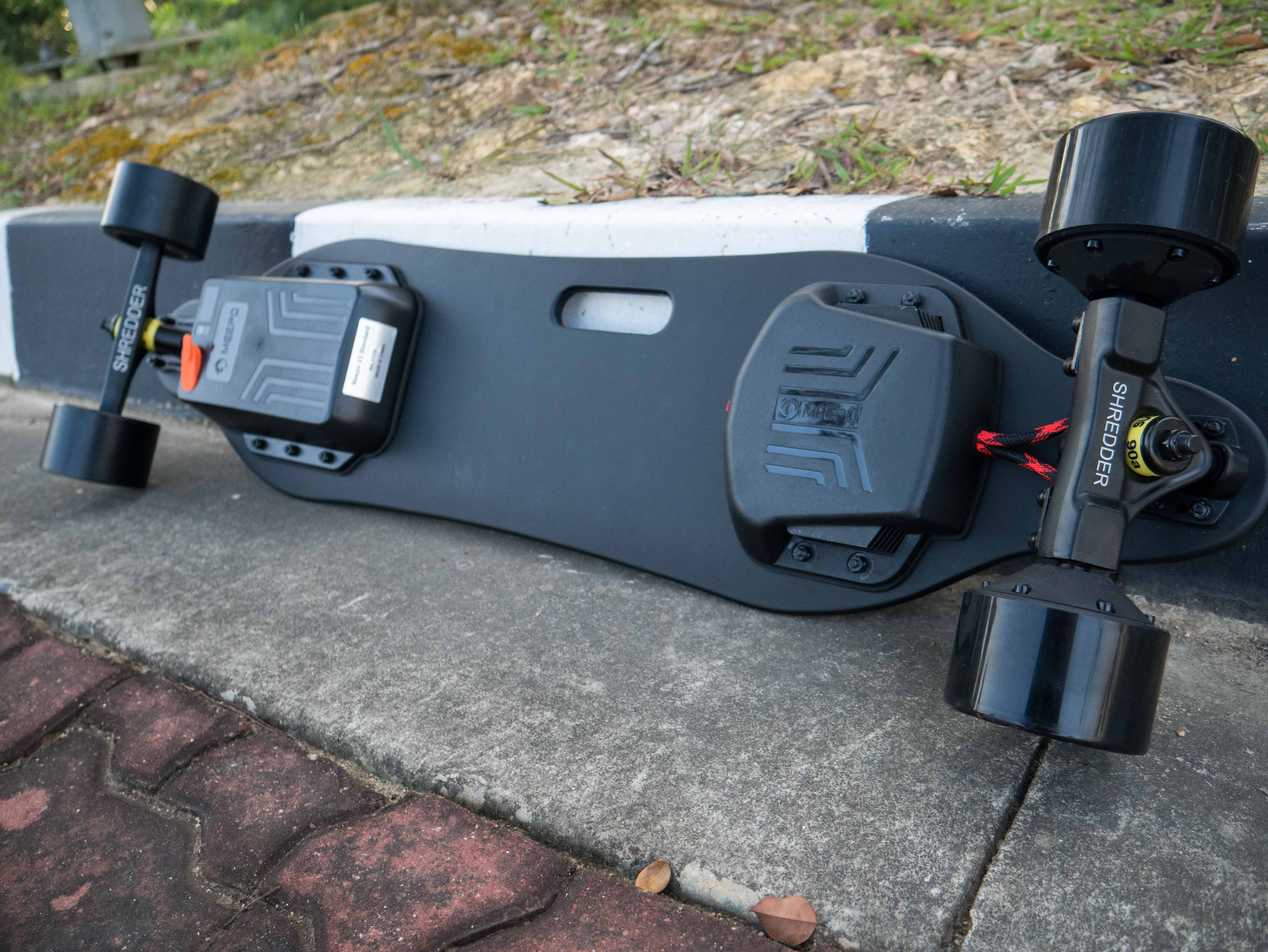 As expected, this is the same plastic enclosure found on the other Meepos. They're really strong and lighter than aluminium, but only time will tell if they'll crack on the screw holes but so far I haven't heard any incidents of that happening. Fingers crossed! The battery indicator is outside too, which is a good touch because I'd love to know how much the battery has charged up when charging.
Wheels
The Meepo V3 uses 90mm wheels with 78A durometer wheels. The PU sleeve on the hub motor wheels is swappable, and can be swapped to 100mm sets which as mentioned before, should make navigating on poor road more comfortable.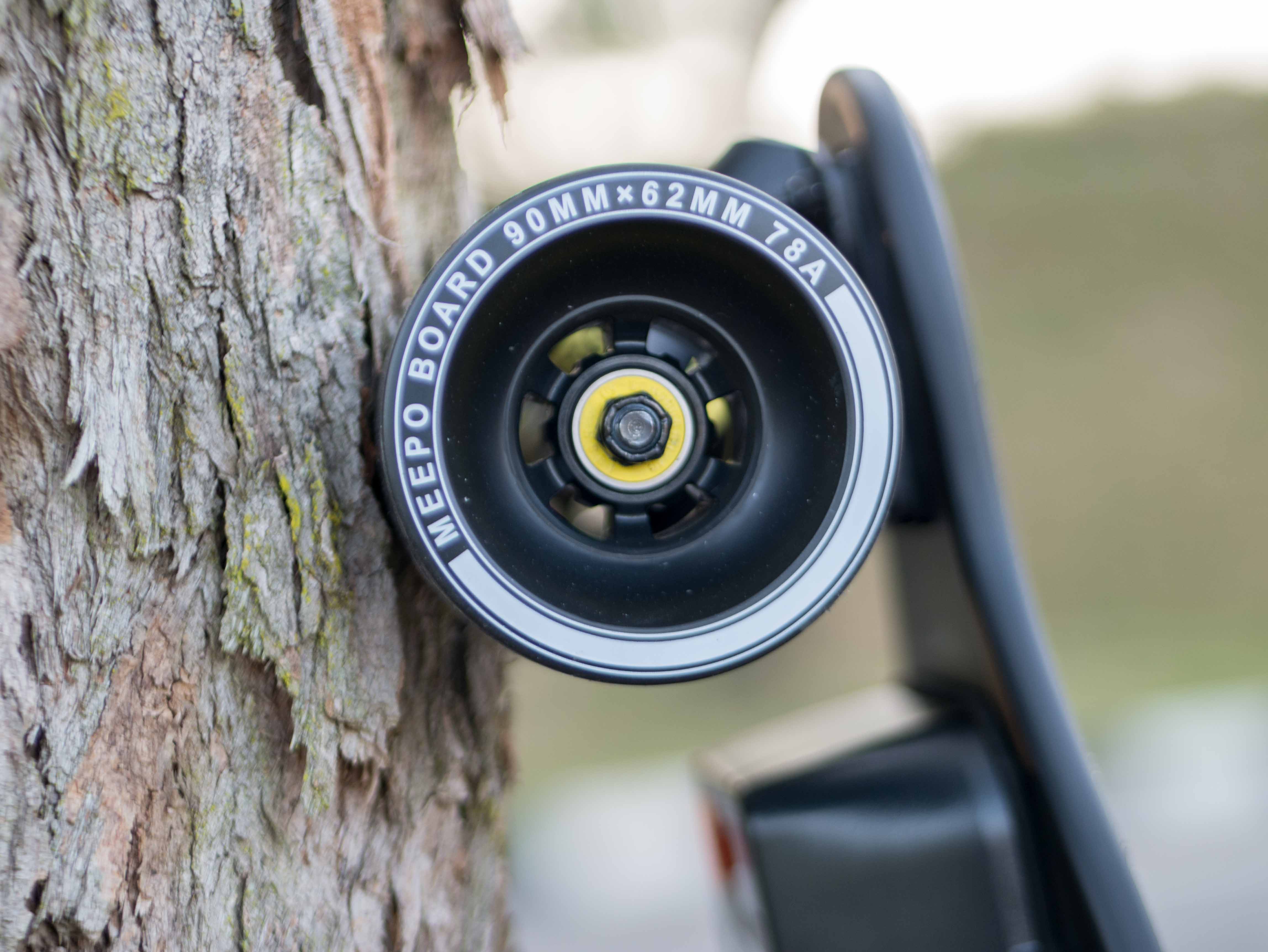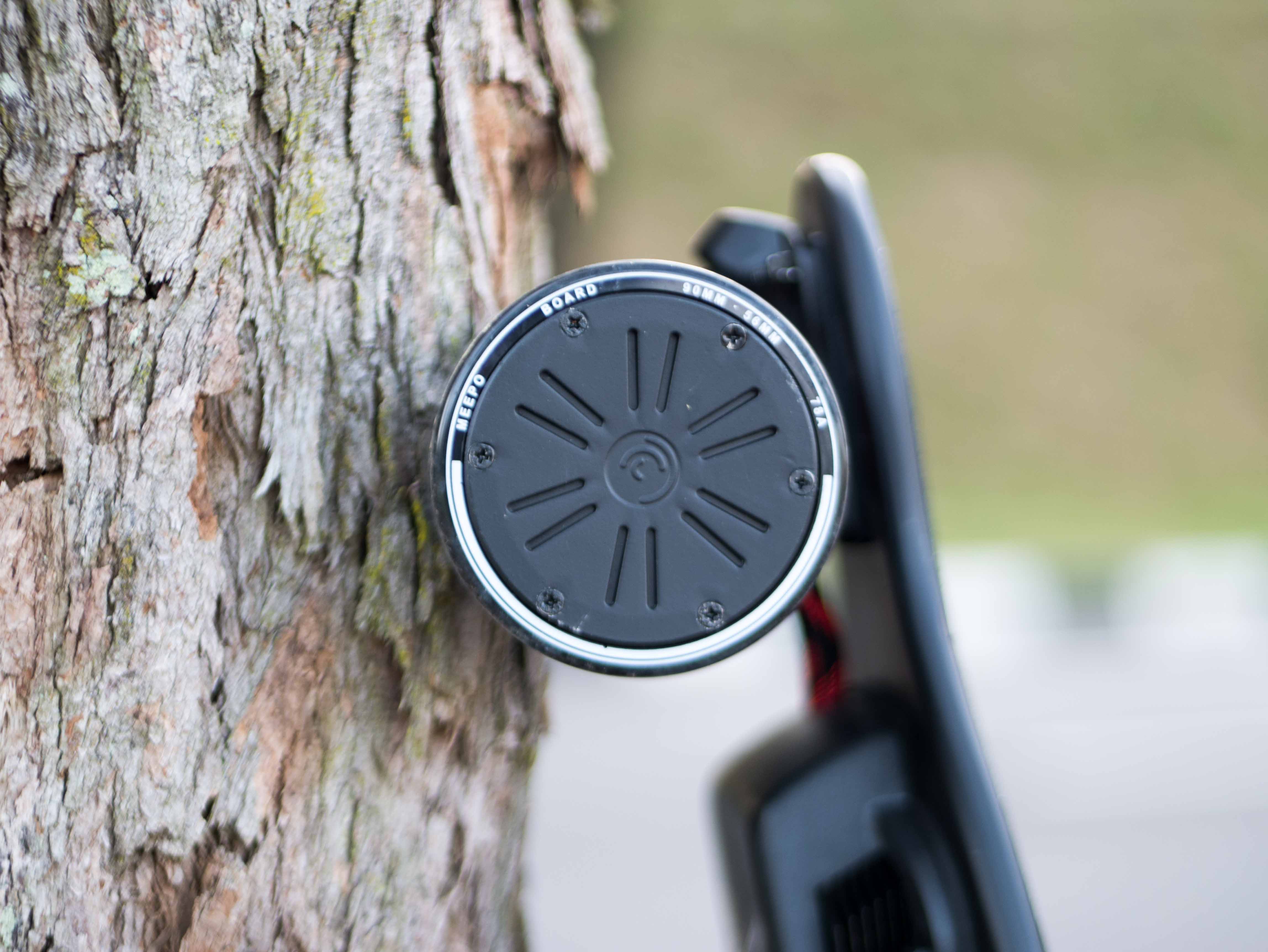 The bearings that the Meepo board uses, although not branded, are surprisingly good. They spin forever when put on freerolls, so that's a win for us.
Trucks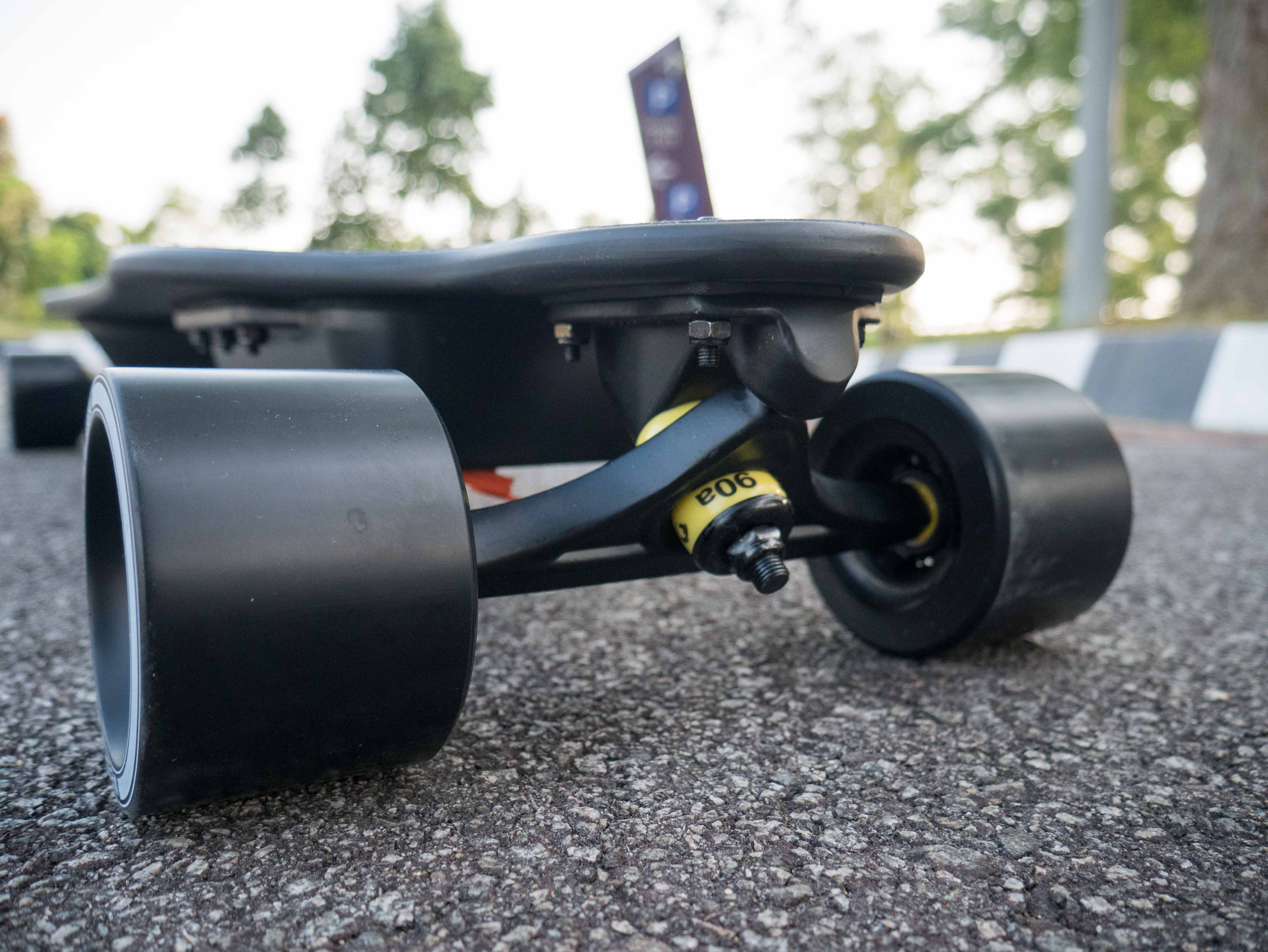 I'm echoing my review of the Meepo Mini 2 ER's trucks for this one too, but adding on that the stock bushing for the Meepo V3 (yellow 90A) might be too soft for most people. My suggestion would be to switch over to 96A if you weigh anywhere more than 150lbs(70kg).
As a personal preference though, I'd rather Meepo ship the 90A, 96A, and 100A than the 83A, 90A, and 96A that they're currently shipping now.
Remote
The V3 uses the MR remote, a remote with a screen. It's the new face of LingYi ESC now but Meepo's version is using soft-touch plastic as a finish so it feels nice to hold and it's quite comfortable (read: ergonomic) to grip.
The remote allows the separate adjustments of acceleration and braking modes without disconnection. Although the 'reverse' label is mislabeled which can be confusing to some, it's actually the speed mode. You move into reverse instead by double-tapping the power button.
Verdict
From the original to V1.5 to V2, Meepo's 'version' lineups have always been the de facto face of budget electric skateboards. Judging from what we've reviewed and experienced though, we can see that the V3 is likely to carry that torch from the V2 and continue to be the most popular budget board in the community.
With the improvement of the current LingYi ESC, together, it elevates the V3 to another level. The first 3 speed modes are almost perfectly smooth, along with its aggressive, punchy acceleration for thrillseekers.
As per Meepo's typical fashion of pushing the envelope just a little bit further, the V3 tried to maximize the power and torque by using a stronger and bigger hub. Although it was achieved with impressive acceleration and hill climb ability, unfortunately, it resulted in its bigger weakness – a stiff hub with a thin urethane sleeve that led to a really rough ride on poor roads.
Thankfully, there's always the option to switch to 100mm wheels to save the day. You can see the V3 as a watered-down NLS Pro as it falls a bit short of the refinement that we experience from the NLS Pro in both ride feel and specs, but a watered-down NLS Pro is still a very good deal for $429 if you ask me. And for those who have the patience for sea-shipping, the V3 at $379 is without any doubt, the best deal for a budget board that anyone can dream of.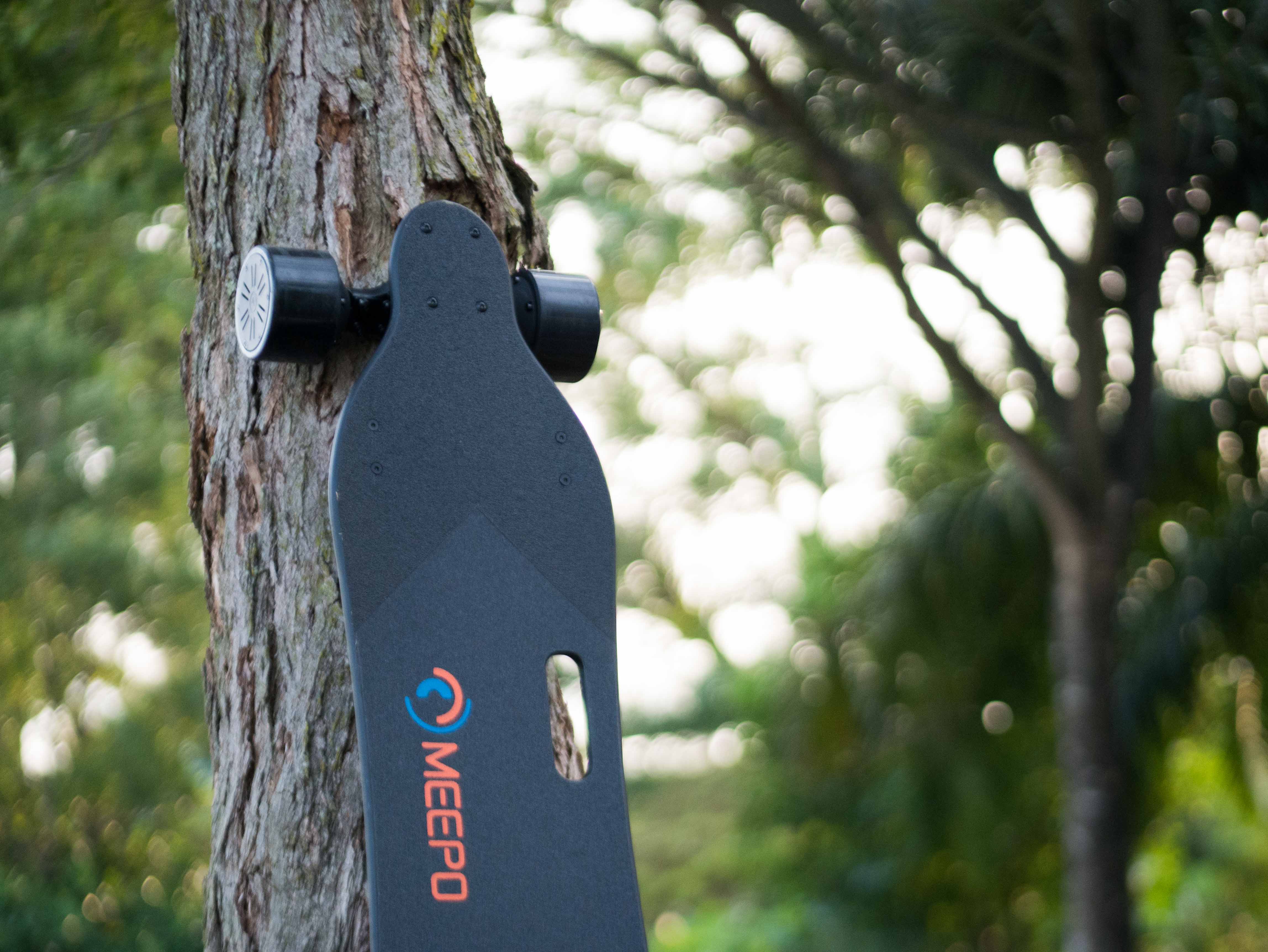 Overall, the Meepo V3 has every reason to retain the throne as one of the most popular budget electric skateboards as its polish, feel for ride, and sheer performance are still second to none in the realm of $400 entry-level boards.