Finally, Meepo launched Meepo V4 on 20th August.
After the wildly successful launch in 2017, the original Meepoboard kick-started the era of affordable eskate and soon earned itself a notorious reputation for being the most frequently refreshed product in this niche. Within 6 months, we saw Meepo V1.5 which was immediately followed by Meepo V1.51 then V2, V2 Plus, and finally V3 in 2019.
For a company that's so addicted to rolling out marginal improvements in short succession, we were more than surprised when 2020 rolled past without a Meepo V4. Finally, in the fourth quarter of 2021, Meepo finally is putting up a new iteration for their best-selling line-up.
It has been a while, so this better be good.
Unboxing Meepo V4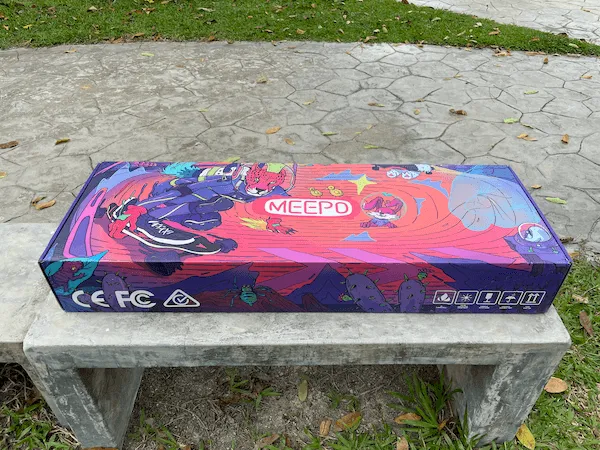 And, Oh god this box is not a great start. I didn't realize Meepo is selling from Toy'R'us now.
Luckily for Meepo this should be easily changed once they realized we are buying eskate for ourselves and not for our kids. If you like the design of the box, please leave a comment below to make your support known, or otherwise, I bet it wouldn't last beyond the first batch.
Thankfully, the design of Meepo V4 is nothing like the box.
Meepo V4 Review – Specifications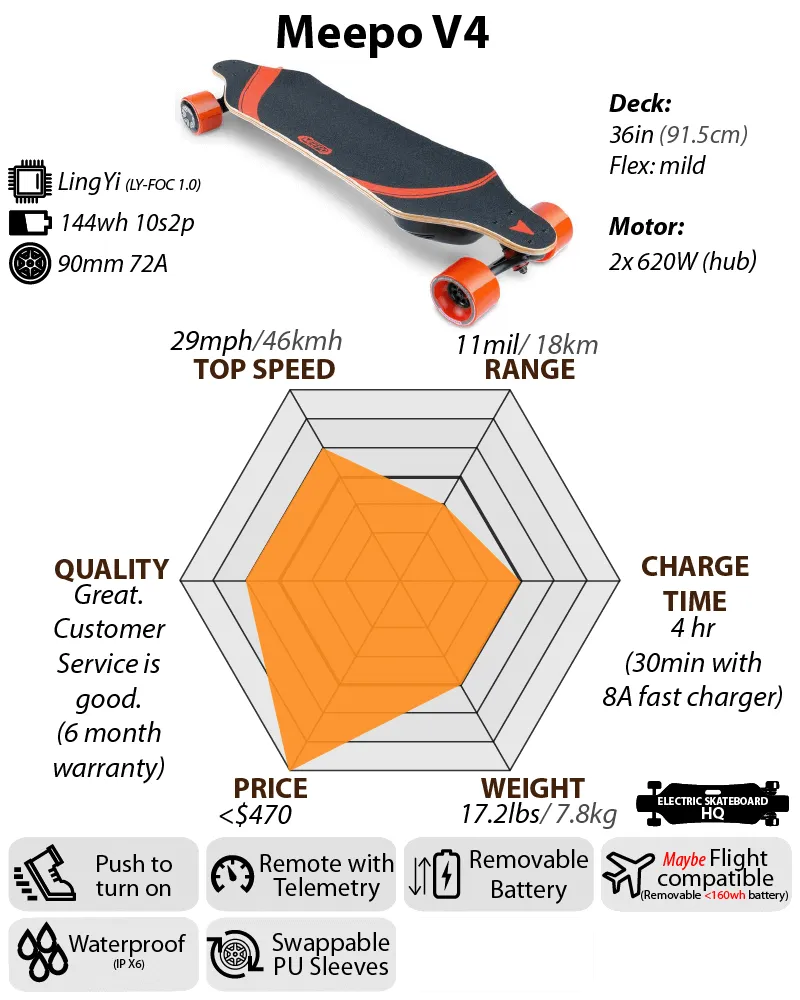 Let's take a quick look at the spec now.
Board name: Meepo V4 (Shuffle)
Deck Length (inch and cm):36 inch (91.5cm)
Motors: 2 x 620W hub motors
ESC type (LingYi/ Customize/ VESC/ Others) :LingYi (LY-FOC 1.0)
Wheel: 90mm; 72A Durometer
Battery Type: 10S2P 2000mah , 144Wh
Marketed Top Speed in mph & kmh: 29mph /46KMH
Marketed Range in miles & km: 11 miles/18KM (Depend on riding style, weight, terrain, and weather. )
Charging time: 3.5-4H (30min with 8A fast charger)
Weight in lbs and kg: 17.2lbs /7.8KG
Warranty Duration: 6 months (180days)
Price: $469
Meepo V4 – Build
It has been quite a while before we reviewed our last Meepo, and it is a pleasant surprise to see the build quality and polish continues to improve as the year went by. Meepo V4 is a very polished board despite the $469 price tag.
Deck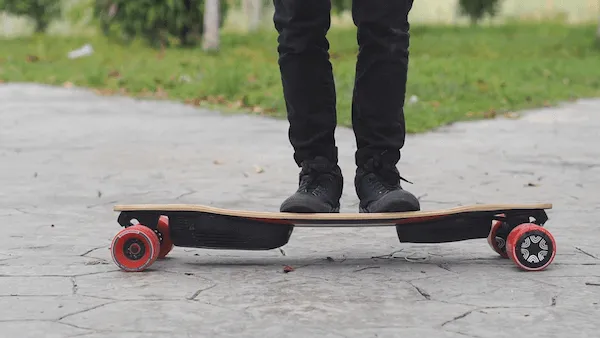 The Meepo V4 deck is a combination of 8 plies Canadian maple and 1 ply fiberglass.
It has a pretty aggressive W concave, mild flexibility, and a slight rocker profile. I love decks with rocker profiles, I'll explain later. The deck is also slightly shorter than most longboards, at 36" (typical e-longboard = 38") which is supposed to help with storage.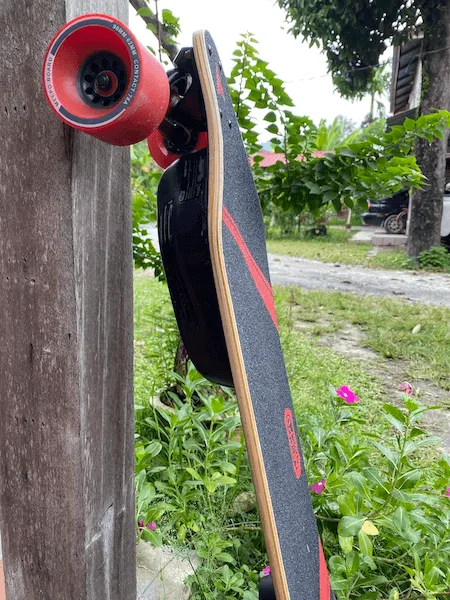 Electronic Speed Controller (ESC)
For the electronic speed controller, Meepo V4 uses the latest-redesigned LingYi ESC (LY-FOC 1.0).
As always, it comes with a push to start feature. As always, LingYi ESC allows 4 acceleration modes and 4 braking mode to be set independently from each other. When it comes to smoothness, LingYi has been playing catch up with Hobbywing ESC since 2018. As the year goes by, they come close, and hopefully this time they manage to be as smooth as Hobbywing.
Battery
And when it comes to battery, Meepo V4 uses a 10S2P 4AH that's rated at 144wh. 10s2p battery has been the standard for entry-level board eskate, but a slight disappointment when some of the latest budget eskate, like Meepo's nemesis Wowgo's 2s Pro is rocking 12s2p battery.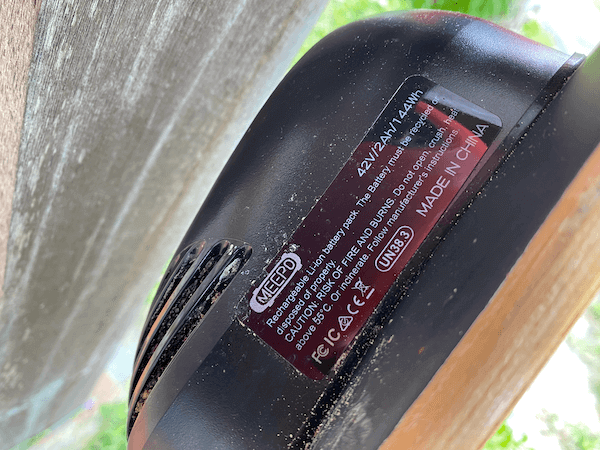 Anyhow, Meepo promised a modest 11miles or 18km range for the V4, and our range test yielded us 10 miles or 16 km.
On a related note, the battery allows fast charging which can reach a full charge in 30 minutes.
Trucks – Shredder trucks
For the trucks, Meepo re-do the mold for their proprietary Shredder truck. It's a pair of 7 inches trucks that are 45°. The bushings are 90A. Meepo says they made a new, more precise mold, which they say should improve its performance. What I can say for sure is that it sure the hell looks better.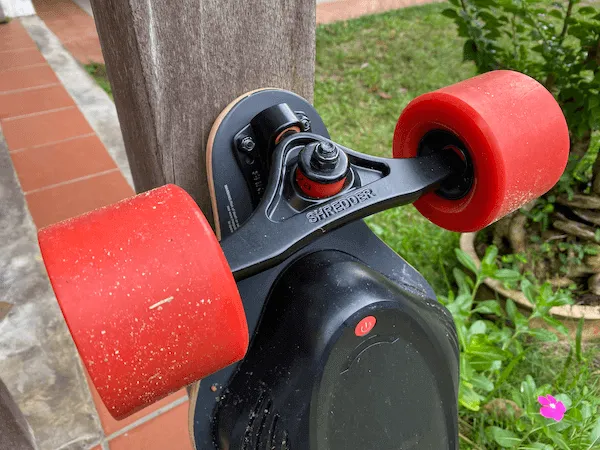 Hub and wheels
For the motors, Meepo V4 uses 640W dual hub motors. Typical Meepo, always trying to one-up everyone else when it comes to motor power. For reference, WowGo 2s Pro uses dual 500W motors; Backfire G2 Black uses dual 400W hubs, and the old Meepo V3 uses a pair of 540W hubs.
However, higher wattage doesn't always mean better torque, especially when paired to a modest 10s2p battery. Something our ride test later would test..
These hub motors are currently not compatible with Cloudwheels donuts, but there is always a chance that they develop one.
The durometer for the front wheels are 72A, pretty soft, and the PU sleeve is rated to have 82A durometer.
Misc
It is worth mentioning that Meepo V4 does have IP6X certification which means dustproof and some water resistance.
Now that we know the build and specs, it's time to ride!
Riding Experience on Meepo V4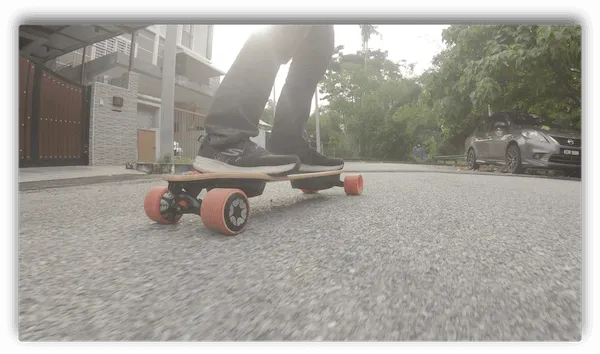 The things Meepo V4 did well
After getting on the board for a while, it becomes apparent that V4 is designed with stability as the priority.
Let me explain:
The deck has an aggressive W shape concave and that helps to lock in our feet.
The rocker deck adds another level of comfort giving as the rocker curve gives our foot something to push against during speed changes.
Only having mild flex on the deck further adds to stability.
On top of that, the rocker deck also means lower ride height which further improves stability. Too bad the lower riding height is a double-edged sword as it also means a very low 44mm ground clearance, causing the enclosure to kiss the floor when we ride over speed bumps.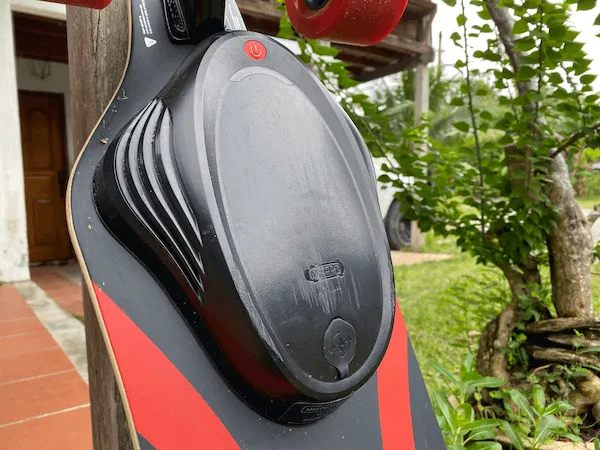 Meepo's 45° Shredder truck was geared towards stability as compared to 50° trucks which was more carvy (eg: Wowgo 2s Pro's Poseidon truck). All in all, the new Shredder truck is pretty good. While it does not rise to the level of branded trucks such as the Caliber II or Paris, it's definitely as good as any other proprietary truck amongst affordable eskate. Decent for carving, good return to center, and absolutely stable to ride at top speed.
So,
the deck is great for stability, and the trucks are geared towards stability, how's the ESC? Will the LingYI ESC, which traditionally leans towards raw and powerful, screw up the stability theme for Meepo V4?
Surprisingly, no! I am happy to say that, after 3 years and countless iterations, we finally reach the point where this (LY-FOC 1.0) version of LingYi ESC is indistinguishable from Hobbywing ESC when it comes to control-smoothness. The speed control of Meepo V4 is now as smooth as it can be while still being as strong as it always was.
Finally.
Typical Meepo, this board is freaking strong
Initially, I even found the new LingYi ESC to be boringly safe, with no 'punch'.
Yes, it's now as smooth as a Hobbywing ESC, but this was actually a disappointment for a Meepo die-hard who loves Meepo for its obsession with power, torque, and thrill.
If you recall, Meepo V3 was and still is one of the if not the most powerful entry-level electric skateboard out there. Meepo was so obsessed with power that it was willing to sacrifice ride comfort for it when they reduced the hub wheels PU sleeve's thickness in order to make space for a pair of giant 540W motors. Some Meepo diehard love them for it, and those diehard fans would probably feel disappointed here.
And then, just after I posted my article review essentially calling the Meepo V4 a "PG 13 beginner-friendly toy", I was informed by the Meepo team that I wasn't sent the production ESC. The prototype ESC that all of us reviewers get had its power capped, and wouldn't give us the full power that the real V4 in production would.
So, our team decided not to make assumptions and waited for the real ESC.
After switching over to the new ESC I found myself cursing the Meepo team, because I now had to rewrite half of my review, as my conclusion on its power did a 180.
After changing to the actual ESC, the Meepo V4 showed its true colors, unleashing the absolute beast that we always expect Meepo to be.
Going for the highest speed mode, the board is freaking strong, with powerful acceleration that would knock you off if you are not prepared for it. The braking is very strong too, smooth, but very strong. Thankfully, for those who prefer relaxing rides, the third acceleration mode and 2nd brake mode have kept their gentle profile.
In the end, the Meepo V4's modest 10s2p did not end up bottlenecking the dual 640W motors, as the hubs still delivered some of the most powerful acceleration you can find amongst hub-driven boards, and this is now the most powerful hub board we know of at the sub-$500 price point.
To put the torque in context, the Meepo V4's acceleration is about 30% stronger than its fiercest rival, the Wowgo 2s Pro. Being hub-driven, the Meepo V4 might not have the torque that a typical dual belt drive eskate has, however, the Meepo V4 does have a steeper acceleration curve, giving it a more thrilling start than an average belt-driven board when drag racing on a flat surface.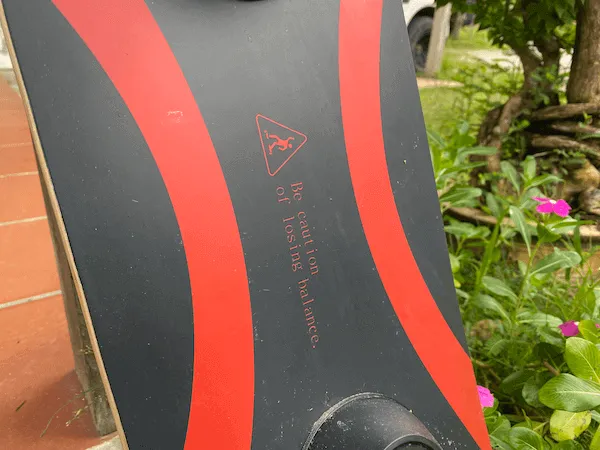 Some other stuffs:
When designing the V4, Kieran (Meepo founder) says he notices his team members favor shorter boards when picking their ride. A longer board although should provide more comfort, his team member ends up always picking shorter boards as they are more practical to use: easier to bring around, fit more car trunks, and allowing tighter turns in urban commute. Hence, when he designed Meepo V4, it was aimed to have all the practicality of a shortboard, and compromised on that by adding 6 more inches for more comfortable rides.
And the V4 is indeed more comfortable than a shortboard especially when riding on rough pavements. On poor road, it is 'merely uncomfortable' due to the dual hub and stiffer deck, as opposed to agonizing when riding through the same road with hub-shortboards.
Verdict – Who should get Meepo V4?
So, to summarize. The Meepo V4 might not have the biggest battery for its price, but when everything is said and done, it's more well-rounded, more versatile than ever, while still being as thrilling as we always wanted it to be.
While its nemesis, the Wowgo 2s Pro (another top pick for an entry-level board), has a slight edge in battery size and carving fun; the Meepo V4 excels on both sides of the extremes.
On the one hand, new riders will value the gentle ride and stability the Meepo V4 provides, with its stable trucks, lower ride height, and relaxing control in the lower speed modes. At the other extreme, the V4 became a thrilling beast once you turn the speed and brake modes to the max. Thrilling acceleration, strong brakes, everything that gets your adrenaline pumping.
The Meepo V4 might also be well suited for another often-forgotten group, the eskate commuters. This is due to its 30-minute quick-charge option; as well as it's shorter length, allowing for tighter turns on sidewalks, easier handling, and a better fit in a car trunk..
All in all, for under $500, the Meepo V4 is among the top 2, if not the top choice in the market right now.
If you are interested in buying the Meepo, please do support us by using our affiliate link here.
It will help us out too and you'll be tagged as an Electric Skateboard HQ customer and probably be treated better. Cheers!