You can say Tynee Board Pro is an Exway Flex Riot's clone.
However, for a dual belt-drive electric skateboard to have an 8.7AH battery while only asking for $519, it deserves a closer look.
Tynee Who?
It is common for engineers from well-known and established brands to break away from the company they work with to craft something of their own.
That's how the brand Tynee Board was born.
Although Tynee is a new brand, an eskate industry veteran founded the company, so you can trust that the product will skip the painful trial and error phase and be great right from day one.
To prove how ready they are, the lineup of Tynee Boards is anything but tiny.
They have lots of options for their collection, and today we will be reviewing the Tynee Board Pro.
Tynee Board Pro has two variants: a 5.0AH set-up for $489; and 8.7AH for $519.
The founder is more proud of the 8.7AH and that's the one we will be reviewing today.
Tynee Board Pro 8.7AH – Build and Specs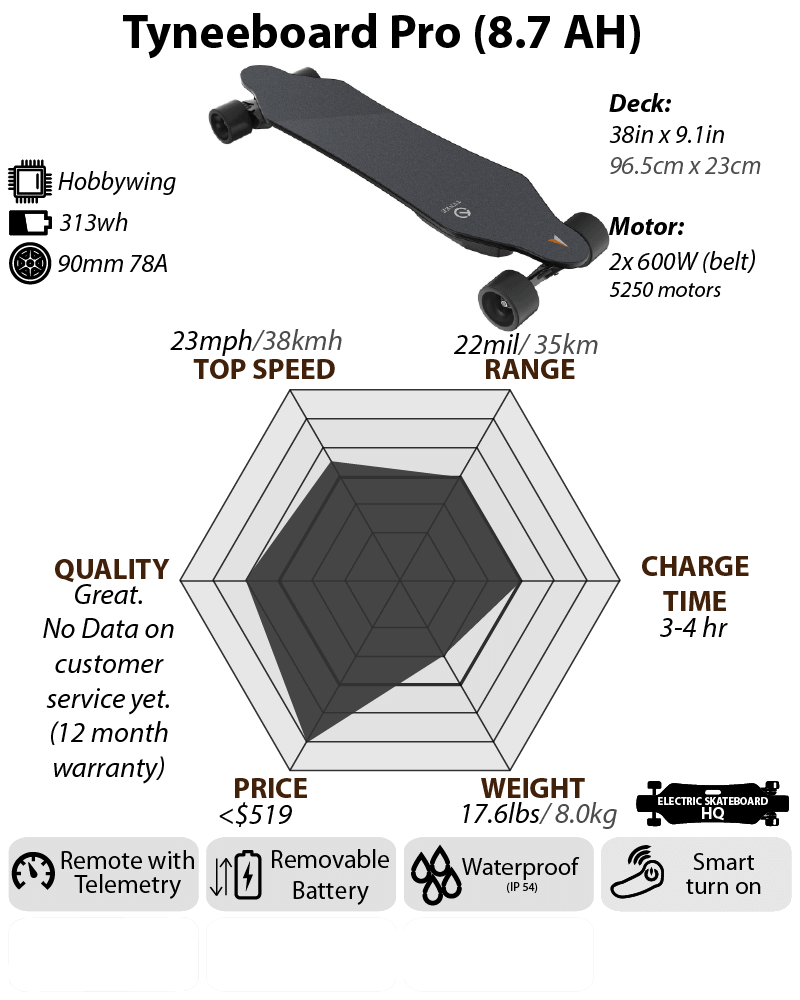 The Tynee Board Pro's deck is made of original Canadian maple with a mild flex and concave. The camber or rocker is flat, so you can expect that the board won't be as flexible as Exway Flex Riot.
To check out our review on Exway Flex Riot, click here.
For the electronic speed controller, Tynee Board Pro uses Hobbywing ESC with a very handy and convenient smart power-on feature. Also, the controller has your usual 4-speed modes.
Motors – Hobbywing 5250 belt motors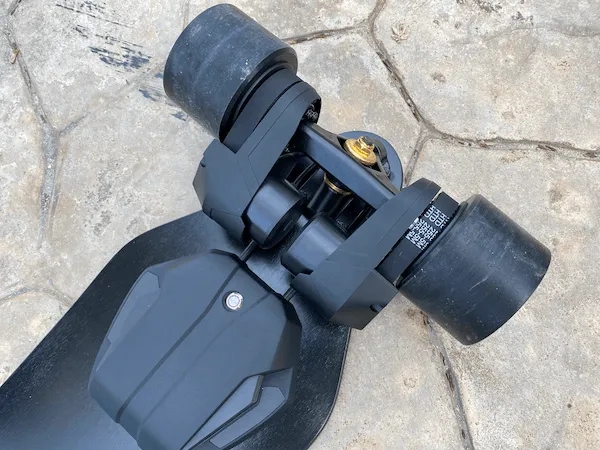 Now let's go to Tynee Board Pro's motors. This eskate uses Hobbywing 5250 belt motors.
The board's top speed is 23.6 mph or 38 km/h on a full charge, or 21 mph or 34 km/h on a half-charged battery. Not bad!
Battery – Bigger than average.
As mentioned, one of the specs that caught our attention is the battery size.
Tynee Board Pro also uses an 8.7 AH battery with 313.2 watt-hours. And frankly speaking, the version with 5 AH for $489 is not worth considering as everybody should just pay the extra $30 and go for the bigger battery pack.
For the 8.7AH version, it's marketed range is 21 miles or 35 km but unfortunately, our tested range is 11 miles or 18 km with a 200 lbs or 90 kg rider.
Although we can only conclude that Tynee Board Pro's marketed range is grossly overstated, but 11 miles is probably what everyone should've expected from an 8.7AH battery on a belt-driven board. (Need I remind you that the Boosted had a similar battery range too?)
Trucks – Proprietary Trucks based on upgraded Paris V3
On maneuvering the board, Tynee Board Pro made their own proprietary truck – "Tynee PE trucks". These trucks are based on the Paris V3. Although there's no information on the bushing type, you can be pretty sure that carving is pretty nice thanks to a good return to the center.
It might be a tiny bit inferior to, let's say, Exway Trist Trucks. The trucks have a good return to center and are biased towards stability.
For the wheels, Tynee Board Pro uses 90 MM x 62 MM wheels with a 78A in the durometer. This means that the Tynee Board Pro aims to soften the vibrations of rough roads. We'll know later if it does the cushioning job right during the riding experience.
Another feature of the board is its IP 55 water resistance. Don't go crazy with water, though. We all know that the water-resistance certification on eskates shouldn't be fully trusted.
Now that we know the specs, it's time to ride!
Riding experience
So, how does this baby rides?
As expected from Hobbywing ESC, the acceleration is buttery smooth, and the power is decently strong. You'll also feel silky smooth braking, while still maintaining a strong hard stop. No surprises here.
Next, let's talk about torque.
Well, you know you will never have to worry about torque with a dual belt set-up. Tynee Board Pro might not have the crazy torque as some belt-driven board such as the Beastboard Viper or Meepo NLS Belt, but it is on par with any belt drive that is not torque-obsessed (eg. Exway's Flex/ Backfire Zealot) and stronger than any electric skateboard with hub motors.
Basically, not much of an adrenaline rush, but going uphill won't be a problem.
The deck is on the stiff side with only mild flex, and I will leave it for you to decide if that speaks to you.
A stiffer deck gives the board a responsive control and felt more stable as compared to a flexy deck.
On the downside, vibrations from rough roads were less comfortable, even with 78 A durometer wheels, as the stiff deck didn't help absorb the road vibrations. Still way better than hub-driven boards though!
Overall, the riding experience on the Tynee Board Pro is quite nice and rivals boards from the mid-market segments ($600-$700) – an impressive feat.
Now that we know the specs and ride feel, is Tynee Board Pro worth choosing over big famous brands?
THE VERDICT
As you can probably tell by now, we were very impressed with the price to value ratio.
If you're shopping for a belt-driven board with a budget of $500, Tynee Board Pro is an easy recommendation and one of the best picks right now.
For its asking price, Tynee Board over-delivers both on the specs and on the riding experience.
To check out other budget boards this 2021, click our Youtube Video here.
Usually, we tend to be more reserved in recommending a new brand, but as Tynee is run by industry veterans who know what they are doing, that part is easily forgiven this time.
All in all, we like Tynee Board Pro and would recommend it to everyone.
Ride safe guys!
If you are interested in buying the Tynee Board, be sure to check out our affiliate discount link here and uses code: "ESKATEHQ" to receive $10 off during check out.
It will help you get a small monetary discount and helps us out too. On top of that, you'll be tagged as an Electric Skateboard HQ customer and probably be treated better. Cheers!