In late 2021, Meepo launched the $1699 Meepo Hurricane to great acclaim. It was much more powerful and had a significantly larger battery than the similarly priced Exway Atlas, which was the board to beat in the carbon fiber all-terrain category.
Fast-forward to 2023, and the field has become much more competitive. In response, the Hurricane has been upgraded to the Hurricane Vader. Besides boasting a slightly lower price of $1599, it also features several changes from the previous version of the Hurricane.
Meepo Hurricane Vader Specifications
| | |
| --- | --- |
| Price | $1599 |
| Battery | 12s4p Molicel P42A (725.8WH / 16.8AH) |
| Controller | 12s Lingyi ESC |
| Top Speed | 32 mph / 52 kph |
| Range | 31 miles / 50 km |
| Deck | Carbon fiber, Double-drop deck |
| Motor | 3500W x 2 Gear Drive Motors (Gear Ratio = 1:4.4) |
| Net Weight | 38.8 lbs/ 17.6kg |
Deck – Same Great Material, Sleeker Design:
This deck is identical to the one on the original Hurricane but with a modified grip tape print design. It has a more subdued design and a smaller logo, which, to us, looks more sleek and contemporary.
Beyond aesthetics, this is the same double-drop deck constructed from T700 3k Carbon Fibers. It's worth noting this material since it's used in manufacturing professional drones.
It is stiff with no flex, and It is wide with a pronounced concave.
ESC and Remote – 12s LingYi ESC and M4s Remote
For its ESC, the Meepo Hurricane Vader has once again chosen the 12s LingYi ESC. This ESC features a push-to-turn-on function and offers four speed modes as well as four brake modes. By 2023, Meepo had begun integrating the Hobbywing ESC into some of its boards. Therefore, it appears intentional that Meepo chose LingYi for this model, suggesting that Meepo wants this board to have a more aggressive speed control. .
The ESC is paired with the standard M4s Meepo remote, which is the same one used for the previous Meepo Hurricane. This remote includes a display that shows speed, battery status, and other useful information.
Battery – 12S4P Molicel P42A:
The Meepo Hurricane Vader's battery remains unchanged. It continues to be powered by a big 12S4P battery using Molicel P42A, and provides a total of up to 725.8WH or 16.8AH. By 2023, this no longer outshines the competition, but it remains competitive for its price point.
Meepo advertises a range of 31 miles (50km). In our tests, we achieved up to 22 miles (35 km) while riding in the highest speed mode. This is a significant improvement over the 18.5 miles (30 km) range of the previous Hurricane. We believe this increased efficiency is due to the gear-drive being more energy-efficient than the belt.
Motor – 3500W X 2 6374 motor with Gear Drive System 4.0:
So, let's talk about the gear drive. These are a pair of 3500W, 6374 motors. Meepo refers to this as the Gear Drive System 4.0, a name that doesn't mean much to us other than the fact that it is not the planetary gear drive used on the previous City Rider 2 and Ecomobl boards. Gear drives are always exciting because while keeping the smooth ride that results from not having a hard hub core inside the wheels, they offer better battery efficiency than belt-drive. These gear drives are generally more expensive; for example, Meepo allows customization of the Hurricane via the Hurricane Ultra product page, and the gear drive option is priced $100 higher than the belt version. While these drives must still be time-tested for durability, so far, we haven't heard much about failures related to the gear drive.
The marketed top speed of these motors is 32 mph (52 km/h), which is a little slower than the previous belt-driven Meepo Hurricane. We suspect this difference may be due to gear ratio settings that prioritize torque over speed. (Gear Ratio = 1:4.4)
Additionally, we lacked a long, straight stretch of road during our test, which prevented us from reaching the top speed. The board accelerated powerfully from a standstill, but its acceleration tapered off as it reached higher speeds. As a result, it took some time to reach its maximum speed, and our test ended when we ran out of roads, reaching 28 mph (45 km/h), which we can tell is well below the board's limit.

Truck and Wheels – Double KingPin and Cyclone 165s Racing Wheels
As for the trucks, Meepo sticks to what works and uses the same double kingpin trucks as on the Hurricane. We already know that they work well and have a good balance between stability and responsiveness.
Meepo still allows customization and the true kingpin option through Meepo Hurricane Ultra X for people who prefer stability.
Check out Meepo's Hurricane Ultra X customization page here
There have been adjustments to the wheels. The Hurricane Vader uses Meepo's new Cyclone 165S Racing Wheels with CNC machined rims in place of 155mm pneumatic wheels.
The board weighs a hefty 39 lbs (17.6kg). It's definitely on the heavy side with this one.
Specification Summary
Overall, the Meepo Hurricane Vader offers great specs for $1599. While I wouldn't say it's jaw dropping in terms of value for money, a 12s4p carbon fiber board with gear drives, constructed with such finesse, is about as good as it gets for $1599.
Riding Experience of Meepo Hurricane Vader:
For those who are unfamiliar with the Hurricanes, this stunning carbon fiber deck is nice to ride, too. It's nice and wide, with enough room for people with larger feet. Given that this is a very, very powerful board, it is crucial that the board remain stable at high speeds, which was made possible by the stiffness of the deck and the pronounced concave.
For Vader, the speed control is better than the previous Hurricane. The speed controls for mode 1 to mode 3 are now perfectly smooth and intuitive, as good as Hobbywing ESC. And as per typical Meepo fashion, Mode 4 is aggressively powerful and has that extra punch, which is often more for the thrill than for any practical reason. It is, however, helpful for uphill hikes. Mode 4 will undoubtedly be too powerful for a beginner because of how quickly the board moves ahead, thanks to its steep acceleration curve. If you like that kind of thrill, it is quite exciting, but for the majority of riders, mode 3 is a lot more comfortable and usable and is already very strong.
Meepo Hurricane Vader has a very distinct riding feel. It uses double kingpin trucks, but the board feels more stable than it is responsive. We believe the 165s Cyclone Wheels, which have large contact patches and are incredibly grippy, are a big factor in this. This means that while we can maneuver the board with ease and carving is fun, the board isn't nimble, and executing sharp L turns is not easy.
We also blame the grippy-ness of the cyclone wheels for holding back the acceleration. When we test the top speed, it feels like the wheels are too glued to the tarmac, stopping the board from leaping forward. Additionally, the board will abruptly lose speed when the throttle is released, which could cause wobbles for inexperienced riders. This was unexpected because, typically, belt systems provide better free-rolling than gear drives, but the 165S Cyclone wheels appear to offset that advantage.
But it doesn't mean we don't like the cyclone wheels. They are quite comfy; there was virtually no road vibration at all. And all the credit has to go to the wheels, as the stiff carbon fiber deck wouldn't have done anything to help reduce road vibration.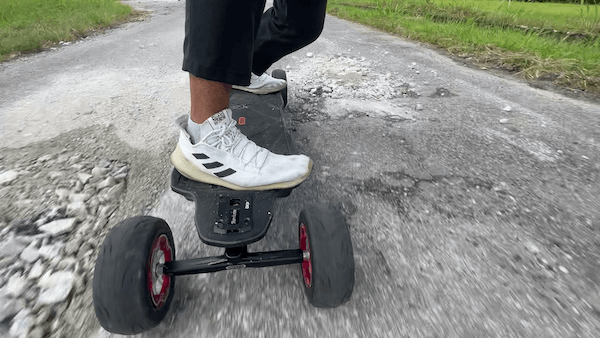 Not sure how important this is to you, but the gear drive is also quieter. It is about as loud as the quietest belt drive.
Verdict – Meepo Hurricane Vader:
Meepo Hurricane Vader is no longer an underdog that dramatically undercuts the competition in terms of price and specs. Instead, it has evolved into an uncompromising premium board featuring quality parts, a refined finish, and an amazing ride. Its ride profile leans more toward torque, power, and stability. It is a complete package at a slightly lower price than its competitors (I'd value it at around $1799), and if you're in the market for a powerful board with great specs, you can't do much better than the $1599 Meepo Hurricane Vader.
If you are interested in buying the Meepo be sure to check out our affiliate discount link here and use code: "ESKATEHQ23" to receive $5 off during checkout.
It will help you get a small monetary discount and help us out too. On top of that, you'll be tagged as an Electric Skateboard HQ customer and probably be treated better. Cheers!