Tyneeboard, a well-known electric skateboard company, has recently launched two new shortboards in mid-May 2023: the Tynee Mini 3 and Tynee Mini 3 Pro.
These boards are successors to the popular Tynee Mini 2.
Today, we will be reviewing the $899 Tynee Mini 3 Pro. 
Priced at $899, this is a midrange electric skateboard. Unlike entry-level electric skateboards that cost less than $500, boards in this price range usually has no significant weakness, and are well-rounded, with some showcasing unique features.
And once we went through the specs, it became quite clear that the Tynee Mini 3 Pro unique strength is .. its strength!
Specifications of the Tynee Mini 3 PRO
The Tynee Mini 3 Pro boasts some impressive specs for a shortboard, including:
Deck: Canadian Maple with a wide concave, similar to Boosted Mini or Meepo Mini
Trucks: Tynee PE reversed kingpin trucks (based on Paris V3 trucks)
Wheels: 105mm HydroWheels (optional 90mm PU wheels available)
ESC: 13s Hobbywing ESC with smart turn-on and 4-speed modes
Motors: Dual 2775W 6355 belt motors
Battery: Molicel P42A battery (13S2P configuration, 393.12Wh, 54.6V)
Top Speed: Default at 31mph (50kmh), up to 37mph (60kmh) with advanced settings
Range: Up to 26 miles (42km)
Weight: 20.4lbs (9.25kg)
Deck and Trucks: The Foundation of a Smooth Ride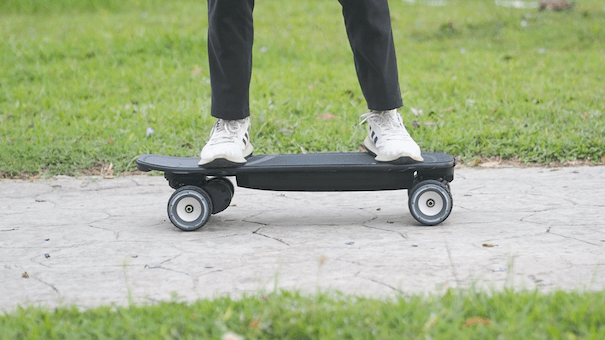 The Tynee Mini 3 Pro features a Canadian Maple deck with a wide concave, shaped similarly to the late-Boosted Mini or Meepo Mini dish-shaped concave, but with a slightly less pronounced curve. This design is widely used on electric shortboards for a reason, it helps with board control, is quite comfortable, and helps to secure footing while riding.
However, we do wish that Tynee went a little bit more aggressive with the concave, as we still find ourselves needing to look down and check our footing when riding fast. A steeper concave like the one on the Boosted Mini or the Meepo Mini would be a little bit better here. But hey, this is just us nitpicking.
The Tynee PE reversed kingpin trucks are Tynee's proprietary trucks based on Paris V3 trucks. We have ridden them on other Tynee boards and know they are pretty good.
Wheels: Bigger 105mm wheels
The Tynee Mini 3 Pro comes with 105mm HydroWheels.
The hydrowheels are a lot different than cloudwheels, its material is somewhere between rubber and PU. It also has a tire tread on them, so it should grip wet roads much better than traditional PU wheels.
Unlike cloudwheels which were notorious for their tiny contact patch, the hydro wheels have a pretty wide contact patch of 53mm. This is the first debut of the hydrowheels, and it is pretty good! It's really helpful to reduce the vibration from rough roads, while still feeling pretty similar to the ride feel of traditional PU wheels.
For riders who prefer the traditional 90mm PU wheels, Tynee offers an option to choose these for $100 less than the HydroWheels. However, most reviewers and Tynee itself recommend the 105mm HydroWheels for the best experience.
ESC and Motors: Unleashing the Power
The Tynee Mini 3 Pro is powered by a 13s Hobbywing ESC with smart turn-on and 4-speed modes. This advanced ESC allows for customization through the remote control, including top speed, acceleration, and braking strength adjustments.
The board's dual 2775W 6355 belt motors are exceptionally powerful for a shortboard, providing smooth yet strong acceleration and a top speed of up to 37mph (60kmh) with advanced settings. This level of power is unparalleled among electric shortboards (you can compare the stats with our data tables here) making the Tynee Mini 3 Pro a standout in its category.
Battery: High-Performing and Long-Lasting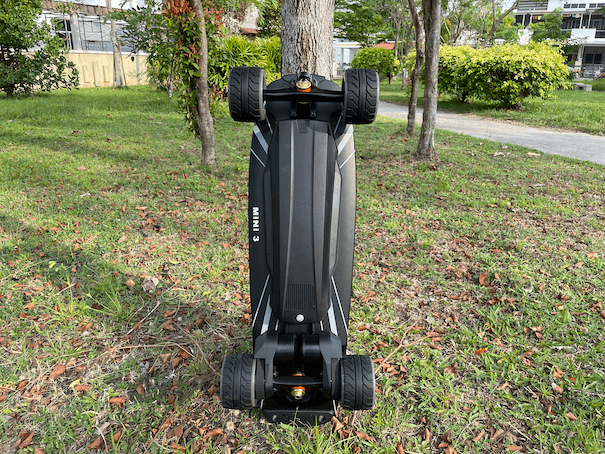 The Tynee Mini 3 Pro uses Molicel P42A cells (they are great cells) in a 13S2P configuration, giving a total capacity of 393.12Wh and 54.6V.
The advertised range of the Tynee Mini 3 Pro is up to 26 miles (42km), although our tests only managed to achieve a range of 16 miles (26km) with a 165lbs (75kg) rider at high speed.
You could obviously get a lot more range if you ride slower, but what's the point? ¯\_(ツ)_/¯
Additional Features: Brake Lights and More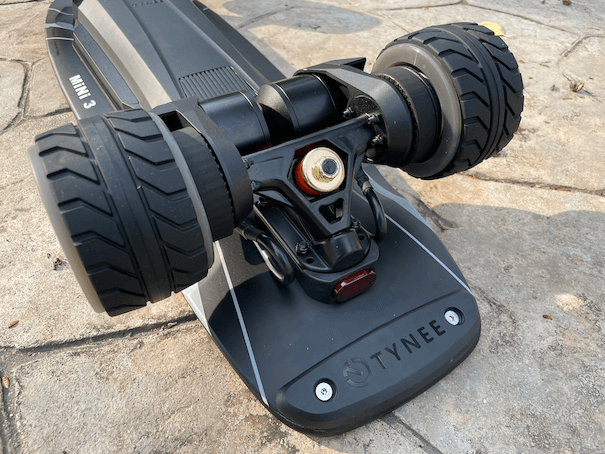 The Tynee Mini 3 Pro comes with some additional features to enhance the riding experience, including a built-in brake light that lights up during braking and can be manually switched on via the remote control. Built-in light is always great, especially when you consider that you don't have to charge them separately.
Riding Experience of the Tynee Mini 3 Pro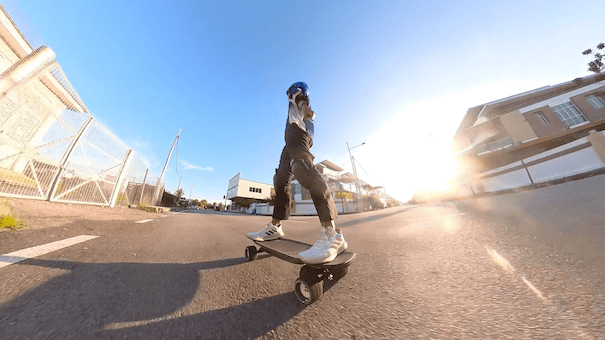 First and foremost, this is a super duper powerful board.
The Tynee Mini 3 Pro is smooth yet extremely powerful, thanks to its combination of absurdly powerful motors (Dual 2775W 6355 belt motors) and 13s Hobbywing ESC.
The board took off faster than even most electric longboards, making it one of the most powerful electric skateboards, and the most powerful electric shortboard we've reviewed. It is as strong as, say, the Meepo Voyager X, which is a longboard specialized for power!
You can read more on our review of Meepo Voyager X here.
And, the braking is equally smooth and strong, unlike the old 10s Hobbywing which typically has weak brakes.
Maneuvrebility-wise, the Tynee Mini 3 Pro is obviously great, it's a shortboard after all. The kick-tail is easy to use, allowing for quick kick turns. The 7″ trucks are very stable and equally responsive. It's a fun board to carve around, while not at all wobbly when going at high speeds. And being stable enough is really important; as I should remind you, the board has a default top speed of 31mph or 50kmh and can even reach up to 37mph or 60kmh.
Unfortunately, we only dared to go up to 28mph or 45kph and decided to call it quits there. The board should be able to surpass the marketed top speed of 31mph once you unshackle its top speed by tweaking the advanced settings.
Not Many Weaknesses to Pick On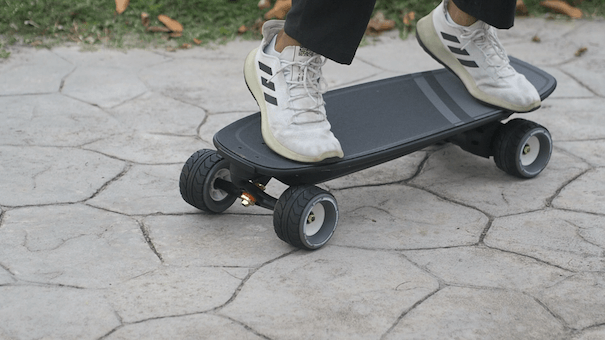 As you can see, we're pretty happy with the Tynee Mini 3 Pro.
If we were forced to say something negative about the board, it would be the deck.
As I said earlier, we feel that the deck could benefit from a more aggressive concave, similar to the late Boosted Mini. It would help us to gauge our foot placement easier.
Another minor drawback is how the board handles rough terrain. Being a shortboard with a stiff deck, the Tynee Mini 3 Pro is still somewhat uncomfortable on unpaved roads.
However, among shortboards, this one is undoubtedly the best at reducing vibration. The 105mm wheels on a belt-drive significantly reduced road vibration, but a longboard is the way to go for a smoother ride on rough roads.
Verdict: Tynee Mini 3 Pro is a great board for the Pros
From the outset, we expect the Tynee Mini 3 Pro to be superbly strong and has a reasonably well ride fee for an $899 board. It hits both of those points.
If you're looking for an absurdly powerful electric shortboard that has more power than anyone needs, the Tynee Mini 3 Pro is where it's at, with the $599 Verreal ACE being its more affordable counterpart. However, this also means that the board is overkill for those who are only seeking an easy board to ride around town and would be satisfied with plenty of other cheaper options. However, it is always exciting to have more power than you need, it's always thrilling to engage the throttle and rocket away, and that's what the Tynee Mini 3 Pro offers.
In conclusion, the Tynee Mini 3 Pro is an unparalleled electric shortboard that offers an exciting blend of power and agility. It is perfect for riders who want more from their e-skates and appreciate the thrilling feeling of rocketing away with a simple flick of the throttle.
If you are interested in buying the Tynee be sure to check out our affiliate discount link here and use code: "ESKATEHQ" to receive $5 off during checkout.
It will help you get a small monetary discount and help us out too. On top of that, you'll be tagged as an Electric Skateboard HQ customer and probably be treated better. Cheers!