Today, we will be reviewing the Vokboard Riot V2.
Priced at $449, the Riot V2 has entered as a contender among other affordable electric skateboards priced below $500. As you may know, the budget segment of electric skateboards has always been dominated by big Chinese brands like Meepo, Wowgo, and Backfire. These giant skateboard manufacturers can usually churn out high-quality skateboards while maintaining affordability due to their large production scale.
So, being a challenger to the status quo, we are interested to see what this new Vokboard brand is bringing to the table. Will it be able to hold on its own among the other heavyweights in the price range of $500 and below?
Vokboard Riot V2 Specifications:
Price: $449
Deck: Canadian Maple; a mild amount of flexibility, no concave
Electronic Speed Controller: LingYi ESC; 4-speed modes, push-to-start
Remote: LingYi with telemetry screen
Battery: 10s3p, 288WH, 8.0 ah
Marketed Range: 21 miles (35 KM)
Motors: Dual 600w Hub
Marketed Top Speed: 28.5 mp/h (46 km/h)
Trucks: Generic RKP trucks
Wheels: 90MM or + 105 mm
Weight: 15 lbs (6.8 kg)
Deck: Broad and Flat
The Vokboard Riot V2's deck is broad and flat. It's made of Canadian Maple and has mild flexibility. It is also pretty flat without much concave.
Electronic Speed Controller (ESC) – 10s LingYi ESC
The Riot V2 uses a 10s LingYi ESC, which allows four different riding and braking modes.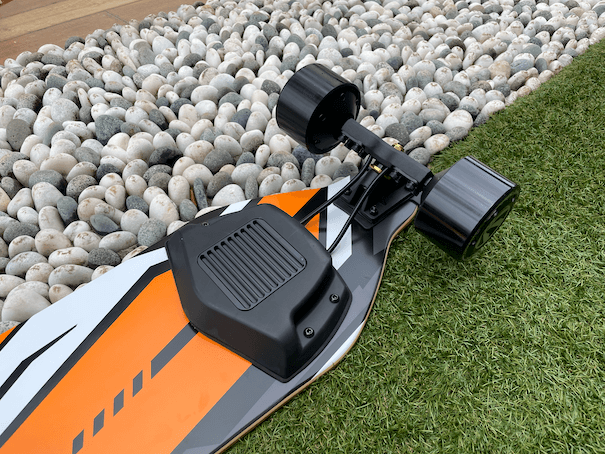 If you've come across our previous review on any electronic skateboard that uses LingYi ESC, you know that the ESC's performance is usually pretty consistent and reliable.
It comes paired with the generic LingYi remote that comes with a telemetry display.
Battery: 10s3p Setup
The Riot V2 is equipped with a 10s3p, 288WH, 8.0Ah battery, which stands out in its price range, considering it's almost two times the size as what we usually see from $500 boards.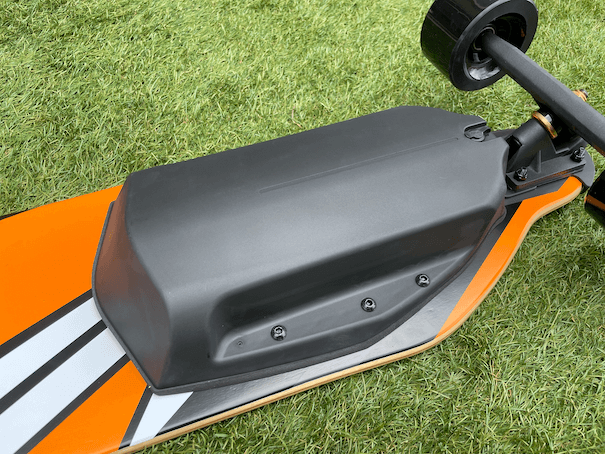 Vokboard claims that the battery life can last up to the range of 21miles (35 km), and as we tested it with a rider of 154 lbs (70 kg) cruising at a moderate speed, we managed to cover around 16 miles (26 km) on a single charge.
Motors: Dual 600w Hub Motors
Vokboard Riot V2 comes with dual 600w hub motors. These are respectable numbers, and the boar does have an impressive top speed of 28.5mph (46 kph). We manage to hit the top speed, but it does take time to accelerate up to the top speed.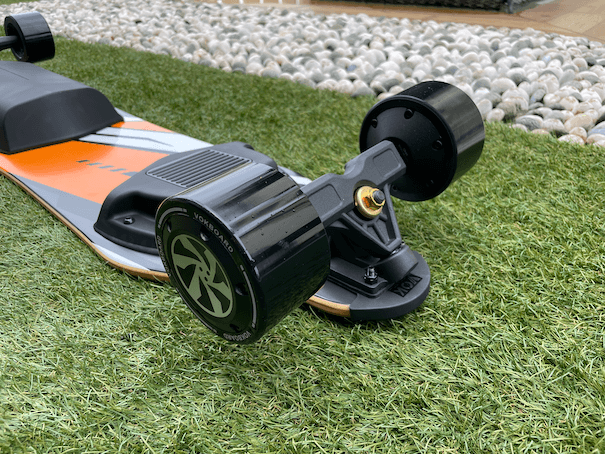 Weight: 17.6 lbs (8 kg)
Despite having a larger battery and dual hub motors, the Riot V2 manages to keep its weight at 17.6 lbs or 8 kg.
Vokboard Riot V2's Specification Summary
In general, the Riot V2 is not a sophisticated board; it has simple features to go with its simple looks. Much like other smaller brands, the Riot V2 was assembled using off-the-shelf parts.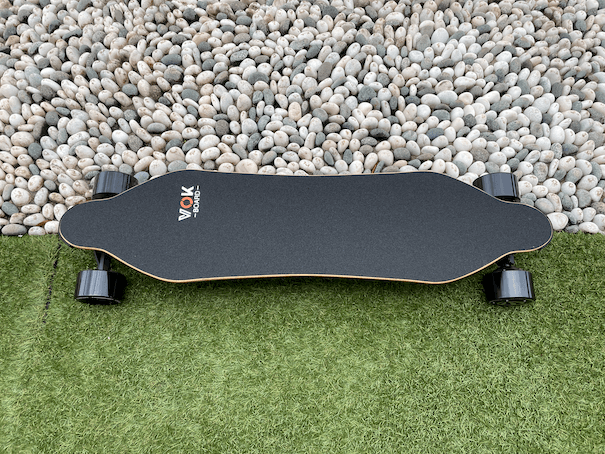 Saving money from having to invest in special molds probably allows Vokboard to put a bigger battery in the Riot V2. However, range means nothing if the board is no fun to ride. This, then, brings us to the next section, the riding experience.
The Riding Experience of Vokboard Riot V2
The VokboardRiot V2 uses LingYi ESC, which has a reputation for being smooth in the first three speed modes and raw a jerky with its highest speed mode. Well, this wasn't the case with the Riot V2, most likely because the motors on the Riot V2 aren't the most powerful.
On paper, the dual 600w hub motors should be very powerful, but we know that motor wattage isn't exactly a good indicator of a board's torque and power, and Riot V2 is a good example of that. While the board really is able to achieve a top speed of 28.5 mp/h (46 km/h), it doesn't accelerate super fast and will take some time before it gets there.\With that said, these motors are still strong enough to make your everyday rides fun, and beginners might even appreciate the tamer profile of the ride.
The Riot V2 does offer a stable handle when going fast, and there are no speed wobbles. The trucks were on the tighter side, and the board was especially stable when going straight. However, this does make it resistant to steer and makes it hard to make very tight turns.
In the aspect of road vibrations, the Riot V2 does a decent job of reducing the vibrations despite its stiff deck. Although it doesn't give you the "floating" sensation that those premium boards with shock-absorbing features provide, it's considered comfortably smooth, especially for boards at this price point. That being said, the larger battery packs lowered the ground clearance and might lead to occasional scrapes over speed bumps.
Verdict: The Vokboard Riot V2 – A Competitive Choice Under $500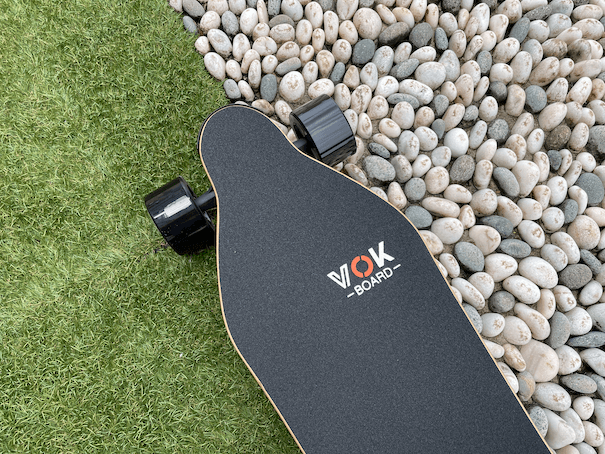 When all is said and done, the Vokboard Riot V2 does offer a respectable riding experience while boasting a range far beyond what's expected for its price. While it lacks exciting power or an extraordinary ride feel, it delivers where it counts: the range. If you're in search of a budget board that can take you the extra mile, the Vokboard Riot V2 is a board worth considering.
If you are interested in buying the Vokboard be sure to check out our affiliate discount link here and use code: "ESKATEHQ23" to receive $5 off during checkout.
It will help you get a small monetary discount and help us out too. On top of that, you'll be tagged as an Electric Skateboard HQ customer and probably be treated better. Cheers!