Foreword and Introductions
Some of you might remember that back in 2016, a Kickstarter campaign for 'World's 1st Single-Dual Motor Switchable Electric Skateboard' was launched. It's called the Buffalo board. The project was successfully funded and delivered, but Buffalo the company fizzled out pretty soon after that.
At 2019, out of the ashes of Buffalo board, rises a new brand – The Peak.
The Peak utilized some of the design left over by Buffalo board and created a new product of their own. It was as if this was Buffalo reincarnated.
You shouldn't assume they are the same product though, even though I never get to put my hand on a Buffalo, just by reviewing the 'literature', I found the similarity of both these products starts and ends with the look.
The Peak Review
This the marketed specs of The Peak:
Top Speed: 25mph (40kmh)
Range: 9mil (14.5km)
Weight: 17lbs (7.75kg)
Charge Time: 4.5hrs
Features: 2 belt motors, IP64 waterproof, Regenerative braking, handles up to 30% slope.
Price: 599USD with shipping included.
Build Quality
Packaging
The Peak came double boxed and cleanly packed. Nothing fancy, nothing flamboyant, just one practical package.
Deck
The Peak uses a deck made out of 7 layers of bamboo material with two layers fiberglass. I love the defined concave that this deck have, but is disappointed that it is actually a pretty stiff deck.
I have no problem with stiff deck, but I just think that it is wasteful to have a good flexible battery configuration and battery case yet didn't make use of it. From my research, I think the old Buffalo has a pretty flexy deck.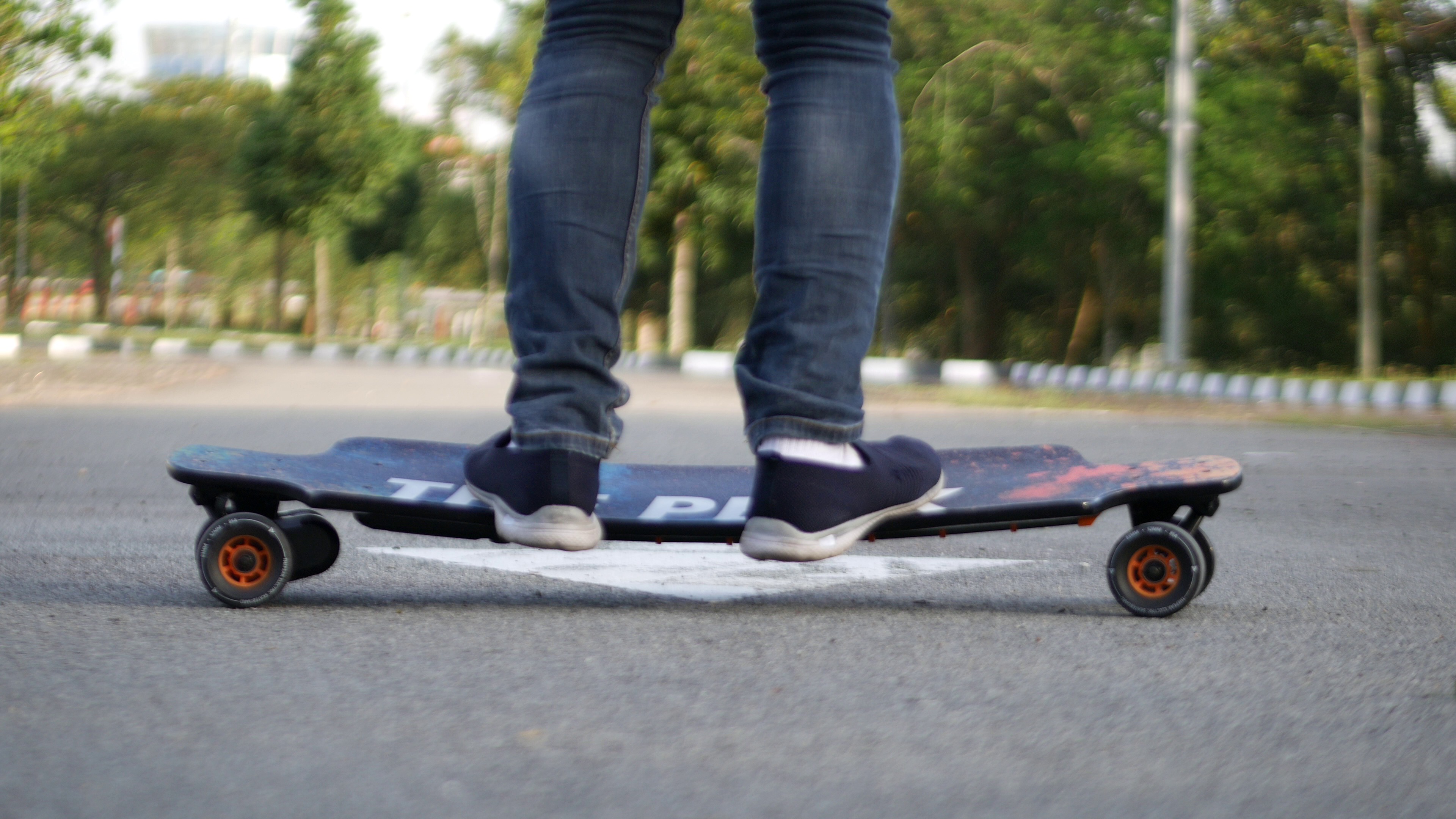 Component Enclosures and ESC
The enclosure of The Peak is the most defining feature of the board. It is designed to allow a huge array of 18650 batteries to flex, but unfortunately, as mentioned, it didn't take good use of that.
There is a USB port on the enclosure, in case you fancy using your 17lbs board as a power bank.
I couldn't recognize what ESC The Peak is using, but more on its performance later.
Wheels
The Peak use 83mm 85A wheels with an abec core. They are not the most comfortable wheels, but that the advantage of a belt drive isn't it?
You can easily swap the wheels to flywheels of your fancy.
More on how the wheels impact the riding experience later.
Trucks
The Peak uses cloned Paris truck, which is my preferred version of Chinese generic truck. Outside of branded truck or Shredder truck, this cloned Paris is the best a Chinese manufacturer could pick.
It provides better maneuverability than another generic variant, and was pretty stable too.
Capability
Range
The Peak is rocking 10s2p Samsung 25R battery pack. That amounts to 5AH and 180wh.
It needs to, as the nature of using dual belt drive really eats up battery.
I would expect a 5AH to go at least 11miles(18km) with dual hubs but with The Peaks dual belt set up my range test ends at 9miles (14.5km).
The board has pretty negligible sag though, it still goes up to 18.5mph(30km) at the very last few minutes. Be careful on challenging the range though, as unlike other board which you can feel the battery drying up, this one just push till it can't accelerate anymore. And being a dual belt drive it really can't freeroll so don't think about kick pushing back home.
*I weigh around 165lbs (75kg) and was riding in a mostly flat area in a warm climate.
Speed
Hitting the marketed top speed 25mph/40kmh is not a problem. My top speed on the sports tracker shows exactly 25mph.
It's not the faster board for acceleration, some belt drive does do better than that.
Torque
The Peak uses two 1200W Motor, and being a belt drive, it has no issue climbing hill.
Riding Experience:
Acceleration and Deceleration
The Peak allows you to change the acceleration and braking mode separately. Both have 3 different strength to choose from.
The control works alright, but it is definitely not the most refined control I have ever use. And it is pretty difficult to describe the flaw. I would say the flaw lies within the consistency of the control. Sometimes the acceleration comes pretty instant, sometimes it seems to have a delay. I never notice any delay with the braking though, always the acceleration, and especially when starting from a standstill.
The acceleration is definitely smooth enough, so even when the control doesn't seem to be all that consistent, there wasn't too much of a jolt and at no point, I am afraid of the board. It is pretty annoying though.
The smoothness of the braking largely depends on the strength setting. In the weakest mode, the braking is pretty tame, and the strongest mode, strong.
When applying the strong brake at a faster speed, sometimes the brake seems to bite and release in alternate succession, causing a few jerks before fully stopping. Again, this is not a consistent finding on every braking attempt. It's not a big issue as you would already be bracing yourself before braking strongly, but it does take away from the experience.
Stability & Manoeuvrability
Stiff deck, low riding height with 83mm wheels makes The Peak a pretty stable board. I have no problem riding on top speed. (Or maybe just me getting better on an eskate?)
The board is pretty maneuverable, with the Paris truck clone, turning and carving are pretty comfortable. Nothing to write home about though.
Vibration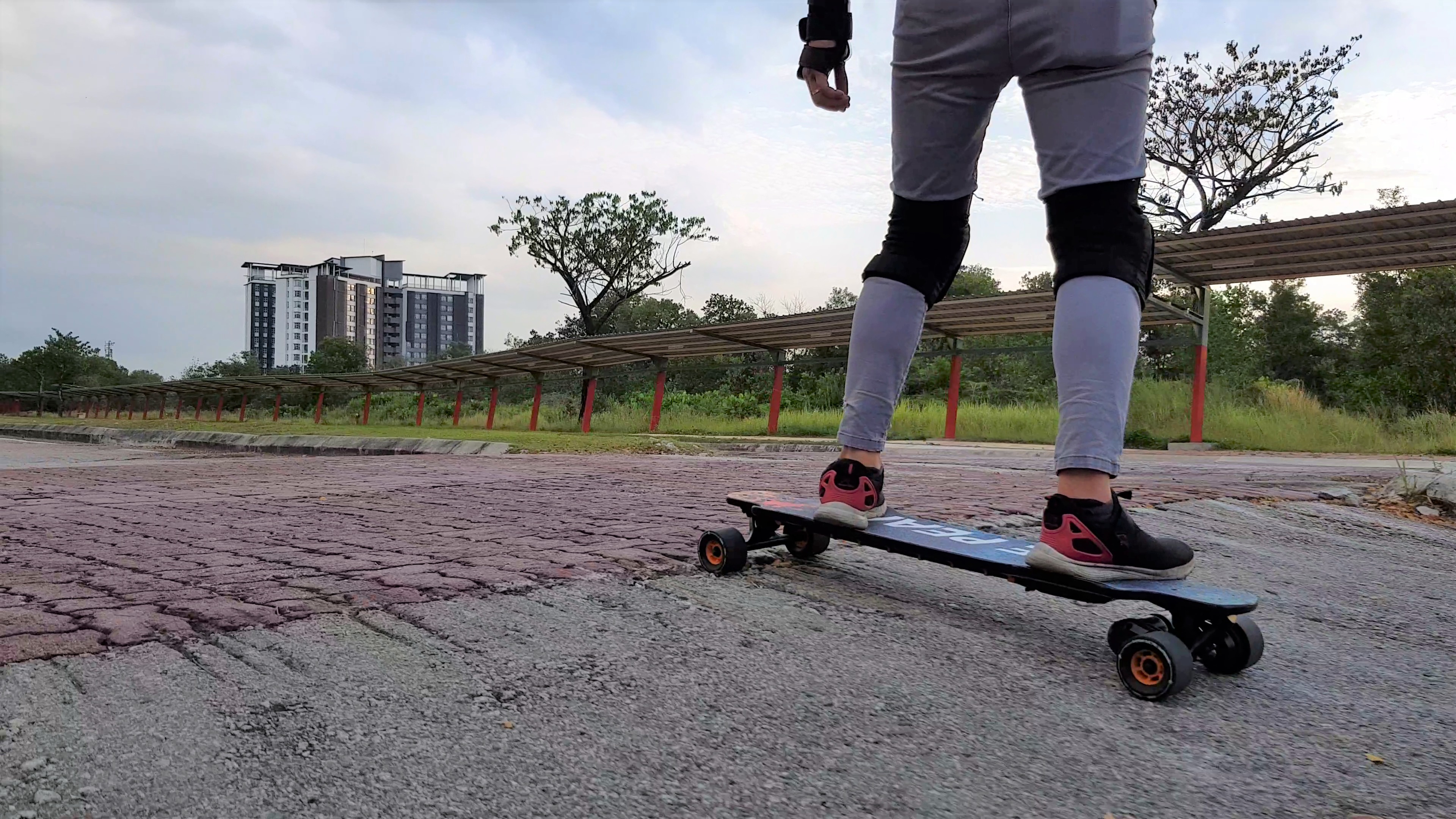 Belt drive's had a distinct advantage over the hub wheels in the smoothness of rides as they have 2 real longboard wheel in place of 2 stiff hub motors.
This advantage, however, is something The Peak didn't take advantage of right out the box. The stock 83mm wheels are just not that good, and despite not having stiff hub motors, the board still vibrate pretty bad on rough roads.
This is made worse as the deck, as I mention, is pretty stiff.
This, I am pretty sure, can be addressed by swapping over to better quality and bigger wheels. But it is up to you to do the switch.
Remote
Argh, this is by far the worst remote I ever used.
Having a dead man trigger is thoughtful, making it stiff and at an awkward angle is not. After pressing down hard on the trigger for half an hour, I felt as if my hand is gonna cramp.
The awkward placement of the dead man trigger in relation to the throttle dial also means I am unable to reach the full throttle with one hand as I am pushing down on the dead man trigger.
Remember I mention about the board not being consistent in control? Part of me wonders if that is due to the dead man trigger not engaged properly. I have no way of testing that, pretty frustrating situation.
The remote has telemetry on it, telling you the speed and allowing you to change speed modes. It has a calibration setting for it but I have no idea what it does. I played around with it and nothing happened. Can't find any instruction on the manual either.
In short, this is a bad remote design. It's usable, but just… uncomfortable.
Customer Service
The Peak is pretty new to the scene and pretty unknown even to me even after some research. They offer a 3-month repair warranty and they do not entertain a refund.
They promise to provide customer service over email, or you can reach them via Facebook.
If you purchase it via online retailer EskateboardPark, they too will offer their after-sale service.
Verdict
When I see The Peak, I see a board with a lot of wasted potentials.
It didn't use a flex deck to take advantage of its battery and enclosure set up; it also didn't use good quality wheels to take advantage of the belt drive system.
The flaws in control and remote is not deal breaker, but pretty annoying.
All in all, the board from top to bottom, are pretty average.
It is a good base for DIY though, imagine what you can do with the flexible enclosure and battery packs. hmmm.