Foreword and Introductions
It seems like every budget brand is beginning to move up the price ladder by offering something around the mid-tier $599 marks.
Wowgo 3 is not a reiteration of the Wowgo 2s but a separate lineup on its own. Just by going through the marketing material, one would notice that every part of the board have been upgraded from the Wowgo 2s; be it the battery, the deck, the wheels, or the ESC. Of course, the most notable upgrade must have been the trucks, they are Paris trucks now!
Wowgo 3 Review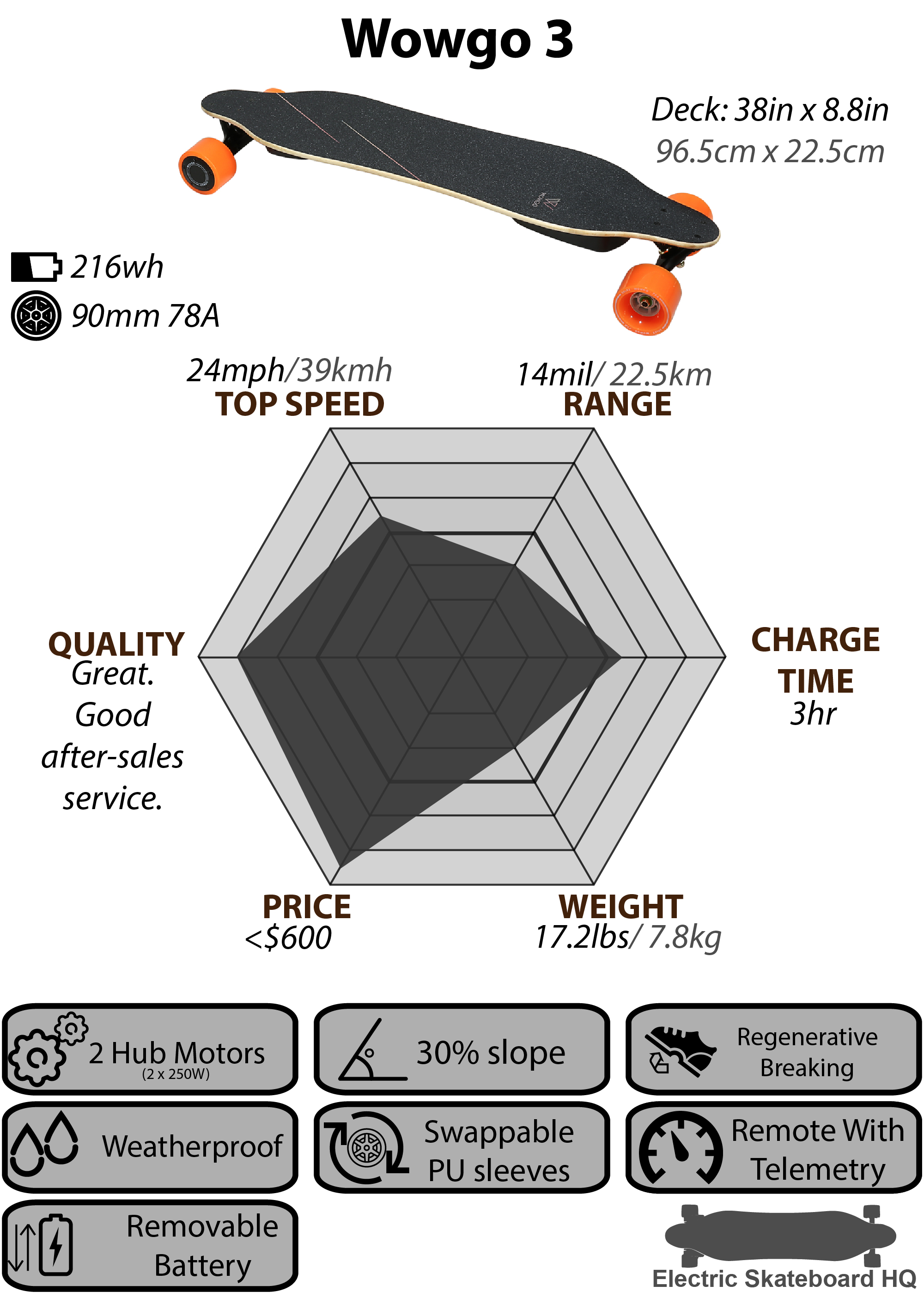 This the specs of the Wowgo 3:
Top Speed: 24mph (39kmh)
Range: 14mil (22.5km)
Weight: 17.2lbs (7.8kg)
Charge Time: 3hrs
Features: 2 hub motors, regenerative braking, handles up to 30% slope, remote with telemetry, swappable PU.
Price: 599USD with shipping included.
Build Quality
Packaging
Nothing much to comment on; everything was unsophisticatedly but neatly packed.
The board came with a wall hanger, 2 spare PU sleeves, a T-tool, a generic tail-lights, and the obligatory extra foam pads for deck swaps.
Deck
One might remember that I was a huge critic of Wowgo 2s's flat deck.
Not to worry, Wowgo 3 deck is a huge improvement. The bamboo + fiber glass deck provide very good flex. The deck is no longer flat, with some subtle concave to help your feet feel comfortable on it.
I especially love the minimalistic design on the grip tape. Overall, I really like this deck.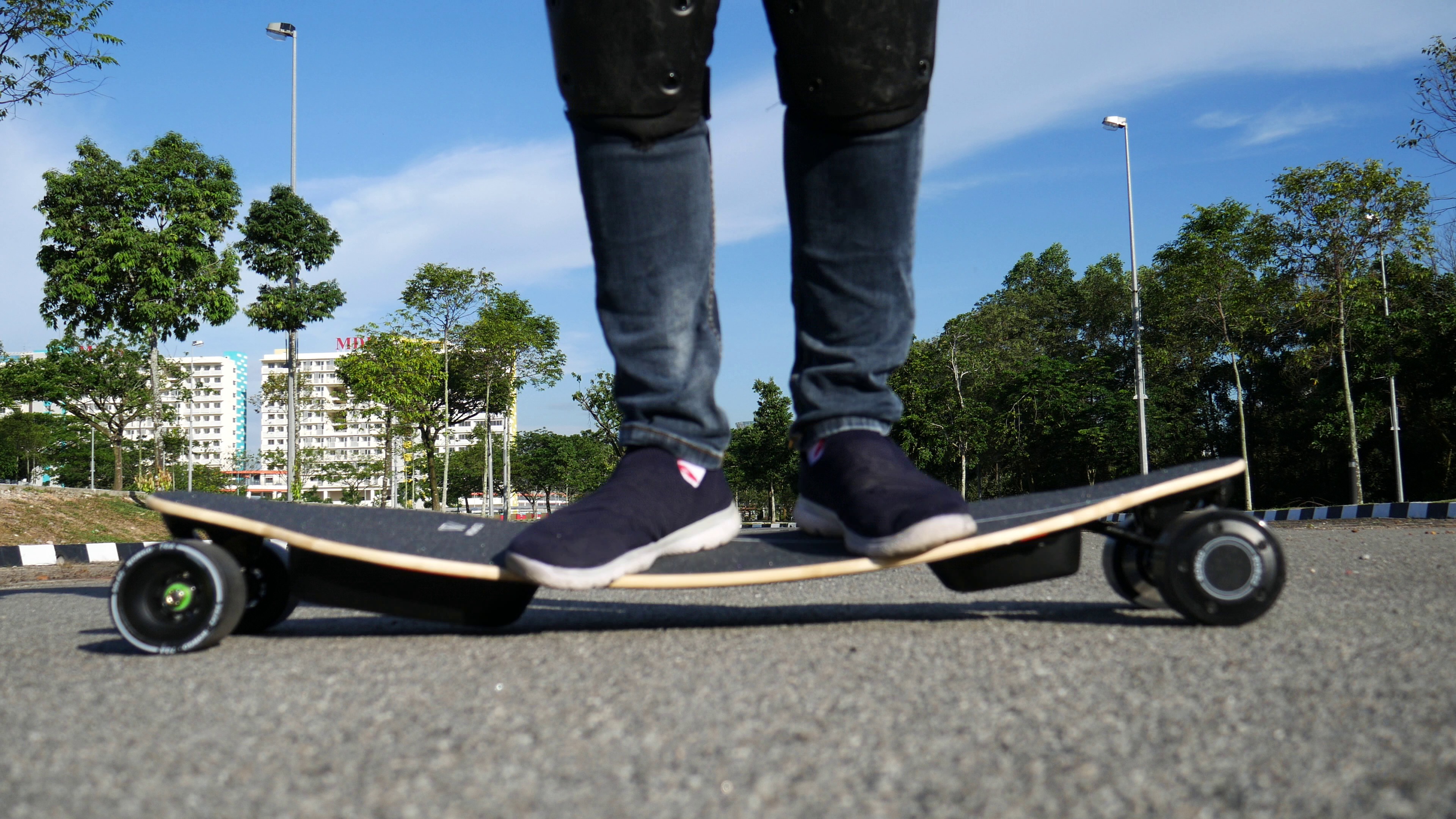 Component Enclosures and ESC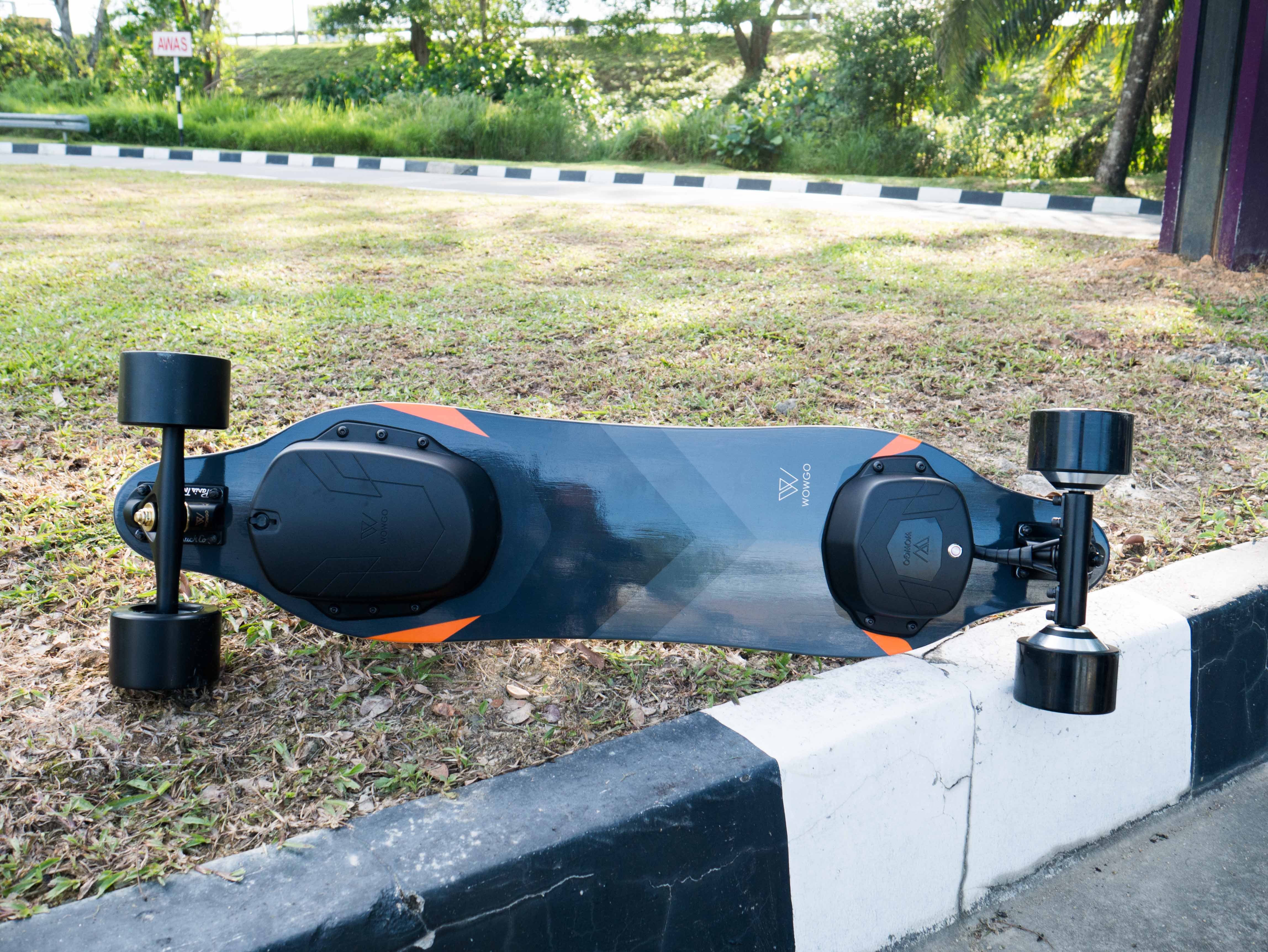 Flipping the deck onto it's back, we see the typical 2 enclosure set up. No more generic parts, looks like everyone is moving into developing their own proprietary parts now! Good.
The enclosure is made out of plastics, not aluminium. Wowgo said it is a strong plastic and it certainly felt like it. Will it break with abuse? That I can't tell.
Wheels
The wheels on Wowgo 3 are significantly better than the one they used for the previous generation. They are 90mm and rated at 78A, I feel they are grippy and comfortable.
The PU sleeve on the hub motor is swappable.
There will be more on how the wheels impact the riding experience later.
Trucks
"Put a Paris truck on it and you will thank me later." is a very popular advise in the eskate community during the rise of Chinese budget board. I guess the team behind Wowgo heard that too and decide to act on it.
Wowgo 3 uses genuine Paris truck for the front truck, and it indeed helps to transcend the riding experience to another level. This is to me, one of the most important upgrades from the Wowgo 2s, as you might recall, I hate the generic truck from the Wowgo 2s – I find the 2s difficult to turn with that pair of generic trucks.
Capability
Range
Wowgo 3 uses one of the best cells in Samsung 30Q to build its 10s2P battery pack(216wh). Referring to the math of 10wh=1km range, the marketed range of 14mil (22.5km) is pretty reasonable.
Putting that into the test, a fully charged Wowgo 3 takes me 15.5miles (25km) before finally stops.
The board still retained a top speed of 18.5mph(30kmh) up to the very last miles of the ride, that's pretty good!
*I weigh around 154lbs (70kg) and was riding in a mostly flat area in a warm climate.
Speed and Torque
Unlike the other boards of this price segment, Wowgo 3 has no intention to duke it out in the top speed department. It keeps the very modest top speed of 24mph(39kmh) of the Wowgo 2s.
Of course, it hit that top speed effortlessly.
Riding Experience: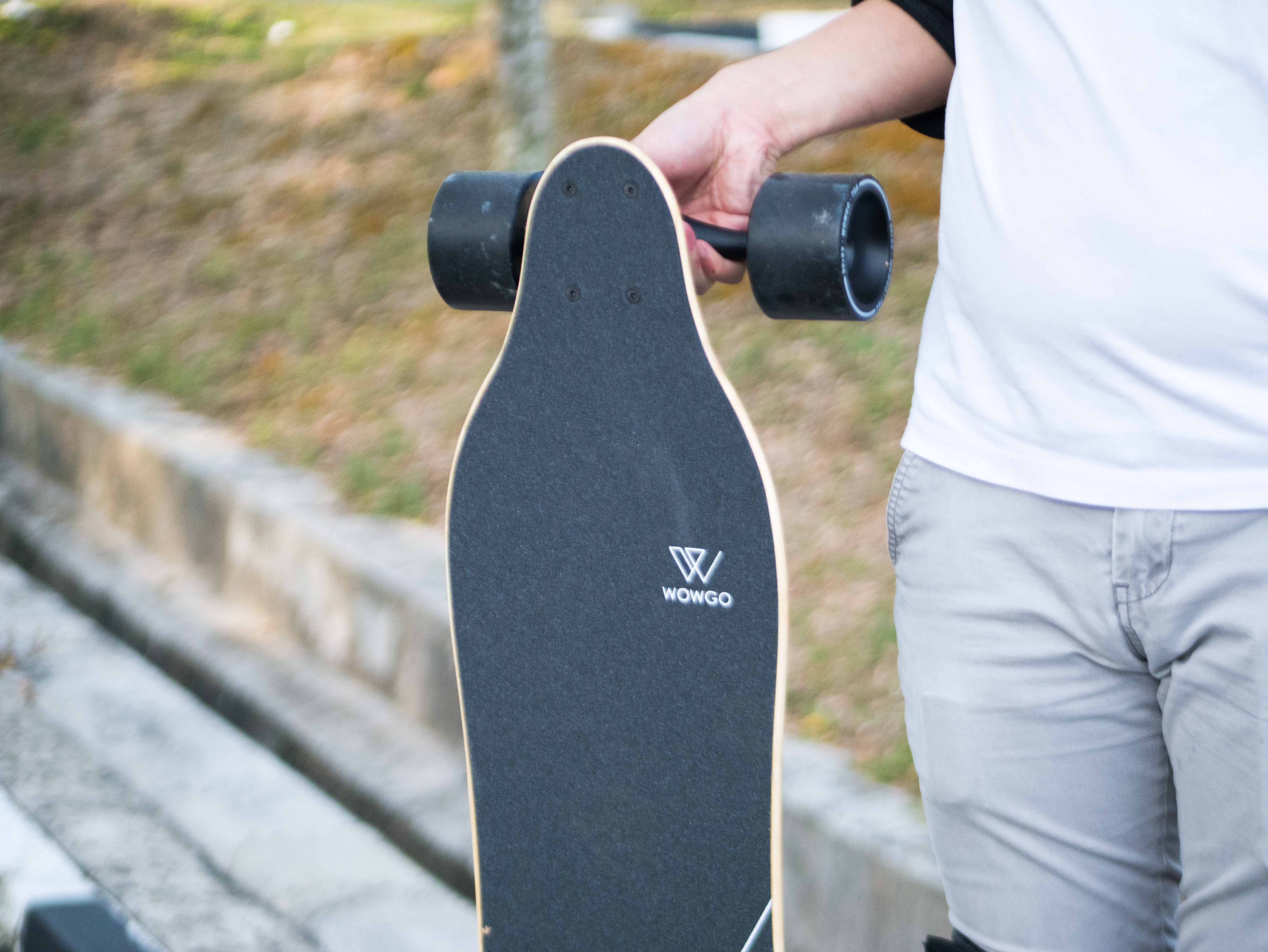 Acceleration and Deceleration
Wowgo 3 uses a customized version of the Hobbywing ESC. As expected, Hobbywing ESC delivers a butter smooth acceleration and deceleration.
What's worth mentioning here is the addition of the fourth mode, Turbo mode. Unlike the Turbo mode found in Backfire G2T, this Turbo mode does not have a time limit and doesn't require cooldown. This basically means a fourth speed mode that provides a more aggressive acceleration, and indeed it does! The board picks up speed pretty effortlessly, bringing you to top speed fairly quickly. Not as fast as a belt driven board, or a VESC but pretty fast.
Braking on the Wowgo 3 is smooth and comfortable. It is stronger than the Wowgo 2s and any board on the last gen Hobbywing ESC, I would prefer it to be a tad bit stronger.
Stability & Maneuverability
It seems to me that all $599 board has their own focus and specialty. Wowgo 3 focus is on relaxing ride and maximum fun in carving. Flexible deck and Paris trucks both are ingredient that Wowgo choose to create this favor. Paris truck is known to give fluid and have a comfortable carve, while not sacrificing the stability. Flexible deck makes riding around comfortable, and carving fun.
For a not so aggressive top speed of 24mph(39kmh), stability is no concern at all. At no point do I feel wobbly or at risk of being bounced off of the flexible deck.
The use of soft 78A 90mm wheels further improves the smooth buttery feeling of the ride. I myself find 90mm the best in general use for hub boards. While, 80-83mm are too small for bumps and cracks and vibrations, 96-107mm rides too tall and scarifies too much torque.
Vibration
So with the 90mm soft wheels (78A) and the flexible deck, Wowgo 3 does pretty well in absorbing vibrations from poorly paved road. Of course, it is still no match against belt-driven boards that has 4 true wheels or big wheels of 96mm+ size but amongst all hub-drives that are with 90mm wheels, this is among the best in reducing vibration.
For me, Wowgo 3 scores an A- in vibration handling.
Remote
Wowgo 3 uses a very elegantly designed remote. The shape and the soft-rubber finish give it a very premium feel. The design is really ergometric and feels nice in hand.
It has a screen that shows top speed, odometer, and battery percentage.
It only has one button that controls everything:
Single press changes the speed modes.
Double press changes the forward/reverse.
Long press to turn on and off.
Holding it to go into pair modes.
Speed modes:
Slow mode: 0-12miles/h(0-20km/h)
Normal mode: 0-18miles/h(0-30km/h)
Fast mode: 0-24miles/h(0-39km/h)
Turbo mode: 0-24miles/h(0-39km/h)
Customer Service
There isn't much that I can say about Wowgo's customer service.
Wowgo is now one of the most established electric skateboard brands from China, and their post-sale service is considered reliable.
Unfortunately, all the post-sale service is still based in China but the company seems to be doing pretty well performing their post-sales duty. Sure, there is still some occasional complaints heard from time to time, those are usually drowned amongst the cheers of satisfied customers.
So, not amazing but good.
Verdict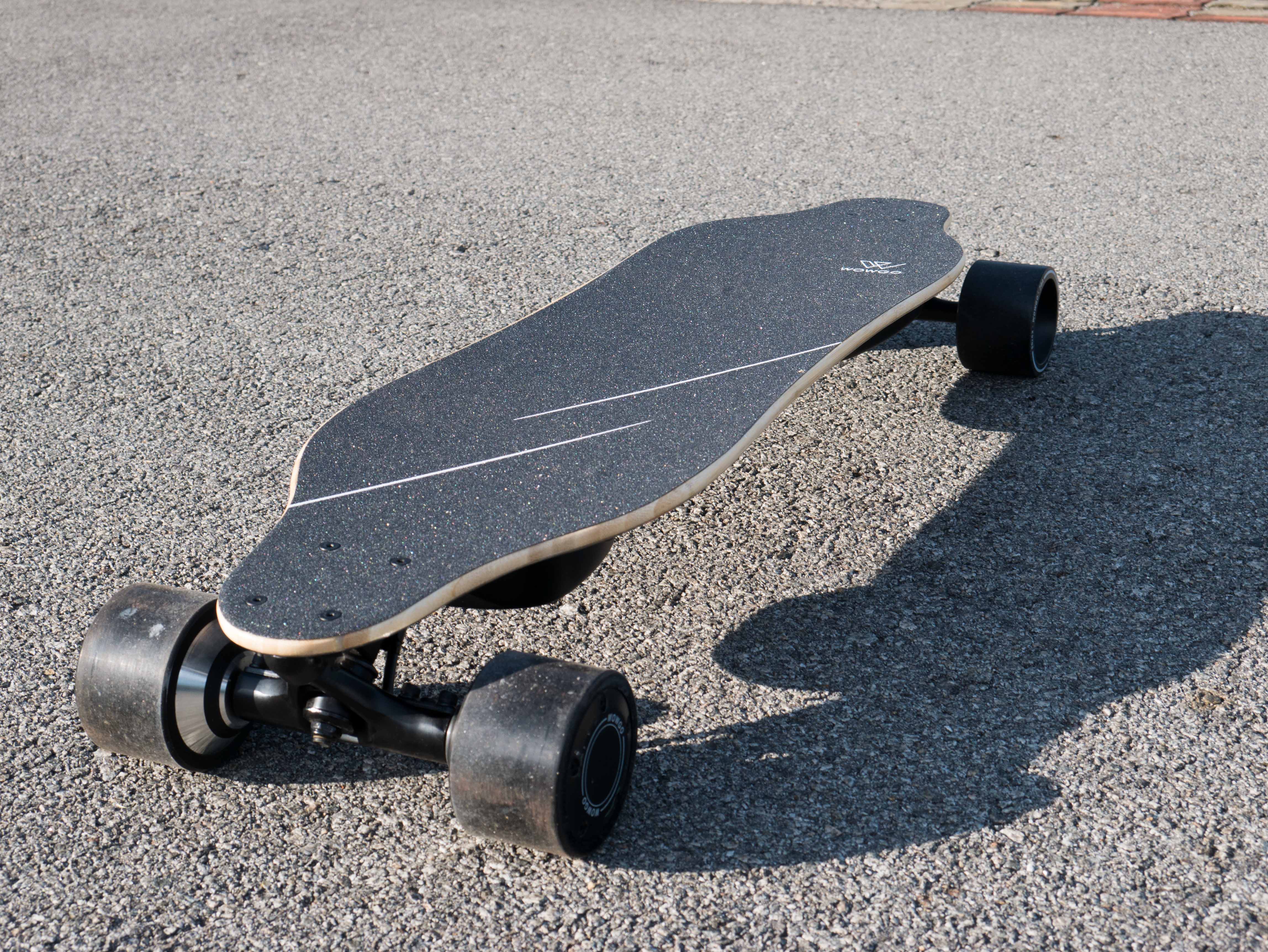 Wowgo 3 has a clear design focus. The same design focus that makes the Boosted popular to be a very comfortable ride for the last mile solution.
It doesn't try to push the envelope in top speed, torque, range, or wheel size. The result might not be exciting, even boring for some but I believe this is a deliberate design choice that Wowgo made, so that the Wowgo 3 can be the most comfortable ride you can find, at any price.
I think they succeed in their vision. Wowgo 3 is, as mentioned in the title, is butter. The control is buttery smooth. Carving all around is buttery smooth. Everything just felt so smooth.
As always, we have secured a small discount code for our fellow readers:
Click to receive $5 off Wowgo 3
For those who are from a European country, you can choose to shop from a local dealer – Speedio.
Speedio is an Electric Skateboard re-seller based in the Czech Republic. While you do pay a little premium, they offer a 2-year warranty, local support, and fast 2-5 days shipping.