Foreword
It's the end of 2018 and there are plenty budget board options coming from the Chinese Market.
Outside of the familiar four (Meepo, Ownboard, Wowgo, Verreal), countless others Chinese brand had popped up, trying to capture a slice of this market segment.
Many of those companies are questionable, but some have been around reasonably long – Yeeplay is one of them.
Yeeplay M2s the board we are reviewing today is the second generations of Yeeplay boards. Let's see how it stacks up against the other Chinese budget board.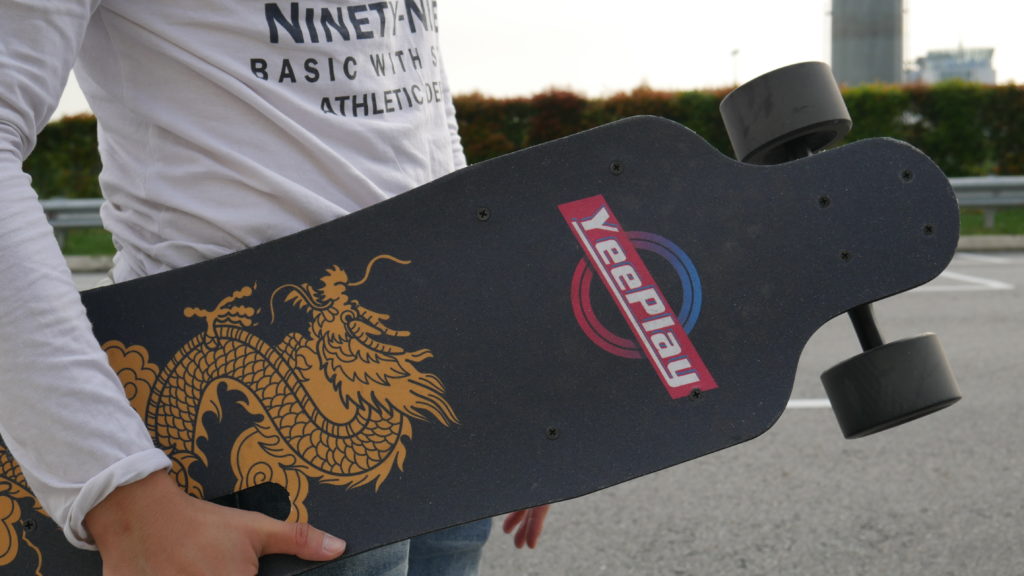 Introduction to Yeeplay
Shenzhen Yeeplay technology co., LTD is a very young company, founded on August 2017.
It was founded by a team of three. Mr. Yang, Rex, and Alan.
Mr. Yang was in the business of sports equipment when budget electric skateboard craze hit.
Already a skateboard enthusiast, Mr. Yang found 2 like-minded peers in Rex and Alan to create a eskate brand of their own – Yeeplay.
In case you are wondering, Yeeplay got its name from the Mandarin abbreviation for "Playing Together". Basically, with Yeeplay the team hope to create something that could bring joy to everyone.
On the time of this writing, October 2018, Yeeplay has grown from a team of 3 to a team of 20.
Yeeplay M2s Review
Yeeplay M2s Specs
The Yeeplay M2s has a pretty standard spec for boards in this segment:
Top Speed: 25mph (40kmh)
Range: 12mil (18.5km)
Weight: 16.7lbs (7.6kg)
Charge Time: 3 Hours
Features: Swappable PU Sleeves, Regenerative Braking.
Price: around 430 USD (after delivery fee).
Build Quality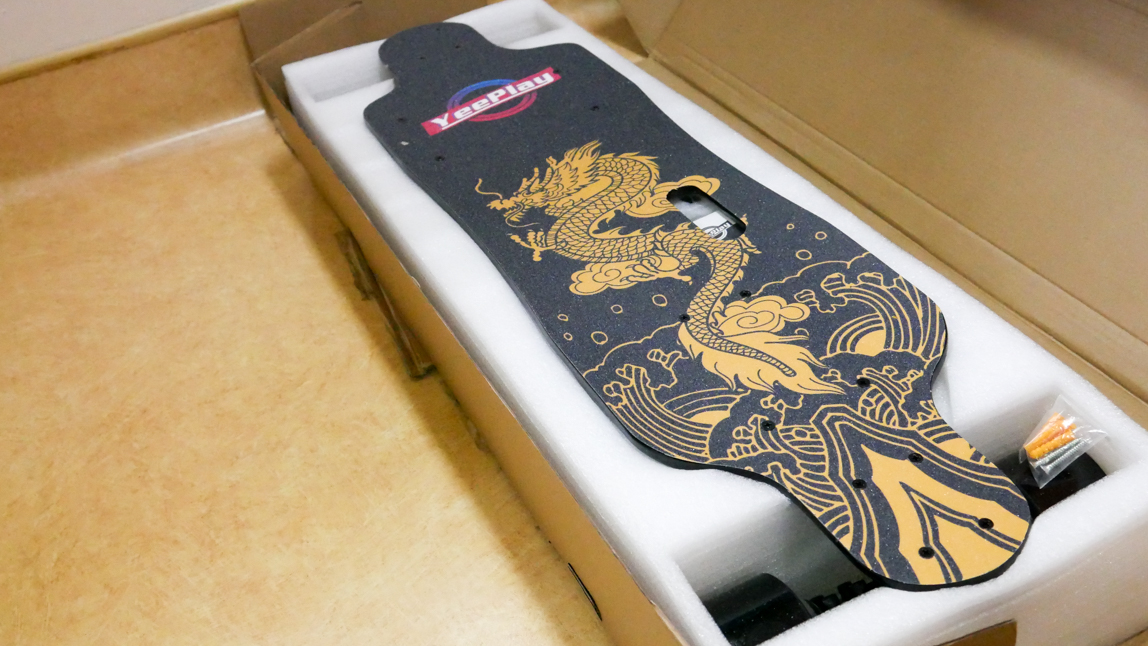 Yeeplay M2s came in a single box (not double boxed). To prevent damage in delivery (they are always handled roughly), Yeeplay slap on extra cardboard paddings underneath the box.
That did help, but also makes the package a bit unsightly, and a hassle to open up.
Inside the box, the board was pretty well packaged.
Although the PU of the wheels is swappable, the purchase doesn't come with an extra set of it.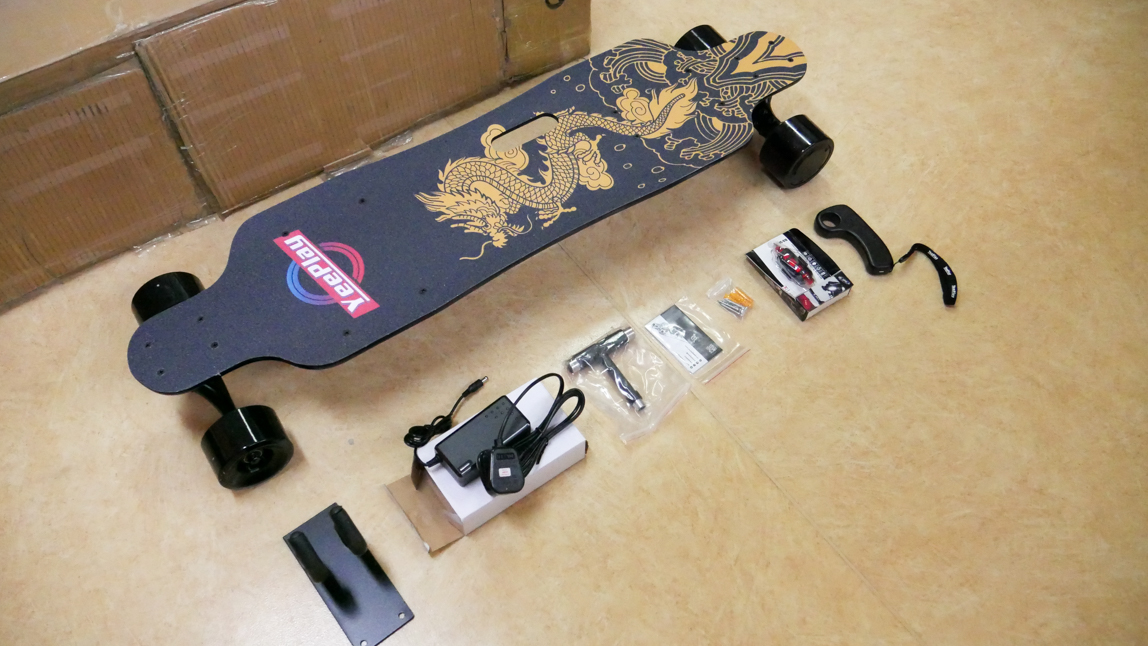 What's included in the box are the tail lights, skate tool, name cards, wall hanger, charger, remote and extra foam pad for deck swapping – all are pretty standard for Chinese budget board.
Deck
Yeeplay M2s' has a very oriental graphic design on the grip tape.
It will definitely leave a strong impression, even if you are not into that.
Underneath that grip tape is a 38.2in x 9.4in (97cm x 24cm) eight ply maple deck.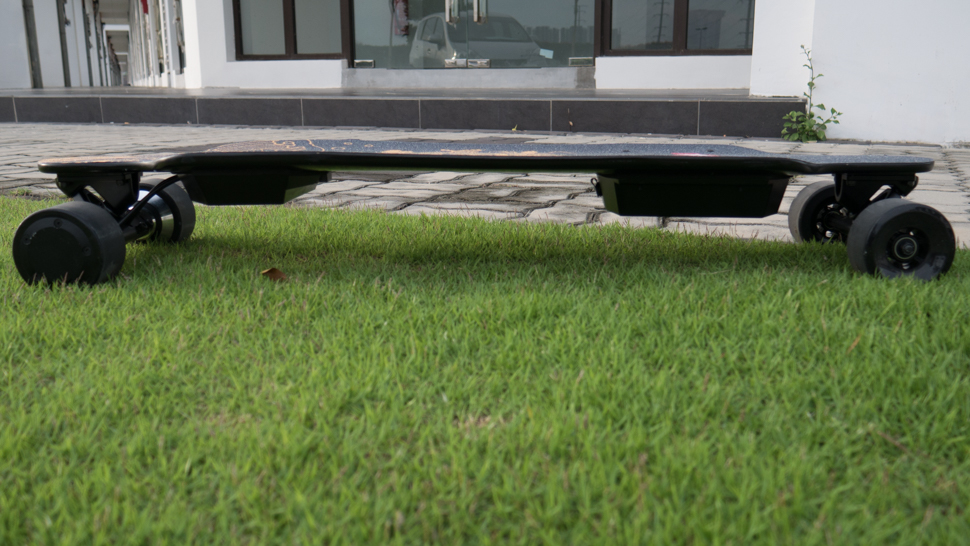 Comparing to the other Chinese budget board, the Yeeplay M2s has a wider deck, which I really prefer as I find it comfortable to ride on.
There is also a progressive concave on the deck, which helps the feet to feel comfortable during rides.
It also makes turning easier.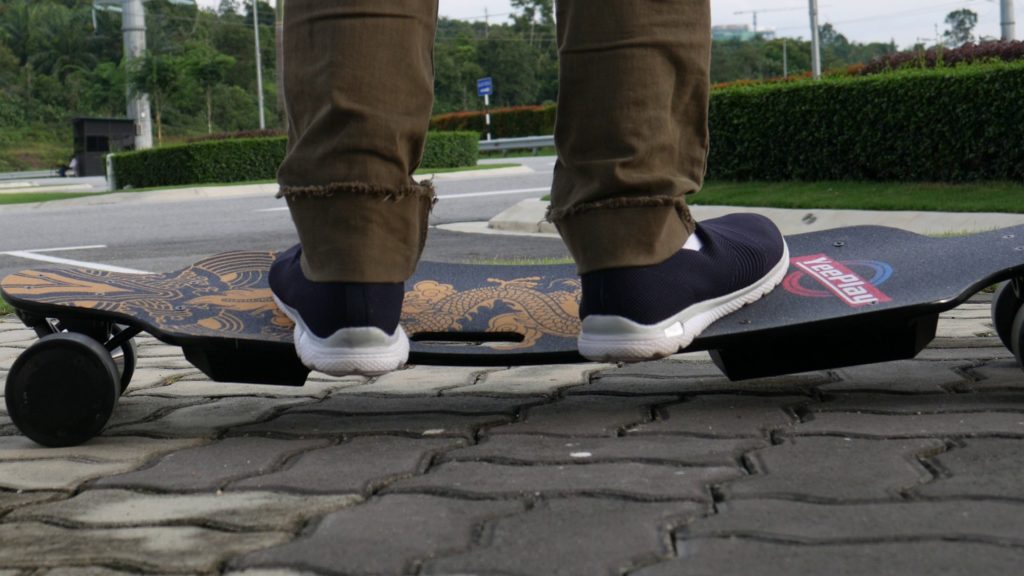 There is a bit flex on the deck, so it helps a bit to combat vibrations.
Component Enclosure and ESC
Yeeplay M2s uses the most common remote and ESC pairing – the one which is the same as the Meepo V2P.
If you are familiar with the Meepo V2P's ESC, you would know what to expect of Yeeplay's ESC.
We will go over that in detail for those who aren't familiar with them.
The M2s uses the typical double enclosures set-up to house its component. It uses the all-metal enclosures to prevent cracking, a problem that is commonly seen with plastic enclosures.
Wheels
Yeeplay M2s  goes for the industry standard 90mm wheels – which should get you over most bumps and allows for riding on less than perfect roads.
The 250w hub motors that Yeeplay M2s uses looks similar to the one uses by Winboard and Teamgee. They work well so I have no complaints on that.
Yeeplay doesn't sell their own PU sleeve replacement at the moment of this writing, but it will be available on their site later.
The wheels come with generic Chinese bearings, not the best but it's not the most important thing when you are not kick-pushing.
Trucks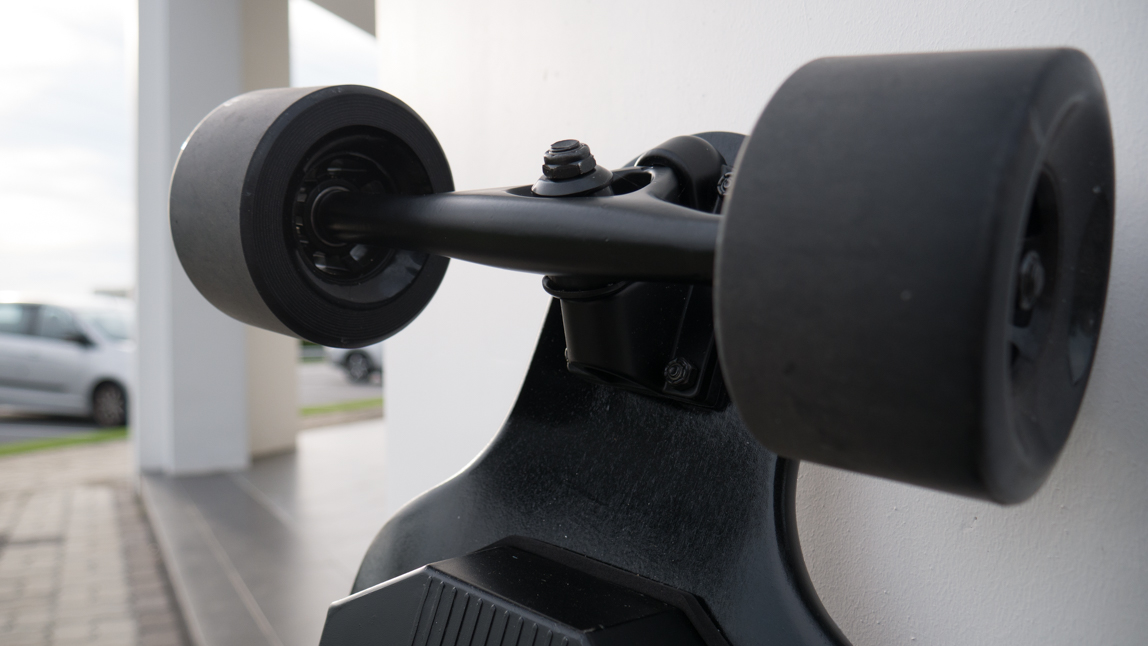 Instead of going with a Caliber truck clone like the Ownboard, Wowgo, and Verreal, Yeeplay M2s goes with a Paris Truck clone.
And that makes turning on the M2s much easier, however, it sacrifices on stability making riding in top speed a little bit less comfortable.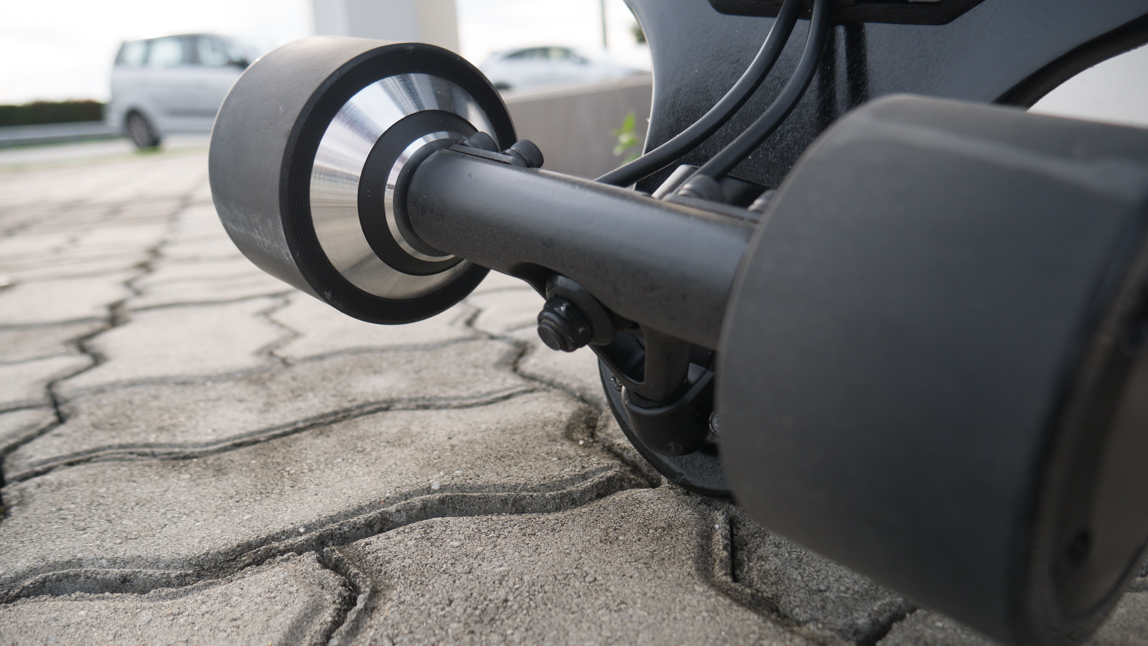 The stock bushing that comes with the M2s are also from a lower quality generic Chinese brand.
As the result, turning on M2s feels less 'elastic' and less smooth as the bushing doesn't push you back to level as well as branded bushings.
I highly recommend a bushing swap if you are going to use M2s for the long term.
Summary of Build Quality
The Yeeplay M2s is as well built as any other Chinese budget board, which at this day and age, is pretty good.
However, don't expect stunning unboxing experience, or great polishing.
Yeeplay M2s is practically known generic parts put and package together neatly, and that should be your expectation when shopping in this market segment.
Riding Experience:
Acceleration and Deceleration
There are 3 ride modes:
Beginner mode with a top speed of 10mph/16kmh
Eco mode with a top speed of 15mph/ 25kmh
Expert mode with a top speed of 25mph/ 40kmh
Pro mode with a top speed of 25mph/ 40kmh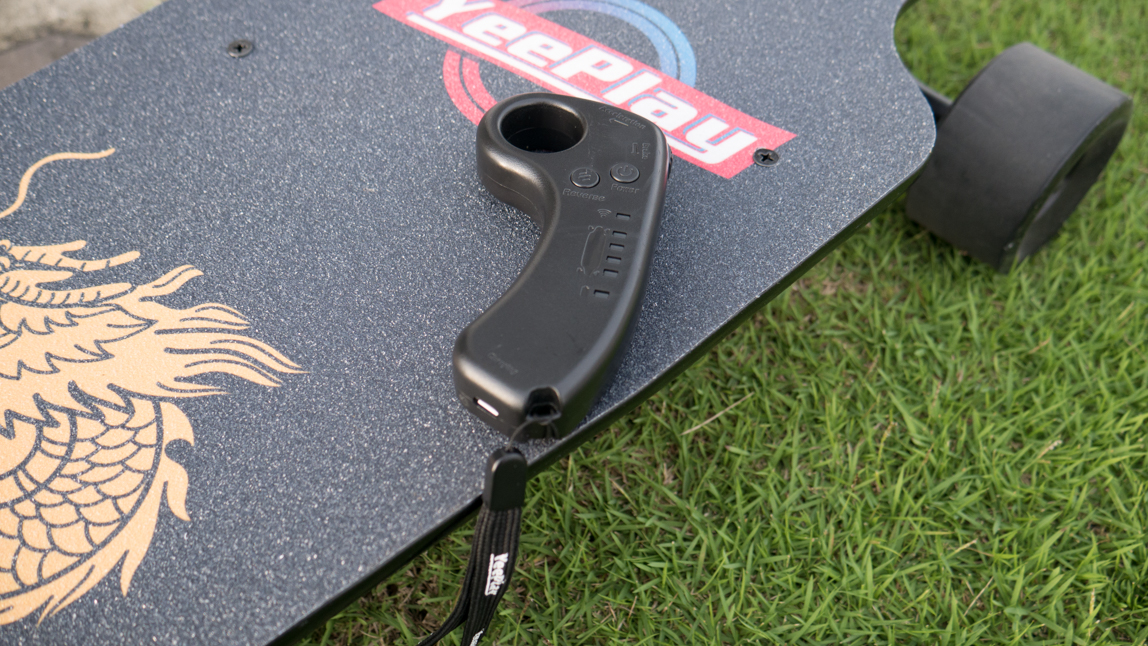 There is two very widely uses Electronic Speed Controller available in Chinese eskate market.
The one used by Meepo V2P and the Yeeplay is called the 'LingYi' ESC.
The one used by Ownboard, Wowgo and Verreal is known as the HobbyWing ESC.
The behavior of 'LingYi' ESC is pretty well-known.
Let's start by talking about the acceleration and deceleration.
Eskate component from China is constantly improving, that's also true for the 'LingYi' ESC which received a firmware update just a while ago, further improving on the smoothness of the acceleration.
In the first 3 modes, the acceleration on the Yeeplay M2s is smooth and with no perceivable lag.
Unlike the Hobbywing ESC, which focuses more on the preciseness of the control, 'LingYi' ESC do try to smooth out the acceleration in the first 3 modes so you experience less jolt even if you push too hard on the throttle by accident.
This makes the beginner mode on Yeeplay M2s much beginner friendly than Hobbywing's ESC, yet veteran wouldn't felt bored by it as the expert mode still gives thrilling acceleration.
However, the braking on the 'LingYi' ESC is a lot stronger and harsher than the Hobbywing ESC.
You will appreciate that stronger braking when you REALLY NEED TO STOP, but at any other time, most will like the smoother and gentler braking of the Hobbywing ESC.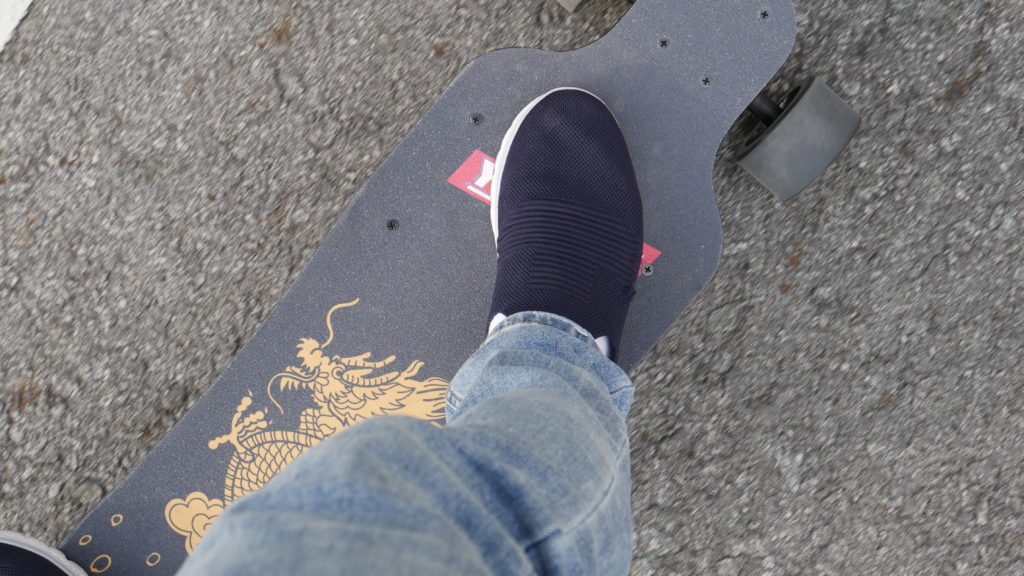 The control passed the newbie test – where I lend the board to a completely skateboard-naive person and they are able to learn to ride it within minutes. But the braking is what ruined it from them. They can accelerate but are afraid of the braking.
There are talks where the new "LingYi" ESC will allow switching of acceleration & deceleration curves, but the unit I receive doesn't have that function just yet.
On the Pro mode though…
I don't actually understand the benefit of the Pro mode in 'LingYi ESC', I feel like it is just an excuse to be raw. In Yeeplay M2s, Pro mode is jerky without any significant increase in acceleration speed. The top speed doesn't change either, so why bother?
My advice is to skip the Pro mode and you won't be missing anything.
Vibration
Yeeplay M2s handles vibrations okay-ly. Not too good, not too bad.
The deck is not flexy enough to eliminate vibration, but it is still better than other variation which has a completely rigid deck.
The 90mm wheels, softer riser do help to some extent.
Stability & Maneuverability
The maneuverability of the M2s is where it shines. Paris truck clone is more turny than their caliber truck clone counterparts. I advocate change to a better bushing to get the most out of it.
However, this does come with the expense of the stability of the board.
Without tightening the truck, I am not comfortable to ride on the top speed with the M2s despite the comfort of the broader deck.
Once the truck was tightened down, it became a lot better.
Again, this is where a bushing upgrade will do wonder for Yeeplay M2s.
Remote Control
Standard 'Meepo' remote that comes pairing with the 'LingYi' ESC.
Ergometric design that is comfortable in hand.
4-speed modes, with reverse function.
Nice wheel dial with a fair amount of travel.
No disconnection.
Summary of Riding Experience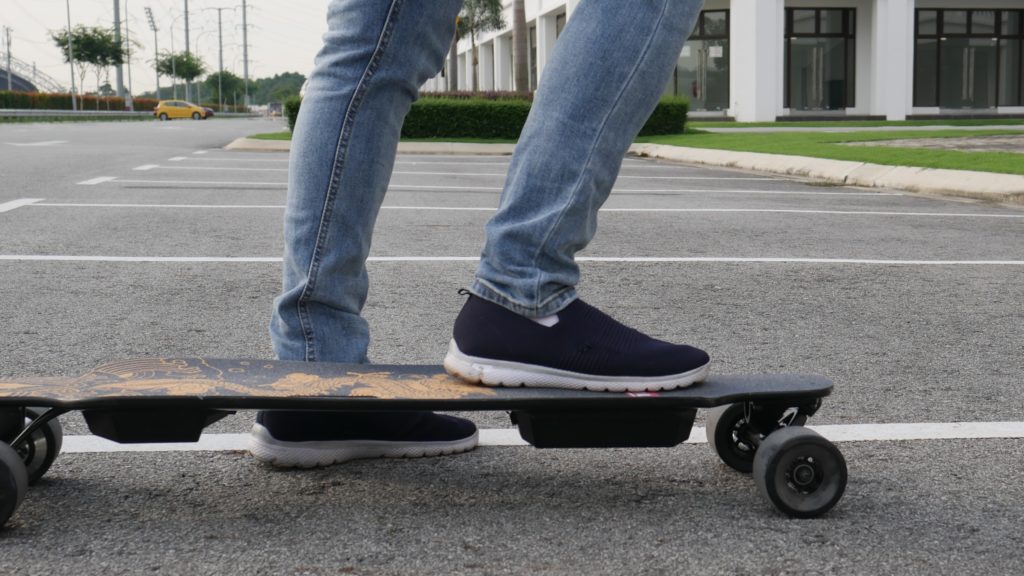 The overall riding experience on Yeeplay M2s is fair.
I like the broad deck with healthy concave, good maneuverability, smooth acceleration, fair vibration dampening.
However, many would prefer smoother and less harsh braking, and some would trade the turny truck to something more stable.
Comparing it to the same generation Meepo, Ownboard, Wowgo, Verreal, AEboard, I would say Yeeplay M2s special flavor would be the turny trucks and broader deck.
Yeeplay M2s is on par in its capability with the other Chinese budget boards.
Meaning – good value for money if compared to boards from any other segments.
Range
Rider weight: 165lbs(75kg)
There are three battery options for the Yeeplay M2s.
4.0AH, Powerful Samsung (154wh) -12miles/ 18km range
5.8AH LG  (208wh)  – 13miles/ 21km range
8.5AH Sanyo (306wh) – 18.5miles/ 30km range
The board that I am reviewing has 4.0AH standard battery, and it gets me to 11.5mph/18.5km on a rather conservative riding. Top speed when I got a clear stretch, around 12mph(20kmh) otherwise.
As the marketed range correlates with the battery size, (watt hour/10 = expected range in km)
I have no doubt that the marketed ranges on the other battery options are also reasonable and not exaggerated.
The voltage sag is there but wasn't too bad. With 40% battery left the top speed dropped to an acceptable 18.5mph(30kmh), then to 12mph(20kmh) on the last 10%.
Speed
Marketed top speed is 25mph/ 40kmh.
I weight 75kg or 165lbs and I can hit that, but it does time to reach the top speed.
Acceleration on the last few mph is a bit labored, but it did get there eventually.
Torque
Yeeplay M2s has dual 250W hub motors, and those did pretty well.
The normal everyday incline is not going to be a trouble here.
It passed the standard stop and go test on a 15% incline.
Customer Service
Customer service is a big part of an eskate purchase, even for an affordable brand.
Yeeplay is relatively new to the market and is still in the process of establishing their brand and customer service.
There aren't praises from the customers yet, neither are there complaints.
My interaction with the team behind Yeeplay has been reassuring, as they are responsive to questions and polite in exchanges.
Verdict
The budget boards war usually comes down with which ESC you prefer.
'LingYi' ESC with stronger, harsher braking but comes with smart turn on and the ability to stop on an incline or
Hobbywing ESC which is gentle in braking, without smart turn on and makes a noisier sound.
For references:
Boards with 'LingYi" ESC – Yeeplay M2s, all the Meepos, Panther X3S.
Boards with Hobbywing ESC – Ownboard, Wowgo, Verreal, AEboard, Backfire.)
With that said, the biggest problem for Yeeplay M2s is that Meepo V2P exists.
Meepo at this point is a more mature company, and V2P has the shredder trucks and higher quality deck.
However, if you like a broader deck, turnier trucks, and metal enclosure, Yeeplay might be a better board for you.
I guess there is the added benefit that, as an early customer of a new brand, you will be treated royally by Yeeplay.
Unlike other unnamed boards from Alibaba, Yeeplay M2s is a valid budget board option, especially for those who felt Meepo, Wowgo, Ownboard, and Verreal are too mainstream.
As all Chinese budget board goes, Yeeplay M2s do provide more value for money than the eskates of any other market segments, and it is easy to mod the s**t out of it.
Use coupon code 'YeeplayHQ' during check out to get $25 off from on your purchase