Foreword and Introductions
Apsuboard X1 is special, being the rare budget ($449) belt-driven longboard available on the market. For its price, it also carries an unusually large 10s4p 8AH battery. But we have been here before, haven't we?
Long-time viewers might remember we reviewed the Apsuboard X1 last year (priced at $599 then) and heavily criticized its control: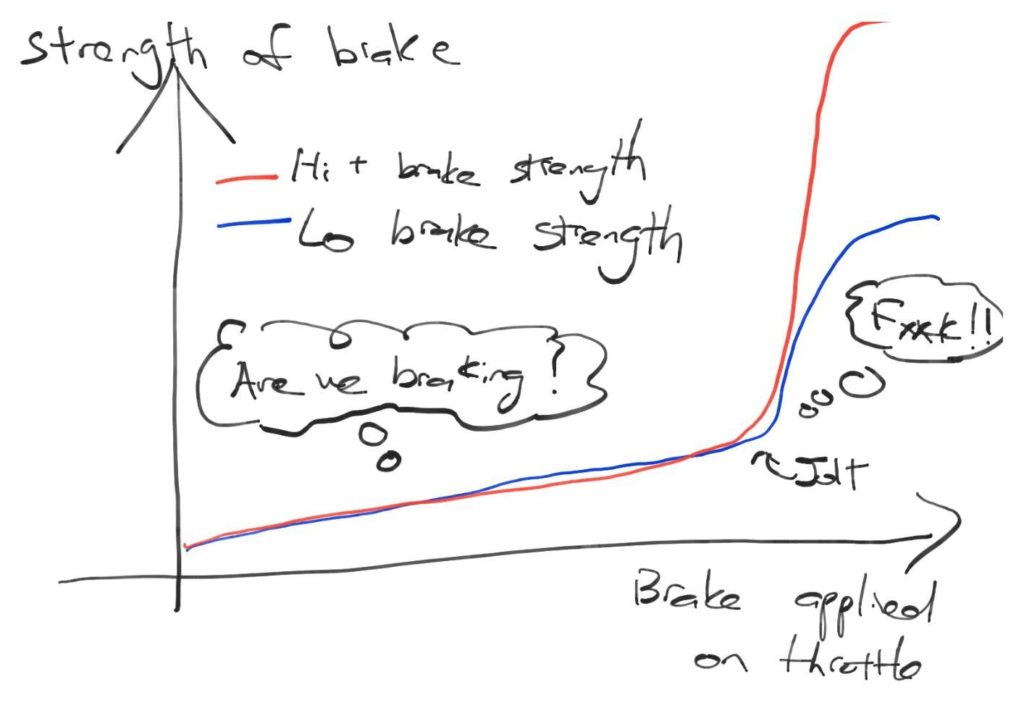 We suggested the Apsu team change the ESC from LingYi to Hobbywing, and it turns out they took our advice. (Or it could be from not just us and they just say that to get on our good side.)
So, with the X1 already giving huge value on the specs, is a new ESC going to make it our new darling in the budget segment? Read on.
The Apsuboard X1 Review
This the specs of The Apsuboard X1:
Top Speed: 29mph (46kmh)
Range: 12.5mil (20km)
Weight: 15.4lbs (7kg)
Charge Time: 3.5hrs
Features: 2 belt motors, regenerative braking, handles up to 30% slope, remote.
Price: 599USD 449USD with shipping included.
Build Quality
Packaging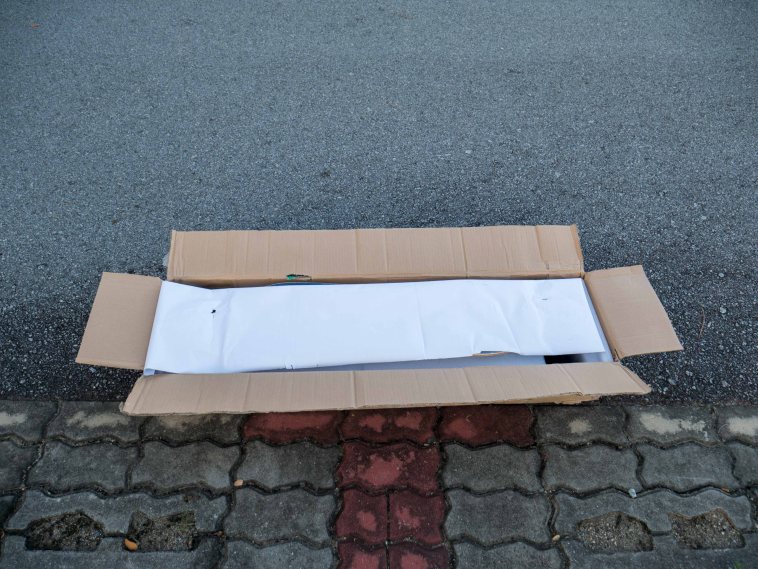 The bigger the battery, the less sophisticated the packaging it seems.
You can be sure that Apsuboard doesn't invest in the unboxing experience. The board is well-protected with a foam pad, and that's about it. It is as we have learned to expect from new Chinese brands.
Deck
Apsuboard X1 uses a 7-layer Maple + 1-layer bamboo deck. From the photo, I was expecting it to be the same generic deck as the Wowgo 2s or Ownboard W1S; I was proven wrong. As you may recall, I hate those generic decks for being completely flat. This deck that X1 uses has a subtle concave, helping my feet to feel comfortable. It also has as good a flex as the Wowgo/Ownboard deck.
Good deck, I am pretty happy with it.
Component Enclosures and ESC
Flipping the deck onto its back, we see the typical 2 enclosure setup. Apsuboard X1 uses an aluminum enclosure, which should be able to withstand more abuse than its plastic counterpart.
There is a USB port on the enclosure, in case you fancy using your 15lbs board as a power bank or, more practically, as an emergency power source to charge your remote.
It is pretty awesome to know they manage to pack 40 batteries into such a small footprint.
Inside the enclosure lies our typical Hobbywing ESC and the whole point of updating this review. The hope is, with a typical generic Hobbywing ESC, Apsuboard X1 can at least have a typical generic Hobbywing ESC's control – because that would already have eliminated its greatest weakness and make it a good board!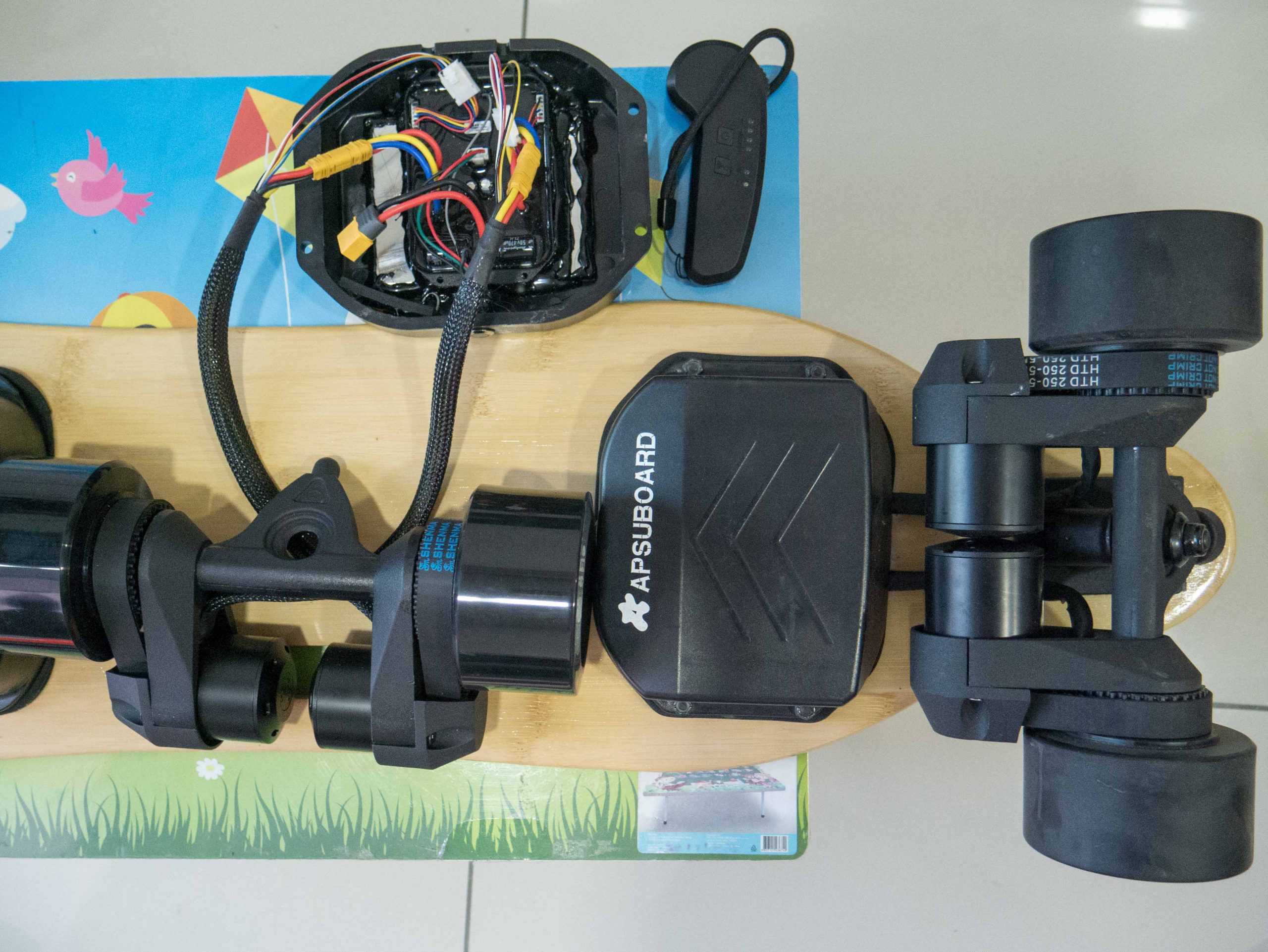 Wheels
The Apsuboard X1 uses 90mm 80A wheels with an ABEC core. I wouldn't say they are mind-blowingly good, but they are good enough.
There will be more on how the wheels impact the riding experience later.
Trucks
Apsuboard X1 uses a pair of generic Chinese trucks that can be found in most budget boards. They are okay, they don't break, and are not the most maneuverable but hey, they are pretty stable.
Performance
Note: The range test and speed test were done with old LingYi ESC, because this happened before I got to do the test.
Range
When a company claims a range of 17miles(27km), you can be sure that I will be putting that claim to test.
The Apsuboard X1 is rocking a 10s4p 288wh battery pack with 20R cell. On paper, 288wh can get you 28km or slightly over 17miles of range on a hub motor (using the formula of 10 wh = 1km of range).
With that being said, we all know that Belt drives use battery fast. I would ballpark it to last around 20km (12.5miles).
Sure enough, the board lasted 19.8km(12.4miles) before it completely stopped.
The board has pretty negligible sag though. It still goes up to 21mph(34km) at the very last few minutes. It pushes well up to the last half miles, slows down just a few minutes before it stops.
*I weigh around 154lbs (70kg) and was riding in a mostly flat area in a warm climate.
Speed and Torque
According to Strava, I did manage to go over the marketed top speed and hit 29.5mph/47.5kmh. When the battery wasn't full, the top speed (according to the remote) is around 26.7mph(43kmh).
The X1 uses two 1000W Motors, and being a belt-driven board, it has no issue climbing hills. It certainly accelerates fast, even at the higher speeds, reaching the top speed quickly and with ease. At no point will you feel that the board couldn't push you as fast as you intend. The top speed felt more like an electronic setting than the physical limit.
The board is pretty stable for high-speed riding. Riding at 25mph (40kmh) is not too scary, which is good. We will discuss this more later.
Riding Experience:
Acceleration and Deceleration
After the switch to Hobbywing ESC, the smoothness on both acceleration and braking are not in question. Acceleration of Apsuboard X1 is the typical smooth acceleration from Hobbywing that we have known so well.
The braking is smooth now but too tame this time around, as expected from an un-customized Hobbywing ESC. This would be preferable for beginners who are usually unable to tolerate tighter brakes, but any seasoned veteran will agree that it's too weak, especially when you REALLY need to stop.
With that said, this is still a HUGE improvement over their previous braking control on its LingYi ESC version. Huge, huge improvement.
Stability & Maneuverability
Apsuboard X1 strikes a good middle point of stability and maneuverability.
The generic truck is not too tight, but at the same time is not too turn-y, so speed wobble wasn't a big issue with X1. The deck has enough flex to be comfortable and ease vibration but not too much to bounce you off the deck.
Vibration
The belt drive had a distinct advantage over the hub wheels in the smoothness of ride, as they have 2 real longboard wheels in place of 2 stiff hub motors.
Even with the generic 90mm 80A wheel that X1 is using, the board handles vibration better than any hub driven board could.
The use of a flexible deck further improves the experience.
In short, this board scores an A- in vibration handling.
Remote
Switching to Hobbywing ESC means we get the generic Hobbywing remote.
There are no telemetry readings and nothing fancy.
3 ride modes, forward and backward mode; just a typical, trustworthy remote that doesn't drop the connection.
Customer Service
After more than a year in the business, the company still is pretty clean when it comes to reputation. No customer complaints found online, and I didn't receive any anecdotal complaints from our viewers. Probably because they haven't been selling enough boards to create enough sample size but, so far, no red flags.
My experience in dealing with them over the months has been pretty pleasant too. Fast and polite responses.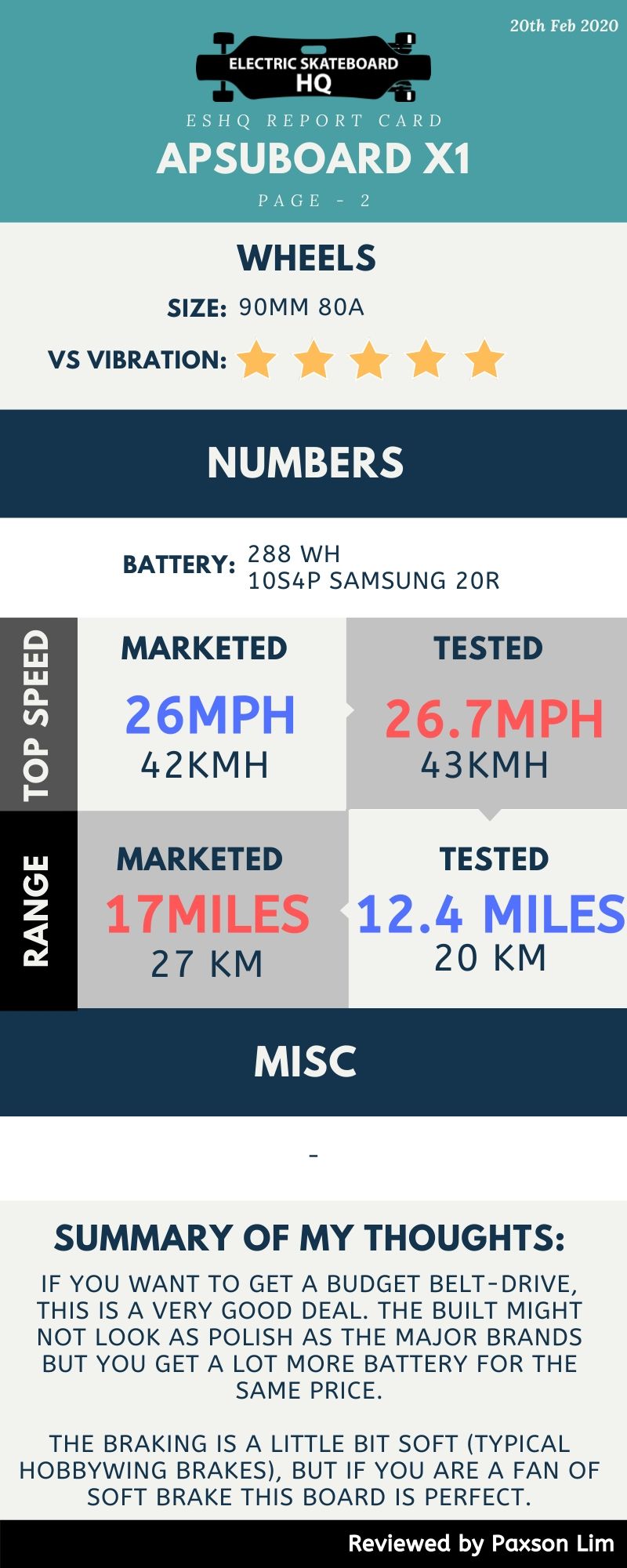 Verdict
So, the TL;DR version of this review:
The new Hobbywing of the Apsuboard X1 is a great deal for its price. At $449, there is simply no belt-driven longboard that competes with its value and riding experience.
Yes, the brake is tame, but there will be as many people who love it that way as those who see it as a deal-breaker.
Yes, the range may not be as good as marketed but still beats other budget boards of similar price soundly.
So yeah, a simple ESC change and a price cut 180-degreed my opinion on the Apsuboard X1. If you want a budget board with a slightly bigger battery than its peer, consider Apsuboard X1. If you want a budget belt-drive and don't mind a soft brake, your best choice, for now, will have to be Apsuboard X1.
If you are interested in buying a Apsuboard board, be sure to check out our affiliate discount link here and uses code: "ESKATEHQ" during check out.
It will help you get a small monetary discount and helps us out too. On top of that, you'll be tagged as an Electric Skateboard HQ customer and probably be treated better. Cheers!