On 9th August 2019, Backfire releases Ranger X2, a new iteration of their successful all-terrain lineup – Ranger X1. At this point in time, X2 is already available in stock and early buyers has begun to receive their X2.
The new Ranger X2 has a higher price tag at $1199, a $200 price bump from the Ranger X1 which is still available for $999. It looks like the increase in price is very justified as the new Ranger X2 came with a number of improvements. Just look at Daniel Kwan's introduction of the Ranger X2, he would know, the man travels across the silk road on the Ranger X1!
A short introduction to the Backfire Ranger series
For those who aren't in the loop, Backfire Rangers is an affordable priced all-terrain electric skateboard. While a 4 digit price isn't exactly affordable in the strictest sense, this is almost the minimum entry price for an AT board with good performance.
Ranger X1 garnered a lot of praises and for all intent and purposes, it was the best off-road electric skateboard at its price segment. Backfire obviously learned a lot from user feedbacks and not resting on their laurels, the new Ranger X2 is set to smoothen out some of the rough edges of the X1.
Improvement list:
Shaved 8.8lbs(4kg) off! Wow, what kind of sorcery is this!
Change of battery from 10S4P to 12S3P.
New Hobbywing ESC
Turbo mode is now available in Ranger X2.
Leaner yet stronger motor 900W -> 1200W
Wheels are 0.78in (2cm) thicker!
Bigger Battery with 12s configuration
The premium line up of Backfire (G3 Plus and Ranger X2) will go with 12s configuration. For Ranger X2, Backfire actually went with a smaller pack of Sanyo NCR18650GA battery in 12s3p configuration. (454WH). The idea is that a higher voltage will increase the efficiency and hence provide the same range while reducing the weight of the pack. However, I will repeat myself here: not many production boards had gone with the 12s setting as higher voltage might cause a higher components failure rate (if those component are not up to par), and it remains to see if the new Backfires can handle this configuration.
New 12S Hobbywing ESC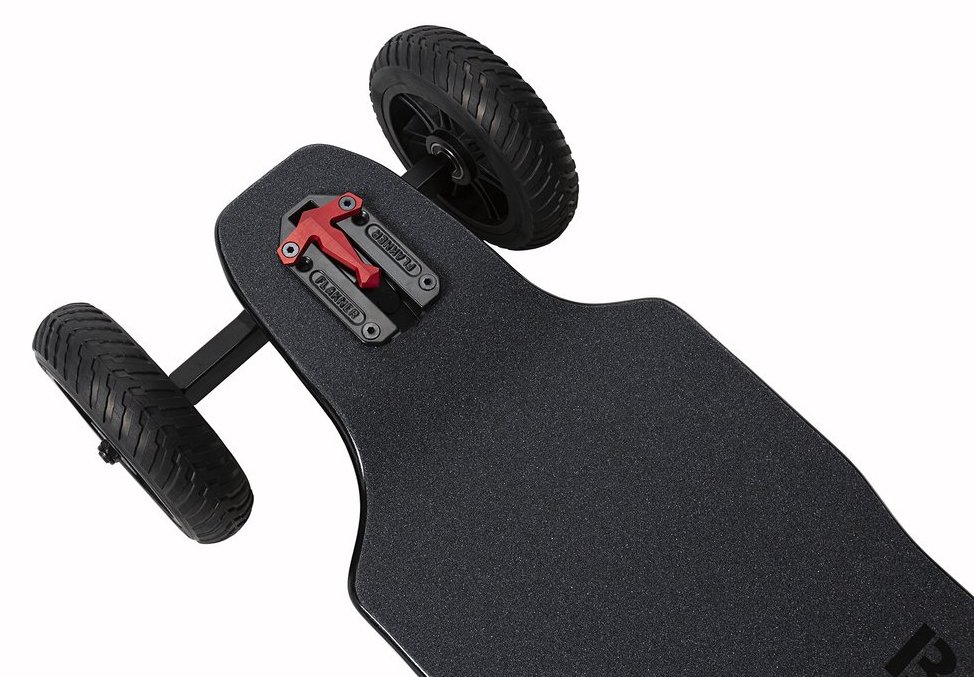 The new 12S Hobbywing ESC is 2 iterations ahead of the original ESC on Ranger X1 and should provide a significant improvement over the last-gen. Expect both acceleration and braking to be stronger while being just as smooth. The new ESC also means Ranger X2 will be getting the Turbo mode, a 30-second increase of power that comes with a 30-second cooldown. I ain't a big fan of the Turbo mode when it debuted on Backfire G2T (due to the sudden jolt when it transition into cooldown) but who knows, it might have been improved on this new iteration?
Stronger yet leaner Hub Motor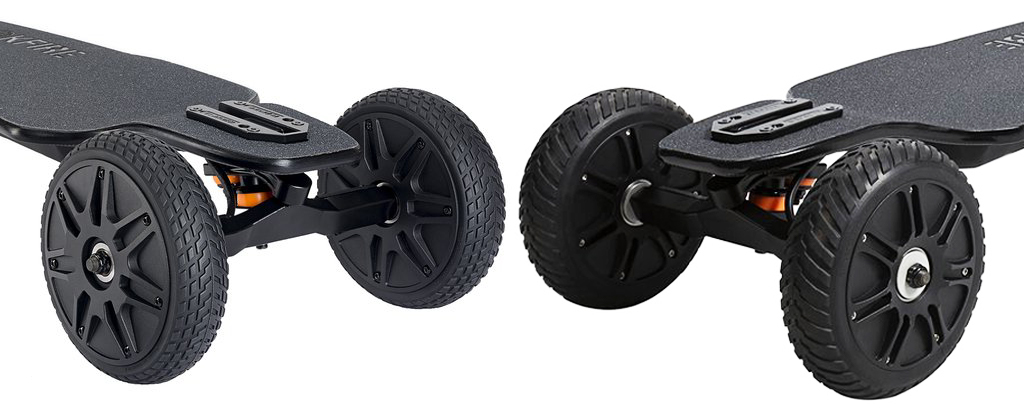 Hub motor and airless wheel usually don't make the smoothest off-road ride as Rigid hub + Tires without air cushion = the board will bob and bounce with every bump in the road. Ranger X1 still performs fairly well off the road, but X2 improves on that by using smaller yet stronger hub motors, which saw the increases of power from 900W to 1200W per motor. More importantly, smaller hubs mean room for thicker rubber, 0.78in (2cm) thicker in fact. This is going to significantly improve the smoothness of rides and allows the wheels to grip to the floor better.
Hub VS Belt has always been the argument, more so in the AT realm. Belts have the torque that Hub simply couldn't match; while Hubs have better protection against the elements. Backfire took advantage of this property and the Ranger's motors have always been fully water-resistant and dustproof.
And the deck is now a little bit more flexible.
Same shape, same design, but more flexible.
What stayed the same?
Well, the double kingpin truck that was proven to be very good stayed the same.
Final Word:
We thought the Ranger X1 was the best affordable AT, and Ranger X2 is obviously gonna be a pricier but better version of it. However, unlike a year ago, Ranger is no longer the only player in the thousand dollars AT market with the likes of Ownboard Carbon AT, Radley Carbon AT and Miles Rampage crashing the party. What's more, with a heftier price tag ($1199) Ranger X2 no longer has the price advantage, especially when you consider Meepo City Rider, a semi-AT is priced only at $719.
With that said, seeing how good the Ranger X1 is, Ranger X2 will likely rise to the top as the best AT option amongst its peers.
Ranger X2 is now available in stock and will only take 7-15 business day to arrive at different countries.
Interested in a Backfire? Click our affiliate discount link here and use ESKATEHQ during check out to receive $10 off.