In March 2023, Backfire introduced two new premium electric skateboards to their lineup: the 849 Backfire Zealot S2. These boards are the latest additions to the wildly successful Zealot series. Today, we'll be reviewing the Backfire Zealot X, which is poised to become the best premium electric longboard on the market.
Aesthetics: Stunning Design and Eye-catching Features
While the ideal electric skateboard may vary from person to person, one thing everyone can agree on is the stunning design of the Backfire Zealot X.
From the high-quality aluminum remote that exudes luxury to the CNC forged trucks, not to mention the eye-catching LED board lights and the glowing T-emblem on the front that every reviewer can't wait to showcase, this board is undoubtedly a showstopper.
Performance: Impressive Specs and Top-notch Components
Let's dive into the specs and see what the Backfire Zealot X has to offer:
Backfire Zealot X – Build and Specs
Price: $1,199
Deck: 38" x 10.6" Composite Deck – Glass Fiber, Maple. Stiff, minimal concave
ESC: 14s Hobbywing ESC; smart turn-on
Remote: Halo Remote, OLED display, 4-speed modes
Battery: Samsung 50S 14S2P, 504Wh, 50.4V
Motors: 1500W x2 – Belt Motors
Marketed Range: 34 miles / 55 km
Marketed Top Speed: 31 mph or 50 km/h
Trucks: 8.5″ Forged Truck (10.6 inch / 270 mm CNC Precision Forging)
Wheels: 96MM / 80A Street wheels
Other Features:

Ice Blue Board Light
Smartphone App
Battery and Range
The Zealot X is equipped with 14S2P Samsung 50S, high-quality 21000 cells, providing the board with a substantial 504 Wh capacity.
The board boasts an advertised range of 34 miles or 55 km, and our 220 lbs (100kg) riders achieved 20 miles or 32 km while riding fast. This is pretty reasonable and on par with the real-world range of other 500Wh belt-driven boards, such as the Meepo Voyager X.
Motors and Top Speed
To ensure optimal power, Backfire has equipped the Zealot X with a pair of 6358 motors; each rated at 1500W. The claimed top speed is 31 mph (50 km/h), which we were able to reach in turbo mode.
As expected, an $1199 board should boast an even higher top speed; however, many riders, including ourselves, may not have access to roads suitable for such extreme speeds anyway.
Wheels and Customization
These powerful motors drive four sets of 96mm 80A wheels.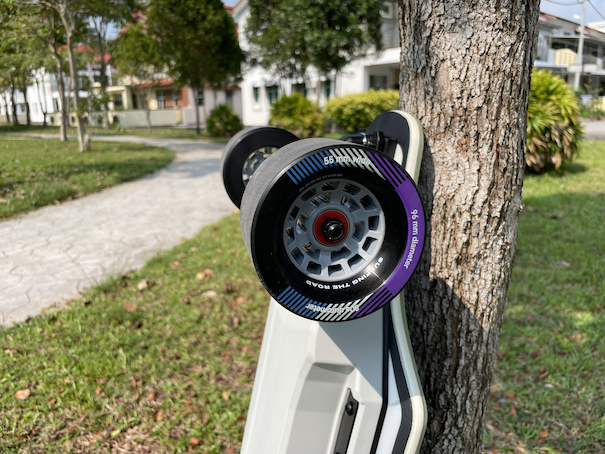 Notably, Backfire has thoughtfully included a Kegel pulley in the package, allowing you to easily swap into Backfire's 120mm wheels or experiment with other wheel options.
Riding Experience: Power, Speed, and Stability
As you can see, the specs are impressive but not extraordinary, given the price. After all, premium boards come with solid specs; what sets the exceptional ones apart is the riding experience, and the Zealot X certainly delivers an amazing experience, especially when it comes to power.
Trucks and Handling
The Backfire Zealot X is a board designed for fast riding, ideally on a long stretch of smooth road. That's not to say it can only go in a straight line. No, the Backfire Zealot X features trucks that strike a perfect balance between easy turning and stability.
There's nothing we can nitpick about these trucks; they enable smooth carving and tight turns and, through some sorcery, remain incredibly stable at high speeds.
Acceleration and ESC
The power of the Backfire Zealot X is truly remarkable. It accelerates more forcefully than any other board at this price point. Compared to another powerful board like the Meepo Voyager X, the Zealot X maintains robust acceleration up to its top speed, while the Meepo Voyager X's acceleration tapers off after an initial burst. Importantly, the thrill of rapid acceleration doesn't come at the expense of smooth control, as the Hobbywing ESC remains incredibly smooth and intuitive, even in the fastest turbo mode.
We're all about unbiased comparisons, so here's our review of Meepo Voyager X.
Deck and Comfort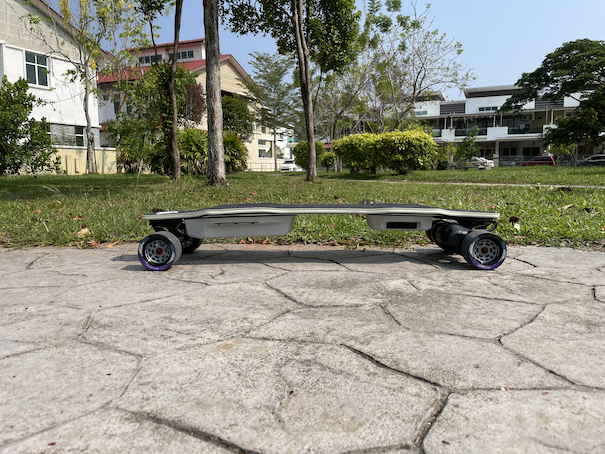 The 39-inch composite deck, made of ABS, glass fiber, and maple, is quite stiff, which contributes to stability at high speeds but makes for less enjoyable relaxed carving. We also aren't fans of the deck's flatness; the deck has a slight concave at the edges, not where you would place your feet.
This means that it's difficult to gauge where our feet are without looking, often requiring us to glance down or readjust our footing during the ride. A more pronounced concave would definitely be an improvement here.
Vibration Dampening and Wheel Upgrades
The second notable weakness of the Zealot X is its limited ability to dampen vibrations from rough roads. While the belt drive and four sizable 96mm wheels do provide some vibration dampening, the deck plays a crucial role in this aspect. Unfortunately, the stiff deck of the Zealot X doesn't do much to counteract road vibrations.
Naturally, switching to larger wheels can help alleviate this issue.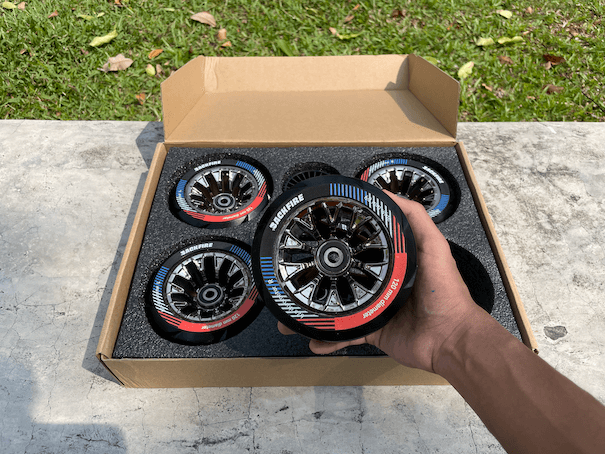 Upgrading to 120mm MO wheels will improve the ride quality and also increase the top speed. Additionally, the larger wheels will also increase ground clearance, which the Zealot X could benefit from as the motor mounts are hanging really close to the ground.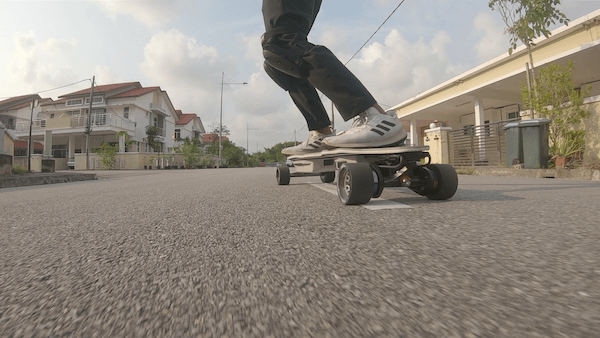 Final Verdict: A Top Choice for High-speed Enthusiasts
Despite our reservations about the flat deck and our general preference for more flexible decks, the Backfire Zealot X remains one of the top choices for boards slightly above $1000, and the clear top pick for those who love the thrill of high-speed riding. It also sets a new standard for aesthetics, from the stunning Halo Remote to the head-turning lighting along the board's edge.
However, maintaining the pristine white color of the enclosure may prove to be a challenge.
All in all, the Backfire Zealot X will likely be the benchmark against which all premium electric longboards will be compared for at least the next few years.
If you are interested in buying the Backfire, be sure to check out our affiliate discount link here and use code: "ESKATEHQ" to receive 5% off during checkout.
It will help you get a small monetary discount and help us out too. On top of that, you'll be tagged as an Electric Skateboard HQ customer and probably be treated better. Cheers!