Maxfind just dropped their latest line of entry-level electric skateboards — the Maxfind Max5 series. Crafted to meet various rider preferences, the series offers three models: the Max5 (Single Motor) at $399, Max5 PRO (Dual Motors) at $499, and Max5 PRO MAX (Long Range) at $599.
These boards stand out with their good looks, especially when compared to other sub-$500 entry-level electric skateboards. Will you be paying more for Maxfind Max5's style or specs?
Without further ado, let's jump right in and see if these electric skateboards are worth their eye-catching looks.
Maxfind Max5 Build and Specs
Deck: 38" x 10.6" Composite and Glass Fiber; medium flex, minimal concave
ESC: Hobbywing 3.0 ESC; smart turn-on
Remote: OLED display remote, 4-speed modes
Battery:

Maxfind Max5 – Samsung 10S2P, 4.4Ah, 158.4Wh, 36V
Maxfind Max5 Pro – Samsung 10S2P, 4.4Ah, 158.4Wh, 36V
Maxfind Max5 Pro Max – Samsung 10S2P, 6.8Ah, 245Wh, 36V

Marketed Range:

Max5 and Max5 PRO – 15 miles / 25 km
Max5 PRO MAX (Extended Range) 21 miles / 35 km

Motors: 650W Dual Hub Motors
Marketed Top Speed: 24 mph or 38 km/h
Trucks: Max II 45° Truck (10.6 inch / 270 mm CNC Precision Forging)
Wheels: 90MM / 78A Street wheels
Other Features:

Glow-in-the-dark front sign arrow
Nice bottom & battery enclosure design, easy-to-clean dirt
IPX5 water-resistant rating
Starting with the Maxfind Max5 Series deck, the board is made from a composite material featuring glass fiber. At 38 inches long, the camber design and medium flex of the deck help to reduce road vibrations, giving you a smoother ride.
Narrow Deck and Unique Griptape
Maxfind also put something new to the table with the deck's narrow 10.6-inch width. This is similar to a shortboard deck, meaning riders have limited space for their feet. Although, the subtle concave design does make it comfier.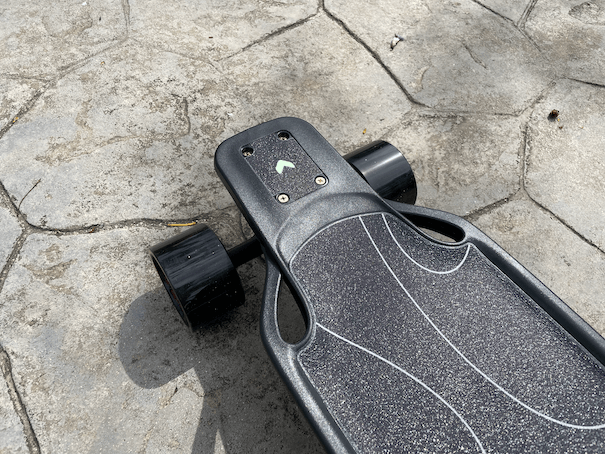 Maxfind chose a unique griptape for the Max5 series as well. Instead of the standard sandpaper, they went for a plastic-feeling one. It's non-abrasive and fabric-friendly, so it will keep your clothes safe from damage. It may not fare well for those who want more grip. This griptape feels more like you're standing on a rough plastic surface. Many riders will probably switch to a more conventional griptape for better traction.
Water Resistance You Can Trust
Flipping the Maxfind Max5 series board over, you'll see that the electronic compartment is built right into the deck with a unibody design. This boosts the board's splash resistance with a rating of IP X5 water resistance. This rating means the board can handle a sustained, low-pressure water jet spray, which is great for wet conditions.
Inside the electronic compartment, there's a Hobbywing 3.0 ESC and a Samsung 10S2P 4.4Ah, 158.4Wh battery for the Max5 and Max5 Pro models. The Maxfind Max5 Pro Max uses a 12S2P 6.8Ah, 245Wh battery instead.
Classic Smooth Control with Hobbywing ESC
Speaking of the Hobbywing 3.0 ESC, beginners to electric skateboarding should know that this ESC is popular for its smooth and intuitive speed control. The Max 5 Pro definitely delivers on that front since all of its 4-speed modes are 100% smooth and extremely intuitive to use. It may get a little too calm since the 10S ESC and battery setup means the board's power isn't mind-blowing. Compared to boards with a 12S ESC, like the Wowgo Pioneer Series, the Maxfind Max5 Pro is a bit weaker.
It also feels more gentle but tamer than other 10S boards that aim for a punchier ride, like the Meepo V5 with its Lingyi ESC. That being said, this is a small drawback, and most riders will be too busy enjoying the smooth control to ever worry about the torque they might be missing. The Hobbywing ESC comes with a smart power-on feature and pairs with a remote with an OLED display.
Looking for a 12S ESC from Maxfind? Read our review on Maxfind FF-Belt here.
Fast Charger included – Charge Your Board in Just 2 Hours
Moving on to the batteries, both the Maxfind Max5 and Max5 Pro use the same battery, boasting a marketed range of 15 miles or 25 km. The Max5 Pro Max, on the other hand, uses an extended range version with a marketed range of 21 miles or 35 km.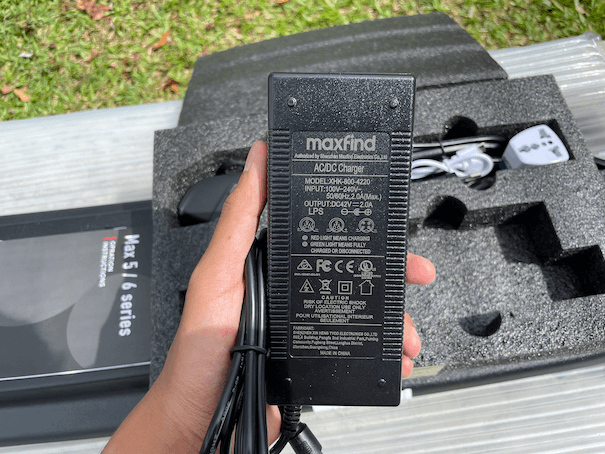 In our testing, our 220 lbs test rider riding fast managed to cover 9.3 miles or 15 km on a single charge. While this might be less than the advertised number, it's actually a pretty standard range for entry-level electric skateboards at this price point.
At least Maxfind had the courtesy to include a 2A fast charger, which allows you to fully charge your board in just 2 hours.
Next, let's talk about the hub motors and top speed. Equipped with 650W dual hub motors, these boards pack some serious power and can indeed drive you up any hill. However, it's important to note that the power is somewhat limited by the use of a 10S ESC, resulting in a more modest top speed.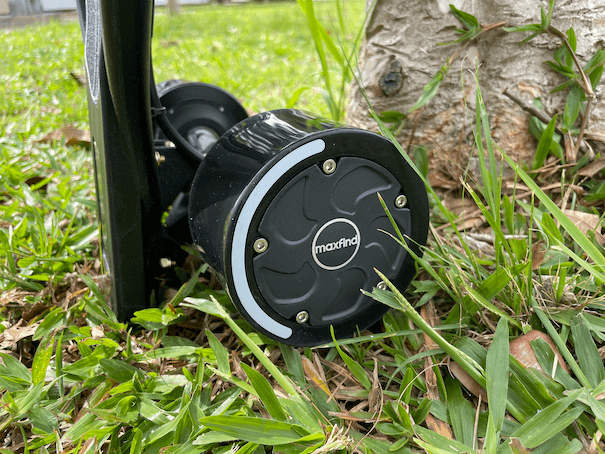 The Maxfind Max5 series has a marketed top speed of 23.6mph or 38 km/h, and during our tests, we managed to hit just that. While this may not be lightning-fast compared to the latest entry-level electric skateboards, which boast top speeds of around 28.6mph or 46 km/h, it's still a respectable speed for its price range.
In case you need it, here's our review of the Wowgo Pioneer X4.
Forged Trucks on an Affordable Board!
As for the trucks, the Max5 series uses Maxfind proprietary trucks which they name Max II. These are 45° trucks that are 10.6 inches long and made with CNC precision forging. Forged trucks are more durable than cast trucks, which can break suddenly under pressure.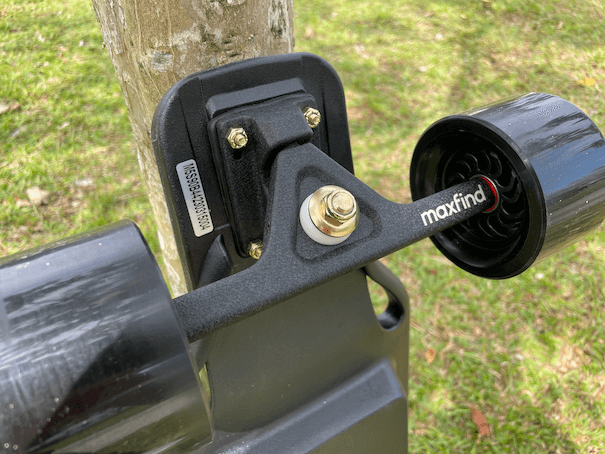 Many riders see truck quality as something they couldn't compromise and for good reason. It's not uncommon for trucks to break, especially for electric skateboards, mostly upon crashes. It's good to see Maxfind going with a forged truck for a board that is priced under <$500. So far, it is the only entry-level board we know that comes with forged trucks.
Straight out of the box, the trucks on the Maxfind Max5 series are pretty tight. We had to tweak them a couple of times to find the sweet spot for easier turning and carving. Once adjusted, the trucks provide a fun carving experience for riders who enjoy making sharp turns and navigating tight spaces. The return-to-center of the trucks is pretty decent too.
Lastly, the Maxfind Max5 series comes with 90mm, 78A street wheels.
We're all about unbiased comparisons, so here's our review of Meepo V5.
Maxfind Max5 Riding Experience
So, what's the overall riding experience like?
Smooth, intuitive speed control combined with stable and responsive trucks makes for a smooth ride. The average top speed and tamer version of the 10S Hobbywing ESC mean the board is pretty comfortable and chill to ride. It may not be as punchy as Meepo V5 or Wowgo Pioneer, but I doubt anyone would care about a little lower torque when Hobbywing ESC is so smooth and intuitive.
You won't feel like you're gonna be wiped out by accident. Road vibrations are pretty manageable, thanks to the deck with mild flex. If you need an even smoother ride, you can always slap on some Cloudwheels to dampen vibrations even more.
The trucks are stable for the board's top speed of 28.6mph or 46 km/h. Adjustments should be made to make the board way easier to turn and carve. The return to the center is good and the carving is smooth.
Riding the Maxfind Max5 Series feels similar to riding short and longboards. This is mostly due to the narrow deck.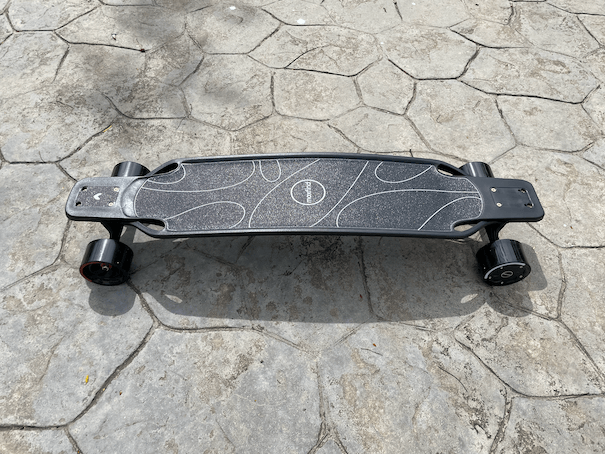 Maxfind Max5 VERDICT – Polished and Well-Built Board for Chill Riders
Like other Maxfind boards, the Maxfind Max5 Pro is well-polished and well-built, with a smooth riding experience to match its good looks. It might not be the cheapest option, nor does it have the biggest battery or highest top speed. But if you dig the way this board looks and aren't too worried about maxing out specs, the Max5 Pro is a sweet ride to pick up.
If you are interested in buying the Maxfind, be sure to check out our affiliate discount link here and use code: "ESKATEHQ" to receive 5% off during checkout.
It will help you get a small monetary discount and help us out too. On top of that, you'll be tagged as an Electric Skateboard HQ customer and probably be treated better. Cheers!