StarkBoard, a new electric skateboard by Stark Mobility launched their Indiegogo campaign on 8th November 2017.
They have concluded their Indiegogo campaign successfully as of today (9th Dec 2017), and if everything goes swimmingly (which is rare in the case of crowdfunding), we will be seeing the first Starkboard on road by February 2018.
I had been given the opportunity to interview the co-founder Kamil Banc to get a feel of the team behind this new brand and their philosophy in developing StarkBoard.
My plan to publish this piece took an unexpected turn when some controversy regarding StarkBoard the company surfaced but we shall talk about that last.
So what about Starkboard?
Short introduction

Starkboard is a dual-hub electric longboard.
It distinguishes itself for using posture sensor as the way to control the acceleration and braking, quite similar to the hoverboard or the Walnutt Spectra.
The ability to ride it without needing a remote is their main selling point.
What is StarkBoard about?
Well, StarkBoard is not named after Tony Stark or the Stark Industries.
"Stark in German means strong, and we want that to be the quality of our board."
Starkboard is meant to be the 'Tesla Model 3' of electric skateboard world – an affordable option for everyone who wants something good but wouldn't buy a thousand dollar Eskate.
After the likes of Boosted Board, Evolve and Inboard have shown the world what electric skateboard can do, StarkBoard aims to bring that awesome experience to the masses at an affordable price.
Starkboard main purpose is to be the vehicle for short distance commuting.
Something that brings you from point A to point B comfortably. A quality mobility device for the last mile.
During the Indiegogo campaign, StarkBoard is available for around $500 for the backers. With it's suggested retail value at $999.
It is still available for $599 for Indiegogo-in-demand for now.
For now, Stark Mobility couldn't quote a reliable price for the time when StarkBoard hit retail. The team just hopes to have it be affordable for the masses.
Specs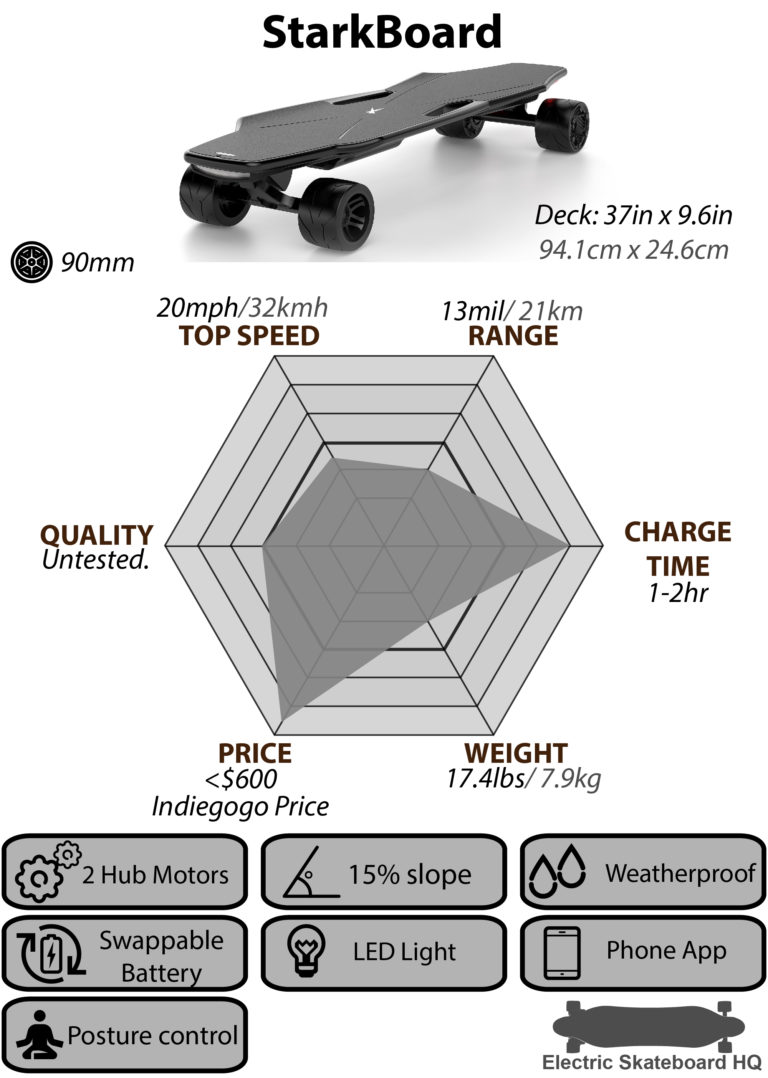 StarkBoard is made as an electric mobility device in mind and the specs reflected that –
Good range, just fast enough for commute and light enough for its size.
It is also one of those boards that are pack with features.
Top Speed: 20mph (32kmh)
Range: 13mil (21km)
Weight: 17.4lbs (7.9kg)
Charge Time: 1-2 hours
Features: Posture control, Swappable battery, 2 hub motors, dust and splash proof, handles up to 15% slope, LED lights, Phone Apps, 3 driving modes.
Price: Around $599 Indiegogo price.  (retail price to be decided)
Speed:
Aiming as a tool for commute and not for sport, StarkBoard is configured to have a top speed of 20mph (32kmh).
"There is a dilemma when commuting on an eskate – You can either just keep a casual speed or go fast. But if you were to go fast, you had to go really fast so you could zoom past a bicyclist, or you would be in an awkward position where you were slightly faster than a bicyclist but not quite fast enough to overtake them comfortably."

That's why Starkboard chose not to design for higher speed but for more of a functional and stress-free commute.
It was a sound decision in my opinion, as the goal of StarkBoard was to be a mobility tool for the masses, many whom are not skateboarders, and for that 20mph is fast enough.
Well, fast enough for a person to hurt themselves definitely. (Please wear a helmet.)
And seeing that country like Singapore explicitly limit the top speed of the e-mobility device to 25kmh (15mph), it is clear that StarkBoard is fast enough for its intended purpose.
Also, California Electric Skateboard Law AB-604 outlaws any electric skateboard that has a top speed >20mph.
Range:
13mil (21km) range, if not inflated, is in the middle of the pack in the world of the electric skateboards. Long enough for most commutes, and considering it has an easily swappable battery, the range is not going to be a concern.
For metric units of the above chart, click here.
Weight:
Considering that the hub motor weighs about 1kg each, Starkboard had tried their best in shaving down it's weight to 17.4lbs (7.9kg).
The board is aimed to be a mobility device hence the weight is an important factor for it to be good at that. I sure am reluctant to carry a heavy eskate around.
17.4lbs (7.9kg) is a pretty standard weight among electric longboard.
For reference:
Enertion Raptor 2: 20lbs (9kg)
41″ Metroboard Slim 17.6lbs(8kg)
Evolve Bamboo GT: 17lbs (7.9kg)
Boosted Dual: 15.5lbs(7kg)
Meepo Board: 15.2lbs(6.9kg)
Backfire Galaxy 13.6lbs(6.2kg)
Battery:
StarkBoard uses 194.4 Wh Battery @ 36V/5.4Ah.
It is compliance with the UN38.3 and UL2272 worldwide industry standards.
The estimated charging time is 2-3 hours.
194.4Wh also means that you probably couldn't carry it with you on flight.
Most airlines don't allow battery with a capacity of more than 160wh on board.
See my guide to bringing an electric skateboard on a flight here.
Wheels:
Starkboard is rocking 90mm wheels that can handle most terrain well.
Starkboard also chooses to use treaded longboard wheel in order to better handle rough terrain.
It's a shame that the PU sleeve on the motor is not replaceable.
That means when the PU wears down, you will have to change the hub motor with the wheels.
Stark Mobility will offer full replacement wheels and hub motor in the future.
Deck:
The deck is made of 7 layers of Canadian maple plywood and 3 layers of fiberglass so is stiff with little flex.
For those who are looking for a flexible deck, this might be a letdown.
The deck also has handle cut-out on both sides, which to me, is a must as it makes carrying the board around so much easier.
The handle cut out also provides a means to secure your electric skateboard on railings or bicycle parking rack with a bicycle chain.
Features
As mentioned, Starkboard has lots of special features, and the posture control is the one that garners the most attention.
Posture Control
"It would be great if our rider can ride the board while eating an ice cream or taking a selfie."
StarkBoard uses gyroscope sensor & weight and motion sensors to control the acceleration and deceleration. According to Kamil, it is not the same technology from the hoverboard but the experience of riding one may be similar.
To me, it sounds very similar to what Walnutt is doing with their Spectra series.
The control is said to be very intuitive, and most people take about 3 minutes to master it.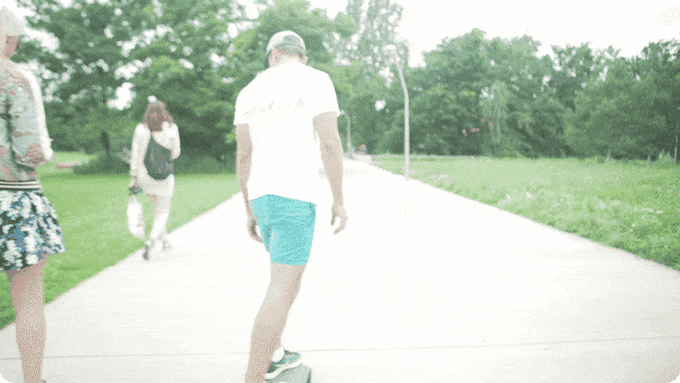 We all, however, still remember how Casey Niestat couldn't figure out how to ride the Walnut Spectra, so hopefully, StarkBoard's posture sensor is more intuitive than that.
In fact, it should be as unlike Spectra, StarkBoard doesn't require the rider to stand on a certain area of the deck and hence allows for a more natural stance.
Swappable battery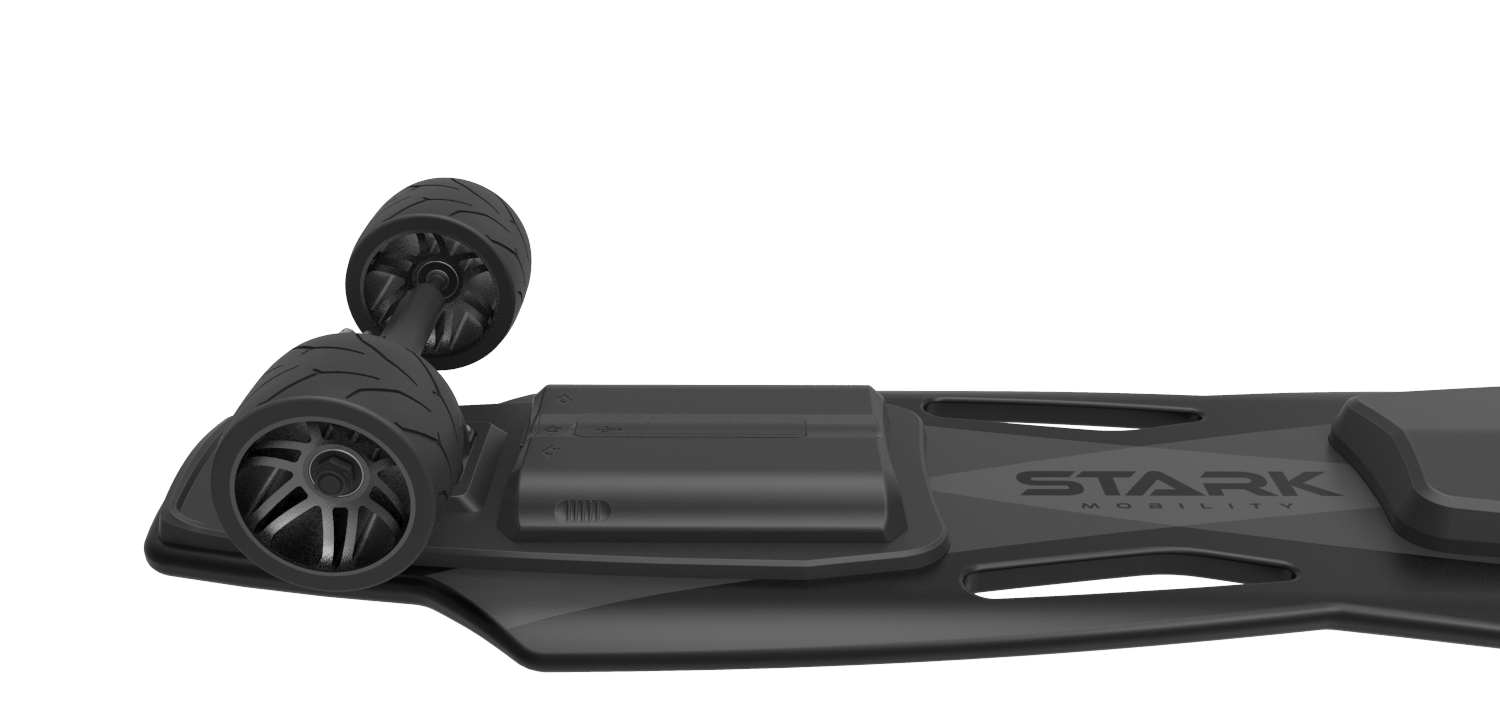 If you need extended range, you will definitely appreciate swappable battery.
StarkBoard's battery is very easily swappable.
LED lights

Front and back LED lights that let you be seen.
Always nice to have the LED lights integrated with the board.
3 riding mode
I just recently had a conversation with a fellow Eskater and he explained to me on the usefulness of having different top speed settings.
It is convenient if the eskater can change the top speed when riding on different setting or at different traffic.
Starkboard has 3 riding mode, Beginner, Normal and Master that differs in top speed and acceleration-deceleration rate.
Not quite the 5 riding mode that you are looking for but I hope you are satisfied with this, Paul!
Phone Application
Available for both iOS and Android, Starkboard's app can do a lot of things.
It allows you to:
change driving modes
track your route
distance
average speed
control the LED device
see the working of your Starkboard including

sensor status
motor temperature
etc.
This also means future OTA firmware updates are possible.
However for now, the application is still in early stage of development with only the core feature available.
More extensive features will be developed down the line.
Dust and Splash proof
StarkBoards are IP62 dust and splash proof. So puddle will not be a concern but still, wheels are slippery when wet, so don't ride in the rain.
—
I hope that at this point, we have established that StarkBoard is going to be a cool addition to the big electric skateboard family.
However, as I often emphasis, the company behind an electric skateboard is sometimes more important than the eskate itself as an electric skateboard, much like a car, needs regular maintenance and even repairs.
In a crowdfunding setting, the company behind the project is of course even more important, as we are putting money for the company to develop a product that hasn't exist yet.
I did mention that there was a controversy, so, what's the story?
What is Stark Mobility about?
Stark Mobility is a small the team of 7 people.
The team members came from various backgrounds, a few of them are engineers who designed the board, one owns a hoverboard business.
There are also team members who have a background in renewable energy.
Although StarkBoard is their first project together, the team from various background brings their own knowledge and expertise that they are confident that could make the product, and the Indiegogo campaign a success.
Most of the team members are based in Germany while the company is incorporated in the USA.
Controversy
Laurens Laudowicz and Hannes Reichelt, 2 of the co-founder of StarkBoard was previously involved in Juicies- a Kickstarter project for iphone cables that failed to deliver.
Let just say, it ended poorly with backers who didn't receive the product calling for their heads.
With the damaged personal credibility of 2 of their founder, Stark Mobility was under attack since day 1 of their campaign and was being labeled as a scam project.
I've followed up with Kamil about this.
"Lauren is and was always involved in Stark Mobility. However, he is also working on sunsetting Juices and need to focus on that."
He conceded that Laurens and Hannes had a failed project but stood behind them as a person.
Juices was a failed project but weren't a scam. And their experience with crowdfunding, even if from a failed crowdfunding project is important in helping to make this one a successful one.
Indiegogo?
I wonder if any other market has the same crowdfunding fatigue as the electric skateboard market. Every other month, there will be a new electric skateboard launching their crowdfunding campaign on Kickstarter or on Indiegogo.
Unfortunately, not many of those campaigns deliver without major issues.
Delays, spec changes, problems with tax and delivery are few of the common issues that we are just too familiar with.
From my interview with Kamil, it is clear that the team at Stark Mobility is aware of all those possible problems that plague most crowdfunding campaigns.
They tried to be very conservative by setting their estimated delivery date in February 2018.
Hopefully, the team can learn from the mistake of others Eskate crowdfunding campaign and from their other crowdfunding project and marks StarkBoard campaign a smooth one.
Final Thoughts
Initially, I was approached by Laurens Laudowicz to cover Starkboard at its Indiegogo launch.
I decided that an interview with the team member is a bare minimum to get a feel for how StarkBoard as a company is. And that, in turn, is important to predict if the crowdfunding campaign is legit.
After some back and forth, I get to interview the very charismatic co-founder Kamil Banc.
Just before I was to publish the article, the controversy regarding Laurens and Hannes with the Juices Kickstarter campaign surfaced.
Though I am satisfied with the clarification from Kamil regarding the issue, I couldn't really recommend anyone to back a crowdfunding campaign unless they are 110% confident on the project, and I am at most at 70%.
With that being said, StarkBoard's Indiegogo campaign had blow by its goal despite the controversy.
So, here is my current thought:
Starkboard is a great addition to the electric skateboard market.
It is innovation that electric skateboard market desperately needs.
Not another assembled-with-generic-part electric skateboard or "Meepo-alternative". It is only the 3rd electric skateboard we have that is posture controlled and it is different than the pressure pad controlled Z-board and the smaller size Walnutt Spectra.
And it is definitely affordable with it's $500 price tag.
Could it be the best board to buy at $500? Time will tell.
Starkboard has enough bells and whistle to distinguish itself from your typical generic electric skateboard.
Swappable battery, smartphone app, LED lights, IP62 water & dust proof and a changeable urethane for the motor wheels is all very neat feature to have, but the success of Starkboard mainly rely on 2 factor: The riding experience and the built quality.
If it can be as intuitive to ride and as well made as promised, it could very well be the go-to board for a ≈$600 last-mile vehicle.
Those are things that we won't know until the board shipped so if you are interested, saved up and wait for the on-hands review to come in.
Goodluck Starkboard!