Hardcore eskaters will probably tell you that a high-performance electric skateboard should be a Trampa build. These are boards made of flexible carbon fiber with a high camber deck, big pneumatic wheels, and runs with super powerful belt or gear drive motors. More often than not, there is also an electronic box on the top side of the deck.
While a Trampa build may not be the sleek and polished look that appeals to casuals, it is an iconic design that promises super-high performance.
Now, Ecomobl, a brand known for specializing in making affordable all-terrain electric skateboards, just made its very own electric mountainboard with this iconic look. This is the Ecomobl Telum, a $1799 electric mountainboard.
And yes, $1799 is considered affordable for an electric mountainboard with this build and specs. Let's run through them real quick!
Ecomobl Telum Build and Specs
Deck: carbon fiber deck; flexible with high camber; comes with detachable foot bindings
Electronic Speed Controller: 12s LingYi ESC; 4-speed modes, 4 braking modes
Battery: 768-watt hours battery pack; Samsung 40T cells, 12s4p configuration
Marketed Range: 23 miles or 37 km
Motors: 7000w 170 kV 6382 motors; Ecomobl signature planetary gear drive
Top Speed: 30 mph or 48 km/h
Trucks: Super wide 20-inch trucks
Wheels: 8-inch airless wheels
First, let's talk about the carbon fiber deck. As we mentioned in the intro, Trampa is responsible for all the hype on this kind of deck. It is flexible with an exaggerated camber arch to absorb road vibration. The board comes with foot bindings that can be installed on the deck. The footbinding is worn with an easy and simple locking mechanism, just strap them on or off the board and voila, it's done.
ESC Enclosure Above the Deck For Maximum Ground Clearance
Unlike your typical pre-built electric skateboard, mountain boards usually don't put an electronic enclosure below the deck. This was done to maximize ground clearance. Instead, the electronic box is placed on top of the deck, right in the middle.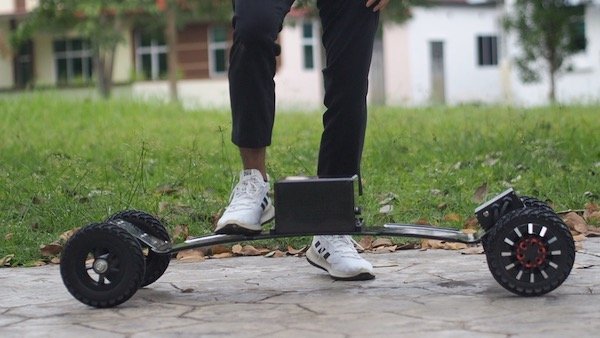 There is certainly a lot of juice packed inside this 'lunch box'. Powering the board is a 768 wh battery pack with good Samsung 40T cells in 12s4p configuration. This battery pack is marketed to provide 23 miles or 37 km of range. During our test, our 155 pounds rider managed to get 30 km when riding aggressively.
For the ESC, Ecomobl Telum uses a customized 12S Lingyi ESC with 4-speed modes and 4 braking modes. We will talk about how they impact the ride later.
Read about another mountainboard – the Propel X4S – here.
Ecomobl Telum's Signature Planetary Gear Drive at 30MPH
Ecomobl Telum kept its signature planetary gear drive system which can be found on most of their boards. These 7000w 170 kV 6382 motors allow the board to go to 48 km/h or 30 mph which we managed to hit with ease and comfort as the board is very stable.
Speaking of stability, the board uses super-wide 20-inch trucks. This allows the board to be stable at faster speed modes but also means that it's not going to be easy to turn. So, this is where the footbinding comes in clutch as it allows you to lean aggressively to turn the board.
And, if that's not enough, you can jump to turn but definitely commit to your leg days since the board weighs 39 lbs or 17.6 kg.
Integrated Front and Tail Lights for Superb Night Rides
Ecomobl Telum also comes with integrated front and taillights. These lights are more useful than you might think, and they are super bright. Look! It's even brighter than some car's headlights.
And, having an integrated lighting system is super convenient. For starters, you don't have to charge them separately. Plus, you don't have to worry about them dislodging when going off-road. The red tail lights also light up when you apply brakes. The lights can be turned on or off by long pressing the reverse button.
Ecomobl like building their boards with headlights and taillights. Read about Ecomobl ET2 here.
Ecomobl Telum Riding Experience
Now that we have an overview of the specs, let's ride this monster!
The first topic is about control. The control is punchy with its powerful acceleration but frankly, a bit rough. This often happens when Lingyi ESC is combined with powerful motors.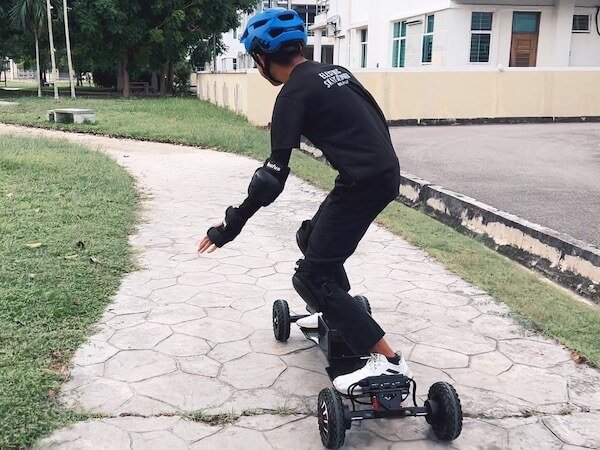 You can feel the slight jerkiness when the gear drive accelerates. One workaround that can be done is simply staying in a lower acceleration mode, which will be gentle, yet powerful enough for any incline.
Speaking of power, these 7000w planetary gear drives are super strong—strong enough for the steep incline of mountain trails.
The braking is nice and strong, too. As mentioned, its strength can be adjusted independently from the acceleration modes.
Spring Suspensions as the MVP
The wide carbon fiber deck felt pretty comfortable to stand on but the MVP of the ride is actually the spring suspensions. These spring suspensions absorb a lot of shocks which is very important when doing trail runs. On normal roads, you won't feel anything no matter how bad the pavement is.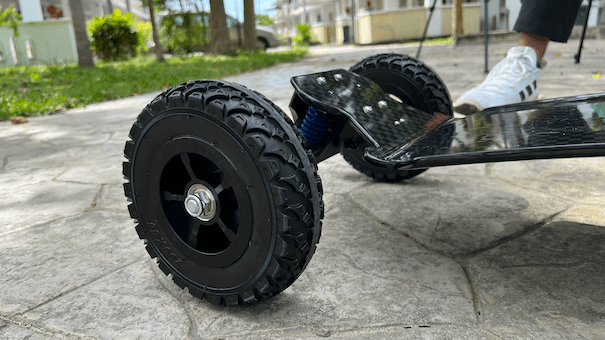 The foot bindings also have a major part in the ride. When riding on mountain trails, it provides the necessary stability and also prevents the bouncy deck from throwing you off like a trampoline.
The 20" wide trucks are hard to turn but the foot bindings allow us to put as much of our 165 lbs body weight to force the turn. And, to do some mini-hops if all else fails.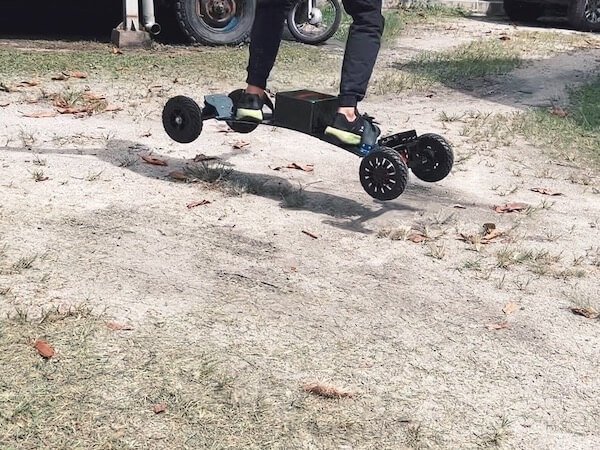 Off the Road Will Always Be Home
Obviously, the natural habitat for Ecomobl Telum belongs off the road. The clearance of the deck makes rolling through rocks a walk in the park. This might be subject to change, but our Ecomobl Telum came with 8-inch airless wheels. These are beefy wheels, but we can still feel the road vibrations when riding through harsh pebbles and small stones.
We changed the wheels into 9" pneumatics and liked them a lot more. The rides are noticeably smoother during off-road rides. Good thing is that the 9" pneumatics wheels are now the default option at the moment.
Ecomobl Telum VERDICT – Affordable and High Quality
Now, to summarize:
The ECOMOBL Telum is an affordable off-road suspension mountain board that doesn't skim on polish, specs, or performance. It has 2 main weaknesses. First, a powerful but slightly harsh acceleration, which kept some of us at lower speed mode. And second, it's tough to turn, which is kinda part of the deal when getting an off-road suspension board. The board is not made for tight quarters and certainly not for carving.
With all that said, the Ecomobl Telum did well in what it was designed to do, which is off-road riding. After all, when running up mountain trails, stability is preferred over maneuverability while power takes priority over silky-smooth acceleration.
So, should you buy it?
No, if you are looking for an electric skateboard for the city.
Yes, if you are looking for a board that can bring you to places—or mountains—that you have never been to.
Or perhaps, you are looking for a monster that you can count on to outrun and outlast the pack on group rides. That, Ecomobl Telum can do very well, at a very good price.
If you are interested in buying the Ecomobl, be sure to check out our affiliate discount link here and use code: "100offcode" to receive 5% off during checkout.
It will help you get a small monetary discount and help us out too. On top of that, you'll be tagged as an Electric Skateboard HQ customer and probably be treated better. Cheers!