Exway Flex Pro is the upgraded version of the Exway Flex ER. At $930 USD, it's supposed to be faster, better and most notably, a lot more powerful.
Exway also updated its mobile apps, the ExSkate, which is now more functional and has a prettier user interface. Exway Flex Pro also comes with a fast charger which is the latest gallium nitride. The GaN charger supports dual charging which we will talk more about later.
What we really want to talk about is the Exway Flex Pro's peak output power at 2520W. Can it surpass its rival, the Meepo Voyager X, in ride experience and overall build? Let's first go through the specs!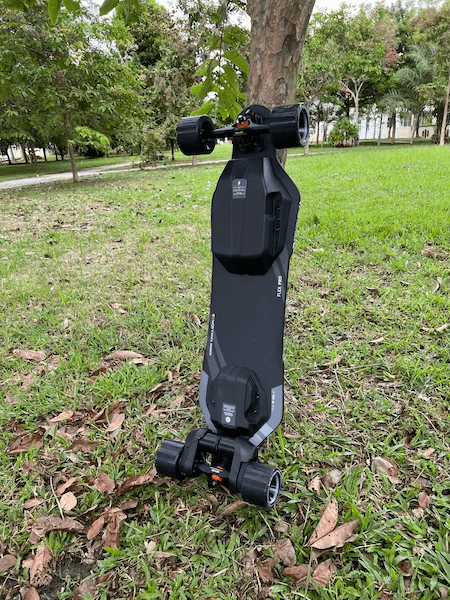 Exway Flex Pro Build and Specs
Deck: Flexible Composite; bamboo, maple, and fiberglass
Electronic Speed Controller: Exway Latest Gen ESC 3.0; R3 Remote
Batteries: 345Wh; Domestic 18650 cells
Marketed Range: 25 miles (40 km)
Motors: 2520W Belt
Marketed Speed: 31 mph (50 km/h)
Trucks: 8" Proprietary Trist Trucks
Wheels: 90*64mm 76A Durometer
Other Features: ExSkate App, 210W GaN (gallium nitrate) fast charger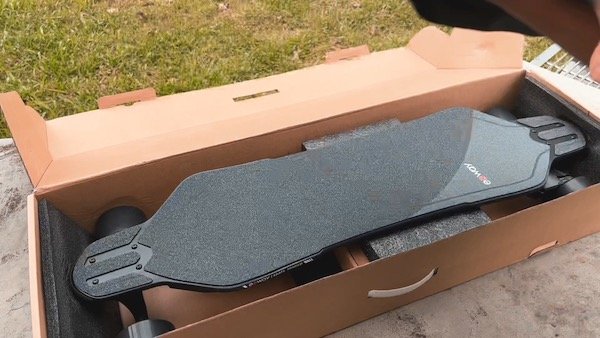 Starting with the unboxing experience, Exway Flex Pro's packaging is decent but the goodies inside make it special.
The R3 remote is the latest from the Exway Flex Series. Exway updated the look with an ergonomic design and added features like route tracking, online and offline firmware updates, and Bluetooth 5.0. It now charges by USBC and what I like the most is that it shows the trip meter and odometer.
You also get the new gallium nitride (GaN) fast charger which is super sleek and beautiful. The fast charger can be combined with two more chargers like this one to get a full battery status in just one hour.
This is a game-changer in eskate builds although we weren't able to test it out because our cable for it isn't ready. Once it works, you should be able to charge the board and continue your long-distance ride.
Another board that can help you with range anxiety is the Exway Flex ER. Read the review here.
Premium Board Design
Looking at the design, the Exway Flex Pro looks strong with a black and gray theme just like the Boosted Stealth. For me, the design is a bit dull on the top side but beautiful on the bottom side. The polish of the board screams premium and the little details look nice.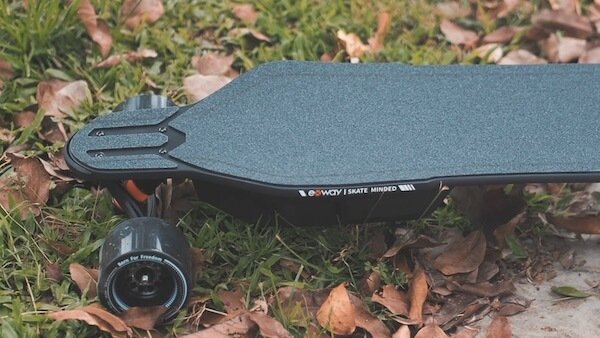 The new flexible composite deck has a nice concave that will secure your feet in place. Its flexibility acts as a suspension and can allow the board to conquer rough road vibrations. The wheels are also bigger at 90mm, so this should also have an effect in cushioning your ride.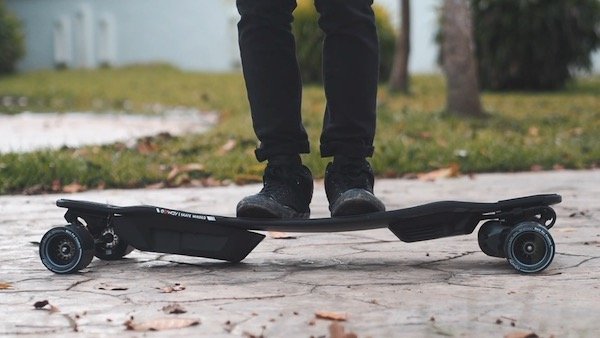 New ExSkate App to Customize Board Settings
Exway has designed the new ExSkate App for The Flex Pro and the Atlas Pro. The Exskate App allows you to customize the ride settings of the board and also shows the board's information such as board temperature, mileage etc. For those who hate to install extra apps, fret not, you can also change the settings using the remote.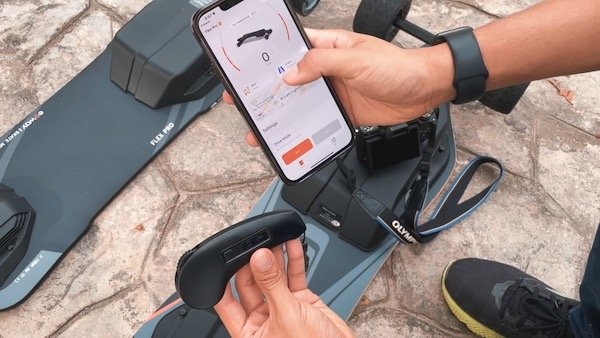 Exway Flex Pro Ride Experience
Exway Flex Pro is suitable for beginners that love speed. Cruising on rough road conditions won't feel so bad because of the flexible deck. The bigger wheels are also nice.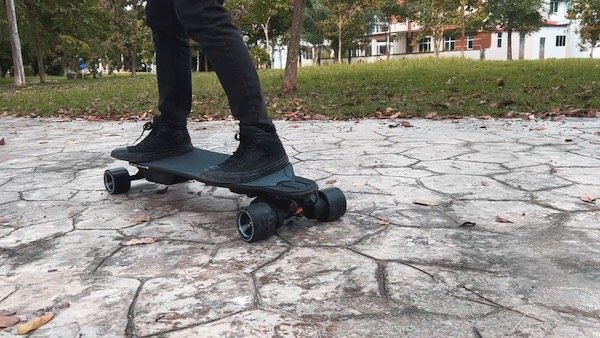 All Exway boards are very water resistant—from the X1, X1 Pro, X1 Max, or Atlas, all of them have very good water resistance and can be used on rainy days with no technical issues. Exway Flex Pro is also water resistant but we don't recommend riding through deep puddles. You should also be prepared for rusty bearings if you're going to take on a few puddles.
For context, check out our Exway X1 Pro review here.
The new ESC should give you more power. We think you will definitely feel the kick on this board. Exway Flex Pro can go from 0 to 25 mph (40 km/h) in just two seconds. Amazing!
Compared to its rival the Meepo Voyager X, Voyager X still has a stronger power. Although, the smooth brake on Exway Flex Pro is something some of us prefer. The default break mode on the app is set at 3 but you can change it to 5 if you want to break immediately.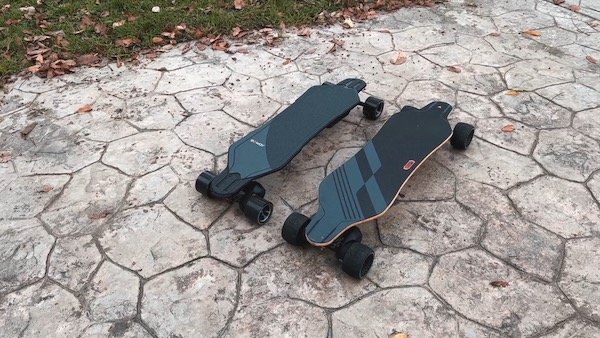 As for the trucks, you guys know how we like Exway's Proprietary Trist trucks. It's very nimble and doesn't wobble. It's fun to carve and the return to the center is pretty good.
Reaching the top speed is a little scary on rough roads. If you try going from 12 to 25 mph (20 to 40 km/h), the standard truck setting is perfect. In spite of that, we managed to hit the marketed top speed at 31 mph (50 km/h), and going up a steep incline wasn't any trouble.
Considering all the specs, Exway Flex Pro should be great for your typical commute. The maneuverability is smooth and the board glides well which is important in urban areas. It's a really nice board with punchy acceleration and break.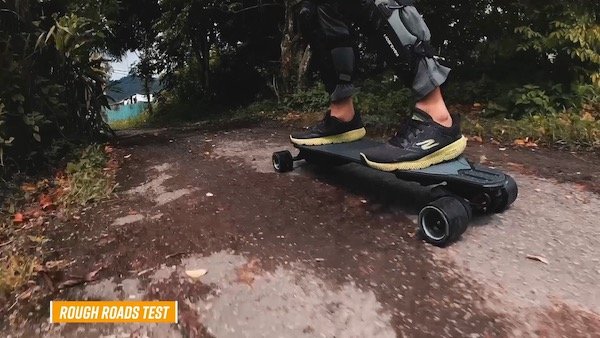 On smooth roads, the Exway Flex Pro is a killer. You can install bigger wheels if you want some cushion on pebbled roads.
If you're looking for a board with even bigger wheels, check out our Maxfind FF Belt review here.
Exway Flex Pro VERDICT – Expensive, worth the price?
Exway Flex Pro is undoubtedly a very good ride by a very good brand. However, is it that much better than the $749 Exway Flex ER? Let's put it this way, is it worth it to pay more and sacrifice a little bit of range for more power?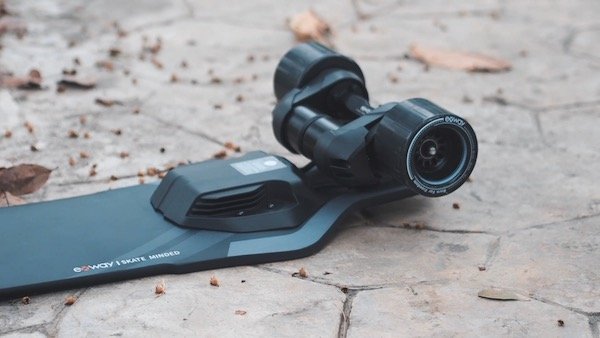 You see, the range of Exway Flex Pro is 25 miles (40 km) while Exway Flex ER is 28 miles (45 km), but the difference in range is just because riding faster drains the battery quicker. While the difference in range is insignificant, the power on Exway Flex Pro is so much stronger and the acceleration so much more thrilling. I think it's justified paying a little bit more for it.
And obviously, the add-ons that Flex Pro has and Flex ER don't make it a very sweet deal. Slightly better deck, upgraded ExSkate app, new and faster chargers, and 90mm wheels are all things that make Exway Flex Pro one of the better buys right now.
If you are interested in buying the Exway, be sure to check out our affiliate discount link here and use code: "ESKATEHQ" to receive $15 off during checkout.
It will help you get a small monetary discount and help us out too. On top of that, you'll be tagged as an Electric Skateboard HQ customer and probably be treated better. Cheers!