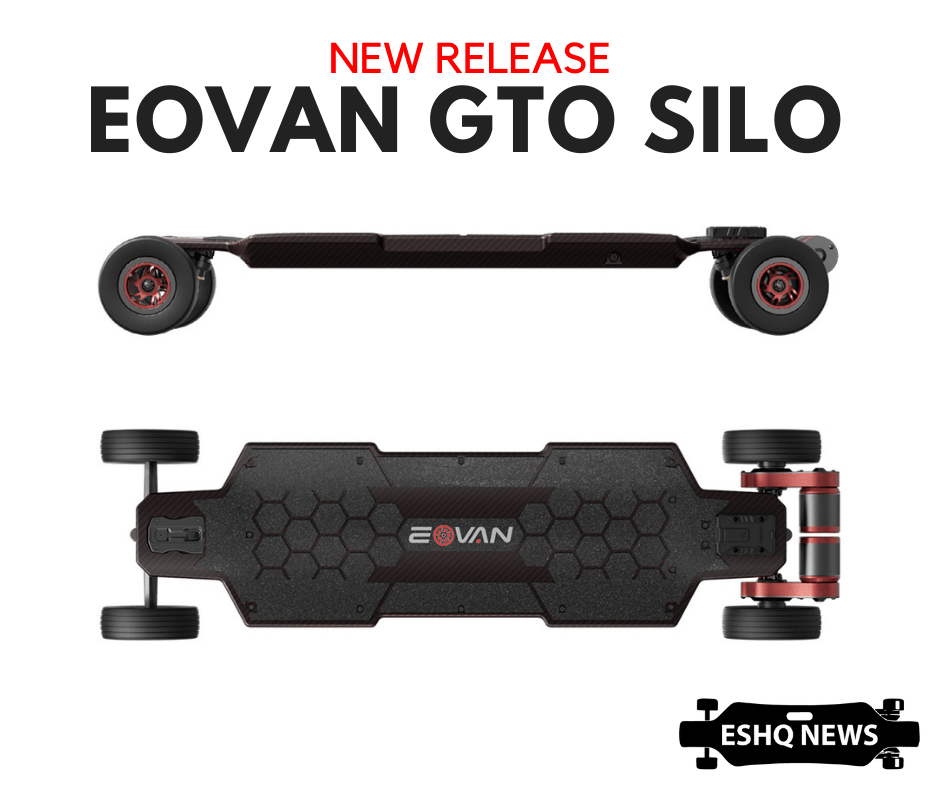 After a year of hiatus, Eovan is putting out a new board to the market – The Eovan GTO Silo.
TLDR: Eovan GTO Silo is a gear-drive all-terrain electric longboard starting at $1,349(belt drive) & $1,549(gear drive). It has a carbon fiber double-drop deck, uses DKP trucks that can be converted to RKP, and support both 150mm pneumatic wheels and 125mm airless wheels.
For those who are unfamiliar with Eovan, the brand made its name a few years ago with Eovan GTS Carbon Pro. This all-terrain electric skateboard quickly gained popularity amongst eskate enthusiasts for its beefy specs, carbon fiber deck, and for its relatively wallet-friendly price. Evidently, this formula had served Eovan well, as Eovan had stuck with it with the subsequent release – Eovan Carbon Super last year, and the new Eovan GTO Silo today.
Check out Eovan GTO Silo by clicking here.
A sporty look – with a carbon fiber deck
Eovan has always been very good at designing boards that look sleek and sporty. But of course, any electric skateboard will look good with a carbon fiber deck. For the new GTO Silo, Eovan claims they've used better carbon fiber for the deck at a higher cost to further improve its toughness and durability. The deck is 39 inches (100cm) in length and 11 inches (28cm) in width, and have a comfortable concave to help rider secure their feet.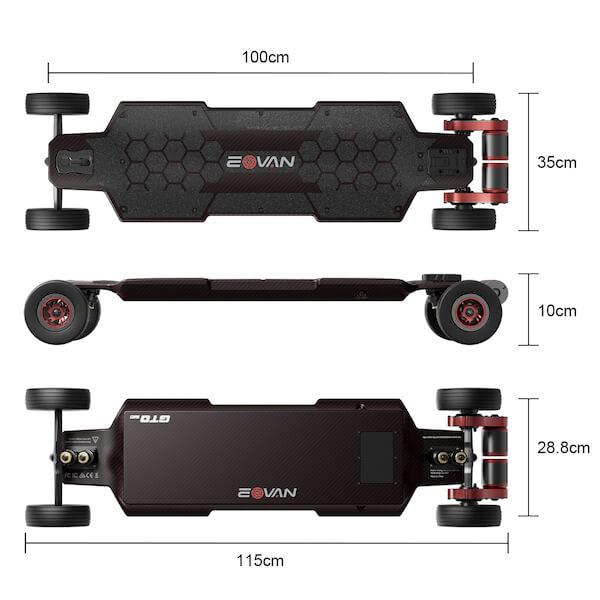 The deck was designed to be stiff hence prioritizing stability and control. On the flip side, road vibration on the GTO Silo would be worse as compared to boards with flexible wooden decks, and that's probably why Eovan put a lot of hexagon foam grips on the deck.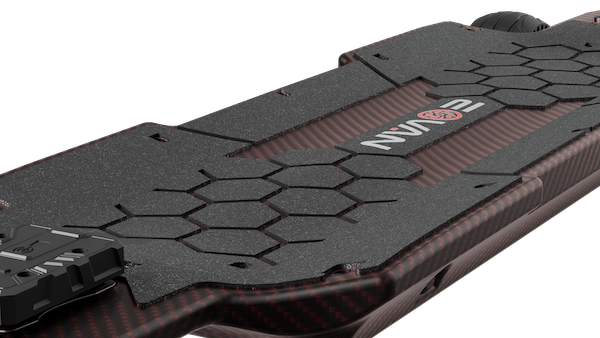 Very beefy specs – 12s5p molicels
As per tradition, Eovan tried to pack as much into the GTO Silo as possible.
For battery, it went with a gigantic pack of Molicel P42 battery(21700 cells) in 12s5p configuration. This 21AH battery pack promised up to 31miles (50km) of range, which is higher than most electric skateboards in this category.
For context, Evolve Carbon Hadean, Exway Atlas and Meepo Hurricane all come with a smaller 12s4p battery pack. Besides, Molicel are great battery cells, so this wasn't the case of 'using cheap cells to pad up the specs'.
Gear Drive debut
While the carbon fiber deck is cool and the battery is great, what interested us the most about the Eovan GTO Silo is the gear drive.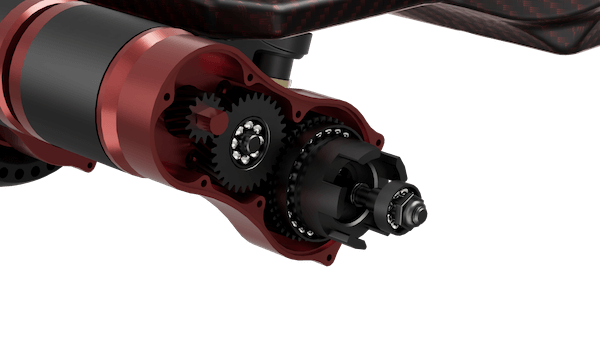 This is the first time Eovan put a gear drive into any of its boards.
The previous Eovan boards were all runs on belt drives, which were good in providing torque and power but weren't as 'fuel efficient' as hubs or gear drives. (Also, belts needed to be changed from time to time.)
You do get different motor noises with gear drives (which often are higher pitched), but Eovan claims this gear drive they are using is quieter than its belt predecessor. Anyways, hardly anyone cares about motor noise unless it is annoyingly loud and from the looks of it, the gear drives on GTO Silo won't be.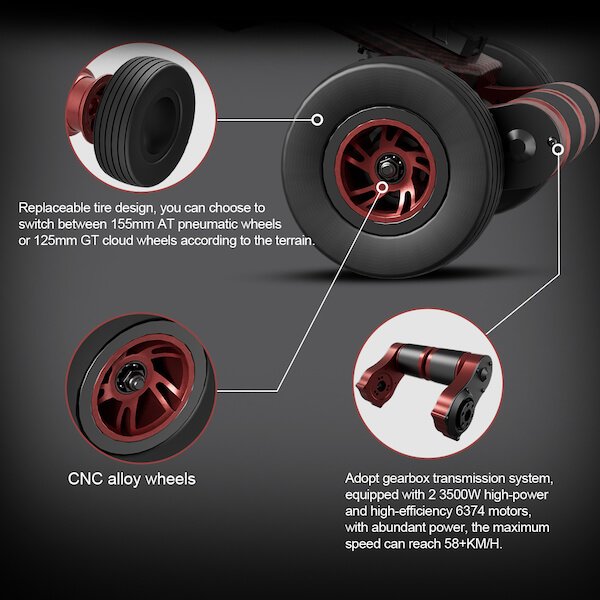 With 2 x 3500W motor (6374, 170kv) driving it, the board has plenty of power, with a marketed top speed of 36mph+ (58kmh+). Not many people feel comfortable riding that fast, but having this much power means no hill is too steep, and quicker take-off from traffic stops.
For those who don't buy into the gear drive hype, going with the belt version ($1,349) will save you $200 bucks.
Hobbywing ESC – industry standard
It's important to have smooth and intuitive speed control to pair with a high top speed, and Hobbywing ESC will definitely give you that.
The previous Eovans' has been using VESC with proprietary settings, while VESC sounds better on paper, many riders find fault with how Eovan had the setting configured right out of the box.
While eskate enthusiasts might prefer a VESC as it allows user customization, we think most eskater will prefer not to go through the trouble and instead, get a well-tuned ESC right out of the box, and that's exactly what Hobbywing ESC is going to get you.
Hobbywing ESC has more than proven itself and is almost universally loved, so going with it makes perfect sense in our mind.
Trucks – to DKP or not to DKP
Double Kingpin Trucks (DKP) are a common choice for big heavy all-terrain electric skateboards in order to make turning easier and the turning radius smaller. However, many DKP critics had argued that, for a board that's clearly designed to go fast (which GTO Silo clearly was), going with a more turn-y and less stable DKP doesn't make sense.
Plus, not all double kingpin trucks are created equal, and the previous trucks that Eovan uses were reported to be, well..,bad. (A lot of slopes, poor return to center.)
So, it is good news that the trucks on the GTO Silo have been reworked, and it's not the same double kingpin trucks from the older Eovans.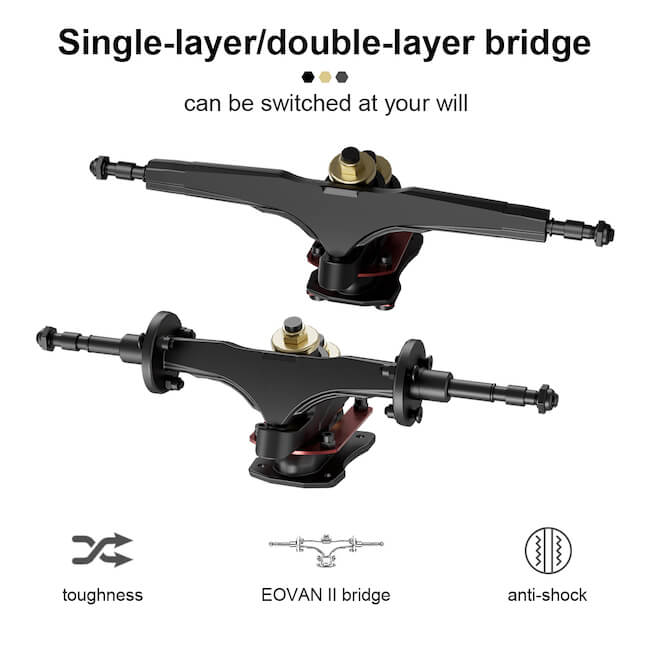 On top of that, the new trucks are designed to allow conversion between DKP set-up and regular reversed kingpin set-up, giving DKP haters an easy way to convert back into good ol' RKP trucks.
So…
Will the new redesigned DKP trucks be good?
Will the reversed kingpin set-up please DKP-haters?
Or will this feature be a terrible gimmick, resulting in a truck that can neither turn well nor remain stable?
We are looking forward to finding out!
Wheels – big AT and smaller AT wheels
Eovan GTO Silo comes with two wheel options. A 155mm AT pneumatic wheel, and a 125mm airless rubber wheel for semi-AT uses. The board has a 3.9-inch (10cm) clearance from the floor, so street wheels are definitely out of the question.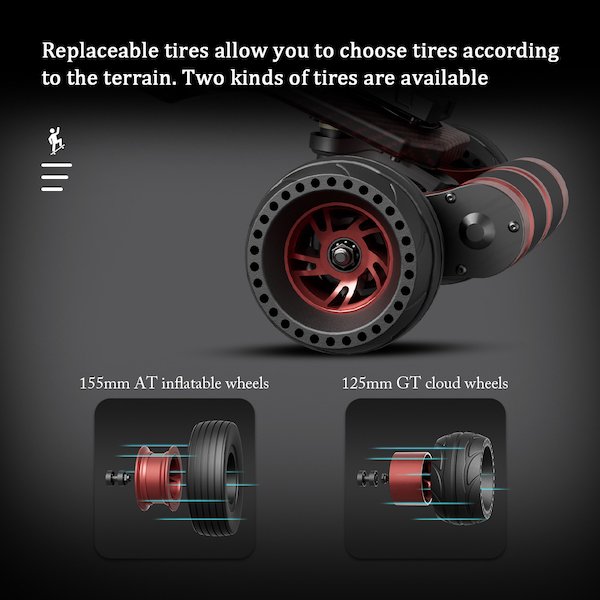 Eovan GTO Silo – Specification at a glance:
Deck: 39 inch x11 inch (100CM x 28.8CM)
Electronic Speed Controller: 12s Hobbywing ESC; 4-speed modes, smart turn-on, in-app customization feature
Battery: 21AH; 12S5P; 907.2 Wh Molicel P42 (21700)
Marketed Range: 31-37miles (50~60 km)
Motors: Gear Drive, 2 x 3500W motor (6374, 170kv)
Marketed Top Speed: 36mph+ (58kmh+)
Trucks: Double Kingpin Truck (convertible to RKP)
Wheels: 155mm AT pneumatic wheel/125mm airless rubber wheel
Weight: 35.2lbs (16kg)
Price: $1,349(belt drive) & $1,549(gear drive)
Check out our infographics and comparison chart to visualize how Eovan GTO Silo stacks up
Final words – Eovan GTO Silo:
For the starting price of $1,349, Eovan GTO Silo tops the competition with its specs. It has a bigger battery than the also-recently-released Meepo Hurricane Ultra, and is much cheaper than the $1,599 Exway Atlas Pro.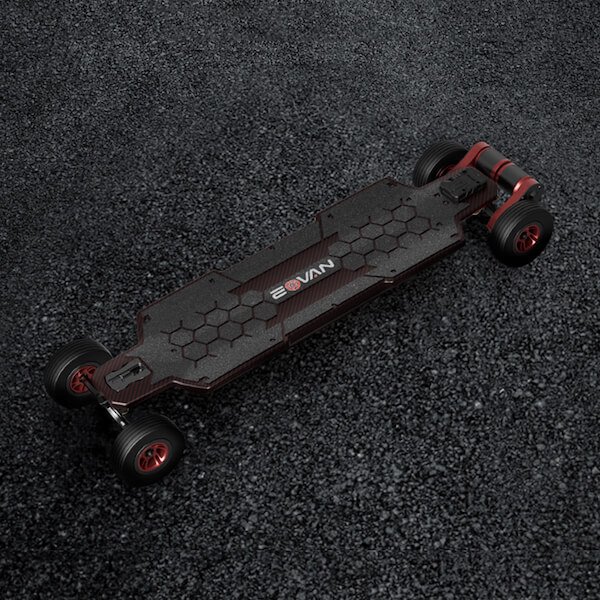 With that said, it is still quite hard to predict how well the Eovan GTO Silo will be received, as anything short of an amazing riding experience will be a huge disappointment for boards at this price. However, with everything we already know about the board, from the battery to the ESC, GTO Silo looks promising, lets's just hope the new truck rides well.
Definitely a board worth keeping an eye out for.