Remember back in the day when Boosted ruled the market and established how flexible decks are equal to smooth rides? Alas, Boosted is no more but many brands are still trying to carry the legacy.
Exway, a brand known for delivering amazing post-sale service (much like the late-Boosted), almost came close to reviving Boosted with the Exway Flex. The board has a nice flexible deck, silky smooth control, and polished build. This is the Boosted experience at just a fraction of the price, and we loved it very much.
The Exway Flex still had room for improvement, though. Like the Boosted, its kryptonite is the mediocre specs — especially in the range department.
So after a few years, Exway finally decided to jack up the Flex and fix the range with a 345 Wh battery. This new $800 board, 'creatively' named Exway Flex ER, does have some other improvements besides a battery boost. Let's see if these are worth flexing by diving right into specs.
Exway Flex ER Build and Specs
Deck: Wide flexible composite deck made of maple, fiberglass, and bamboo; less concave and flare
Electronic Speed Controller: 12s Hobbywing ESC; 4-speed modes, smart turn-on, in-app customization feature
Battery: 21700 4000 mAh 3.6 V high discharge li-ion cells; 12S2P; 345 Wh
Marketed Range: Hub – 28 miles or 45 km; Belt – 27 miles or 43 km
Motors: Hub – 5230; Belt – 4230
Marketed Top Speed: Hub and Belt – 28 mph or 45 kp/h
Trucks: Proprietary Trist Truck 8" Reverse Kingpin
Wheels: 85*56mm 76A
As usual let's start with the highlight of the board — the deck itself. The deck is still the same composite deck made up of maple, fiberglass, and bamboo. This gives the board a super flexible vibe with a few tweaks on the board's concave.
Exway reduced the deck's concavity to make it flatter, wider, and less flared. The original deck was pretty aggressive, and we think this tuned-down version will be more widely accepted. Anyhow, we certainly love this new deck for 'all its curves and all its flexes', as it makes a smooth and stable ride.
We also noticed there's a slight change on the grip tape of the deck. The deck now sports a new design that exposes the bolts underneath. This makes it easier for the users to add or remove extra accessories to the board without damaging the grip tape. Exway is known for creating thoughtful design choices like these.
The orange wheels and deck also makes the board look more and more like the traditional Boosted. Exway is bringing nostalgia while still mixing their brand's personality in it. Overall, the Exway Flex ER feels more polished and refined than the original one.
Hobbywing ESC In-app Customization Feature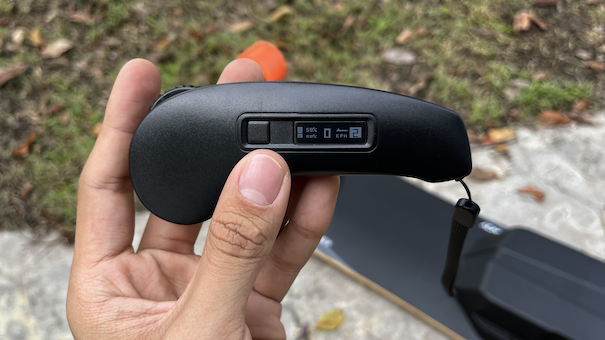 As for the ESC, Exway uses a customized 12s Hobbywing with 4-speed modes, a smart power-on, and in-app customization feature. Inside the app, you can change your preference and adjust the acceleration and braking strength of the board.
Moving on to the motors, a hub and belt version is available. Exway designed the board in a way that allows easy switching between the two systems. There is little reason to buy both systems, but the option to change your mind regarding the drivetrain is obviously a very welcome one.
Marketed Top Speed Achieved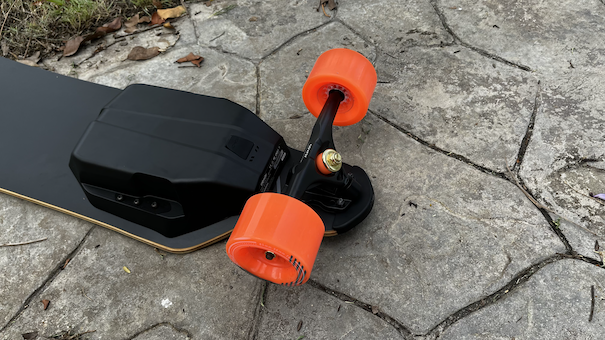 In this review, we tested the hub version of the Flex ER. This board uses dual 1000W hub motors marketed to have a top speed of 45km/h or 28mph. We are happy to report that we managed to hit the top speed claim during our test!
The board also comes with standard 85mm Urethane wheels which aren't particularly interesting but are still a good pair of high quality and rebound wheels.
The trucks are still Exway's Proprietary Trist Trucks. We are quite familiar with it as Exway has put them on most of their boards. These are reverse kingpin trucks that span 8 inches in length, and we consider them one of the really good trucks in terms of responsiveness and stability.
If you want to see the Trist Trucks in action with shortie Exway Wave, click here.
60% Increase in Battery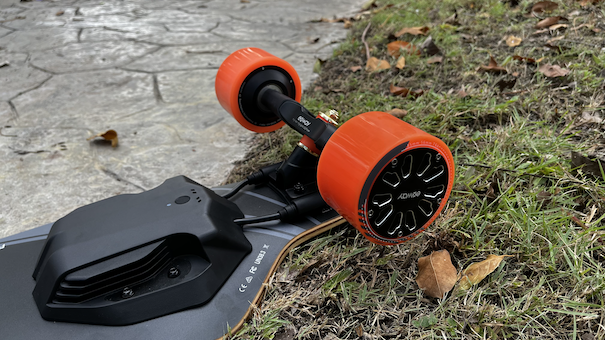 Now, let's head into the biggest upgrade of the board which is the battery. The Flex ER has received a huge 60% bump in battery size over the previous model and is now equipped with a 345Wh battery as compared to 216Wh on the previous one.
This is a massive step up over the old one. Exway also marketed it to have a 45km or 28miles range as compared to 17miles or 27 km on the old one.
These are huge claims by Exway, so we just had to test the limits ourselves. We pushed the board to its maximum capabilities and ran it fast through hilly areas. Our 150 lbs or 70 kg rider managed to hit 22 miles or 36 km on the Flex ER which is impressive.
If the board was ridden on a flat road most of the time, we're pretty confident we can hit at least 25 miles or 40 km of range without a problem.
Fast Charger Right Off The Box
Another thing we highly appreciate from Exway Flex ER is the free fast charger right off the box. Not every brand includes that by default.
The Flex ER also comes with a bash guard pre-installed, which keeps the edge of the deck safe and secure right from the factory. The board is rated as lp55 water resistant and weighs in at 8.3kg or 18 lbs.
That's a wrap in terms of specs and build quality! Let's see how all of those translate into the riding experience.
To check out our OG Exway Flex review, click here.
Exway Flex ER Riding Experience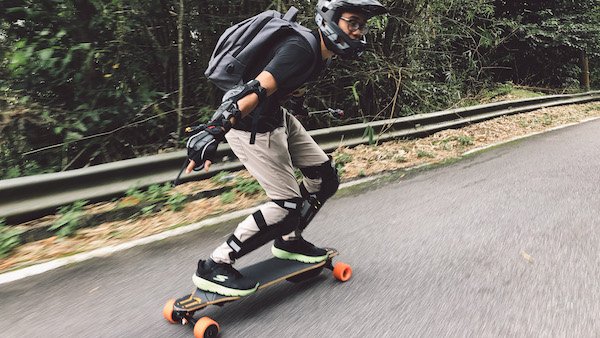 Like all Exway boards, the acceleration of the Flex ER is very smooth. The customized Hobbywing ESC is proven to be super smooth with plenty of power. Bear in mind that we are testing a hub version of the Flex ER. Torque and power aren't usually the strength of a hub system, and Exway addressed that by going with a pair of big 1000w motors.
For context, most really strong hub boards use 500w motors. While wattage alone doesn't tell a full story, it does show Exway is putting some emphasis here. The torque and power will become even stronger if swapped to the belt version.
Keeping the Old Flex-y Deck
Next, let's talk about the ride feel. Even if the concavity of the deck was toned down a little, it is still significant and did a good job securing our feet.
We hear a lot from the eskate community that the original Flex has a profound concave they call "flare." This flare makes people with bigger feet feel uncomfortable. Though, we did not experience that since we only wear US-size 10 shoes. This update will be much appreciated by the bigger riders out there.
While toning down the decks concave may split the room, the flexibility of the deck is universally loved. The Flex ER is still as flexible as the old Flex with its good old smoothness and fun carving.
Of course, the Trist trucks play a big part in delivering a fun carving experience, too! Turning and maneuvering with the board felt effortless. The truck also had a good return to the center.
Right out of the box, the trucks are a bit loose. If you want more stability at high speed, we recommend you tighten the trucks a little bit. After adjusting the trucks by a few turns, the board should handle its high speeds. Although this is never the board's specialty, you would want a board with a stiffer deck, and a truck that leans toward stability if high speed riding is your thing.
As we are testing the hub version of the board, we did feel the strong vibration when we hit rough roads and terrains. Nevertheless, the flexy deck did help a little bit in terms of absorbing those road vibrations.
We recommend upgrading to 105mm Cloudwheel Donuts if you are living in an area that has poor road conditions. Otherwise, the riding experience is very very fun on smooth roads.
To learn more about Cloudwheel Donuts, click here.
Voltage Sag Is No Longer A Problem
The Exway Flex ER Hub isn't exactly a beast when it comes to power but it does maintain good torque even when running low on battery. Compared to the original Flex, the voltage sag is no longer a problem. With 15 % battery left, we still managed to climb a pretty steep hill our old Flex cannot handle.
Exway Flex ER Final Verdict
To summarize, for $800, Exway Flex ER gave a polished riding experience on top of the polished look. Its flexible deck, carvy trucks, and silky smooth control make it an amazing board that is a pleasure to ride. The same profile also means that the board is not meant for drag races and high speed. Bouncy decks and twisty trucks don't exactly spell "stability at high speed."
While the specs and battery size are usually the weak links of Exway boards, the Flex ER proves to be an exception. A range of 28 very enjoyable miles for $800 is great, if not amazing. It is worth noting that going with the belt version means you will lose quite a bit of range, but again, 345Wh will still get you very far.
On that note, for anyone unsure about going belt or hub, it is always wise to choose the belt version for smoother rides and better torque. Only go with hub motors if you want to be stealthy with maximum range, or if you absolutely hate belt changes.
So, should you buy Exway Flex ER? Well, it certainly sets a standard for a board at $800. Considering there aren't many boards that price around $800 at least just yet, the question perhaps should be, why shouldn't you?
If you are interested in buying Exway, be sure to check out our affiliate discount link here and use code: "ESKATEHQ" to receive $15 off during checkout.
It will help you get a small monetary discount and help us out too. On top of that, you'll be tagged as an Electric Skateboard HQ customer and probably be treated better. Cheers!