On 19th June, after weeks and weeks of teasing, Lacroix finally releases the details on the new Lacroix board, no, boards. Lacroix unrevealed three new products, Lacroix Jaws($2499), Lacroix Nazare ($3299) and Nazare Lonestar ($3999).
Little boy

Fat man
The original Lacroix Prototipo has been touted as the best premium production electric skateboard. Now that the Prototipo is no longer available, Lacroix Jaws took over the torch while the new pair of Nazare boards raises the bar even higher (the price too.)
You can visit the product page to appreciate the vision and inspiration on which these two beasts were created. However, as I am not as poetic, I'm just gonna walk you through the number.

And of course, with insane price, come insane numbers.
The Nazares
The Nazare is housing a 1089wh,12s6p pack of Sanyo 20700B cells in it's 35lbs (15.5Kg) body. The Nazare Lonestar weighs even heavier at 45lbs (20.5Kg) for it houses an even bigger 2178wh, 12S12P battery pack (also Sanyo 20700B cells).
Lacroix Nazare has a marketed range of 37miles (60km). On the other hand, Lonestar has so much range, 50 miles(80km), that the Flipsky VX1 remote would run out of battery before the board would, and that's why Lacroix is going to send you two VX1 remote with the Lonestar. Pretty crazy when they put it this way.
Other than the battery, weight, and range, the other features seem to be similar between Nazare and N.Lonestar.
Here's the run down:
New Deck that is still very wide and very flexible.
New trucks with RipTide powered bushing.
Dual 6389 – 190kv motor.
Enertion Focbox Unity
Max speed that is too high for them to disclose.
8 inch Kenda tires
2 x 2000 lumen LED removable front lights.
Range, Weight and Price are all literally off the chart.
The Jaws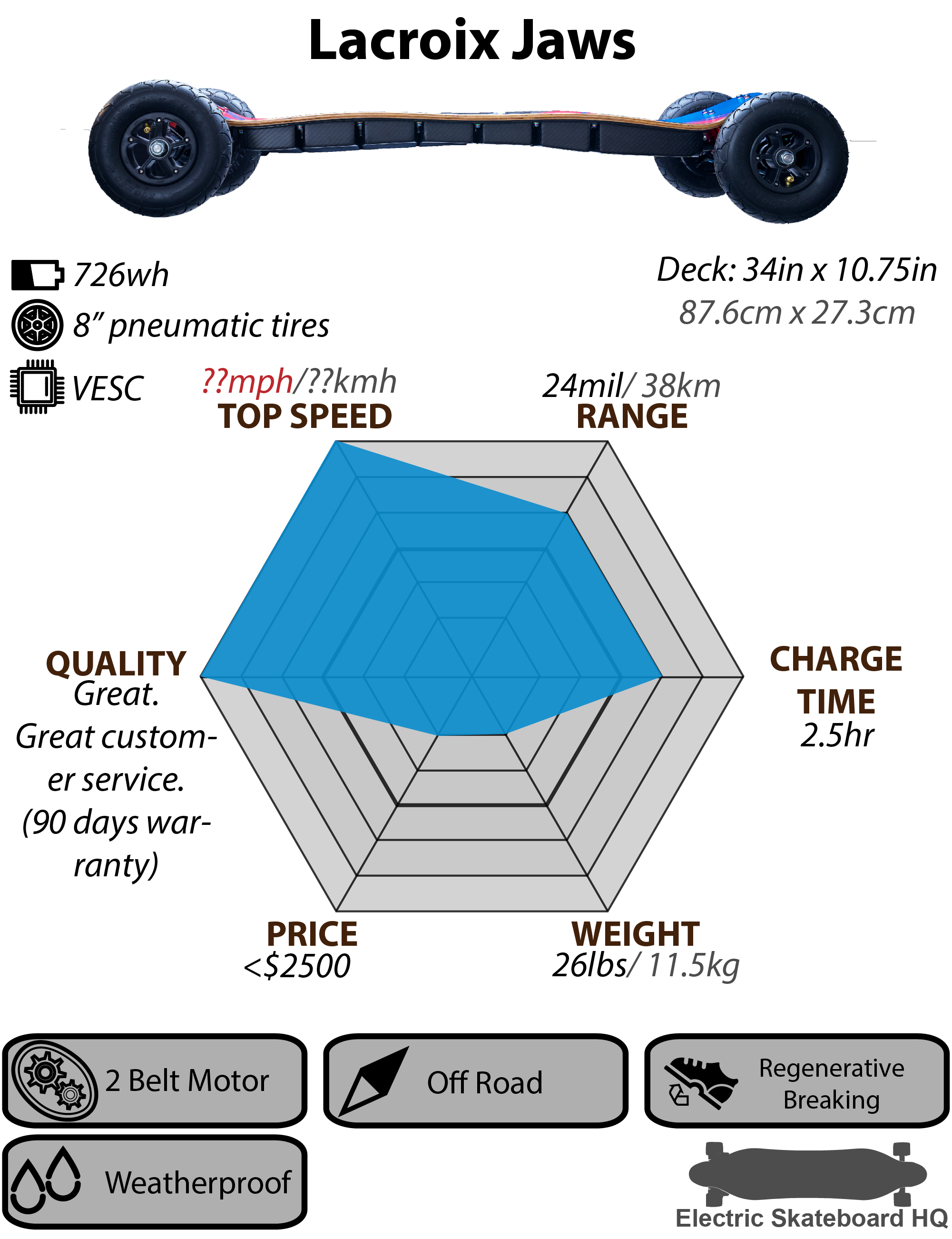 The Jaws is the entry level Lacroix, if $2499 can be called as entry level.
It uses a smaller 726wh battery in 12S4P configuration, same Sanyo cell, and hence the range is all lower but still respectable 24miles (38km). Jaws is of course, lighter at 26lbs (11.5kg).
Another downgrade from the Nazare is the use of MBS Matrix 2 Pro truck instead of Lacroix Hypertrucks which can be upgraded by shelling out an extra $549 – which at that point ($3048), you might as well as buy the Nazare?
Oh, and Jaws don't come with frontlights.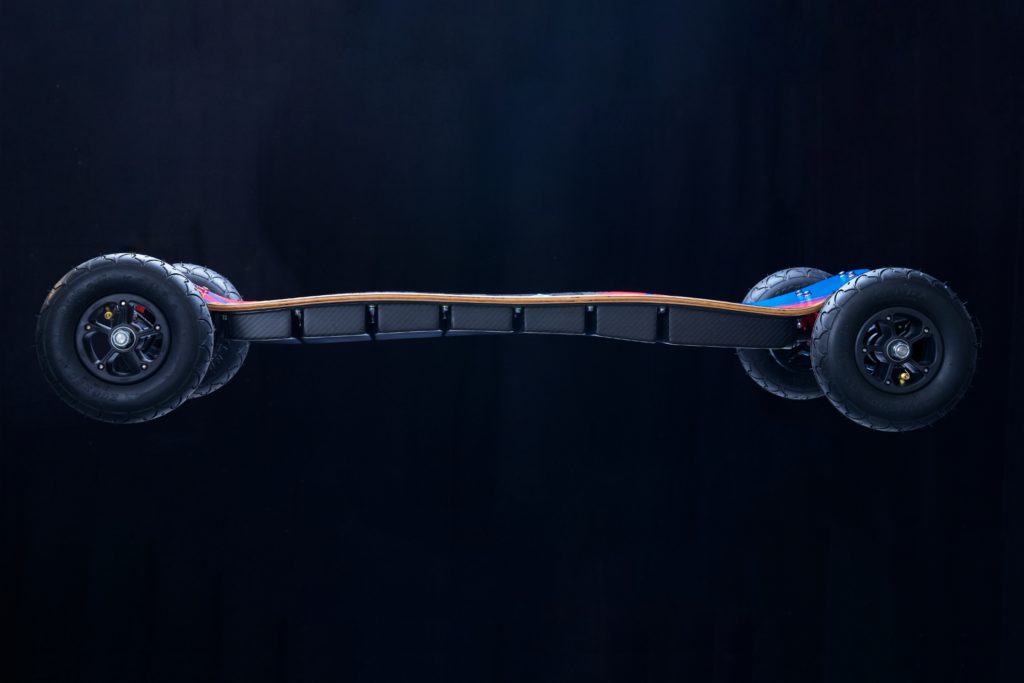 There is currently no real photo picture of the deck with grip tape on, you will have to email Lacroix team and ask why they don't have that picture yet if you want to have a sneak peek of it. =D [email protected]
What do you think about the new Lacroix? Do they get your vote as the best premium electric skateboard? Are they worth your kidneys? Let us know!
Leave a comment below to get a chance to win a brand new Lacroix Nazare Lonestar I'm just kidding.
Check out the new Lacroix! Lacroix Nazare, Lacroix Nazare Lonestar.