Today, we will be looking at the Maxfind FF – Street.
As a reviewer, I can't help to consider Maxfind an interesting brand. Circa 2016, Maxfind was a brand that put out crappy budget boards and selling them on Amazon. During those days, their after-sale service or lack thereof has made them unpopular within the Eskate communities. Lately, however, they have almost completely abandoned the "entry-level market" but instead trying to establish themselves as a brand that offers polished products for a slightly higher price. (Oh, and I heard they are improving in after-sale service.)
Amongst Maxfind's latest "more polished" product comes the star of today -Maxfind FF – Street, an $899 hub board with gorgeous looks, double kingpin trucks, a Hobbywing ESC, and a 6Ah hot-swappable battery.
Specs of Maxfind FF
Just like usual, let's start with the build and the specs:
Deck Size: 38-inch x 9.4-inch (97cm x 24cm)
Top Speed: 25mph (40kmh)
Range: 17miles (28km)
Battery Pack: 216Wh (Samsung 30Q 6.0Ah in 10s2p)
Weight: 20lbs/ 9.1kg
Motor: 2 x 750W hub motors.
Wheels: 96mm 78A
Price: 899 USD
Features:

Remote with Telemetry,
Swappable Battery

IP 65 waterproof
Cloudwheel Donut Compatible
Deck – Composite deck with Carbon Fiber coating
Maxfind FF has a super flexible composite deck made of PolyPhenylene Sulfide and Fiberglass, coated with carbon fiber.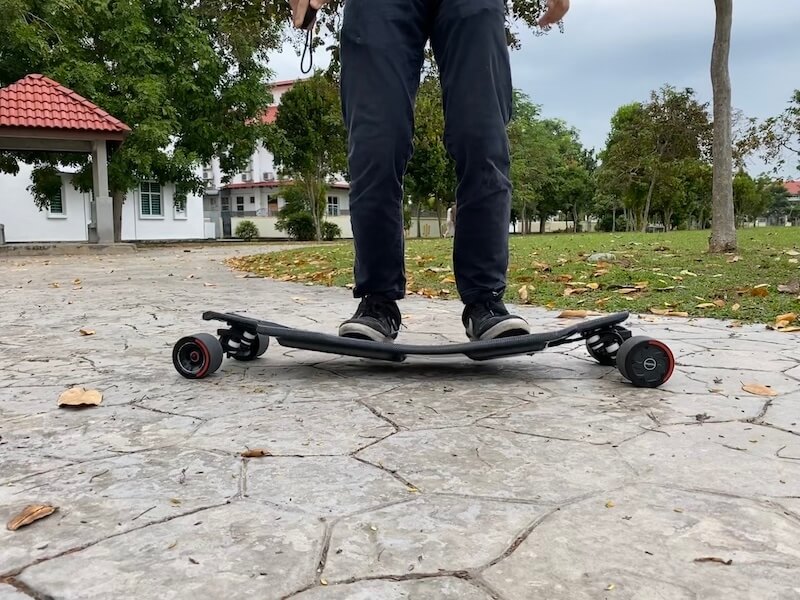 The deck is wide and has a good concave to it, so we can always know where our feet are during a ride. The deck has a double drop design, decreasing the riding height. It uses rubber grip tape, which we prefer as it doesn't catch on fabrics and damage them.
The deck has a built-in electronics compartment that can be accessed from the top. This allows for hot-swappable batteries and gives the board a very pleasant unibody look. There is a concern that a top access design would be bad for waterproofing. When it rains, the water could seep into the compartment, turning it into a water bucket. This is a problem that Evolve Carbon used to have. (But you shouldn't ride an eskate in the rain anyways.)
For me, this board scores 10 out of 10 in the looks department.
Trucks, Wheels, Motors
For trucks, the Maxfind FF goes with Double Kingpin trucks and pairs them with soft 96mm wheels. We will talk about the ride feel of the trucks abit later.
The durometer is 78A, and at the back, two 750W hub motors power the board. These hub motors are compatible with the Cloudwheels Donut, and you can pay an extra $100 to bundle them with your Maxfind.
Top speed and Range
These 750W motors give the Maxfind FF a marketed top speed of 25mph (40kmh). In our top speed test, it fell 1 mph short of that max speed. That's alright.
The swappable battery is a pack of 10s2p batteries with Samsung 30Q cells, that's 216wh, and gives a marketed range of 17 miles (28km). In our range test, we were actually able to hit that marketed range of 17 miles. Can't say I'm not a little bit surprised.
So, the Maxfind FF has a nice, polished design, and acceptable performance for its price. Next, let's go over the riding experience.
Riding Experience of Maxfind FF
Speed Control
First, let's talk about speed control. If you don't already know, every board with a Hobbywing Electronic Speed Controller on it has a smooth and intuitive speed control. Smooth acceleration and braking in all 3 of the speed modes, good strength in both acceleration and braking. Nothing for us to nitpick here.
Next, we'll talk about the maneuverability of the board, and how the double kingpin trucks perform.
Allow me to share a little bit of context here. When it comes to double kingpin trucks in eskate, there are some really good ones (Evolve, Wowgo, Backfire), but there are some that weren't as good (Ownboard, Raldey).
For this Maxfind, unfortunately, it falls into the latter category, of the not-very-good double kingpin trucks. These trucks have poor rebound to center, and this makes carving less fun.
If we tighten the trucks all the way down, the board becomes hard to recenter after a turn; inversely, if we ride the trucks loose, the trucks will easily wobble at higher speeds. We can't seem to find a good configuration with the trucks, perhaps changing the 98a bushing is the way to go.
Road Vibration
Another important part about the riding experience is how well the board handles road vibration from rough roads. In the case of the Maxfind's FF, it handles these quite well, even though it is a hub driven board.
The double kingpin trucks, drop-through deck with good flexibility, and the rubber grip tape probably all helped. For those who want bigger wheels to further reduce the road vibration, the Maxfind FF is CloudWheel compatible. Just install the CloudWheels Donuts and that will relieve any of your issues with rough pavement. These take just 15minutes to install, and, well, an extra $100.
Now that we've shown everything about the Maxfind FF, let's put it into perspective.
Summary of Maxfind FF
For $899, we can usually expect either amazing performance, or awesome design from a board. The Maxfind FF obviously falls into the latter category.
Unlike most Chinese eskates, this is a board that is not made just by combining off the shelf parts. For this Maxfind, 70% of your money goes into the design and build, and 30% into the motors, ESC, battery, etc. This means that, while costing $899, Maxfind FF has a performance that some $500 can match, but has the polish and design to match other pricier premium boards.
(An opposite example of this "design over performance" approach would be the Backfire G3 Plus, which prioritizes performance over a fancy design. It reuses all the parts from other Backfire boards, and then puts those savings into better performance.)
Another thing you should think about when buying a Maxfind is the company itself. You can consider Maxfind as a brand that has just come back from rehab. As mentioned, a few years ago it was known to be putting out cheap boards and having bad after-sales service. In recent years, however, we are hearing fewer complaints about the brand, but we aren't hearing many singing their praises either. What we can verify here is that Maxfind's new product lines are all well-built and polished.
Verdict: Is Maxfind FF worth it?
With that said, if you are tired of that generic look that most eskates share, and don't mind the brand and the trucks; the Maxfind FF is the board for you.
If you are interested in buying a Maxfind, be sure to check out our affiliate discount link here and uses code: "ESKATEHQ" during checkout.
It will help you get a small monetary discount and helps us out too. On top of that, you'll be tagged as an Electric Skateboard HQ customer and probably be treated better. Cheers!