Maxfind, a Chinese brand that has been around since the beginning of time. A brand that delivers budget boards in nice packages for casual eskaters, but has always been ignored by eskate enthusiasts, as their price vs value proposition was not as high as the other Chinese brands. If you have read my previous takes on Chinese brand, you might have sensed that I hated the brand, that's because their product and marketing strategies made me feel that they are just preying on the less informed buyers.
Well, that idea of mine has been shaken up with the new lineups that Maxfind introduced awhile ago, and today, we are going to talk about the Maxfind Max 4 Pro.
Maxfind Max 4 Pro
The specs are the least interesting part of the Max 4 Pro, so we'll just quickly run through them.
Top Speed: 26mph/ 42kmh
Range: 15mil/ 25km (4.4AH Samsung 22p, 10s2p)
Weight: 16lbs/ 7.5kg
Charge Time: 120min
Price: 619USD with shipping included. (Ships from USA or China)
Features: IP65 Waterproof, hot-swappable battery, remote with telemetry, swappable PU-sleeves
Wait a second. You might be saying, "all the numbers sound like a typical entry-level board, EXCEPT that last one. The price!" Yes, the Max 4 Pro is retailing $200 pricier than your typical entry-level budget board, so what is Maxfind doing to justify the price?
Max 4 Pro is not actually, not your typical eskate, it's more like a Drive Kit
First, the Maxfind Max 4 Pro is actually not a regular eskate, instead, it is a removable drive kit, marketed with a complementary deck. They are selling the DIY drive kit for $569. Drive kits that are designed to be slapped on any deck and instantly turn them into an Eskate have always been pricier. Mellow, Unlimited, Revel. All pricey.
The battery is hot-swappable
The Max 4 Pro comes with all the benefits of being a drive kit. It has an easy hot-swappable battery, you just need to undo a thumbscrew, and voila, the battery can just slide out. Maxfind also included an extra charging cable to charge the battery separately, which is a nice touch too!
It's waterproof
The second justification of the price is that the Max 4 Pro is waterproofed. (IP X7 on the ESC, and IP65 on both the battery and hub motors). I don't know how much faith you can put into any eskate company's IP rating claims, but at least you don't have to worry if you accidentally spill coffee on it.
It's pretty well polished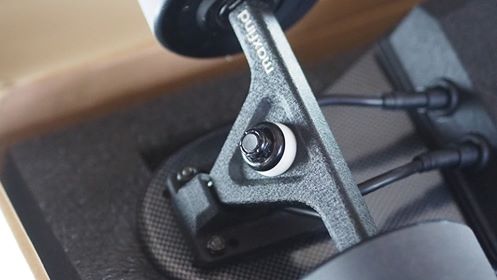 Finally, Maxfind did show their manufacturing prowess and gave their boards a good polish. The Max 4 Pro is beautifully packaged, and it's 8 ply maple deck with carbon fiber coating is just beautiful. It uses a metal enclosure. The trucks, bushings, and bearings are not branded but look high quality nonetheless.
Premium = Customer service?
In Maxfind's case, I'm not sure about that. It's not to say that the company has any bad reputation, it just that I have never heard anyone singing their praises, and for a brand that's been out there for so long, there should really be people singing their praises.
Field test: (Did all this translate into good ride feel?)
Deck:
The 8-ply maple deck is flat, without concave, but still does a good job keeping my feet comfortable. It has only a mild flex in it, which helps maintain stability, but unfortunately does not improve vibration.
Speed control:
Acceleration and braking are intuitive and smooth, as expected from a Hobbywing ESC. Maxfind did make some adjustments, however, especially on the braking for the Max 4 Pro. Unlike generic Hobbywing ESCs, which traditionally have dangerously weak brakes, the strength and smoothness on the Max 4 are exactly how we like it.
Carving:
Carving on these pairs of Caliber II clones is a pretty great experience, and fairly stable, even when riding at top speed.
Range test:
The removable battery pack is made of 4.4AH Samsung 22P cells in 10s2p configuration. It has a marketed range of 15miles (24km) but – our range test got us to only 11.5 miles (18.5km) riding in top mood throughout. I know, the result surprised no one as these are pretty standard numbers for most 4AH entry-level board.
Top-speed:
We hit the 26mph (40kmh) top-speed, which surprised no one. After all, the Max 4 Pro has a pair of 750W hub motors (with removable sleeves) and that's stronger than most entry-level and mid-range hubs. The stronger hubs did translate to our ride when it comes to conquering rougher terrain and hills.
Misc:
By the way, I like how most boards have bigger wheels now. The board uses large 96mm wheels, which are safer for beginners but can also help ease the vibration on rough roads. We've said that Max 4 Pro wasn't GREAT when it comes to handling vibration, so imagine how much worse it would be if they chose to use the 80mms on it.
Verdict:
Max 4 Pro is still not about price vs value proposition. Think of it this way –
For $619, you get a package that:
Shares the same spec with regular $400 entry-level eskate, but
Waterproof,
Hot-swappable battery,
Easy deck swap (It's a drive kit!)
Slightly better ride feel (and torque)
Better polish
I'd say it's worthy of the price.
All in all, the Max 4 Pro is a nice board that we enjoyed, but I suspect that many buyers would opt for the $569 Drive Kit Pro, as it's actually the real MVP here.
If you are interested in buying a Maxfind, be sure to check out our affiliate discount link here and uses code: "ESKATEHQ" during check out.
It will help you get a small monetary discount and helps us out too. On top of that, you'll be tagged as an Electric Skateboard HQ customer and probably be treated better. Cheers!
Oh, one Quick note on Max 4 normie (AKA not Pro)
The Maxfind 4 standard (without the 'Pro') is $100 cheaper, but it has weaker hubs, smaller 90mm wheels, and a generic Hobbywing ESC without the OLED Remote. Just think of it as your typical Hobbywing budget board with a $100 price premium for also being a drive kit and having good polish.