Enskate as a company has been a pretty good sport – If you remember, I made fun of their dildo shaped remote back when I reviewed their Enskate Woboard S, but they still came back to us courteously and even sponsoring this news to get the word out for their new product: Enskate R3 Mini.
What is this Enskate R3 Mini about?
Enskate R3 Mini is a $399 Hobbywing dual-hub shortboard that is not heavy on specs but is light in weight. It uses a 2.5AH battery pack that uses Samsung 25R in 10s1p configuration. Enskate marketed a max range of 12.5miles (20km), however, my experience with Samsung 25R tells me that 8.5miles (12km) will be a more realistic expectation.
Enskate R3 Mini also has a marketed top speed for 21.7mph (35kmh), which is a pretty standard number for a shortboard.
Alright, so what's the selling point here?
"Hey Paxson, don't we already have lots of $399 boards in the market?" you may ask.
You are exactly right, random stranger! We do have lots of choices when it comes to budget shortboard at this price. However! None of them is IP54 weather-proof like the Enskate R3 Mini is. Did I tell you a story where my friend had to get his $500 shortboard repaired 2 times after he got caught in the rain twice while riding the board to work?
Now, painting the rest of the picture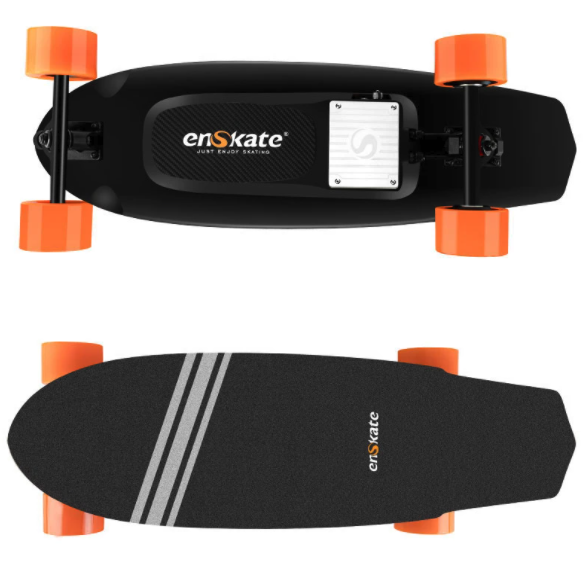 Enskate R3 Mini is using an 8-ply Canadian Maple deck with a functional kicktail. Needless to say, having a kicktail will be really helpful for tight turns, provided you know how to use it.
R3 Mini uses a dual 450W hub motor with swappable sleeves. Nothing special about these as these hubs are pretty standard.
Short summary:
Enskate R3 Mini is not made to be the best board ever, but it does fill certain needs very well. (Full review will be coming later.)
Portable (13lbs /6kg)
Intuitive control (with standard Hobbywing ESC)
Weatherproof (IP 54)
Budget pricing ($399 after shipping)
Standard top-speed (21.7mph/ 35kmh)
Uninspiring range (2.5AH battery)
Oh yeah, it ships from California Warehouse (1-5 days).
If you are interested in buying an Enskate, be sure to check out our affiliate discount link here and uses code: "ESKATEHQ" during check out.
It will help you get a small monetary discount and helps us out too. On top of that, you'll be tagged as an Electric Skateboard HQ customer and probably be treated better. Cheers!