Foreword
6 months after the original Meepo burst into the scene, the Meepo Board is now the undisputed most popular budget electric skateboard brand on the market.
Meepo 1.51 (aka the Black Meepo) is the latest iteration of this very popular board.
This is my review of the Meepo 1.51, and as per usual, I'll start by introducing the company which makes the board.
Introduction of Meepo
MeepoBoard- Background
For those who are interested in how MeepoBoard came to be, I wrote a story of how Kieran created the Meepo brand back in August 2017.
Here is the short version:
MeepoBoard was founded by Kieran, a mechanical engineer who worked in sales for an electric skateboard company. Frustrated by his boss, Kieran started assembling electric skateboards for himself, using his connection in the industry to source quality parts.
After sharing his boards on Youtube and received offers for purchase, Kieran quit his job and started MeepoBoard.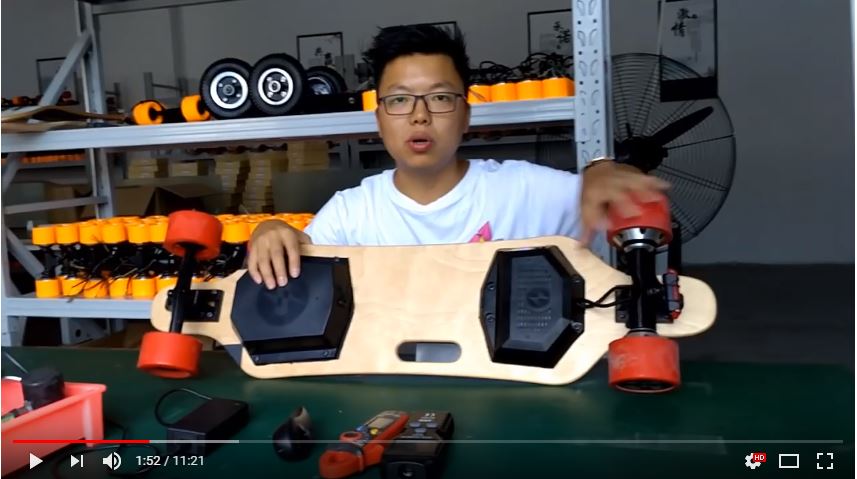 When it all started, Meepo was just a 1 man operation with some helpers, selling to international customers through word-of-mouth. Even from the outset, Meepo saw success as customers were impressed by the quality of the boards and could not stop raving about them online.
After the story of Kieran and the Meepo in HQ went viral, MeepoBoard saw a huge growth in sales to the point that demand couldn't be met.
After some aggressive staffing, the MeepoBoard of today is no longer a small, scrappy team making skateboards on-demand. Selling at least 5 thousand skateboards in the past 6 months, MeepoBoard has grown into a full-fledged company with factory operations and Kieran is still manning the helm.
Meepo Board – Original to 1.51
The original Meepo Board revolutionized the budget electric skateboard world by being the first sub $400 eskate (after shipping) that had great specs, reliable quality and good customer service.
Prior to Meepo, budget electric skateboards cost around $700. Meepo lowered the entry bar and allowed a lot more people to join the eskate community.
On the competition side, the success of the Meepo also attracted many Chinese companies to get into the eskate space.
These companies are now known as the "Meepo-clones," they go by many names including Wowgo, Ownboard, Ionboard etc.
So the arms race of budget electric skateboard began. With each brand trying to improve their boards in order to to one-up each other.
MeepoBoard kept up.
On December 2017, the Meepo 1.5 was announced, which saw an upgraded deck, battery , and better quality wheels.
On January 2017, Meepo 1.51 changed to a better quality, black deck.
This is the board that I am reviewing today.
Meepo 1.51 Review
Meepo 1.51 Overall specs
There is a reason why I keep referring to the Meepo as the king of budget boards,
The Meepo 1.51 has awesome specs for its price:
Top Speed: 22mph (36kmh)
Range: 11mil (18km)
Weight: 15.2lbs (6.9kg)
Charge Time: 3hrs
Features: 2 hub motors, weatherproof, Regenerative braking, handles up to 30% slope.
Price: less than 450 USD with shipping included.
Build Quality
Right out of the two boxes that Meepo 1.51 comes in, what struck me the most was the quality of the packaging.
When unboxing the original Meepo, I got the vibe of a scrappy, garage-assembled company.
6 months later, unboxing the Meepo 1.51, I feel like I am opening a product from a top company. It still has a hint of its DIY origin mainly from the lack of sophisticated graphic design on the printed materials, but everything that matters – from padding to accessories is now far and away from the days of the 1 man operation.
I also really like the stealthy black design of the Meepo 1.51.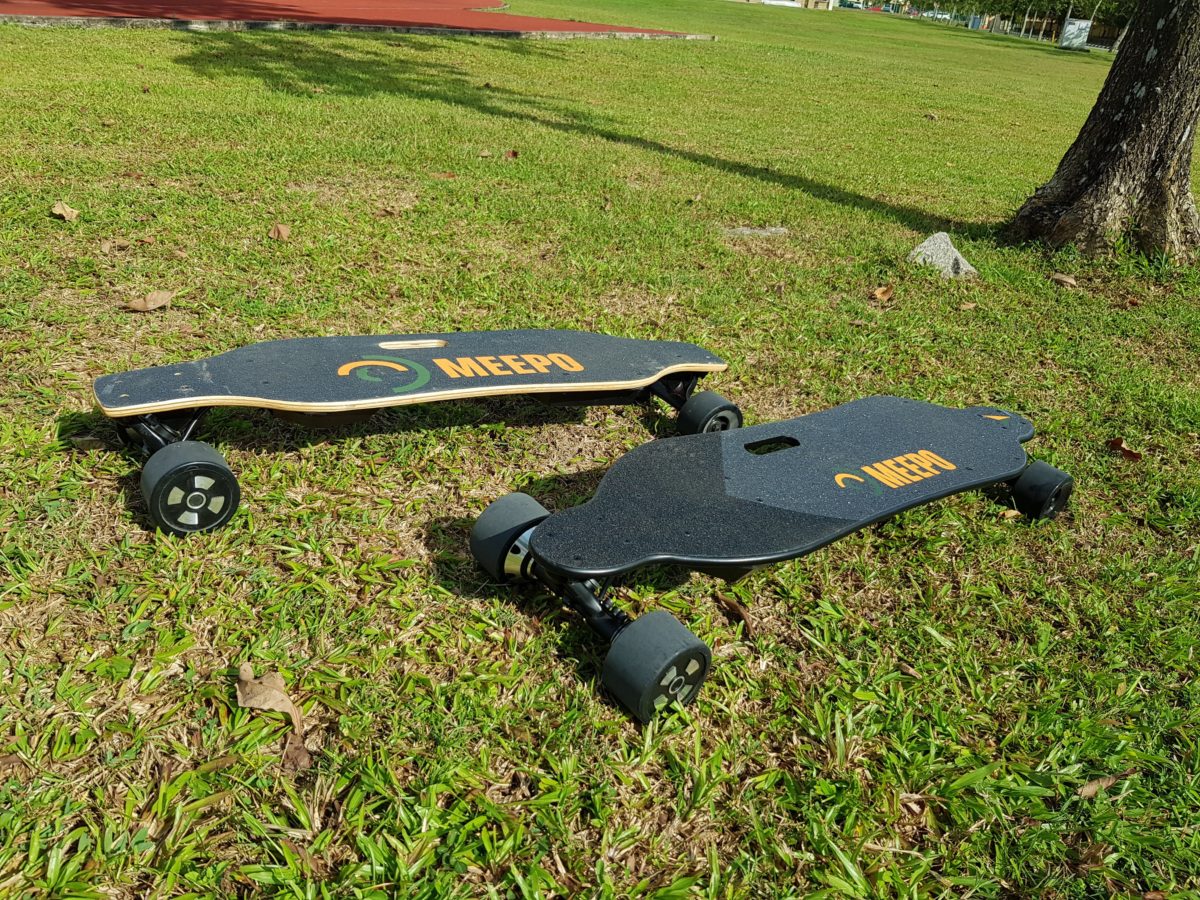 The deck, the trucks, and the wheels, everything looks nice and feels high-quality, and with a massive community riding their Meepo every day with very few faults reported, you can bet the quality is good.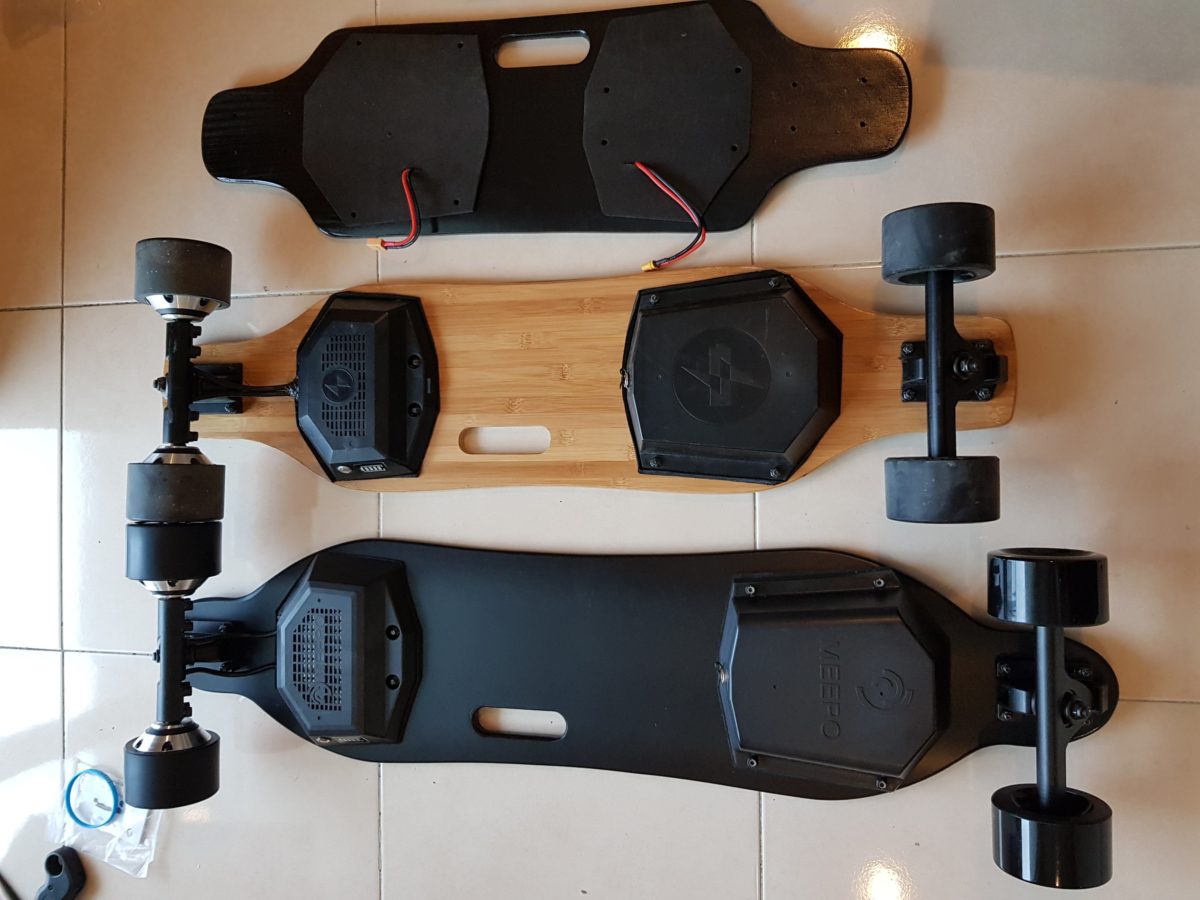 In short, the Meepo 1.51 today is truly a refined product, both inside and out.
Riding Experience:
Overall
The original Meepo Board provided a decent riding experience with it's biggest weak point being the weird arching convex deck.
The Meepo-deck-swap became the trendy discussion among the eskate community, and the experiments proved that with an upgraded deck, the Meepo rides like magic. Even Kieran acknowledged that and start sending out extra padding to help buyers to deck swap better.
(Following the trend, now every Chinese Budget skateboard company ships complete boards with extra padding.)
With the Meepo 1.51, Kieran made an investment on a better and longer deck and the riding experience saw huge improvements.
I'll get more into that, but in short, you don't need a deck-swap anymore to make the Meepo ride as good as any $1000+ electric skateboard.
Acceleration and Deceleration
With the addition of a third riding mode to cater to beginners, Meepo 1.51 now has 3-speed profiles that should fit new, advanced, and expert riders.
In the slowest mode, the acceleration is so gentle (slow) that experienced riders will get bored. Definitely suitable for the newest riders that are still getting used to electric skateboards.
The medium mode is where I spend most of my time. The acceleration is still fairly gentle, with no jolts.
This ride very similar to the lowest speed profile in the original Meepo.
The fast mode is really fast. The board really takes off and can throw you off the board if you are unprepared, or don't have a solid stance.
One time I mistakenly switched on to the fast mode thinking I was switching into slow mode and ended up on the ground pretty quickly!
Now, onto the deceleration and braking.
I am always very wary in testing out the brakes on an electric skateboard because trying to answer the question of "what will happen if I brake really hard at speed" often ends up with me lying on the road in a lot of pain.
The braking in Meepo 1.51 is … for lack of a better description… normal.
There are no delays in braking and it is very easy to get used to after a couple of rides.
It also appears that the braking profile is the same in all speed modes.
Just be careful when braking while going fast, as electric skateboards tend to brake harder than expected at higher speeds.
Vibration & Stability
The Meepo 1.51's black deck is a bit stiffer than the original Meepo, which means the deck smooths out less vibration but provides more stable rides at higher speed. A stiffer deck also makes the board feel more responsive.
When compared to the original Meepo, I found the new black maple deck to be more concave and longer. The concave kinda makes me feel lower to the ground and the longer wheelbase makes balancing on it easier. Both of this changes result in a much more stable ride.
Control Options (Remote)
The remote for the Meepo 1.51 is the RC5 2.4Ghz remote that most DIY hobbyist/ budget board use.
There are currently no known disconnect issues, which have plagued other eskate companies, so that's a plus!
As mentioned, the remote has 3-speed modes that are controlled by a little knob on the side.If you are trying to change the speed mode mid-ride and get the wrong gear like I did, you will probably in for a nasty surprise, so I would recommend changing speed-modes while stationary.
There is also a little button on the side for reverse. It has been filed down so that it is hiding a bit inside of the recess;  a change resulting from community feedback as too many times the reverse button was accidentally pressed while riding.
The remote is a tried-and-true model used by many eskates. Nothing much to be said.
Summary of Riding Experience
All-in-all, the riding experience on Meepo 1.51 is as good as any board out there.
The board is stable, responsive and carves really well.
Definitely a huge improvement from the original Meepo.
Capability
Range
The Meepo 1.51 also saw an upgrade to the battery, improving the range by a little and eliminating the voltage sag of past models.
The advertised range of the Meepo is 11miles(18km) but you have to either be very light or ride conservatively to reach that range.
Most people report around 8miles(13km) on a single charge. That is still twice the reported range of a Boosted board!
With the new battery, voltage sag will only start to be felt on the last miles, whereas the old Meepo would start to lose its speed and torque at 2/3 of its range.
There is also a Sanyo battery option at $619 to add another 6miles(10km) to the range.
Speed
Meepo 1.51 can hit it's advertised top speed at 22mph(36kmh) without issues. That is fast enough to get you in serious trouble or kill you, so I think it is an acceptable speed ceiling.
Torque
Meepo 1.51 has enough torque to get over most of the hills I tested it on.
I also did a stop-and-go test on a multistory car-park ramp with a rather steep incline,  the board could brake and hold me still at the incline, and can then accelerate from the stop without rolling back down the ramp.
After testing, I would not worry about the torque unless you are very heavy and need to climb insanely steep hills.
Customer Service
There have been a few cheap Chinese boards made before the Meepo, but what allowed the rise of the Meepo Board is that it was the first to provide reliable customer service.
After the frantic expansion to keep up with sales, Kieran is largely able to maintain this high level of customer service. Certainly, there are a few slip-ups that have been reported, but they are exceptions rather than rules.
As I have worked with Kieran regularly since I first interviewed him, when HQ readers have not been able to reach Kieran with their problems, I have helped them to alert Kieran.
Based on this experience, I feel safe vouching for Meepo's commitment to customer service.
Other Features
Meepo is quite a simple board, so there are not many bells and whistles.
One thing I like about the Meepo is how modular it is, which is why deck-swapping is so popular with these boards in the community.
You don't need to be mechanically inclined to be able to pull apart the Meepo and put it back together. You can swap out everything and anything.
You can also salvage the Meepo for parts and create your own eskate quite easily.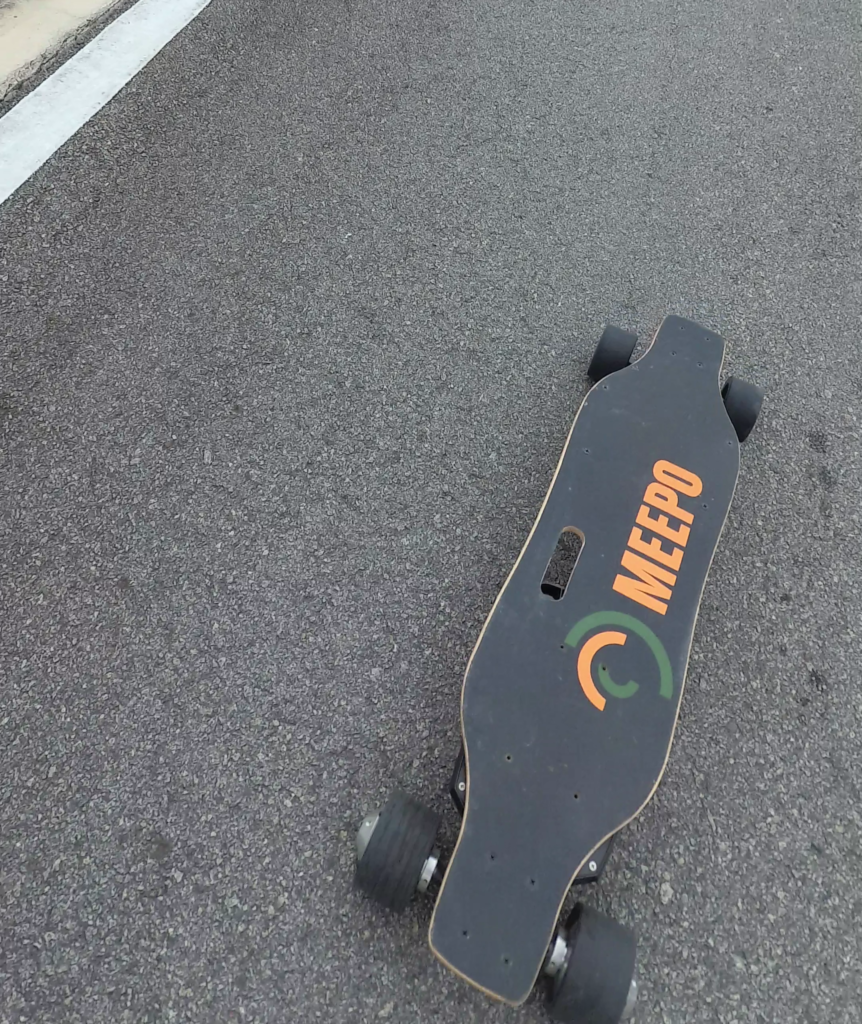 The most important part is that the battery is easily removable. Taking off the <160wh battery requires undoing 4 screws and just unplugged it.
(Buy a <99wh battery and Meepo will suddenly be air-travel compatible.)
The Meepo also came with an LED tail light accessory that you can choose to attach to your Meepo (or on anything for that matters.)
The features it doesn't have:
Downhill braking with a full battery – Not sure any electric skateboard have solved the problem of downhill braking while holding a full charge. As the energy generated from the regenerative braking has nowhere to go, the braking will not work with a full battery.
I was told adding a capacitor to it will not solve the problem as the capacitor will overheat, and the board will then fail.
Kieran's efforts in tinkering the BMS settings did help to make the problem less pronounced, but it's still there, and we should all be careful.
Waterproof – Kieran decided not to claim the Meepo is waterproof but just weatherproof. If the seals of the board are not compromised, the Meepo is actually fairly resistance to splashes and water, but still, urethane wheels + water = slippery as hell. Trust me, I have fallen because of that.
Swappable PU on hub motor – The PU on the Meepo 1.51 is fairly durable and should be able to last for hundreds of miles before needing a change, but you would have to change the entire hub motor for that, which thankfully, is also not that hard.
Verdict
The Competitors
It's 2018 and Meepo, though the most popular, is hardly alone in the affordable electric skateboard space.
Wowgo, Ownboard, Ionboard and hundreds of other less-known brands have joined the space after seeing the success that Meepo has enjoyed. Not to forget Backfire G2 is also a very well received option for electric skateboard under $500.
However, any insider will tell you that, when it comes to electric skateboard parts, sharing the same look doesn't equate to having the same quality. Most of the budget boards that we see on Alibaba or from lesser-known brands are exactly that, poor-quality products that share the generic look.
So, ignoring other less-trustworthy clones and putting aside Ionboard which isn't shipping yet, this leaves us with the Wowgo, the Backfire G2, and the Ownboard as the main competition.
These companies offer products similar to the Meepo and both have enough of a track record to warrant consideration.
However, an electric skateboard is more or less a vehicle and similar to a vehicle, it will need to be maintained and serviced. That's why I give a lot of weight to the proven track record and customer service of a company when recommending any electric skateboard, and that's why I favor a familiar and proven brand like Meepo over other less-known companies in my reviews.
Summary
TL;DR
At $419, the Meepo 1.51 is definitely my top recommendation for anyone looking for a quality budget electric skateboard or electric skateboard in general.
I like to say, the first question to ask when choosing an electric skateboard is
"For what I need, will a Meepo suffice?"
Just as Boosted board is the gold standard for electric skateboards in general; the original Meepo was and now the Meepo 1.51 is – the gold standard for affordable electric skateboards.
Plus, there is a version of it with kick tails @ $469.
For all those Meepo owners out there, if you enjoy this post, please share your experience with Meepo down in the comment section! I really appreciate that!