While Meepo's original City Rider might have flown under many people's radar, it was a board that I was really fond of. It was Meepo's first board with all-terrain wheels, and it was launched with an affordable $749 price tag.
I love that board because I am generally pretty lazy, and when I need an All-terrain wheeled board to get around poorly paved city roads, the City Rider is the easiest board to use and maintain. It has hub drives that don't require maintenance and airless tires that don't need to be pumped and won't get punctured. And while the board wasn't as powerful as it looks, it stood out as being a hassle-free board to own.
The new Meepo City Rider 3, however, might have a different identity than the original City Rider. By switching to belt-drives, the $899 City Rider 3 actually has more similarities to the Meepo Hurricane Series, the company's current flagship model, more than it does the earlier City Rider models.
Meepo City Rider 3 Specifications:
| | |
| --- | --- |
| Price | $899 |
| Battery | 12s3p Molicel P42A 544Wh |
| Controller | 12s Lingyi ESC |
| Top Speed | 29 mph / 48 kph |
| Range | 21miles / 35km |
| Deck | W Concave Canadian Maple and Bamboo |
| Motor | 3500W x 2 Belt Drive Motors |
| Net Weight | 30.4 lbs/ 13.8kg |
Deck: 8 ply Canadian maple + 2 ply bamboo
Starting with the deck, City Rider 3 uses this beautiful minimalistic grip tape design. The transparent grip tapes show off the polished sand-blasted Canadian maple underneath. It's made of a combination of 10-ply Canadian Maple and Bamboo. However, the board-length aluminum enclosure installed beneath the deck makes the deck extremely stiff.
The deck features a nice W concave. Like most all-terrain boards, this is a double-drop deck that's good for reducing riding height.
ESC and Remote: 12s Lingyi ESC and Meepo M4s Remote Combo
For the ESC, the Meepo City Rider 3 uses a 12s Lingyi ESC, which has a push-to-turn-on feature and comes with four-speed modes and four brake modes. It's interesting to see Meepo choose LingYi on this one since, as of 2023, it's no longer allergic to using Hobbywing ESC on its boards. For those who are new, LingYi ESC is known to have a fourth-highest speed mode that is typically more aggressive and a little less smooth than the Hobbywing ESC. I guess we will know how well it works for City Rider soon.
This ESC pairs with the standard M4s Meepo remote, which is the same remote used with the Meepo Hurricane. It has a display to show the speed, battery life and other data.
Battery: 12s3p Molicel P42A 544Wh
The Meepo City Rider 3 uses a 12s3p Molicel P42A 544Wh, which is a step down from the Hurricane's 12s4p configuration in terms of battery capacity. It's advertised to run for 21 miles(r35 km), but in our tests, we managed to hit 16 mile(25 km) range riding fast. This is about what we've expected from the 12s3p 544wh battery, so we can't say we were disappointed.
Motor: 3500W x 2 Belt Drive
For the motors, Meepo decided to shake it up by switching to the tried and true belt drive motors. In previous installments, the City Rider 2 used a planetary gear drive, while the first City Rider went with hub drives. I'm not sure what is the rationale behind switching over to belt drive; perhaps it is to streamline the productions as Meepo also has stopped using gear-drive in its other products for now. These are the same exact motors as the one on Meepo Hurricane, and they are huge, 3500W a piece. The top speed is 30 mph(48 kmh), which is similar to the Hurricane.
Trucks And Wheels: Double Kingpin And 150x150mm Honeycomb Rubber Airless Wheels
As for the trucks, Meepo sticks to what works and uses the same double kingpin trucks as on the Hurricane. We already know that they work well and have a good balance between stability and responsiveness.
For wheels, these are 150x50mm Honeycomb rubber airless wheels. Airless wheels are great for the lazy, as you don't have to worry about tire pressures, and it won't get flat tyred. The ride feel is still as good as traditional pneumatic tires, but I'm sure AT-purists will hate to not be able to play around with the tire pressure.
The board weighs 30.4lbs (13.8 kg), It is heavy, and the handlebar that was on previous city Riders is sorely missed.
Riding Experience of City Rider 3
The first thing we wanted to test was the speed control. LingYi ESC is just like a box of chocolate sometimes; you never know what you're going to get. Some versions of it were perfectly smooth and indistinguishable from the perfect standard set by Hobbywing ESC, while the other versions were rough like it was 2017 again. Fortunately, this time, it is a good one. The City Rider 3's speed control is flawlessly smooth and virtually identical to the Hobbywing ESC.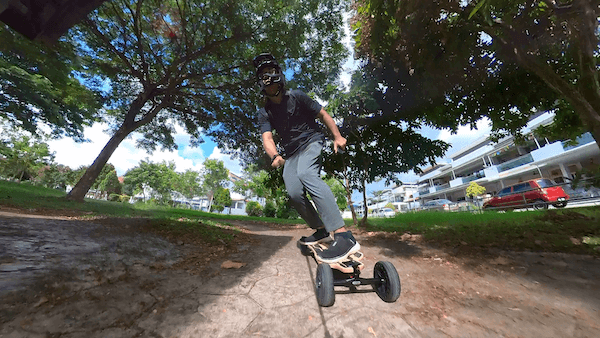 We are comfortable with staying on 4th-speed mode all of the time and prefer to keep our brakes mode on 3rd-brake mode.
While the City Rider 3's speed control is great, the power is not. The City Rider 3 doesn't have the insane power and torque that can take the board off-road while going uphill, so we could be wrong, but we're starting to assume that it was designed to be ridden in the city. It's a bit of a bummer; I suppose, we're just accustomed to Meepo packing insane power onto all of their boards.
The board can get to top speed, but it takes a while to get there. It is obviously strong enough to climb any regular hill, but it certainly doesn't blast through them like a Hurricane. For comparison, the Propel Pivot S felt 10% stronger than the City Rider 3, and Meepo Hurricane Vader felt twice as powerful.
It turns out that while City Rider 3 has the same motors as the Hurricane, it is significantly less powerful than the Hurricane since its ESC has a lower output. Yet another good example is that motor wattage only paints a partial picture of a board's power.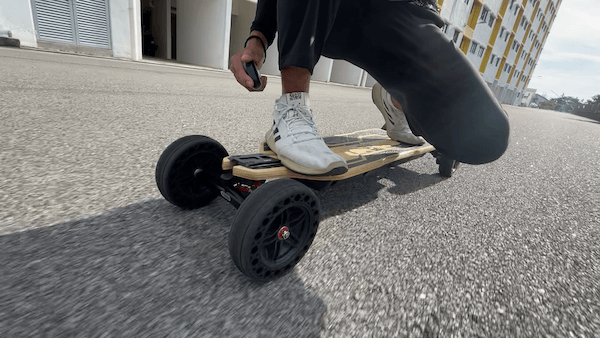 While City Rider 3 wasn't powerful, it certainly was comfortable. It starts with the deck. The deck is undoubtedly the highlight of the board, and we especially love the W-Concave this deck has. It is super comfortable to stand on. It is easy to tell where our feet are and keep them secure at high speed. It feels like Meepo and Exway are two of the Chinese brands that have the best decks on their boards.
Another big part that helped with ride comfort was certainly the big 150mm wheels. They are less cushy than pneumatic wheels and absorb less vibration but work well enough to smooth out vibration on rough roads. For us, riding pneumatics is clearly preferable, but owning one? That is up for debate. Going airless eliminates the inconvenience of maintaining pneumatic AT tyres, which include checking tyre pressure and replacing them when they get punctured.
And going double kingpin also helped with ride comfort. The board is fun for carving and super easy to turn thanks to the double kingpin trucks. It allows for a tight turning radius and makes U-turns possible. Similar to the Meepo Hurricane, the City Rider is also pretty stable at high speed; it just takes a while to get to the top speed.
The Verdict – Meepo City Rider 3 is great, but not for off-roading.
The $899 City Rider 3 can no longer make the claim that it is the most affordable AT board, as its predecessor previously could, because there are so many fantastic options on the market right now. When comparing boards with AT wheels, veteran Eskater would probably scoff at City Rider 3 middle-of-the-road power and go for something more thrilling like the Hurricane or the Propel Pivot.
Beginner or casual riders would, however, appreciate City Rider 3 for how comfortable and relaxing it is to ride. City Rider 3 fits the bill nicely if you don't want to go off-roading but still need a big-wheeled board to manage tough city streets. Whether you are going uphill or downhill, riding on good roads or over potholes, sticks, and stones, Meepo City Rider 3 will keep you comfortable. After all, why pay more for off-road power if you aren't doing off-road? At the end of the day, who can not love a $899 12s3p AT board that rides really well?
If you are interested in buying the Meepo be sure to check out our affiliate discount link here and use code: "ESKATEHQ23" to receive $5 off during checkout.
It will help you get a small monetary discount and help us out too. On top of that, you'll be tagged as an Electric Skateboard HQ customer and probably be treated better. Cheers!