Meepo, a well-known electric skateboard manufacturer, launched the Meepo V5 in February 2023 as their much-anticipated 2023 edition of the entry-level electric skateboard. However, it wasn't the adrenaline-pumping speed machine that fans had in mind. In response to angry customer feedback, Meepo went back to the drawing board and, 3 months later, introduced the Meepo V3S.
In this article, we will review the Meepo V3S and see if it lives up to fans' expectations this time.
Specifications of Meepo V3S (AKA Meepo Super 😅)
The Meepo V3S specification is as below:
Price: $469 (ER version = $599)
Deck: 38" 8-ply Canadian maple; a good amount of flex, mild concave
Electronic Speed Controller: LingYi ESC; 4-speed modes, push-to-start
Remote: M4s remote with telemetry screen
Battery: 10s2p battery with 21700 cells (216Wh)

Meepo V3S ER =10s2p battery with Samsung 40T, 8AH, 288WH

Marketed Range: Standard – 11 miles or 18km; Extended Range – 19.8 miles or 32km
Motors: Dual 540W Hub
Marketed Top Speed: 29mph or 47km/h
Trucks: Meepo Signature Shredder Trucks (7-inch 45°)
Wheels: 90mm Urethane

V3S ER = 105mm donut wheels
Now, that's an above-average spec for boards under $500, and it fixed the crowds' complaints about the power and the remote, but how about the riding experience?
Meepo V3S, flexing with its deck
Meepo has the habit of using good decks for its board, and V3S is no different. The Meepo V3S features an 8-ply Canadian maple deck that provides a decent amount of flex, making it more comfortable to ride on various terrains. The deck is slightly more flexible than the Meepo V5, providing a smoother ride. It also features a mild concave shape, ensuring your feet stay cozy during the ride.
A 'handy' addition (see what I did there?) is the handle cut-out on the Meepo V3S, which might interrupt the board's aesthetics but comes in incredibly useful when you need to carry it by hand. Weighing in at 18.5 lbs or 8.4 kg, the board, thanks to the handle, is not too heavy to lug around.
Meepo V3S Electronic Speed Controller (ESC) and Remote
The Meepo V3S, unsurprisingly, uses the 10s LingYi ESC with 4-speed mode. LingYi ESC was renowned for its punchy acceleration, albeit at the cost of some smoothness in acceleration. This ESC also comes with a smart turn-on, which means the board power-on by itself when the wheels are rolled.
Meepo causes an uproar with the V5 for giving us a remote without a screen for telemetry. Well, they learned their lesson; this time, the ESC pairs with the M4s remote that has a screen that shows telemetry.
As usual, the board allows for separate adjustments of acceleration and braking modes. The four-speed modes offer a range of performance options, from gentle acceleration for beginners to aggressive, powerful acceleration for experienced riders.
Big motors and aggressive torque
One of the standout features of the Meepo V3S is its dual 540W motors, which provide a top speed of 29mph (47kph). This makes the V3S one of the fastest affordable electric skateboards on the market, outpacing the Meepo V5's and the arch rival Wowgo 2s Max, which both have a top speed of 28mph (45kph).
Read our review on the Wowgo 2s Max here.
Unfortunately, in our top speed test, we only manage to get 28mph(45kph), which ties with what we get with the Wowgo 2s Max, and nudge faster than the Meepo V5.
Anyways, these motors do offer impressive torque, so heavier rider don't have to worry when tackling hills with it.
Battery and Range of the Meepo V3S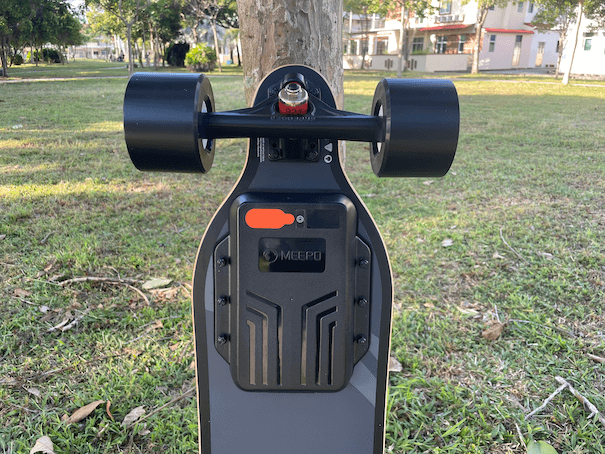 The Meepo V3S comes with a 216Wh 10s2p 21700 battery, which is larger than most entry-level electric skateboards that typically use a 144Wh battery. This larger battery was marketed to offers a 17 miles (27 km) range.
However, our 100kg test rider managed to get only half the advertised range from a single charge, wrapping up the ride at 10 miles or 16 km. It's a bit disappointing for a 216Wh battery but does highlight how larger motors are more power-hungry and how rider weight significantly impacts mileage.
However, for a $400 board, it's within expectations, and if you're a riding casually and weigh around 155lbs(70kg), you could likely squeeze out a 17-mile range on a single charge.
Trucks and Wheels
The board uses Meepo's proprietary 7-inch die-cast Shredder trucks, which offer a good balance between maneuverability and stability. The trucks was tuned well right out of the box. We ride it like we stole it, and it was a smooth when carving and remain stable at high speeds.
The Meepo V3S comes with standard 90mm street wheels, providing a smooth ride on various terrains. However, for riders who frequently encounter rough roads, we recommend opting for the 105mm donut wheel upgrade or considering some other belt-driven longboard instead.
Summing up the riding Experience on the Meepo V3S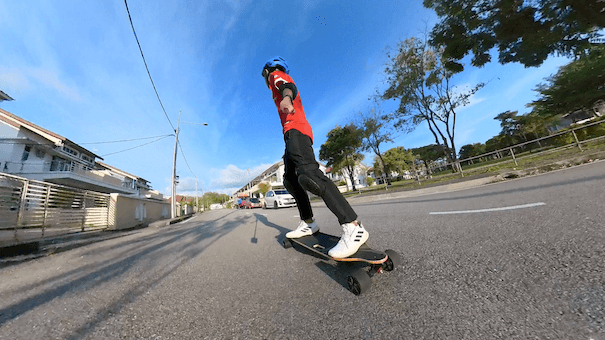 The Meepo V3S is a solid ride. It did not 'over-deliver' on anything, neither did it disappoint.
It has great power, capable of thrilling acceleration, making it the most exciting board under $500. And for beginner who kept away from the crazy 4th speed mode, the board offers a smooth and intuitive riding experience.
Meepo V3S's moderately flexible deck and decent trucks makes it a fun board to carve around and yet stable enough of a board to bomb a hill.
Road vibrations are still terrible, just like on other hub-driven longboards.
Oh, and ground clearance of the V3S is pretty low and the enclosures would often scrape against speed bumps.
Conclusion
All in all, we are pretty impressed with how swiftly Meepo responded to the critique surrounding the Meepo V5, and how they hit the nail on the head with their changes. Meepo V3S not only brings back the power that Meepoboards is known for, but it also introduces minor enhancements over the V5. This means a larger battery than most of its competitors, a good comfortable deck that we enjoy, and a solid riding experience.
While the tamer, easier and cheaper V5 was what Meepo thought beginner riders would want, the stronger V3S is, in the end, the board that people do wants, and it is going to be a pretty popular board for the years to come.
If you are interested in buying a Meepo be sure to check out our affiliate discount link here and use code: "ESKATEHQ" to receive $5 off during checkout.
It will help you get a small monetary discount and help us out too. On top of that, you'll be tagged as an Electric Skateboard HQ customer and probably be treated better. Cheers!