Not too long ago, we crowned the Wowgo 2S Pro as the best budget electric skateboard under $500. So imagine our surprise that just after 7 months, Wowgo find the need to one-up themselves and released Wowgo 2S Max as an update for the 2s Pro.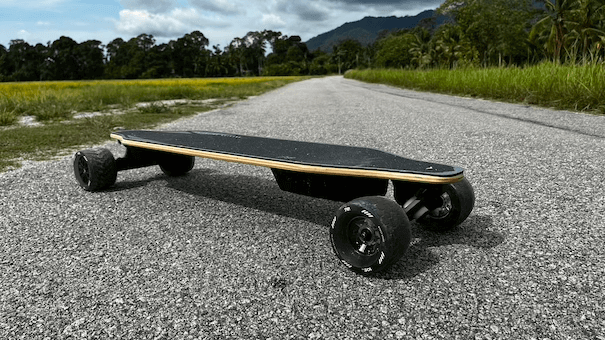 From Wowgo 2s Pro to 2s Max:
The obvious key changes are
slight upgrade in motor wattage (500W -> 550W) and top speed (25mph ->28mph),
giving the option of 105mm Honeycomb wheels for an extra $120.
update in ESC
Unfortunately, the improvement doesn't come free, as the $479 Wowgo 2S Max also saw a small price bump from $429 of the 2S Pro to $479.99 for the 2S Max. While it is a pretty foregone conclusion that the 2S Max will inherit the throne of being the best budget electric skateboard, we will have to examine if there is any flaw to the package.
As usual, let's run through the specs to be clear about those theoretical upgrades…
Build and specs – Wowgo 2s Max
Deck: Canadian Maple, bamboo, and fiberglass; subtle concave with no camber/rocker
ESC: Hobbywing ESC; 4-speed modes, smart power-on
Marketed Top Speed: 28 mph / 45 kph
Motors: 550 W * 2 hub motors
Batteries: 12s2p, 5.0Ah, 50.4V
Marketed Range: 14.3 miles / 23 km (90mm wheels)
Trucks: Poseidon Trucks
Wheels: 90mm street wheels / 105mm honeycomb wheels
Board Weight: 18lbs / 8.2kg
Design & Deck – Wowgo 2s Max
The WowGo 2S Max's deck is a combination of Canadian Maple, bamboo, and fiberglass. It only has a mild flex to it, and it's even slightly stiffer than the 2S Pro. It also has a wide but subtle concave and is flat without any camber or rocker. As an upgrade, Wowgo put on a foam grip tape to improve vibration absorption for the 2S Max. However, this made the concave of the deck less prominent and our feet felt less secure during carving and rides.
The design on the grip tapes and the backside of the deck is pretty nice, too. The trident graphic gets to stay, and there's another option of a new black design which looks pretty cool as well.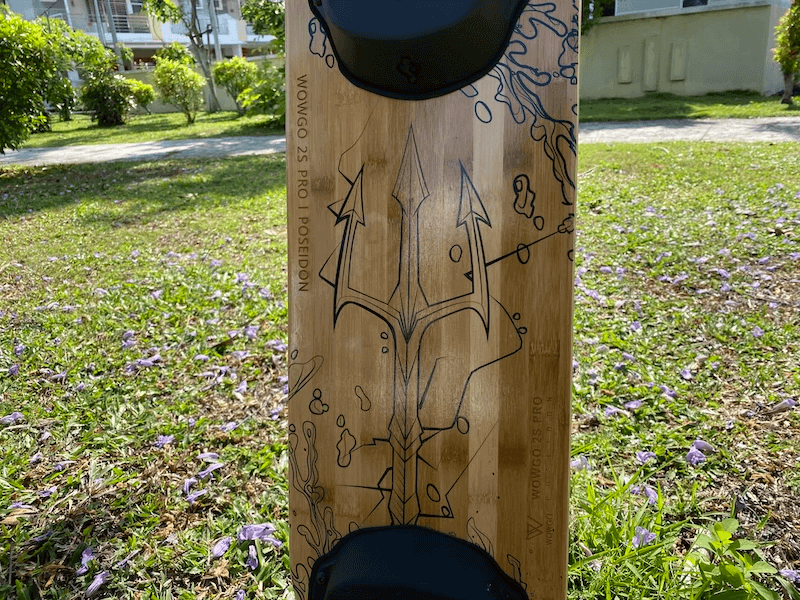 For the electronic speed controller, the WowGo 2S Max used the 12s Hobbywing ESC which received minor updates from the one on 2S Pro. It also has the smart power-on feature, of course.
Hobbywing ESC Turbo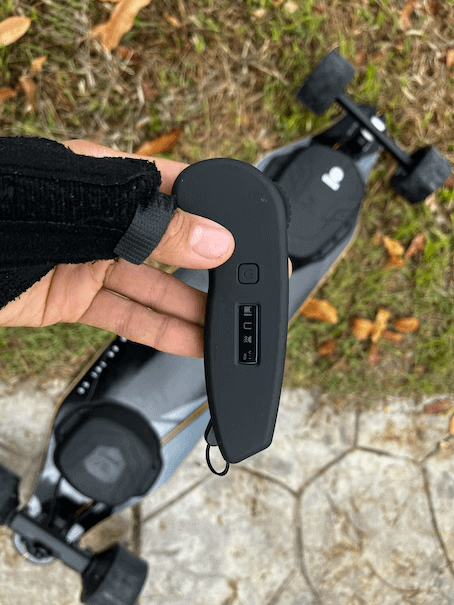 It is a given that speed control with the 12s Hobbywing ESC is going to be strong, silky smooth, and intuitive, but we are still looking to see if the "minor update" did anything to improve on that.
There are 4-speed modes, with the highest speed mode named Turbo.
And per usual, it uses the elegant remote that comes with telemetry.
Now, let's look at the trucks. These are the same Poseidon trucks that Wowgo developed for the Wowgo 2S Pro. The trucks look to be Caliber II clones, are 8- inches 50° with 85 A bushing. From our previous review, we know it is a truck that prioritizes stability over maneuverability.
To check out our Wowgo 2S Pro review, click here.
Wowgo 2s Max have one of the strongest hubs
As for the motors, the 2S Max received a 50W boost per motor and now uses 550W dual hub motors. Judging by the numbers on paper, 550W motors will be amongst the strongest hub motors of all entry-level hub boards, with only the Meepo V4 Shuffle beating it at 620W x 2. To give you more context, most entry-level eskates use 400-450W hubs.
As a result, this 550W gave an improved marketed top speed of 28 mph (45 kph) and it did exactly that on our top-speed test.
There are also 105mm hub-sleeves and semi-all terrain wheels available. We will talk about how they perform later.
For the standard wheels, WowGo 2S Max is using 78A soft PU wheels, which is pretty usual for entry-level boards.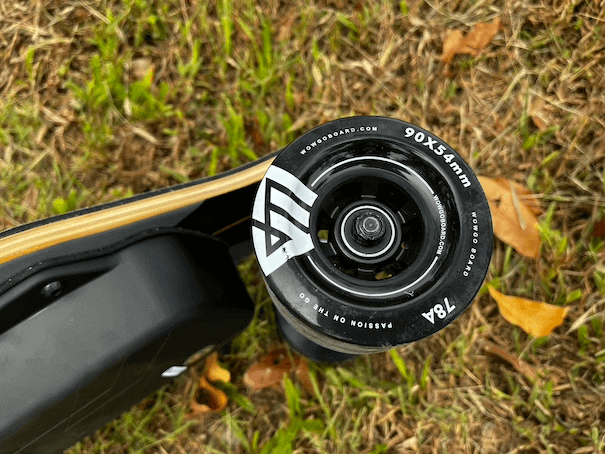 And when it comes to power, Wowgo 2S Max uses a 12S2P 5.0 AH battery. This gave a battery pack of 216wh in size and had a marketed range of 14.3miles (23km).
With regular street wheels, our 200lbs (90kg) test rider managed to get only 10miles(16km).
With the 105mm honeycomb wheels installed, our test rider got 8.6miles (14km) out of a full charge.
The range is exactly the same as what we get from the previous Wowgo 2S Pro which has very similar battery stats at 5.2AH. Although Wowgo kind of overstated the range, 10miles is the usual range for boards below $500, so we weren't exactly disappointed or surprised here.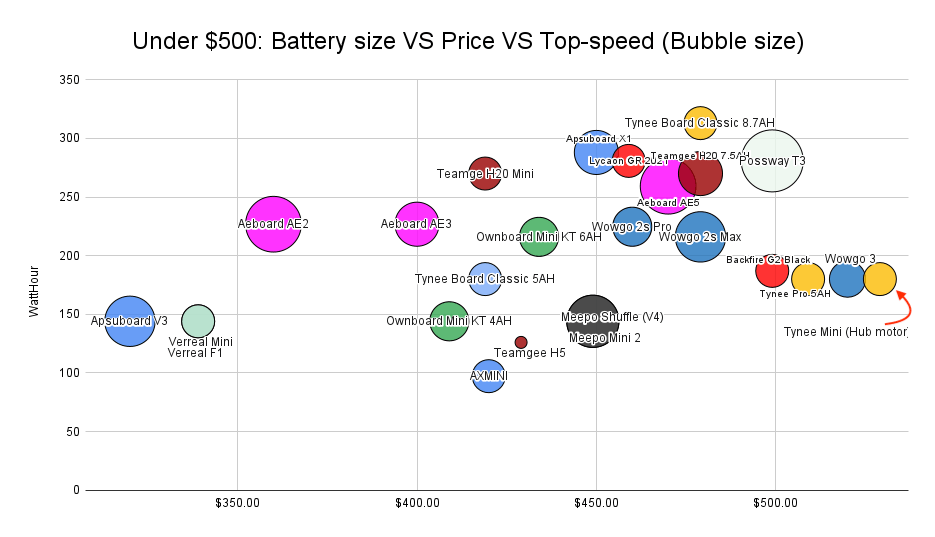 The board weighed in at 18 lbs (8.2kg) and comes with a 6-month warranty.
Riding Experience of Wowgo 2s Max
Now that we know the build and specs, it's time to ride!
First, let's talk about speed control. Wowgo 2S Max's speed and speed control are perfect as expected of the 12s Hobbywing ESC. Both acceleration and braking of the 2S Max are buttery smooth and intuitive. The brake strength is very strong, even stronger than the previous 2S Pro. This is great news as most riders eventually learn to love and prefer strong brakes, especially when the brakes are smooth and intuitive like they always are with Hobbywing ESC.
To know more about electronic speed controllers (ESCs), click here.
Powerful Even With Semi-AT Wheels
When it comes to the torque, the 550W hub motors perform incredibly well. By using one of the strongest hub motors amongst the entry-level hub boards, Wowgo 2S Max is powerful enough for any hills on your path. Although the torque and thrill are still a step behind what a set of powerful belt motors could offer, the Wowgo 2S Max is still one of the strongest hub boards amongst all the entry-level boards we've tested.
Having a powerful motor is important especially when you plan to put on the bigger 105mm wheels. With the semi-AT wheels, torque, and braking from Wowgo 2s Max goes from quite strong to just "strong". A board with lesser power would have a ride feel of "no power" at all if installed with semi-AT wheels.
Stability over responsiveness
When it comes to maneuvering the board, it was, unsurprisingly, the same as it was with the older 2S Pro. Carving is fairly fun but more on the tight side, as the Poseidon trucks prioritized stability over maneuverability. The board has a good return to center and feels very stable at high speed.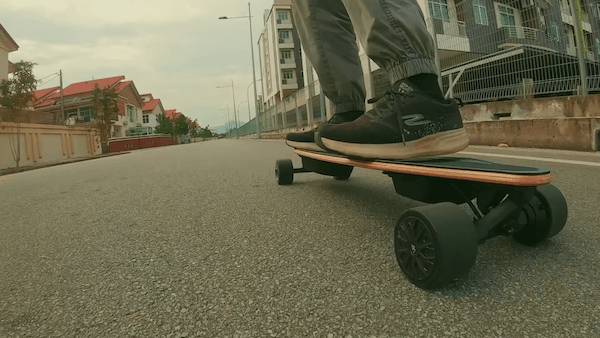 Honeycomb Wheels Reduces Around 20% of Road Vibrations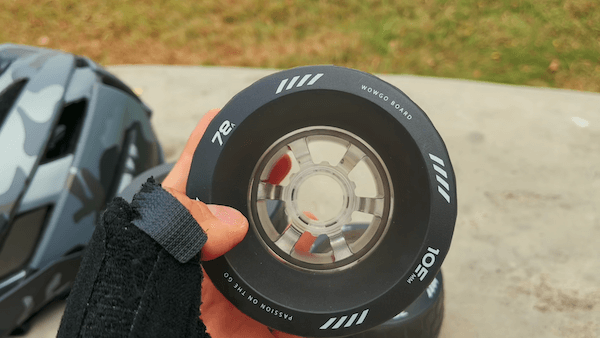 The honeycomb wheels are alright, too. On smooth roads, it's less fun to carve with the 105mm honeycomb wheels as it takes away the silky smoothness of soft urethane wheels. On rough pavement, however, the honeycomb wheels definitely had an impact in reducing vibration at around 20%, in our opinion. This, plus the foam grip tape makes Wowgo 2S Max a good board for those who have the unfortunate fate of living where roads are terrible.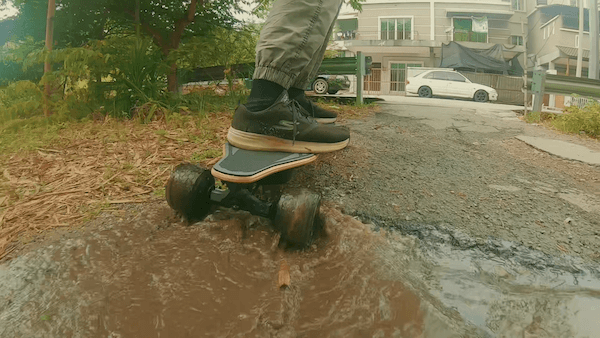 However, if we were to compare these Honeycomb wheels with the Cloudwheels Donut, we would prefer the Donuts over this 'Cloudwheel-clone', as Donuts are better in vibration dampening.
The VERDICT – Wowgo 2s Max
So, the verdict seems like the brand with the funny name has done it again. Wowgo is going to retain its throne three times in a row for making the best affordable electric skateboard (first, the Wowgo Knight, then the 2S Pro, now 2s Max.)
Wowgo 2S Max has the performance that either matched or outmatched its competitors, the ride feels that leads the affordable segment and the polish that is much beyond the asking price.
Simply put, for any rider who wants an entry-level affordable hub board, Wowgo 2S Max (for now) should be the first consideration.
Oh! and the board is now available on Amazon -> https://amzn.to/3MRyli8
If you are interested in buying the Wowgo, be sure to check out our affiliate discount link here and use code: "ESKATEHQ" to receive 5% off during check out.
It will help you get a small monetary discount and help us out too. On top of that, you'll be tagged as an Electric Skateboard HQ customer and probably be treated better. Cheers!