Today, we will be reviewing the Ownboard W2 Pro.
It's a $699 USD dual belt-drive electric skateboard that's the newest flagship of Ownboard.
Ownboard hasn't been given much attention lately, and they had a pretty rough 2020. Their Bamboo AT took a backseat to Wowgo's AT2; while in the mid-tier segment, the Exway Flex and Backfire Zealot stole the scene from their W2 model.
So can their latest flagship, Ownboard W2 Pro, help them get the spotlight this time?
Ownboard W2 Pro is the big brother of W2 and is designed to challenge the Backfire Zealot and Exway Flex's overall performance.
That's why it's not a big news for both the price and specs of Ownboard W2 Pro compete against the Backfire Zealot—the best midtier longboard available right now, at least from our perspective.
Will the W2 Pro compete against the top dogs this time around?
As usual, let's run through the specs first.
Build and Specs
Deck: Bamboo + fiberglass, flexible, no concave, camber/rocker profile
Electronic Speed Controller (ESC): 12s Hobbywing ESC
Marketed Top Speed: 26mph (42 km/h)
Battery: 12s2p 21700 cells, 8.0Ah and 345.6 wh
Marketed Range: 18.5 miles (30km)
Wheels: 105mm Cloudwheels, 40T Abec pulley, can be changed with other pulleys (32T Abec pulley and 36T Kegel pulley)
Trucks: Paris clone (customized with PU ring)
Weight: 19.5 lbs (8.8 kg)
The Ownboard W2 Pro uses a flexible deck that's made up of bamboo and fiberglass. It has no concave and gives a flat profile.
The board also uses the 12s Hobbywing for the electronic speed controller (ESC) and paired it with a generic OLED remote.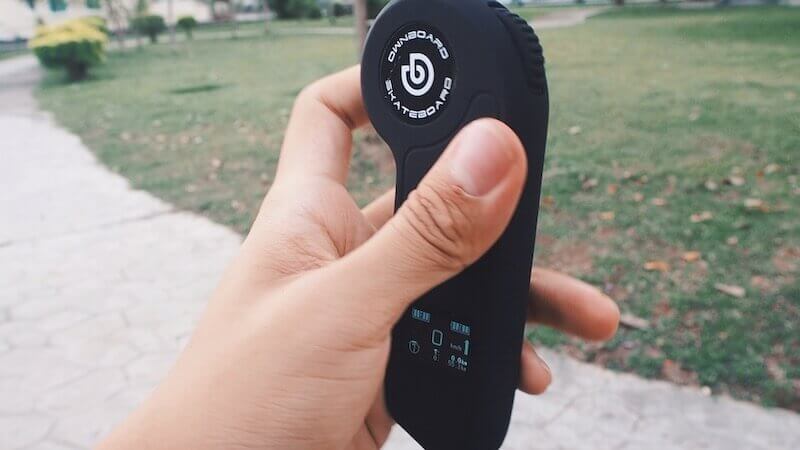 If you're familiar with Hobbywing ESC, you would already know that this speed controller will give you silky smooth acceleration and braking, with intuitive control.
This is an older generation of the Hobbywing ESC, though, which means it has no smart power-on feature.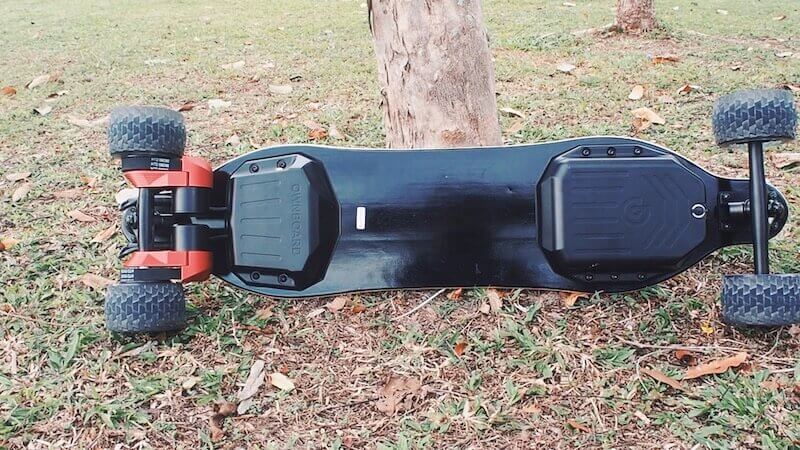 For the battery, the Ownboard W2 Pro uses 12s2p 21700 cells that will give you 8.0 AH and 345.6 WH. The marketed range is 18.5 miles or 30 km and we managed to hit 19miles or 31 km. Pretty cool!
The W2 Pro also went with aluminum alloy die-casting for the battery enclosure as compared with the usual plastic enclosure for durability.
And for higher power density, Ownboard W2 Pro uses dual 750W motors with 160 Kilo-volts and 5255 dual belt motors. These belt motors are similarly rated to the one on Backfire Zealot.
To know more about the Backfire Zealot, click here.
In our speed test, we were able to hit its top speed of 26mph or 42 km/h.
Now, let's move on to the wheels.
Choose your own wheels
The Ownboard W2 Pro uses 105 mm Cloudwheels which have a good ceramic bearing. These are good semi-all terrain wheels that can handle most road conditions.
If you prefer a different style, Ownboard also made a few different wheel pulleys available to purchase so you can change your wheels effortlessly.
The available pulleys are the 32T Abec pulley and 36T Kegel pulley. The board comes with the 40T Abec pulleys for the Cloudwheels.
Ownboard also gave a few tips such as pairing 90 mm wheels with the 32T Abec and at least 100 mm or bigger wheels for the 36T Kegel. Torqueboard or Boa's 110 mm wheels are among the recommended options for the 36T Kegel pulley.
Suggestions aside, you still have the freedom to choose any type of wheels on your checklist since the pulleys are available.
You can even experiment with Windwheels! They are wonderful in handling road vibrations, too.
Customized Paris clone trucks
The trucks are a Paris clone with a few adjustments. Many of the boards in this price range use branded trucks so this might be a disappointment for some. For instance, Wowgo 3 uses genuine Paris trucks while Backfire uses Caliber II. As for Exway, they have their own proprietary Trist trucks, while Meepo uses unbranded OEM Boosted trucks for their NLS belt.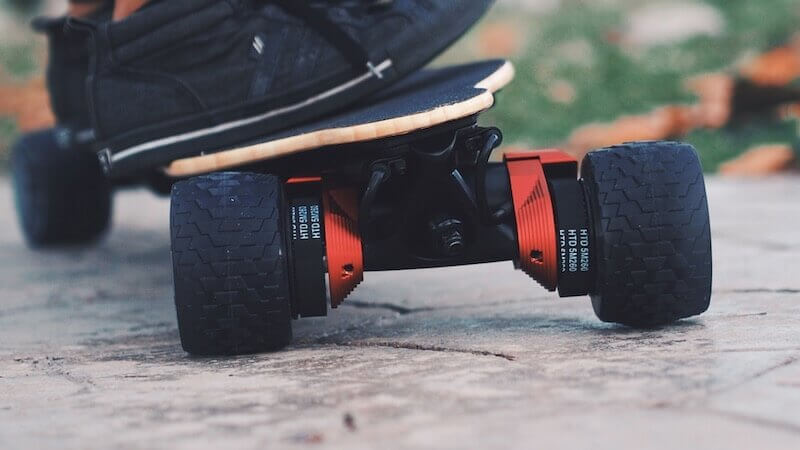 But branded or not, the important thing is still on how well the truck performs. We'll talk about that later in the riding experience.
Lastly, the Ownboard W2 Pro weighs 19.4 lbs or 8.8 kg.
Overall, the board is pretty polished, not as refined as most premium boards obviously, but for $699, it's fine.
Now it's time to ride!
Riding experience
The Ownboard W2 Pro has 3-speed modes that are perfectly smooth. The top speed mode has very steady yet effortless acceleration and brakes.
To be honest, the W2 Pro goes up on our list of tested boards with the strongest torque in the mid-range category. We'll go ahead and say that this ride is as strong as the Beastboard Viper—another power freak we tested. We were amazed!
To learn more about the Beastboard Viper, click here.
Even with a low battery, the W2 Pro's torque remains strong, but the top speed will be capped at 20.5mph or 33 km/h.
The board isn't difficult to maneuver, either. The Paris clone truck Ownboard used is not the same as the average Paris clone. Ownboard made some modifications to the truck, as the result, the trucks are actually very good! In our opinion, it is surprisingly on the same level as with Exway's Trist Trucks.
The rebound to the center is good, and the board ride is very secure at high speed. Carving is superb and fun with the W2 Pro. The board is very responsive.
On the downside, the lack of concave on the deck did make us feel hesitant when riding at top speed. We had trouble gripping with our foot position, and that took away the cool vibe.
Still, if you consider the great combination of smooth control + a flexible deck + good quality trucks, then you would get a board that does wonders for carving.
So how was the ride with Ownboard's W2 Pro on smooth and rough roads?
Here's what we got:
On a smooth road, the narrow contact patch of the Cloudwheels took away the sticky, grippy smoothness of the ride. This made carving less fun as compared with your regular street wheels, thankfully, Ownboard W2 Pro allows you to change into regular street wheels easily.
When riding on rough roads, this is where the 105 mm Cloudwheels shines. These wheels won't break a sweat on crossing over bumps and holes, and they cushion you in the vibrations safely.
Finally, here's our verdict.
THE VERDICT
All specs and riding experience considered, should Ownboard finally get some hype in the eskate community?
Definitely.
Ownboard W2 Pro is a board that deserves more attention. The board combines power and smoothness perfectly. Plus, this baby is great in both performance and riding experience.
However, is it great enough to outdo the Backfire Zealot as the best electric skateboard under $700?
Well, that depends.
Backfire is still the champ when it comes to delivery and post-sale service.
Ownboard may come weaker in both brand and polish, but they make up for it by offering more value for your buck.
With Cloudwheels coming in stock for the Ownboard W2 Pro and not on Backfire Zealot, you get to save $150 on the Cloudwheels by choosing Ownboard—especially if your goal is to have a semi-AT board on the go.
The Ownboard W2 Pro is much stronger in torque, too.
So the big deciding factor is, will you pick polish or value?
While the Ownboard W2 Pro and Backfire Zealot are pretty much tie in most aspects, I suspect most of us will find the more polished Zealot an overall better choice. However, the Ownboard W2 Pro might suit you better if you want something with stronger acceleration or prefer Cloudwheels to come in pre-installed.
So while Ownboard W2 Pro won't replace Backfire Zealot on our Best Electric Skateboard list just yet, it's nonetheless a very good choice worthy of your attention.
If you are interested in buying an Ownbaord, be sure to check out our affiliate discount link here and uses code: "ESKATEHQ" during checkout.
It will help you get a small monetary discount and helps us out too. On top of that, you'll be tagged as an Electric Skateboard HQ customer and probably be treated better. Cheers!