Possway has been around for a while and we've been ignoring it as long as we could. You see, as new affordable electric skateboard brands from China are dime a dozen, it takes a lot of work for smaller new brands to stand a chance. After all, existing big players have the advantage of mass production for low costs.
It's a good thing that Possway fought long enough and now has a board we can't ignore—the Possway T3.
Possway T3 offers a big 7.8 Ah battery and 105 mm Cloudwheels Donut clones right off the box for $499. The board also has dual 500W hub motors, which is above average for boards under $500.
So, if the big battery, big motor, and big wheels perform as well as they should on paper, Possway T3 could be one of the top choices for affordable electric skateboards. Let's go step by step and run through the specs.
Possway T3 Build and Specs
Electronic Speed Control: LingYi ESC
Deck: 37" inch drop deck, W concave, 1-ply bamboo, 8-ply maple, medium flex
Battery: 7.8 Ah, 10s3p
Marketed Range: 17 miles / 28 km
Motors: 500 W * 2 dual hub
Marketed Top Speed: 32 mph or 52 km/h
Trucks: Non-branded, 45° Caliber clone
Wheels: 105 mm Cloudwheel Donuts clone
Possway T3 uses a 37" drop deck with a nice W-concave to keep your feet comfortable. The deck is made out of 1-ply bamboo and 8-ply maple with a medium flex. Flip it over and you'll see a dual plastic enclosure housing a LingYi electronic speed controller and the big 7.8 Ah 10s3p configured battery.
This battery adds up to 280.8 watt-hours and has a marketed range of 17 miles or 28 km. We put it to the test and our 210 lbs or 95 kg riders only got 11 miles or 18 km out of riding it at full speed.
As for the trucks, Possway T3 uses non-branded ones that look like a Caliber clone. These are 45-degree trucks that come in tight. The wheels are 105 mm Cloudwheels Donut clones. These wheels are great for absorbing road vibrations.
The dual 500W motors, on the other hand, advertise 32 mph or 52 km/h top speed. Sadly, we only got 28.5 mph or 46 km/h from it.
To know more about dual hub motors, click here.
So, while both the top speed and range are pretty great, they did not rise to the marketing figures. Next, let's talk about the riding experience.
Riding Experience
Overall, we would describe the riding experience of the Possway T3 as comfortable and relaxing but unexciting. Here are our thoughts on the 'unexciting' part.
The Possway T3 is not powerful and there isn't much thrill from it. The dual 500W motors looked powerful on paper but were merely decent on the streets.
The accelerations are pretty meek and for heavy riders, it might struggle on uphill roads. Still, the board is gentle and relaxing to ride. The LingYi ESC on this Possway T3 is perfectly smooth and intuitive in all 4 accelerations and brake modes.
Similar to the speed control, the board is equally comfortable and relaxing to maneuver.
The deck of the T3 is definitely the highlight of the board. Its drop-down design allows great stability with a lower riding height. Although, the low ground clearance might limit your choices for ride locations.
To check out other boards under $500, click here.
The concave of the deck was also a huge help for controlling the board better. The deck is wider at both ends which allows better foot placement. This is perfect for those with large shoe sizes.
The trucks also add to the stable and relaxing nature of the Possway T3. These trucks are geared towards stability over responsiveness. The Possway T3 will feel very stable and relaxing even at top speed.
Another strong point for the T3 would be its ride comfort on rough pavements. The 105 mm wheels combined with a flexible deck made the T3 one of the more comfortable boards for excruciatingly poor road conditions.
To check out our review on Cloudwheel Donuts, click here.
The VERDICT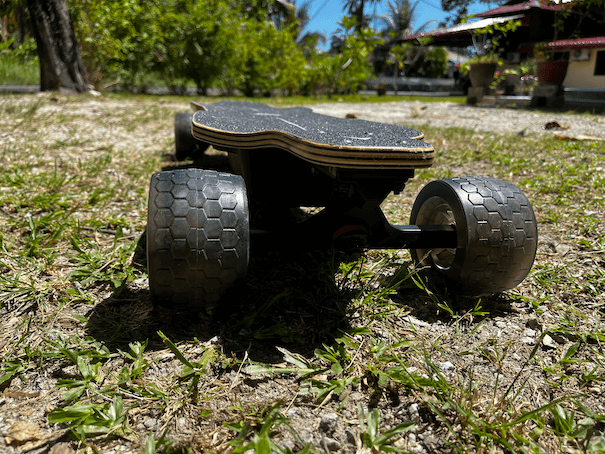 All in all, the nice numbers on paper only told us little about the Possway T3. In fact, the dual hub motors with big wattage don't give the equivalent power it should. This has to be the biggest weakness of the board.
However, Possway T3 did a lot of things better than its competition. Namely, better range, bigger 105 mm wheels for those who prefer it, and a pretty nice deck and truck combination for a relaxing, stable, and comfortable ride.
Even though the board did not perform up to our initial expectation (which was very high), the Possway T3 is still objectively a good board providing good value for money.
Beginners will appreciate it for maximizing ride comfort and stability. It's also a great choice for eskate commuters who want more range and stability on poorly paved roads.
Nice one, Possway. We'll keep tabs on the next one.
If you are interested in buying the Possway, be sure to check out our affiliate discount link here and use code: "ESKATEHQ" to receive $15 off during check out.
It will help you get a small monetary discount and help us out too. On top of that, you'll be tagged as an Electric Skateboard HQ customer and probably be treated better. Cheers!