There are a lot of options for budget electric skateboards for less than $500. You'll be spoiled with different combinations of specs, and it'll be up to you which eskates match your style. The top pick at this time would no doubt be the WowGo 2s Max and the Meepo V4, but we're not at the finish line yet. Say hello to the Tynee Board Classic, competing for the third spot. And who knows, for some rider it might even be THE board to get.
How good is the Tynee Board Classic? Well, spoiler alert, we think it is the boring safe choice for anyone looking for a comfortable budget electric skateboard. It also embodies the current standard for entry-level electric skateboards. First, let's go through the specs.
Build and Specs
ESC: 10s Hobbywing ESC with smart power-on
Batteries: 5 Ah – 10s2p Samsung 25R; 8.7 Ah – 10s3p DMEGC 29E cell
Marketed range: 5 Ah – 12 miles or 19 km; 8.7 Ah – 22 miles or 35 km
Motors: 350W Hobbywing
Marketed top speed: 23 mph or 38 kph
Trucks: Tynee PE Trucks; upgraded from Paris V3
Wheels: 90mm street wheels; Cloudwheel Donuts compatible
Let's begin with the electronic speed controller. Tynee Board Classic uses 10s Hobbywing ESC with smart power-on. For those who don't know, Hobbywing ESC is now the most common choice and safe choice for speed control. It has always provided smooth and intuitive speed control.
As for the battery, there are two options. The Tynee Board Classic at $449 uses a 5 Ah Samsung 25R. This is a fairly common and good choice. The battery configuration is 10s2p, meaning it has a 180wh pack. Pull up the bubble chart, and you can see that 180wh is the median battery size you can expect from a sub-$500 board.
Good Deal for DMEGC 313wh Battery Pack
The other option at $509 is a bigger 313wh pack, configured at 10s3p with DMEGC 29E cell. While DMEGC cells are not well-known, a 313wh battery pack for $500 is a good deal.
The review unit we received at the headquarters is the 5AH Tynee Board Classic. This version has a marketed range of 12 miles or 19 km. When we tested it out, our 210lbs/95kg test rider managed to get 7.5 miles or 12 km out of it.
Both the marketed range and the tested range are typical for electric skateboards under $500. We weren't able to test out the 8.7AH version, but it has a marketed range of 22 miles or 35 km.
To check out our review on the Tynee Board Mini, click here.
Cloudwheels Donut Compatible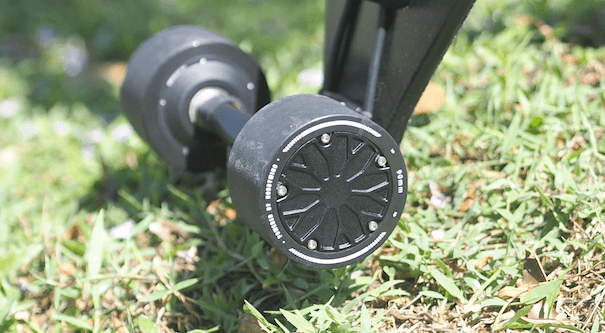 Next, let's talk about the motors. The Tynee Board Classic uses a set of 350W motors from Hobbywing. These are pretty average motors for this price range. The top speed is 23mph or 38km/h, which is again, typical.
As for the wheels, Tynee Board Classic has an option for 90mm street wheels and is also compatible with Cloudwheel Donuts.
The deck uses authentic Canadian maple with medium flex and mild concave. This is great news for those who enjoy a flexible deck for its smoother ride and better carving feel. Major competitors in the sub-$500 category chose stiffer decks.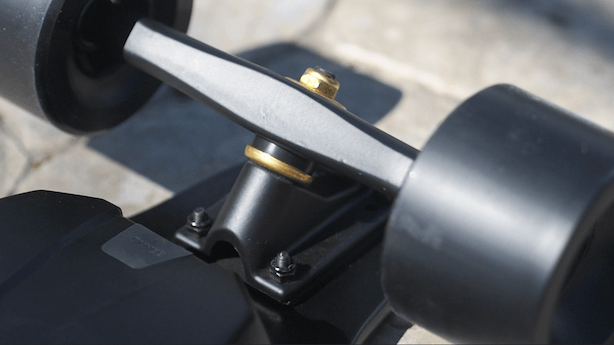 Now, let's go to the trucks. The Tynee Board Classic uses its proprietary Tynee PE trucks. From our previous reviews, these trucks have been fairly decent and consistent with stability. The Tynee PE trucks are also upgraded from the Paris V3.
The $449 and $509 versions of Tynee Board Classic weigh 15.4 lbs or 7.0 kg and are rated to be IP54 waterproof. Again, a waterproof rating doesn't mean much in the electric skateboarding world. Perhaps the Tynee Classic is a tad bit more waterproof than its competitors, but we would never recommend riding the board when it's wet outside.
Classic Specs for a Classic Ride
At this point, you might notice that the Tynee Board Classic has simply gone with what's known to work. Besides offering an 8.7 Ah version, which is a great value for the price, both the motor and ESC are just typical choices that are common for the board's price.
What sets Tynee Board Classic from its competitors would be its choice of electronic parts. We bet seasoned eskaters can already imagine what kind of ride profile the board has just by going through the specs on paper.
To check out our review on the Tynee Board Ultra, click here.
Riding Experience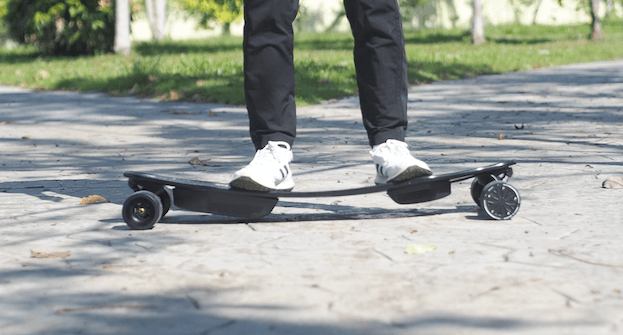 Unsurprisingly, the Tynee Board Classic has super smooth acceleration and brakes thanks to Hobbywing ESC. Both acceleration and brakes are nice and strong. The 350W hub motors are quiet and competent. Although they are not the most powerful or thrilling motors, inclines are handled pretty well.
The board is quite nice for carving. The Tynee PE trucks, while inferior to branded premium trucks in responsiveness, are still nice and responsive with a good return to center. The trucks provide a stable ride even when going at full speed. I think most casual or beginner riders would appreciate Tynee going with a stable truck that allows an easy and relaxing ride.
What the Tynee Board Classic is bad at would be what all dual-hub boards are bad at—fighting road vibrations on rough pavements. Still, the Tynee Board Classic does a better job at it than most other dual hub boards thanks to the flexible deck. The flexible deck absorbs part of the shock, but it's still very uncomfortable and will convince you to spend on Cloudwheel Donuts.
To check out our review on Cloudwheel Donuts, click here.
THE VERDICT
All in all, the Tynee Board Classic has competitive specs, adequate power, smooth acceleration, and stable rides, but is not exactly the most exciting board in town. It is, however, an affordable, comfortable, and competent electric longboard that suits someone who just wants a relaxing ride.
While the same praise could be sung louder for its competitor, WowGo 2s Max AKA our pick for the best budget electric skateboard at the moment, Tynee Board Classic offers a different ride taste with a flexible deck instead of WowGo's stiff deck. Another flex the Tynee Board Classic has would be its bigger battery if you choose the 8.7 AH version.
If you're the type to prefer a classic approach on eskate parts that have worked throughout the years, then the Tynee Board Classic is definitely a good choice for a good price.
RIDE SAFE, GUYS.
For more reviews, news, and discussions on electric skateboards, visit Electric Skateboard HQ!