Everyone appreciates a healthy bit of rivalry between tech companies. When these companies compete with each other by making a better product, the side that benefits the most is us consumers.
A classic example of this in the e-skate industry would be the rivalry between Tynee Mini and Exway Wave. That's why when Tynee announced the release of their mini-board's newest version, we just can't wait to get our hands on it. Here's our Tynee Mini 2 review!
Tynee Mini 2 Build and Specs
Electronic Speed Controller: 12s Hobbywing ESC
Deck: genuine Canadian maple, wide concave with kicktail
Battery: Molicel 6.0 AH 216 Wh or Molicel 10.1 AH 363 Wh
Marketed Range: 14 miles or 22 km; 25 miles or 40km
Motors: 2x550W hub motors or 2x850W belt-driven motors
Marketed Top Speed: 30 miles or 48 km per hour
Trucks: Tynee PE upgraded on Paris V3, 7 inches, 43°
Wheels: 90 mm PU wheels or 105 mm Cloudwheels
On paper, the Tynee Mini 2 is impressive. The mini board uses a deck made of genuine Canadian maple with a concave similar to the previous Mini model, Boosted Mini, and Meepo Mini 2.
During our test, the wide concave of the board greatly helped riders experience a stable and comfortable ride. The leg placement on the deck is very natural and secure. Slipping won't be an issue. The Tynee Mini 2's deck is also stiff and does not have any flex to it just like all mini boards in the market.
As for the electronic speed controller, the Mini 2 uses a 12s Hobbywing ESC with 4-speed modes and a smart power-on feature. For those who don't know yet, Hobbywing ESC is the gold standard for a buttery smooth and precise board control.
Two options of Molicel batteries for power
Now, let's move on to the board's power source. There are two options available for the Mini 2. The first is the Molicel 6.0 AH 216 Wh battery with a marketed range of 14 miles or 22 km. For more range, there's an option of a Molicel 10.1 AH 363 Wh battery with a marketed range of 25 miles or 40km.
We got the second version, and the range test only hit 12.4 miles or 20 km with our 216 lbs or 98 kg rider at speed mode 4. For most viewers out there weighing around 154 lbs or 70 kg, you can expect 22 miles or 35 km of range at speed mode 4.
While the Tynee Mini 2 didn't reach the marketed range in our test, it is important to note that this board uses Molicel which is one of the best cells for electric skateboards. Tynee Mini 2 sells at 629 USD for the smaller battery version, and 769 USD for the bigger one.
This gives the Tynee Mini 2 a huge advantage over the Exway Wave Riot which only has a marketed range of 12.4 miles or 20 km on the standard battery. Although, keep in mind that the Wave Riot's battery can be easily swapped out to keep the board nimble and sleek.
To read our Exway Wave Review, click here.
Hub and belt-driven motors
The Tynee Mini 2 gives two options for the motors as well. You can either opt for the 2x550W hub motors or the 2x850W belt-driven motors which is the one we used for our test rides.
We highly recommend the 2x850W belt-driven motor version if comfort is a priority on your checklist. These motors are paired with stock 90 mm wheels with a marketed speed of 30 miles or 48 km per hour.
For a mini-board, this is a bit overkill but those who love to go fast certainly wouldn't mind. In our test, the rider did manage to get a top speed of 28 miles or 45 km per hour. Pushing it to the max speed can be a bit risky, though.
Tynee PE trucks are here to stay
As for the trucks, Tynee Mini 2 keeps its proprietary Reverse KingPin trucks from the previous model which are based on the upgraded Paris V3. After seeing these trucks on three different models, we can safely say that these are geared towards stability but at the same time can carve pretty well.
Finally, the new board comes with built-in brake lights and a kick tail for kick turns.". It's also nice that the Tynee Mini 2 has an IPX6 water-resistant rating but as we all know, we shouldn't trust that too much.
To read our Tynee Board Classic Review, click here.
Tynee Mini 2 Riding Experience
Now that we've covered the specs and numbers, it's time to ride!
The headliner for the Tynee Mini 2 is definitely its acceleration. For a lot of people, whenever a mini-board is mentioned, speed and acceleration are rarely the biggest concern. Mini boards are, well, mini, and aren't designed for high speed.
The deciding factor for most people is its portability and how easy it is to travel or commute with these mini boards. However, Tynee is breaking this tradition and mindset with the Tynee Mini 2. The acceleration on this board is buttery smooth and intuitive thanks to the 12s Hobbywing ESC and the belt-driven system.
Ridiculous top speed for a mini board
The ridiculous marketed max speed of 30 miles or 48km per hour breaks the norm that a mini-board shouldn't go fast. Testing it out went pretty well due to its power, concave maple deck, and longer wheelbase. This build formula is able to handle things well at higher speeds.
Tynee Mini 2 is stable at 22 miles or 35 km per hour and if you're feeling a little brave, you can go for 28 miles or 45 km per hour.
Well, the speed and acceleration are highly appreciated and very welcome, since the Tynee Mini 2 is equipped with a powerful and smooth braking system.
To read our Tynee Board Ultra Review, click here.
Tynee PE trucks are geared towards stability
The carving experience on the Mini 2 is also decent as it feels fun to carve but falls behind the Trist Trucks of Exway Wave, a board that's more nimble and agile.
While the Mini 2 does have a kicktail, it does not live up to its full potential due to the heavy battery at the bottom part of the deck. These made the kicktail dependent on strength but if you give it some practice, you can make it work.
Another thing that the Tynee Mini 2 can work out is the ride experience on rough roads. In general, mini boards are bad for rough roads due to their stiff and short design. Fortunately, Tynee Mini 2 is a little forgiving, thanks to the belt-driven system. You'll still feel the vibrations, though.
Tynee Mini 2 VERDICT – not so mini in stability and top speed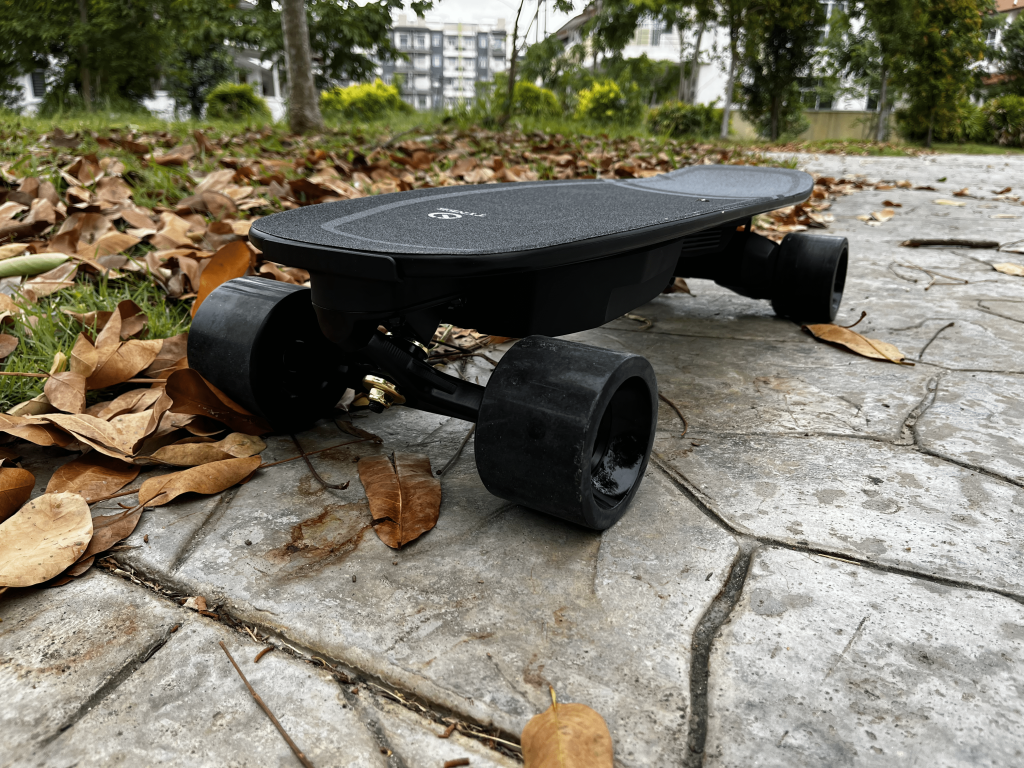 Tynee Mini 2 is a high-performance mini-board that gives a huge amount of power and range. We are happy that Tynee updated their Mini version for better performance. The price is absolutely reasonable with its killer specs and value. It is, in our opinion, the most powerful mini electric skateboard at this price point.
Tynee Mini 2 also rides like a champ, breaking the record for the most stable mini-board to ride at high speed. If you compare it to the WowGo Mini 2 and Exway Wave, Tynee Mini 2 is less nimble and carve-y. It is also quite hefty and bulky due to the bigger batteries and its double enclosures.
All things said, if speed and range are everything to you and are not particularly concerned about premium polish and features, like a swappable battery, then this is definitely the mini-board for you. 
If you are interested in buying the Tynee, be sure to check out our affiliate discount link here and use code: "ESKATEHQ" to receive 5% off during check out.
It will help you get a small monetary discount and help us out too. On top of that, you'll be tagged as an Electric Skateboard HQ customer and probably be treated better. Cheers!
If you liked this Tynee Mini 2 Review, check out our other articles at Electric Skateboard HQ! RIDE SAFE, GUYS.