Today we will be reviewing the Propel Endeavor S, which costs only $999—a price point that is nearly impossible when it comes to off-road suspension boards.
Life as an Eskate reviewer can be unexciting when we're always reviewing the same boards on the same paths…
Once in a while though, a certain brand or board will surprise you and spice things up!
If you haven't noticed, Propel EV has established its name by creating high-end off-road suspension boards. Since their first board, the Propel X4s ($2299), Propel EV meant business in bringing true all-terrain riding to the masses. Their latest pair of products, the Propel Endeavor S and Pro is Propel latest attempt to refine off-road riding experience. The Endeavor S in particular wants to do that without hurting your wallet.
The Endeavor S costs $999 and its big brother Endeavor Pro costs around $2000 (depending on configuration).
We will be reviewing the Endeavor Pro next, but the star of today will be the Endeavor S.
As usual, let's start with the specs.
Propel Endeavor S – Build and specs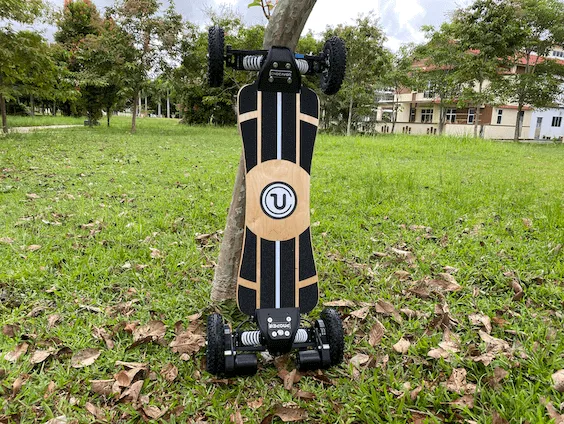 Board length: 112 cm/ 44.4"
Board weight: 37.5 lbs/17 kg
Deck: Maple Composite
Trucks: Independent Suspension Systems
Electronic Speed Controller: 12s LingYi ESC
Battery: 12s3p with 15AH or 666 wh
Marketed range: 28 miles for a 165 lbs rider and 17 miles for a 220 lbs rider
Tested range: 26 miles for a 200 lbs rider
Wheels: 8" (200mm) pneumatic wheels
Propel EV Endeavor S is 112 cm or 44.4" long. The actual deck where you'll stand is only 30.7" (780mm), which is surprisingly short.
A heavyweight shorty
To put this into perspective, a typical shortboard deck is also around 30". However, being shorter doesn't really compromise the stability, since the board has a wheelbase that is wider than its deck. The "shorter length," also helps the board to fit into more car trunks.
Propel Endeavor S may be cuter in terms of size but this baby is still heavyweight as it is 37.5 lbs (17kg).
Maple composite deck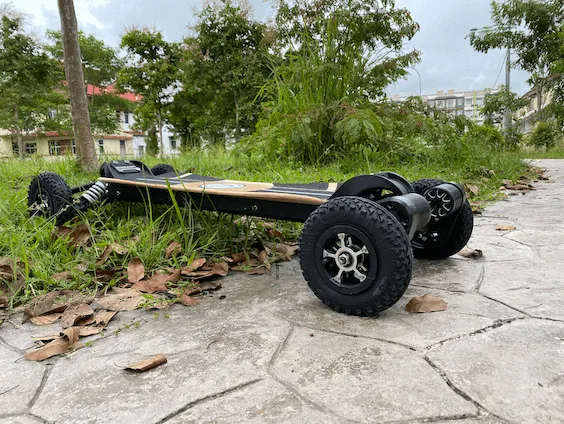 Unlike the higher-priced Endeavor Pro which has a carbon fiber deck, the Endeavor S is made of a maple composite deck. You can expect the board to be completely stiff thanks to the enclosure underneath. Still, you'll find comfort on the deck's concave which is nice and wide.
Let's move on to the trucks!
The Propel Endeavor S uses different trucks and suspension systems than the X4s. What remains the same is the feature of each truck and suspension system to move up and down separately from each other. We will talk more about the riding experience with these babies later.
8" pneumatic wheels
For the wheels, Propel uses large 8" (200mm) pneumatic wheels with tread patterns for better grip in all-terrain use. Since you can adjust the tire pressure of pneumatic wheels, you can always match the wheels to your level of comfort.
To learn how to change pneumatic tires on Endeavor S and Pro, click here.
Now, let's go over to the electronic parts.
The Propel Endeavor S uses a 12s LingYi ESC with a generic LingYi remote, while the Endeavor Pro uses a VESC with a VX2 remote.
Knowing the ESC, you might already have an idea of the characteristics of the speed control on both boards. If you don't, not to worry, we'll talk about it in detail later.
Going with a LingYi ESC also means the Endeavor S has the push-to-turn-on feature, which is always convenient. It wouldn't be a big deal going without it, though, since Propel brilliantly placed the power button on top of the board. Now that's pretty cool!
Underrated range
The Endeavor S uses a pack of 12s3p batteries which gives us 15AH or 666wh, while the Endeavor Pro is almost 2 times bigger and uses a pack of 12s5p batteries which is 25Ah or 1110wh in size.
This gives the Endeavor S a marketed range of 28 miles (45 KM) for a 165 lbs (75kg) rider and 17miles (28km) for a 220 lbs (100 kg) rider. Our in-house 200 lbs (90kg) test rider actually achieved a test range of 26miles (42km). It's refreshing to see a company underpromise then overdeliver with the range, it says a lot about the type of the company Propel is.
Loaded with value for $999
Going through the specs, it is absolutely mind-blowing that Propel can put in so much value for the price of $999. A regular All-Terrain board from a budget eskate brand would already cost as much. But don't forget, Endeavor S is not your regular All-Terrain board, and Propel is not a budget brand either. Just look at the kickass polish of the board and you'll know. It's amazing!
Oh, by the way, it's important to mention that the board is not rated to be waterproof… don't ask us how we found out….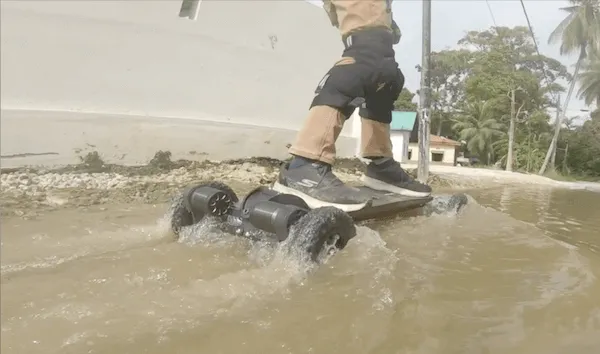 Propel Endeavor S – Riding experience
Now that we have broken down all the specs, it's time to ride!
First, let's talk about acceleration. Pairing a set of huge motors with a LingYi ESC means that the Endeavor S controls are powerful, but aren't perfectly smooth like most typical electric skateboards. On a side note, the Endeavor Pro with its VESC is both powerful and smooth.
Very aggressive 4th-speed mode
The LingYi ESC allows the Propel Endeavor S to have four-speed modes and 4 brake modes independent of each other. The highest acceleration mode is very aggressive and is scary to use, my suggestion is just to ignore it. Stick with the first 3 modes, which are much less harsh and already plenty strong. Personally, I absolutely see no reason to use the 4th mode for the higher torque that you won't need.
The brake modes on the Endeavor S took us by surprise, as they don't have the same flaw of the acceleration and are strong but smooth.
Now that we've talked about speed control, let's talk about the maneuverability of the board.
Off-road suspension boards are pretty heavy and have a long wheelbase. This means that the sharpest turns aren't what you should be expecting for Propel Endeavor S.
We've seen lots of other reviews mentioning the Endeavor S is easy to turn, but our experience didn't match that. We've loosened the trucks to the max, and yet we were struggling to make sharp turns.
The only explanation we have is that we are all scrawny Asians weighing under 160 lbs (70 kg). If you are much heavier than us you would probably turn the board fine, but don't expect it to be good for carving fun.
Absorbs road bumps for stability
While carving and turning might not be what any off-road suspension board shines at, staying stable on poor road conditions definitely is. Hitting the top speed is easy.
The board not only accelerates fast, but it is also perfectly stable and absorbs road bumps almost completely. This might be the most enjoyable part of the board, going full throttle without a fear in the world.
Mini-car in urban commuting
Will this board make me fearless in the world of urban commuting, too?
It depends.
Riding the Endeavor S on sidewalks with 90-degree turns would be quite disastrous, and you would be better off getting a double kingpin All-Terrain longboard.
However, if you ditch the sidewalk and ride on the road itself, you will have a wonderful experience. You fear no road condition because you are basically riding a mini-car.
While the Propel Endeavor S' usefulness for commuting heavily depends on the kinds of commute you do with it, its performance on off-road adventures will always be amazing.
To check out another board that's best for urban commuting, click here.
When riding up and down mountain trails, the Propel S lacks neither power nor stability. Because the shock absorbers in each wheel are independent of each other, all 4 wheels can keep contact with the ground when riding on uneven terrain.
Beware the back wheels' ground clearance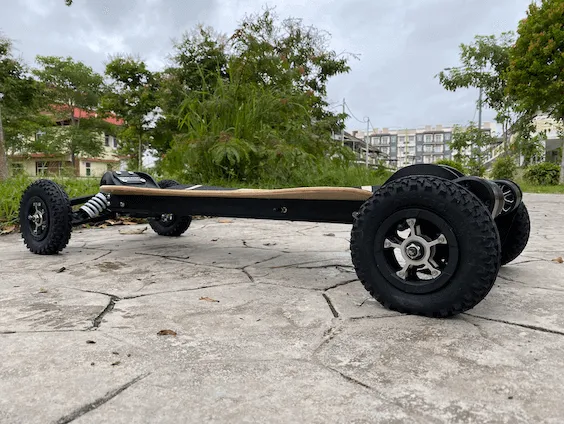 Propel Endeavor S might be your strongest budget and quality all-terrain board, but even the powerful have an Achilles heel.
And we mean it.
Propel Endeavor S has a weak spot near the back wheels and pulley. While the deck itself has a healthy 4.3-inch (11cm) clearance from the ground, the pulley beside the wheel doesn't.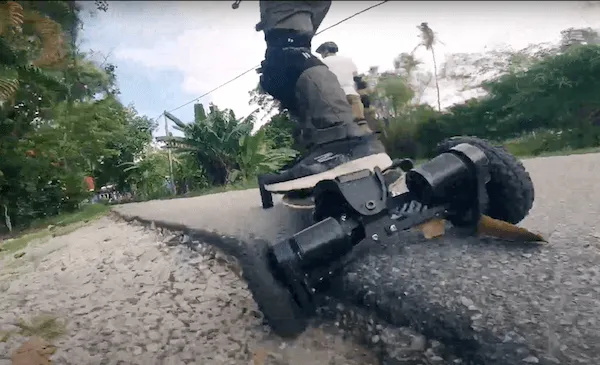 If you don't plan your approach up and down a bump, the pulley will catch the obstacle and things could get ugly. On a side note, this is a problem that the X4s don't have.
To check out our review on Propel X4s, click here.
To put things into context in an off-road adventure: The Endeavor S as an off-road suspension board is a league above your typical All-Terrain boards, even when those All-terrain boards might be two times its price.
But the Propel X4s is even better in the same situation.
THE VERDICT
Now, to summarize:
The Endeavor S is an affordable off-road suspension board that doesn't skimp on polish, specs, or performance.
It has 2 main weaknesses.
1) the LingYi ESC gives the board an unusable 4th acceleration mode, and less than perfect acceleration smoothness.
2) given that Endeavor S is an off-road suspension board, it is difficult to turn, especially if you are a lightweight rider.
With that said, when it comes to off-road riding, stability is preferred over maneuverability, and silky-smooth speed modes are often unimportant.
So, should you buy it?
Well, frankly speaking, if you are looking for a traditional skating experience with lots of carving, off-road suspension boards shouldn't even be on your list.
However, if you are looking for a mountain trail riding experience and don't have 2 grand to spend, the Endeavor S will be everything you need… and for the price, there is nothing else that's quite like it.
If you are interested in buying the Vokboard be sure to check out our affiliate discount link here and use code: "ESKATEHQ23" to receive $5 off during checkout.
It will help you get a small monetary discount and help us out too. On top of that, you'll be tagged as an Electric Skateboard HQ customer and probably be treated better. Cheers!